RV Owners
December 6th, 2017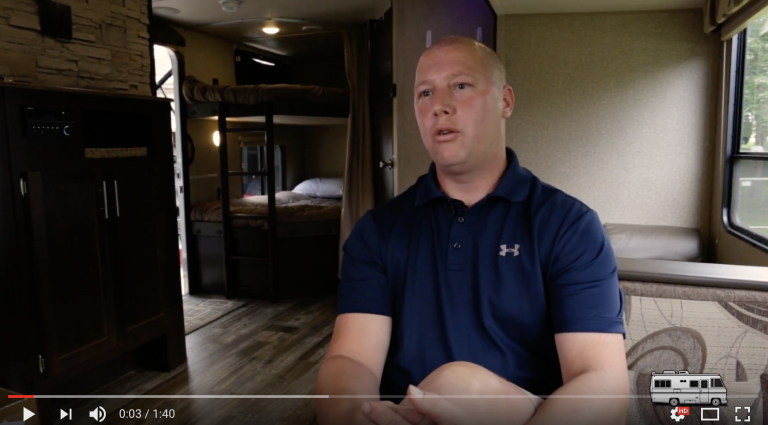 Have you ever thought about turning the RV sitting in your driveway into a business? If so, you could probably learn a thing or two from the Dempsey family! Here they share with us how they've built a successful business with RVshare, including hesitations they overcame and how they determine if a renter is a good fit.
Can you talk about if you had any reservations about listing your expensive toy for other people to use on RVshare, and how you overcame them?
Becky: Our biggest concern was the insurance. because it was before RVshare offered the insurance and we didn't know what would happen — like who [would be] covered. We didn't understand what it meant by getting an insurance binder. When we called our insurance agent, he was unfamiliar with it, too, so we weren't sure what to do. We said, "If something happens to this, I know there's a security deposit that we require, but there are a lot of systems on this camper that cost a lot more than that security deposit."
[Our insurance agent] then told us they have a policy we can extend to people that are not us. It's like $5 a day for us — a minimum $20 per trip, and we sent [our agent] all of our dates. And so now our policy extends to our renters, in the event that something happens when they were under possession of it.
As far as people trailering it is concerned, we investigated what this insurance binder meant and just tried to figure out what exactly that would entail. And the biggest thing we found out was that the insurance binder basically means that their automobile insurance covers them and our trailer, but the most important thing is that it would list as a loss payee. So in the event something happened and our trailer got totaled, instead of writing a check out to Joe Smith, whoever the renter was, the check would be written out to Rebecca Dempsey as the owner of the camper. So once we kind of had that all ironed out, we said, "Okay, we're covered 100%. If something happens when it's being trailered, we're covered by their insurance."
I have two versions of [an additional rental policy]. One is for people who want delivery and one is for people who tow it. And I'm a little bit OCD, [so] I added a whole bunch of clauses they have to initial and sign that says, "Yes, this is who's going to be driving it. This is our driver's license information, insurance information, agent's phone number." All of those things, so it's tightly contained in a document that we can always refer back to.
Since then, RVshare has made that so much easier, because they offer insurance, which we opted into. [It] covers anybody, doesn't matter who is renting it, towing or if it's being delivered. The camper's covered, and now [RVshare] has their own rental contract that can be signed online, which is so much easier too. I have to admit, we still have them sign our personal contract, just because it makes me feel better.
Any other advice to those considering this process?
Becky: What we did is we spent a little bit of money. We bought some linens, some covers for the pillow cases and for the mattresses that are bed bug-proof, dust mite-proof, waterproof, all of these things. We put it on all the pillows and all the mattresses and zipped them up. We actually tie them closed so they can't be opened. We have a binder that explains all of these things and says, "Don't remove the covers. Don't remove the pillow case covers. Put your linens on top of this." That helps me feel more comfortable with the cleanliness of the camper.
And we have a cleaning fee built in. We have the standard cleaning for when we get it back to clean it thoroughly. But then if it does come back and needs excess cleaning, we have a clause written into our contract and also onto the RVshare [contract] that states we'll take money out of the security deposit. We have found that nobody has really trashed it. We have never had any issues with that. Small things have been broken or what not, but nothing major, so it hasn't been, "Oh my God, this was terrible." It's actually been like normal wear and tear, so we're okay with those types of things. And we've also realized that so many people are honest about it, right away.
We actually had renters sending us text messages and pictures of the camper from the Indy 500. We were nervous about it going to the Indy 500. They were like, "Here's our campsite. Look at how great it looks. Here's this, here's that." Then there was a little hinge that came loose, and she's sending me pictures throughout the weekend. "Is this okay?" I'm like, "It's fine. We'll take care of it. You don't have to send me pictures." But how considerate, and that's what we like to see. Those people want to rent it again next year, and we'll say, "Yep, absolutely. We are 100% comfortable with you guys taking it to the Indy 500." For as nervous as we were beforehand, [it was] such a great experience, and we're like, "Absolutely. You're booked for next year already."
Doug: I equate [renting out your camper or motorhome as] it's no different than having family or friends come into town and stay at your house in the guest bedroom. I consider every potential renter a friend I just am getting to know. These are great people that want to go out, camp and rent your travel trailers. So if you don't use RVshare and you don't rent your travel trailer, I would ask you to be more open to it. Everybody has been very, very respectful of our property.
I treat [borrowed things] with more respect than even something that I would own, because it's somebody else's; I'm very respectful of that. And I have found that is reciprocated tenfold by the people who have rented our RV. We have had no issues in any way, shape or form. Most people are extremely appreciative of the opportunity to rent our travel trailer, and they behave themselves and treat our property accordingly, so it's just been a wonderful experience so far.
What have you learned along the way that would make the process easier for RV owners new to renting?
Doug: Be open, be honest, be friendly, ask questions and look at this as an opportunity — not only to rent your camper and make some extra money, but it's an opportunity to make a new friend and to meet new people. It's exciting and offers a lot of opportunities both ways. We're getting extra income, but we're making new friends and learning of new destinations we may want to go to as a family. So just be open, be honest, and be willing to make new friends.
What advice regarding an RV walk-through do you have for newly listed owners?
Doug: [When we meet you to] set up the camper or you're coming to pick it up, we like to do a thorough walk-around. It is my opportunity to teach and tell the renters what amenities and systems we have with the travel trailer and how to use them. It only takes a few minutes, but we talk about everything the RV has, even as far as hooking up the TV to the outside, hooking the travel trailer up to your hitch and putting the weight-distributing hitch and the anti-sway bars in place.
We talk about everything — how to use the furnace, the air conditioning, the refrigerator; all these systems are all super user-friendly, so it's not complicated. It only takes a few minutes to show and tell the people how to use them. That way, they're comfortable when we leave and they know how to use the travel trailer to its full capacity and keep everything running smoothly. [We feel good when] we leave and [the renter is] on their own; we know that we have taught them or showed them how to use all the different systems.
And, when in doubt, my wife has created a wonderful manual that goes over every single system, written in a way where anybody could easily understand it, so if they ever have a question about a system, they can call us, email us or just refer to the manual. Everybody feels good; everybody feels safe, comfortable. It just makes for a better experience.
Are you selective at all with whom you'll rent to or where you'll allow your trailer to go?
Becky: Distance [our trailer will go], I think, is probably one of the biggest red flags. And not because I think anything bad is going to happen, but I just don't know how comfortable I am with it going that far away.
How booked are you?
Becky: We have nine bookings for the summer; they start in mid-May and go to the very end of August, so nine bookings over three and half months. We have about three weeks out of each month booked.
What is the average length of a booking?
Becky: We put a three-night minimum on the website, but if somebody needs it for two nights and they're not going very far, we'll kind of let that go. So I would say the average booking is three nights — from Thursday to Sunday. There were a couple trips where they were traveling a little bit further, and they would do four nights.
Will you share how much you've made from RVshare and how that income has affected your family?
Doug: The income that RVshare has allowed our family to enjoy has had so many effects that it's even hard to tell you. It has affected my entire family and how we're planning the future. You get disposable income right away that we have used not only to make the payment on this travel trailer, but we've used the money to make some minor repairs. There's also storage fees in the wintertime when we're not renting the travel trailer. The income that we generate [has] covered all the expenses.
When we go to pick up the travel trailer from a state park or a campground, oftentimes we spend the day there and we use the extra money [from that rental] to go and have fun. For example, the other week, we used the extra money to rent a pontoon boat for the entire day, and we tubed and motored around the lake. So the extra income is just fantastic. It's allowed me to work less at my normal job and spend more time at home with my children, because we are making that kind of good money. It's just been fantastic.
Becky: We've made just under $5,000 for the summer, which to us was huge — and that's a net number. Gross, we've made probably close to $6,700. That has helped us tremendously, and [it's covered] small things. It paid for the linens that we provide, the covers for the mattresses and the pillows, and things like that. It's pretty much paid for itself; we've made two years worth of RV payments just from our rentals from this summer. We used the money for a car repair that was unexpected and would have had to come from either the savings account or a credit card. There have been so many things.
This is a great example: We're taking the camper next week for a trip. This past week, we got a call from somebody who wanted to take it just for two nights, and we said, "Sure. You can take it the two nights before we're gonna leave with it." We made a couple extra hundred dollars that we'll just be able to take and play with on our vacation. So basically, not only have we saved money for payments coming up, but we've also been able to have money for storage for the winter, for things that we've needed to do to keep it maintained and to keep it up to the great condition it's in, to help add some homey type of things to the trailer, and then also for our personal use, for things that have come up along the way. The money has been a total bonus we never would have expected, we would have never even thought of or been able to make had we not come across RVshare.
How are you planning to evolve your RVshare business?
Doug: We are even considering buying a new home that has more land where we could actually park another one, two, three — who knows how many more — travel trailers to rent. RVshare has allowed us to not only make money, but cover all of our expenses so we have extra income. Why not do that with another one, two, three travel trailers and make even more money and turn it into a full time job?
Becky: We have already been talking about getting a new truck, so that maybe we can haul more or upgrade to a bigger [trailer] or even get a second one. To the point now that we're actually looking at homes that have land or outbuildings, so that we can store them, so we can save on storage costs. RVshare has absolutely changed our lives. It has 100% changed our lives. Not even just owning the RV, but also renting it out.
So yeah, we definitely think we might look into getting another one, especially because it pays for itself. I said to my husband when we first started doing this, "There is something here; there is a bigger business." I'm not sure exactly what direction it's going to go and I don't know how it's going to unfold for us, but for whatever reason, we made this decision to buy the RV and things have always happened for us the way they're supposed to. And we just feel like this has evolved into something that we never would have expected, and I said to Doug the other day: I feel like we're on the precipice of something bigger. I feel like something bigger is going to come from RVshare, from that direction. I feel like something is there. We don't want to push it; we want it to grow organically. That's what it's been from the beginning and that's what we're hoping is going to continue to happen. And if that means we're going to have to go buy another one and have our mini fleet, then that's what we're gonna do.
And we keep talking too about how quickly we're going be able to get them paid and at one point, maybe in a few years, we'll just be able to go and pay cash for one, and everything we make after that is just bonus to go down towards another one. And then maybe we'll be able to buy two, and we'll have a second one and it will just be pure profit. And we can keep upgrading so when it's 2019, we can say, "Well let's go trade [the 2017 trailer] in and get a 2019." Or maybe we realize that renters want something a little different — like a setup different, a bunk house versus just the bunks in the back or maybe a bathroom with a door, an exterior door that goes to the outside or the grill like the built-in kitchen outside — if that's what we're seeing from our renters, then maybe we start gearing our purchases more towards what's going to fit them rather than what's gonna fit our family.
We say, too, we could always just have one that's for us. And that'll work out, too. So we don't know where this is going to go, but we definitely think it's going somewhere.
What are some of the unexpected perks of using RVshare?
Becky: For something that we were so nervous about to begin with, it has been such a great experience. We love delivering [the trailer], because we get to see campgrounds that we maybe never thought about going to.
When we're there, we'll drive around and mark down sites that we love, that we're like, "Oh our RV would be perfect there." So then when we book for ourselves, we get the perfect site. It's not a shot in the dark where you don't know what you're going to get. We've been able to see different areas that we never would have expected. We had people go to the Alive Christian Music Festival; we didn't even know that existed. We went down to Atwood Lake last weekend and we were like, "This is awesome. We should come next year." And we're like, "Oh, maybe they'll rent it from us next year, so we'll be in a tent and [they] can use the RV." But it's stuff like that; we just never knew things like this were going on so close, within a couple hours from us, that we could have so many great adventures.