The Top 31 Bucket List Destinations in Mississippi
Travel Inspiration
August 18th, 2021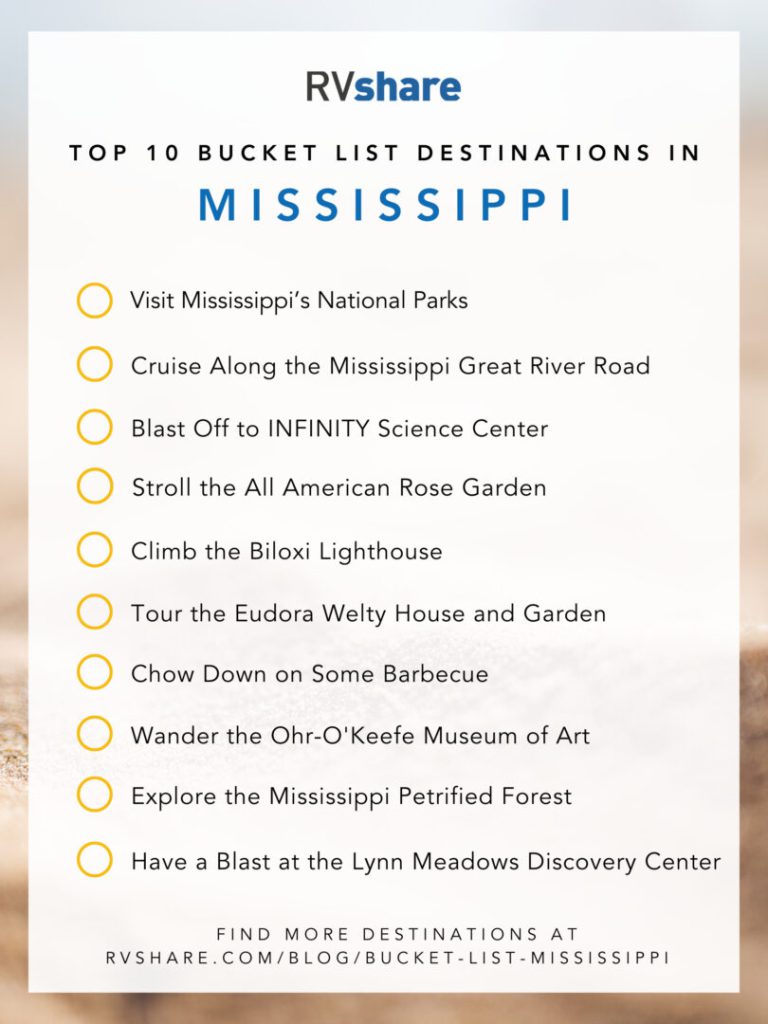 Mississippi is the perfect place to get a taste of southern charm. With delicious food, awesome museums, and wonderful outdoor attractions, you aren't likely to get bored while in this state, even if you plan to spend a few weeks exploring it.
In fact, the problem most people have is picking and choosing which things to do while in Mississippi. For this reason, we think it's a good idea to create a Mississippi bucket list to help you stay organized and keep track of your favorite ideas for things to do during your visit.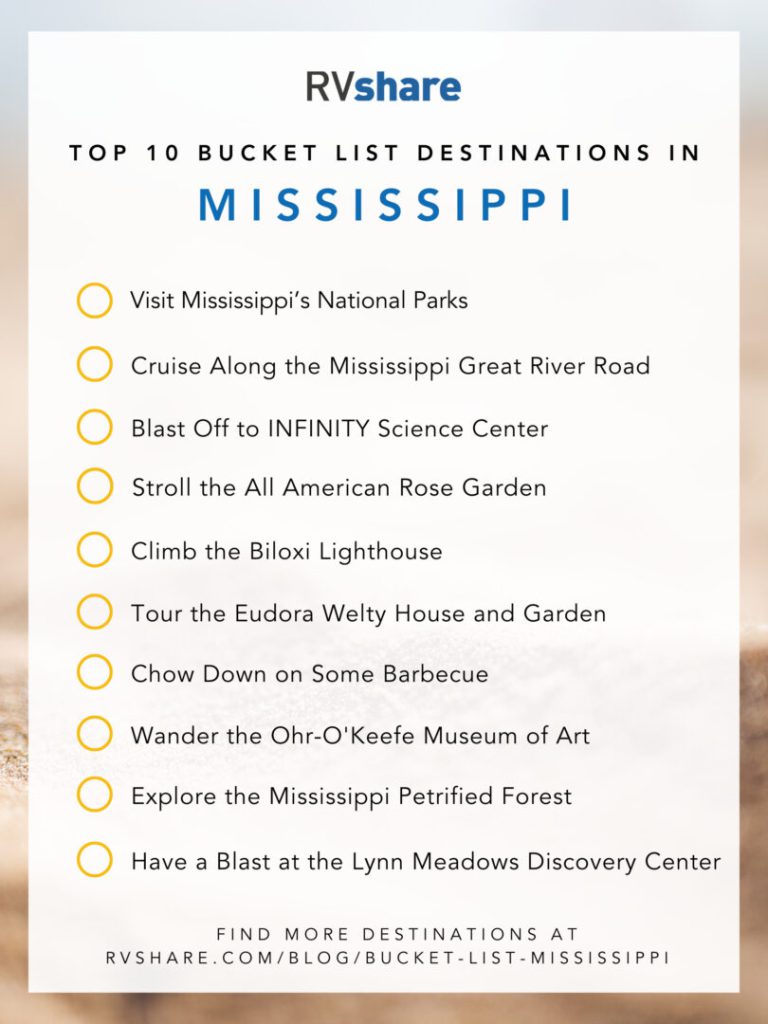 What is a Bucket List?
Wondering what a bucket list is? Really, a bucket list can have almost anything on it. It might include people you'd like to meet, foods you'd like to try, or places you'd like to go. The only rule is that a bucket list item must be something you want to do before you die.
While most people keep one long bucket list that holds all of their life goals, we much prefer to keep an individual travel bucket list for each place we wish to visit. This allows us to keep track of the places to visit and things to do when in that area, and makes it easy to find that information when the time comes.
In this article we are going to give you a peek at our Mississippi bucket list. Hopefully this gives you some bucket list ideas for a Mississippi travel list of your own!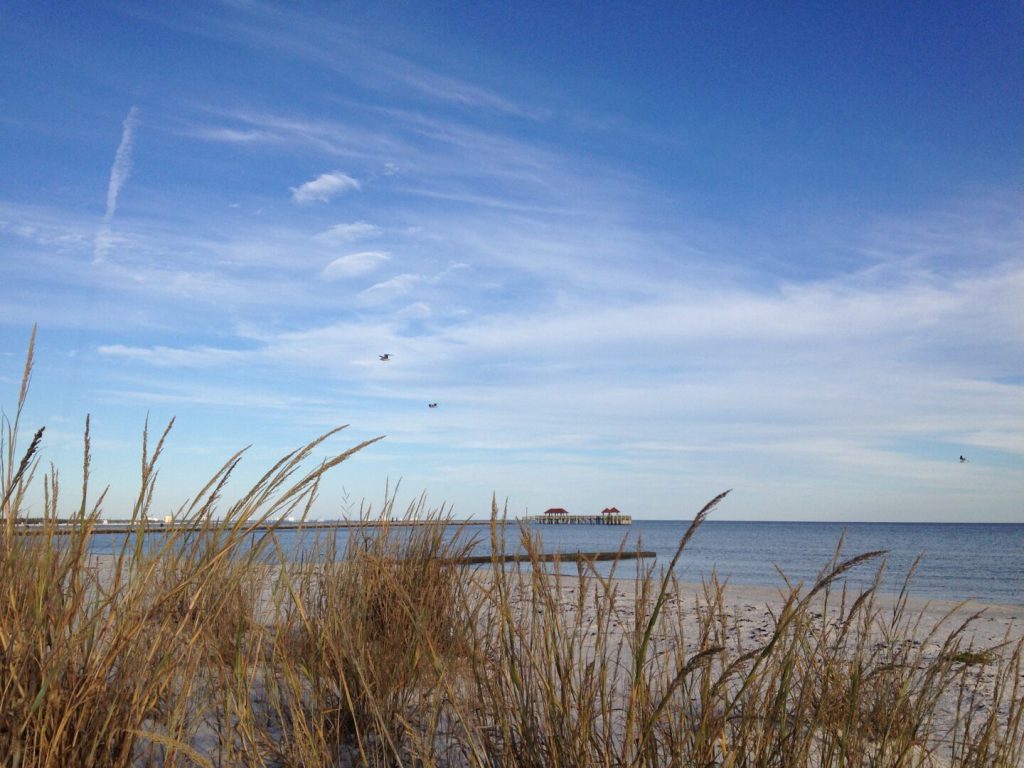 — Bucket List Vacations: Mississippi's National Parks —
National Parks and other sites run by the National Parks Service are some of our absolute favorite bucket list items. NPS sites are always well run and well presented, and the parks in Mississippi are no exception. Be sure to consider these for your Mississippi bucket list.
#1. Brices Cross Roads National Battlefield Site
A significant victory for Major General Nathan Bedford Forrest, the Confederate win at Brice's Cross Roads actually turned out to be quite costly for the Confederates in the long run. Visit this NPS site to learn how and why.
#2. Gulf Islands National Seashore
Gorgeous white beaches, emerald waters, and beautiful historical landscapes make up the popular Gulf Islands National Seashore. See this amazing beauty for yourself by visiting this amazing national park site.
#3. Medgar and Myrlie Evers Home National Monument
On June 12, 1963, Medgar Evers was murdered in his home. His was the first murder of a nationally significant leader of the American Civil Rights Movement. After his death, Medgar's wife Myrlie continued the work that she and her husband were so passionate about. Learn about the incredible work of these amazing people at this NPS site.
#4. Natchez National Historical Park
An excellent place to learn about the Natchez people, Natchez National Historical Park covers everything from European settlement to the Civil Rights struggle. Peek into the past and learn something new when you visit this Mississippi attraction.
#5. Natchez Trace National Scenic Trail and Parkway
The Old Natchez Trace is a trail that was once used by settlers, traders, soldiers, and many others to travel from one place to another. Today, visitors can drive the parkway built alongside the old trail, or hike portions of the trail itself to put themselves in the shoes of those travelers from a time gone by.
#6. Shiloh National Military Park
At Shiloh during the Civil War, nearly 110,000 American troops fought in a bloody battle that ended in 23,746 casualties. Explore this battlefield and visitor center to learn more about the struggle experienced here.
#7. Tupelo National Battlefield
Another Civil War Battlefield, Tupelo National Battlefield saw action in July of 1864 when Union forces marched into town. The Confederate soldiers could not overpower the organized Union troops. Learn more about this battle and its effect on the war at this NPS site.
#8. Vicksburg National Military Park
The battle at Vicksburg was an incredibly important one. In fact, President Lincoln declared that "Vicksburg is the key" to victory. The battle at this site would determine the outcome of the Civil War. Visit this site to find out what happened.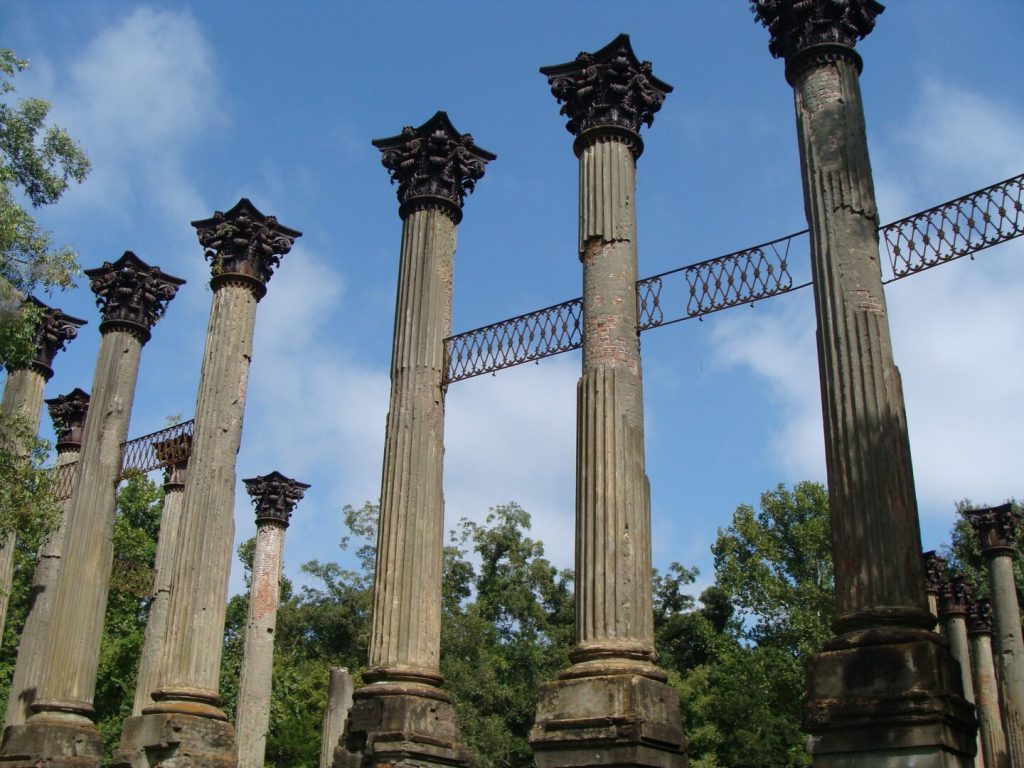 — More Mississippi Bucket List Experiences —
Need more ideas for your Mississippi bucket list? Lucky for you, we've got plenty. Below are our favorite attractions in the entire state. Pick and choose from this lineup and you can't go wrong.
#9. Cruise Along the Mississippi Great River Road
A beautiful scenic road that runs alongside the Mississippi, the Mississippi Great River Road offers the perfect drive for those wanting to explore the hidden corners of Mississippi. Not only will you get some incredible views of the river, you'll also pass through small towns and drive by a number of attractions and historic sites.
#10. Blast Off to INFINITY Science Center
NASA's official visitor center for the Stennis Space Center, INFINITY Science Center is a super fun place to see. See an F-1 rocket engine, explore the surface of Mars, and check out a model of the ISS's Destiny module.
#11. Stroll the All American Rose Garden
The campus of the University of Southern Mississippi is a lovely one, and the All American Rose Garden on campus is one of its prettiest parts. This garden features 32 beds of roses, each one boasting a different type of flower. It's beautiful and fragrant, and the perfect place for an afternoon stroll.
#12. Climb the Biloxi Lighthouse
Constructed in 1848, the Biloxi Lighthouse has been a Mississippi landmark for a very long time. Tour the lighthouse to learn about the history of the building and climb to the top for fantastic views of the ocean and coastline.
#13. Tour the Eudora Welty House and Garden
Eudora Welty was a Mississippi-born Pulitzer Prize winner and a 100% interesting woman. She is known for her novel, The Optimist's Daughter, but wrote plenty of other great things as well. See some of her works and learn about her life when you visit her home of 76 years in Jackson, Mississippi.
#14. Chow Down on Some Barbecue
No visit to Mississippi is complete without at least one good barbecue meal. We recommend Goldie's Trail Bar-B-Que or Abe's BBQ, but there are plenty of other amazing barbecue restaurants in this state.
#15. Wander the Ohr-O'Keefe Museum of Art
A tribute to the well known and ultra creative potter George E. Ohr, the Ohr-O'Keefe Museum of Art is a wonderful place to get inspired. There are plenty of amazing words inside, of course, but the buildings are also works in and of themselves and are worth a photo or two.
#16. Explore the Mississippi Petrified Forest
An amazing sight to see, the Mississippi Petrified Forest likely formed a full 36 million years ago and is the only petrified forest on the eastern side of the country. Besides hiking the forest itself, visitors are also encouraged to visit the onsite museum where they can view dinosaur footprints, a cast of a prehistoric camel, and more.
#17. Have a Blast at the Lynn Meadows Discovery Center
Traveling with kids? If so, the Lynn Meadows Discovery Center is a must-see. This fun, hands-on museum features all kinds of awesome exhibits. You can try your hand at catching shrimp, become a train engineer, climb an enormous play structure, and much more.
#18. Look at Cars at the Tupelo Automobile Museum
Car people simply must stop at the Tupelo Automobile Museum. Beginning with 1886 and ending in 1994, this museum features over a century of automobile history. Perhaps the best item in the collection is the 1976 Lincoln gifted to the museum by Elvis Presley himself!
#19. Listen to Music at the Ground Zero Blues Club
The Ground Zero Blues Club is an excellent place to listen to American delta music and steep yourself in Mississippi culture. This club makes a point of featuring local musicians who focus on playing the traditional Mississippi blues, and the shows are absolutely incredible.
#20. Step Back in Time at Jefferson Davis' Beauvoir
The final home for Confederate President Jefferson Davis, Beauvoir is a beautiful and well preserved historic home that is well worth touring. Learn more about Davis, view his library, and visit the Confederate soldier cemetery nearby.
#21. Enjoy a Meal at Brent's Drugs
Brent's Drugs is an absolutely adorable old-school soda fountain with good food, nostalgic decor, and a staff that'll make you feel right at home. Best of all, this place has some of the best milkshakes in the entire state, making it the place to go during those hot Mississippi summers.
#22. Shop the Mississippi Crafts Center
The perfect place to shop for a Mississippi souvenir, the Mississippi Crafts Corner allows shoppers to view hundreds of homemade pieces from a huge number of local artisans. This center is focused on displaying works that are unique to the state and region, and they strive to educate people on these crafts.
#23. See the Elvis Presley Museum and Birthplace
Are you an Elvis fan? If so, you can't miss the Elvis Presley birthplace where you can learn about his childhood and even view some of his earliest creations. When you're done there, be sure to visit the Elvis Presley Museum to learn even more about the King.
#24. Celebrate Mississippi Music at the Delta Blues Museum
Created in the small towns of Mississippi, the blues is among the only uniquely American art forms, and blues music can still be heard all across the state. Learn the history of blues music and celebrate the beauty of the music genre at the Mississippi Music and Delta Blues Museum.
#25. Socialize with Spooks at the Windsor Ruins
A spooky past makes the Windsor Ruins one of the creepiest places in all of Mississippi. The first person to call the mansion home died from an infection just days after moving in. The house was then used as a Union hospital during the Civil War, but was burned down by a lit cigar, leaving only 23 columns standing.
Today, the spot is popular with ghost hunters, many of whom have claimed to see the ghost of a Union soldier.
#26. Visit Rowan Oak
The home of celebrated author William Faulkner, Rowan Oak is a lovely place to visit. Guided tours of this historic Greek-revival style house are available for those who want to step back in time and learn more about this famous author of A Fable. This is the perfect stop for book lovers and history buffs alike.
#27. Go Hiking at Tishomingo State Park
Tishomingo State Park is one of the best places to visit for outdoor fun in Mississippi. Not only is the park full of amazing hiking opportunities, you'll also find plenty of history here, including a historic swinging bridge that is super fun to walk across.
#28. Pay Tribute at the War Memorial Building
The War Memorial Building was built with the intention of honoring all of the Mississippi men and women who died in battle defending the US. The building pays a nod to each battle fought by those from Mississippi, from 1768 all the way through the Vietnam War. Pay these people tribute with a visit to the building.
#29. Grab a Bite at Mammy's Cupboard
Mammy's Cupboard might be the most unique building you've ever visited. This woman-shaped eatery was built back in 1940 and has been attracting roadtrippers ever since. Not only is the building a super fun roadside attraction, the food and pie are absolutely delicious.
#30. Take a Dip at Geyser Falls Water Park
Summers in the South are insanely hot. Therefore, it only makes sense that people flock to Geyser Falls Water Park. Join the fun and enjoy all the water slides and other attractions at this super fun local water park.
#31. Discover New Things at the Mississippi Agriculture and Forestry Museum
We all know Mississippi and the surrounding states are well known for their rich farming history. Learn about this history at the Mississippi Agriculture and Forestry Museum. You'll likely leave this museum with a new appreciation for farmers.
As you can see, a visit to Mississippi isn't likely to be a boring one. Of course, you are going to want a comfortable place to rest your head after each long day of exploring. We recommend a Mississippi RV rental.
Renting an RV gives you the freedom to explore the entire state, hopping from one place to the next quickly and easily, taking the comforts of home with you wherever you go. After you finish making your Mississippi bucket list, why not check out our rental options in Mississippi to find the perfect RV for you?