Boondocking in Virginia
Top Campgrounds
Last updated on June 23rd, 2022. Originally published on May 24th, 2021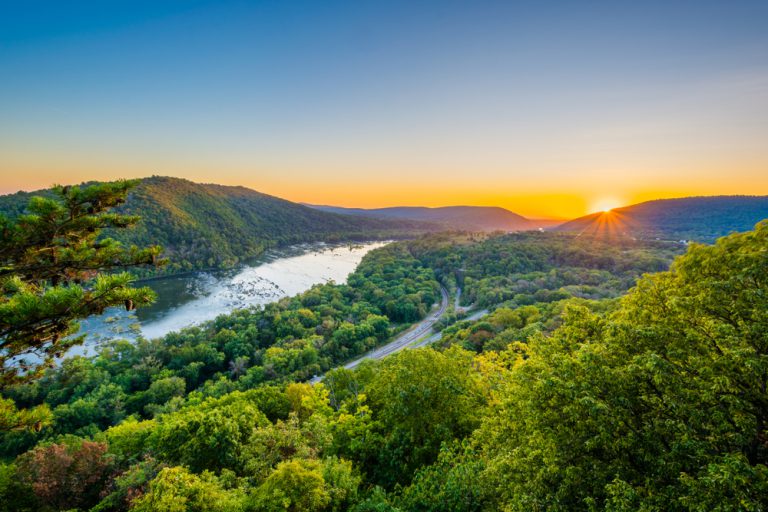 There are many beautiful places to go boondocking in Virginia. If you enter Virginia from the west and end at the Atlantic Coast, then you will travel through many beautiful regions to explore. First, you will be in the valley before entering the beautiful Blue Ridge Mountains, where you will want to explore Roanoke and Salem. Then, you will head back down into Piedmont with wonderful historic towns like Culpepper to explore. Along the coast, you will find the tidewater coastal plains with historic villages, like Jamestown and Williamsburg, along with great beach towns, like Cape Charles and Chincoteague. Each region has delightful places for free camping in Virginia. 
Boondocking Sites in Virginia
Rapidan Wildlife Management Area
You can find a lot to do at the Rapidan Wildlife Management Area in Madison and Greene Counties. This area adjoins Shenandoah National Park in four different locations, so you can easily enjoy boondocking in Virginia at this location while exploring both. Seasonally, it is a great spot to go deer, gray squirrel, and ruffed grouse hunting. The Rapidan and the Conway Rivers are excellent places to go trout fishing. There are many miles of hiking trails, especially along the rivers, to explore. 
Pig Farm Campsite
The Pig Farm Campsite is on McAfee Knob. This campsite on the Appalachian Trail near Roanoke features stunning views that are best enjoyed by hiking up this mountain. As you climb the trail, you will see four campsites. A little further ahead, you will find the Campbell Shelter and more tent campsites surrounding it. 
Three Ridges Wilderness Area
There are several free lean-tos in the Three Rivers Wilderness Area in Nelson County. This is a fabulous place to go hiking along the uphill trails before descending into V-shaped valleys. Eight miles of the Appalachian National Scenic Trail run through this area. The local Appalachian Trail club also operates a free shelter. 
Lambert's Meadow
Lambert's Meadow near Daleville is a fantastic place for boondocking in Virginia. There is a six-person shelter. This location along the Appalachian Trail offers excellent hiking opportunities. Enjoy a picnic while sitting on the flat-top rocks near the creek. Lambert's Meadow is an ideal place to go wildlife viewing, and you may see bear and deer. 
Amelia Wildlife Management Area
The Amelia Wildlife Management Area is about 30 miles north of Roanoke. This is a great spot to go fishing in Saunders Pond and Amelia Lake. There is a shooting range. You can go hunting for rabbits and quail. If you have a hunting pass or some other type of pass, then you can enjoy free camping in Virginia at this location. Otherwise, you will need to pay a very modest day-use fee to enter this wildlife management area located about 25 miles south of Richmond. 
The Pines Campground
You can boondock in Virginia at The Pines Campground in George Washington & Jefferson National Forests. This campground near New Castle is open from mid-May to mid-November. There is a fire ring at each site. You can use the shared picnic area nearby. 
Walnut Falls Campground
Walnut Falls Campground in the George Washington & Jefferson National Forests is near Blacksburg. This campground is close to the Flat Top Mountain Trail System and the Appalachian Trail. Be sure to take a short hike to see the Falls of Dismal when staying here. Bring your fishing gear to fish in Dismal Creek. 
Little Fort Campground
Access the most extensive off-road vehicle trail in Virginia from Little Fort Campground near Detrick. There is a vault toilet, and water is available. Nearby, Massanutten Mountain makes a great hiking destination. 
Where to Boondock in Virginia
When trying to plan out where to boondock in Virginia, start with the Appalachian Trail. You can find numerous locations along the 544 miles of the Appalachian Trail running through the state. The national forests also hold other great options for free camping in Virginia. There are unique places to camp in the wildlife management areas as well. 
Free Camping in Virginia
When preparing for your boondocking trip to Virginia, consider the terrain. Especially if you will be camping in a larger RV, make sure that you know that the area is accessible to those vehicles. Additionally, think about the distance between towns. You do not want to run out of gas, and some of the locations for boondocking in Virginia are in remote places where you will not find gas stations for miles. 
Some of the best reasons to go boondocking in Virginia are the memories that you will be creating. Sometimes, the more people you bring along, the better. Other times, it may be best to go camping for free in Virginia with one very special person or by yourself. 
There are many fabulous places to go boondocking in Virginia. From mountain tops to deep valleys, you can find beautiful scenery to see. There are also fantastic places to go hiking, biking, off-roading, and fishing. Before you head out on your trip, check out our blog for all you need to know about boondocking. It is filled with helpful tips to make free camping in Virginia even more enjoyable. 
There are many great reasons to go camping in Virginia. There are thrilling attractions to see, exciting events to attend, and quiet spots to explore. Boondocking in your RV is a great way to see and do more. If you do not have an RV, then rent one on RVshare.com.