Top Campgrounds
Last updated on June 23rd, 2022. Originally published on May 26th, 2021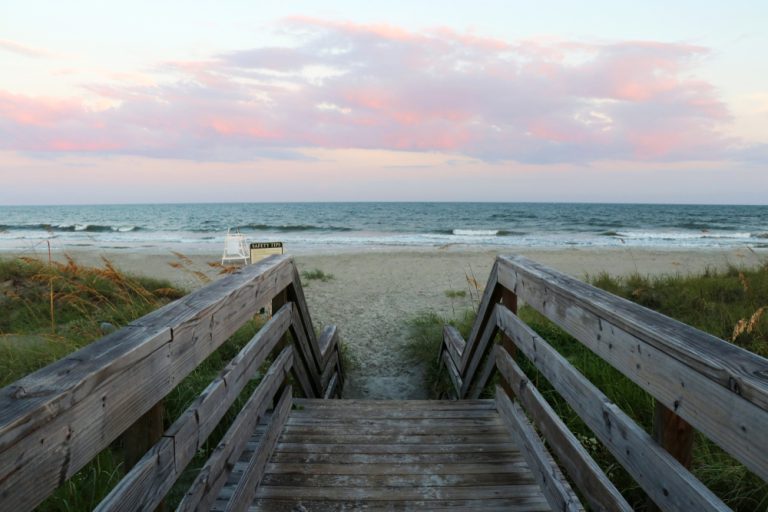 The question of where to boondock in South Carolina has many answers. One of the more pressing things that you will need to decide is what region of the state you want to visit. You may wish to visit the small Blue Ridge region in the northwest corner of the state near Sassafras Mountain or the gently rolling hills of the Piedmont region with its beautiful orchards. You may also want to visit the Sandhills region with its wonderful opportunities to go white-water rafting and hiking.
The intercoastal area offers an excellent opportunity to explore forests. If you are a water lover, you will want to visit the coastal zone since it is home to wonderful cities that you can explore, including Myrtle Beach. When you go boondocking in South Carolina, you can make the most of your time in these regions as you enjoy the benefits of free camping in South Carolina. 
Boondocking Sites in South Carolina
BobCat Boat Landing
Head to the end of County Road 439 near Bamberg, South Carolina, to reach the BobCat Boat Landing. This camping spot offers easy access to the one-lane boat ramp to launch a vessel onto the South Fork of the Edisto River. If you are looking to go kayaking with a group, contact the Bamberg County Chamber of Commerce as they often organize trips starting at this location.
Halfway Creek Trail Camp
Halfway Creek Trail Camp is along the Palmetto Trail in the Francis Marion National Forest in Charleston County. Bring along your bike to ride on the unpaved paths. There are also numerous hiking opportunities, and a hand pump is available for water. 
Congaree National Park
While you will need to get a free permit, you can go primitive camping at Congaree National Park. Free camping in South Carolina is available on the left bank of Cedar Creek between Bannister Bridge Canoe Access and Cedar Creek Canoe Access. In most cases, you will need to camp more than 100 feet away from any water source like creeks and streams. 
Honey Hill Recreation Area
The campsites at Honey Hill Recreation Area between McClellanville and Honey Hill are in the Francis Marion National Forest. Drinking water is available at this location. Enjoy a picnic at the picnic tables before hiking on the nearby trails. 
Marsh Wildlife Management Area
Find boondocking in South Carolina next to the information kiosk at Marsh Wildlife Management Area near Gresham. You can find lots to do in this area, including fishing, boating, birding, and wildlife viewing. This facility is open for seasonal hunting. 
Elmwood Recreation Area
Elmwood Recreation Area near Charleston offers free camping in South Carolina. This campground in the Francis Marion National Forest is in the Waterhorn Hunting Unit. Spigot water and a vault toilet are available. 
Swamp Fox Passage
Swamp Fox Passage offers walk-in campsites on the Palmetto Trail near McClellanville. You can park at the ranger station about 1.5 miles away and hike to these backcountry sites. There is also water and a restroom available at the ranger's station. These campsites are on the longest part of the Palmetto Trail that does not pass through a town. 
Grapevine Campground
Grapevine Campground is in Sumter National Forest near Mt. Rest. This campground offers no services. However, you can hike and fish in this forest, which is located very near the Atlantic coastline. 
Where to Boondock in South Carolina
You can find many great choices for boondocking in South Carolina. Consider camping in Francis Marion or Sumpter National Forests. There are several opportunities for free camping in South Carolina along the Palmetto Trail, which runs clear across the state. Some of the state's wildlife management areas offer boondocking opportunities.
Free Camping in South Carolina
When preparing for your boondocking trip to South Carolina, consider the weather. Especially during hurricane season, storms can spin off tornadoes with little or no warning. Getting an NOAA hand-cranked weather radio can be a great idea because you may have limited cellphone service at many of these locations. Learning to read the clouds yourself can be an essential skill because you will have a better idea of what will happen in your exact location.
At campgrounds located near the coast, be aware of low and high tides. Learn approximately where the water will get during high tide if you arrive during low tide. Then, camp beyond that point. You will want to camp at least 100 feet from any stream in most cases.
Unlike many states, you do not have to drive to remote locations to find spots for boondocking in South Carolina. Many camping sites are close to paved roads and near cities. This allows you easy access to explore regions when camping in South Carolina. Make sure to be aware of how long you can stay at a particular location as many areas have a 14-day limit.
From the coast to the mountains, South Carolina offers a variety of unique places to explore. The best part of boondocking is that you will be spending time with those that you love. Often, there will be very few others around, which allows you to connect with the people that matter most to you. Boondocking is also a fantastic way to connect with nature. Many sites are in areas with little development, so you can see wildlife in its true glory.
Before you head out on your trip, check out our blog for all you need to know about boondocking. It is filled with helpful tips to make free camping in South Carolina even more enjoyable.
There are many great reasons to go boondocking in South Carolina. It is easier to pack all you need to bring along when you have an RV. If you do not have your own, rent one at RVshare.