Travel Inspiration
November 10th, 2020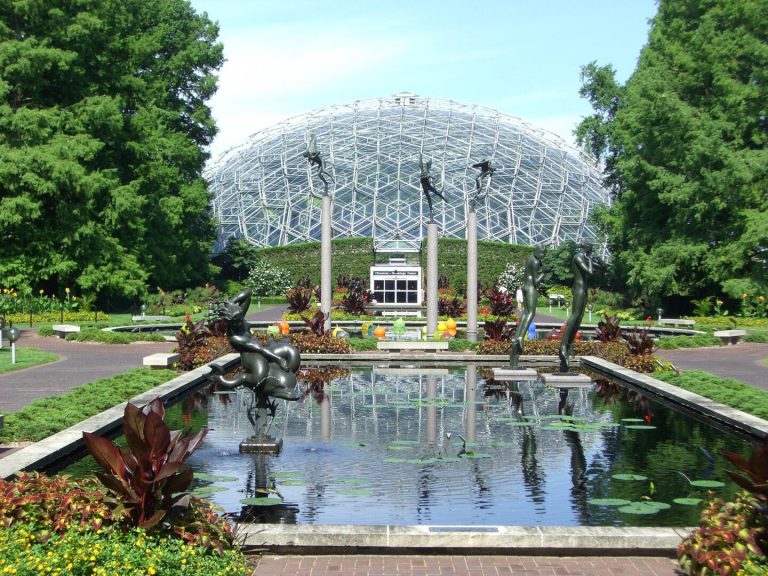 Best Botanical Gardens in the US
Having an RV purely to go camping is great. However, for many people, half the fun is getting out of the campground to see and do new things. From theme parks to museums, there are all kinds of awesome attractions scattered around the country. Using your RV to check them out is highly recommended. Some of our favorite attractions to seek out when traveling are the nation's many beautiful botanical gardens.
Botanical gardens come in all sizes; some are focused on a specific type of plant, while others have a wide variety of trees, flowers, and bushes. Some offer free admission, others host amazing concerts, and almost all are worth visiting.
That said, there are some botanical gardens in the United States that stand out from the rest. These are the kinds of attractions you definitely don't want to miss when you're in the area, and some are even worth traveling to all on their own.
In this article we will discuss the best US botanical gardens so you can make sure to see plenty of gorgeous greenery as you travel this beautiful country.
What is the Difference Between a Botanical Garden and an Arboretum?
If you're wondering what the difference between an arboretum and botanical garden is, you are not alone. This is a commonly asked question we feel must be addressed before moving on in order to clear up any confusion.
Does one of these types of gardens feature different plants than the other? Is the size what makes the difference? Is there really a difference at all?
Here's what we discovered:
A botanical garden can feature any kind of plant. These plants might be displayed in a number of different ways, including greenhouses, flower beds, and even in ponds.
An arboretum is simply a type of botanical garden that features trees and woody plants specifically (think Arbor Day—it's right there in the name). So an arboretum is a botanical garden, but a botanical garden may not necessarily be an arboretum.
What is the Largest Botanical Garden in the US?
Another thing many people want to know is where to find the biggest garden in the US. That, my friends, would be the Chicago Botanic Garden, an amazing attraction that also happens to be one the best botanical gardens in the US.
This enormous garden is a full 385 acres and features millions of lovely plants. It's so large that we recommend setting aside several hours to see the whole place—and do plan to leave tired, though glad you visited.
Best Botanical Gardens on the East Coast?
If you live on the east side of the country, you may be wondering about the best botanical gardens along the Atlantic coast.
To be honest, there are dozens of incredible gardens on this side of the US. Picking and choosing just a handful was nearly impossible. Still, we did our best, and below you'll see our list of the best botanical gardens in the area.
Lewis Ginter Botanical Garden in Richmond, VA
Featuring 15 distinct outdoors gardens, 11 major buildings, 4 lakes, and more, Lewis Ginter Botanical Garden is a gorgeous place during all seasons. We especially love the garden during the spring and fall, when the colors presented are bright and vibrant. That said, the winter season brings about the garden's special holiday lights show, something that is sure to bring a smile to your face.
The garden is open 9am–5pm daily—except on Thanksgiving and December 24th and 25th, when it is closed entirely.
United States Botanic Garden in Washington, D.C.
Most people are well aware of the incredible Smithsonian museums found in Washington, D.C. What many people don't realize is that the city boasts an equally impressive botanical garden.
The United States Botanic Garden has been around for 200 years, and has inspired countless individuals in that time. Why not join that crew and pay a visit to the garden yourself?
This attraction is temporarily closed, but usual hours are 7:30am–5:30pm daily. Like most other D.C. attractions, this garden offers free admission, giving travelers even more reason to check it out.
New York Botanical Garden in New York City, NY
Most people wouldn't expect to find an enormous garden in the middle of one of the world's most bustling cities. Nevertheless, the New York Botanical Garden covers an enormous 250 acres of the Bronx. It offers a peaceful escape into nature for both residents and visitors who may be feeling a bit overwhelmed by the lights, sounds, and smells found in the big city.
This garden is open from 10am–6pm, Tuesday through Sunday. Because it's such an expansive garden, we highly recommend taking a good chunk of time to visit.
Fairchild Tropical Botanic Garden in Coral Gables, FL
One of the more unique gardens on our list, the Fairchild Tropical Botanic Garden is focused on tropical plant life. Here you'll find a large variety of palm trees as well as bright colored flowers and tropical fruit plants. The "Wings of the Tropic" exhibit features hundreds of spectacular butterflies, and is a seriously amazing thing to see.
Fairchild Tropical Botanic Garden is open from 10am–4pm daily, giving you plenty of time to explore the wonderful plants displayed here.
Best Botanical Gardens on the West Coast?
Next on our list of the best botanical gardens USA is our west coast collection. If you'll be paying a visit to California or Oregon, these are the gardens for you. Without further ado, we give you the best botanical gardens along the Pacific coast.
San Francisco Botanical Garden in San Francisco, CA
Located in the famous and beloved Golden Gate Park, San Francisco Botanical Garden is an urban oasis that absolutely must be visited while in the city.
The garden displays 8,000 different kinds of plants from all over the world. This gives you an opportunity to check out plants you may never see otherwise. The events offered here add to the fun and include gardening classes, camps, and even yoga sessions.
Open 7:30am–6pm daily, this garden caters to both early risers and those who prefer the evening hours, so you have no excuse to miss it.
Portland Japanese Garden, Portland, OR
If you've never visited a Japanese garden, it's high time you did, and the Portland Japanese Garden is the perfect place to do just that.
This gorgeous green garden features a waterfall, a tea house, and even a mountain view. The architecture and decor is all inspired by Japanese art and culture, the plants are carefully selected to compliment this style, and the result is an incredibly tranquil environment that is sure to put your mind at peace.
This garden currently has shortened hours and is open Wednesday through Monday from 10am–3:30pm.
Santa Barbara Botanical Garden in Santa Barbara, CA
Santa Barbara Botanical Garden is interesting in that it displays only plants that are native to the state of California. That said, because California is such a large and diverse state, the garden is surprisingly expansive and includes over 1,000 different types of plants, which are arranged based on natural habitat to give visitors an idea of where they might actually see such plants.
Want to visit this garden? Plan to stop in between 10am–5pm any day of the week.
Best Central US Botanical Gardens?
Finally, our list of botanical gardens across the USA must include a section about the middle of the country. Obviously, there are an enormous number of beautiful gardens in the central US, but we managed to narrow down our list until we had the selections below.
Missouri Botanical Gardens in St. Louis, MO
Missouri Botanical Gardens is on many top US gardens lists, and it's definitely one of our top picks as well.
The attraction features a gorgeous Japanese garden, one of the world's largest collections of rare orchids, and the historic home of the garden's founder, Henry Shaw. Additionally, this attraction hosts a variety of seasonal events that really help round out the experience and make it fun for all ages.
Missouri Botanical Gardens is open Tuesday through Sunday from 9am–3:30pm.
Desert Botanical Garden in Phoenix, AZ
A garden featuring plants found in the desert may not sound like much. After all, deserts are pretty desolate places without much life, right?
Actually, that's completely untrue! Deserts are teeming with all kinds of life. Not only that, the plants found in the desert are extra incredible because they have come to adapt to such harsh conditions. Phoenix's Desert Botanical Garden is the perfect place to learn all about these super plants as you wander through the lovely desert landscape.
This garden is open every day from 8am–8pm, giving you the opportunity to visit at night if you so desire.
Atlanta Botanical Garden in Atlanta, GA
Missouri might boast an enormous rare orchid display (as mentioned earlier), but Atlanta Botanical Garden is home to the largest collection of orchids on display in the country. On top of that, this fantastic garden has educational exhibits, a pond full of interesting aquatic plants, and an incredible children's garden.
All that said, our favorite part of this garden is the 600-foot canopy walk that allows you to walk among the branches of large trees while looking down on beautiful flowers.
Open Tuesday through Sunday from 9am–6pm, it should be easy to find a time to visit this garden.
(Side note: While it didn't quite make the cut, it should be mentioned that the Chicago Botanical Garden mentioned above is also in the central US and is well worth visiting.)
There you have it folks, a best-of list of botanical gardens across the USA. Of course, this list is subjective, and there are dozens more amazing gardens across the country. Therefore, we recommend stopping in anytime you have the opportunity to visit a green oasis. This will give you a chance to decide for yourself which ones are the best of the best.