Travel Inspiration
Last updated on November 17th, 2022. Originally published on May 6th, 2022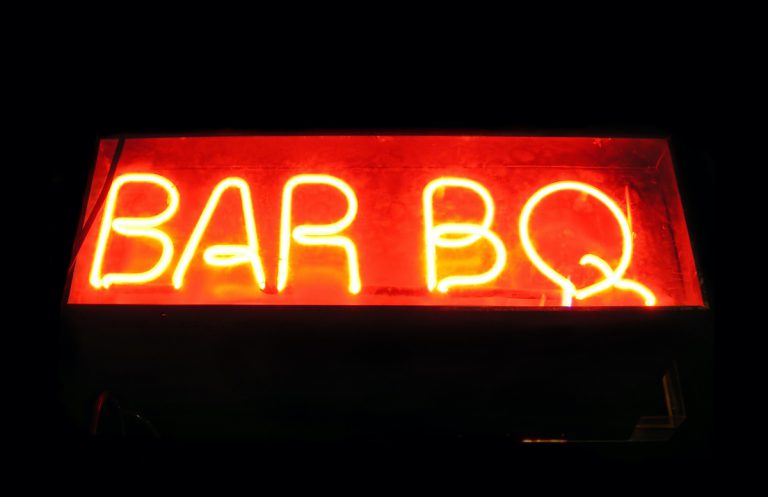 No matter if you spell it Barbecue, BBQ, or Bar-B-Q, smoked meats are a tasty tradition with its own culture, competitions, and styles. Can't get enough ribs, brisket, chicken, or pulled pork? If you're looking to find the best BBQ, a foodie road trip might be just the thing! Here are some of the best BBQ spots in the U.S. to visit on your next RV road trip.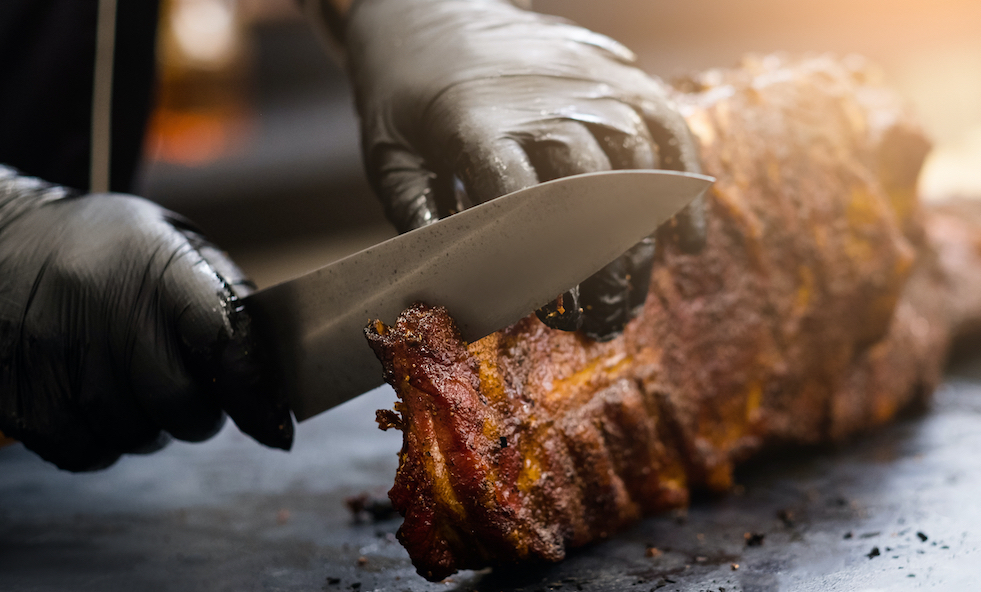 Types of BBQ
Generally speaking there are 4 main types of BBQ in the U.S., but there are plenty of smaller regional types that are growing in popularity. We'll cover a bit of everything and share some top places to visit if you're looking for the best BBQ in the U.S.
Carolina Style BBQ
Carolina BBQ has several of its own styles but tends to be slow roasted pork. There's eastern style which roasts the whole hog, and western style which just smoked the pork shoulder. The meat is slathered with sauce while cooking and can be served with different sauces. Eastern style is a vinegar and pepper based sauce, while Lexington style sauce is tomato and vinegar based. And don't forget South Carolina's mustard based Carolina Gold sauce. You'll have to try all the styles to find your favorite!
Best Places to try Carolina Style BBQ
Grady's BBQ – Dudley, North Carolina
Started in 1986, Grady's BBQ features whole hog BBQ, cooked in a pit right behind the restaurant. This eastern style BBQ is served with homemade sides from family recipes.
Stamey's – Greensboro, North Carolina
Stamey's has two locations in Greensboro and serves Lexington style BBQ cooked over hardwood coals. Try their pork shoulder served with slaw and hush puppies.
Wise BBQ House – Newberry, South Carolina
Wise BBQ House serves delicious South Carolina style BBQ at their buffet. They have all the classic BBQ meats like pulled pork and ribs, and lots of sides. And of course, the Carolina Gold mustard based BBQ sauce.
Texas style BBQ
It's no surprise that Texas BBQ favors beef instead of pork, although you'll find both. BBQ here means ribs, brisket, and sausages or hot links, although you'll find some variation across this large state. Central Texas favors dry rub and serves the meat without sauce, sliced with a thick crust on the outside. While East Texas tends to favor sauces similar to the South and serve the meat chopped and on sandwiches.
Best Places to try Texas Style BBQ
Kreuz Market – Lockhart, Texas
Kreuz Market serves up BBQ beef, pork, chicken, and sausages with German style sides like potato casserole and sauerkraut.
Snow's BBQ – Lexington, Texas
Located in Lexington, TX Snow's BBQ is only open on Saturdays from 8 am until they sell out, so get there early! They serve brisket, ribs, chicken and sausages.
Franklin Barbecue – Austin, Texas
Franklin Barbecue is some of the best BBQ in Austin and is open Tuesday through Sunday. They serves delicious brisket, ribs, pulled pork, sandwiches, and more. And save room for their pie!
Kansas City Style BBQ
In Kansas they BBQ all sorts of meat – brisket, pork, chicken, and sausages, but they're best known for their burnt ends. Burnt ends are flavorful bits of brisket that have been cooked, chopped, and usually covered in the thick Kansas City style BBQ sauce. But even the rest of the meat is rubbed in a brown sugar based seasoning and slow cooked, then served slathered in a sweet Kansas City tomato and molasses based BBQ sauce.
Best Places to try Kansas Style BBQ
Jack Stack Barbecue Freight House – Kansas City, Missouri
Serving diners in a converted historic freight house, Jack Stack Barbecue is the perfect place to fill up on burnt ends, pulled pork, BBQ chicken, or ribs.
Arthur Bryant's Barbeque – Kansas City, Missouri
This iconic Kansas City restaurant is known for their meats smoked on hickory and oak wood, with their signature BBQ sauces. It's nationally known for both the food and the namesake, the legendary King of Ribs, Arthur Bryant.
Joe's Kansas City Bar-B-Que – multiple locations, Kansas
Joe's Kansas City Bar-B-Que has several locations including their original gas station, serving up pulled pork, turkey, chicken, and brisket and of course burnt ends when you can get them!
Memphis Style BBQ
Memphis BBQ is best known for their pork ribs. You can get them wet or dry – dry is covered in dry rub and smoked, while wet is coated in sauce before, during, and after cooking. Or try the pulled pork sandwiches, which are smoked ribs that are shredded and served with sauce on the side.
Best Places to try Memphis Style BBQ
The Rendezvous – Memphis, Tennessee
Beginning in the 1940s, Charlie Vergos converted an old coal chute to a smoker. He rubbed ribs down with a combination of his father's Greek chili recipe and Cajun spices, and the rest is history! Try the famous dry rubbed Memphis-style ribs at The Rendezvous!
The Bar-B-Q Shop – Memphis, Tennessee
Not only do they have killer ribs either wet or dry (or do half and half!) and both their sauce and dry rub for sale, but The Bar-B-Q Shop is known for their Bar-B-Q spaghetti!
Central BBQ – Multiple Locations, Tennessee
Central BBQ is a local favorite and has grown to several locations. They use hickory and pecan woods to slow smoke their meat, along with dry rub instead of using sauce. Try the ribs, pulled pork, or brisket.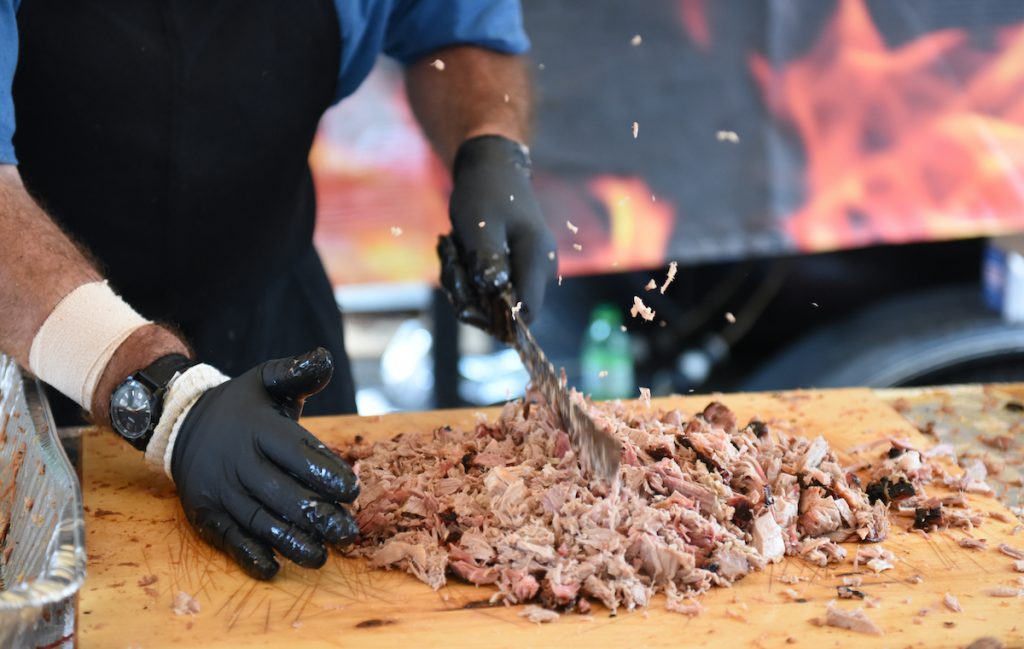 Alabama Style BBQ
Alabama has its own style of barbeque with a unique white sauce. Typically served over pork or chicken sandwiches, this white sauce is made from a combination of mayo, vinegar or lemon juice, and mustard, and sometimes horseradish. It's also often used in the delicious coleslaw and potato salads served on the side.
Best Places to try Alabama Style BBQ
Big Bob Gibson Bar-B-Q – Decatur, Alabama
Located in Decatur, AL, Big Bob Gibson Bar-B-Q started in 1925 with an original white sauce. Big At this award-winning restaurant you need to try the BBQ chicken with their famous white sauce!
Bob Sykes Bar-B-Q – Bessemer, Alabama
Bob Sykes Bar-B-Q features smoked pork shoulders over hickory coals. Try the BBQ pork sandwich and be sure to Leave room for the lemon icebox pie!
Kentucky Style BBQ
Want to try something different? Western Kentucky specializes in barbecued mutton (sheep). It's often smoked over hickory and served with a sauce. But don't worry, if you're more a of traditionalist, there's plenty of pork shoulder BBQ here as well.
Best Places to try Kentucky Style BBQ
Moonlite Bar-B-Q – Owensboro, Kentucky
Located in Owensboro, Kentucky, Moonlite Bar-B-Q's buffet lets you try a bit of everything. Be sure to sample some of the famous barbecued mutton.
Old Hickory Bar-B-Q – Owensboro, Kentucky
Also located in Owensboro, Old Hickory Bar-B-Q offers a variety of mutton, as well as pork and beef. Also try the Burgoo – a stew made with smoked meats.
Whether you're looking for the best BBQ in Kansas City, Memphis, the Carolinas, or Texas, these restaurants will let you fill up on some of the best smoked meats in the country. And don't forget to check out some of the great national parks and state parks wherever you visit!