RV Owners
Last updated on April 7th, 2023. Originally published on August 18th, 2015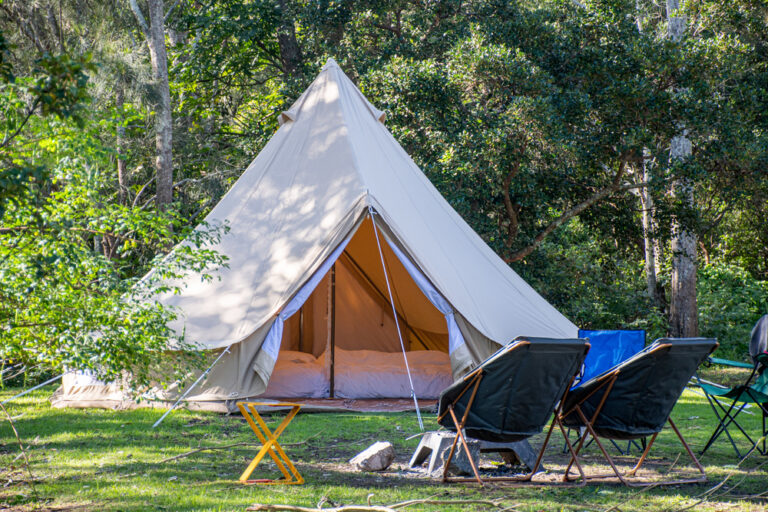 If you're like most folks, you RV only a couple of weeks of the year and the rest of the time your rig sits in your backyard. Sure, you bought it with the best intentions, but life gets busy and you never seem to get away.
What's an RV owner to do? Here's an idea! Why not turn your unused RV into a backyard glamping retreat and rent it out to travelers? Today it's easier than ever to turn your RV into a backyard retreat. Here's how you can put your rig to good use.
Think Like a B&B
Take a step back and look at your RV. Think of it as a resort or a bed and breakfast. What are its most appealing attributes? Is there a theme? What part of your rig or yard should be highlighted in your promotion?
For example, if you live on a farm why not offer farm-style glamping? Sure, it's just your backyard, but to someone from the city, it's the perfect getaway. Or do you live in the middle of a popular city?  Then you may have the perfect location for city exploration!
Once you decide on a promotional angle you will need to prepare your unit for guests. Think like an upscale hotel. You will want to supply high-end linens, fresh blankets, and stylish or themed décor. Be sure to provide thick, rich towels and a matching set of kitchen pots, pans, and dishes.
People who glamp are looking for luxury. Don't skimp.
Eat, Drink, and Be Merry
Stock the fridge with beverages, bottled water, and simple breakfast supplies. Be sensitive to dietary needs as indicated by your guests. For an extra fee, you could supply a grill and a basket of BBQ basics. Decide how much cooking you are comfortable with your guests doing in your RV. If you don't want them to cook inside, be sure to let them know prior to their stay.
And of course, be sure to provide an appropriate coffee maker and local coffee!
Provide Entertainment
Glamping is a vacation and vacationers need something to do! Feel free to stock your RV with movies, board games, and books.  Your guests may want to watch television so be sure to hook your rig to cable or dish. If you live in an area with weather issues, provide a storm radio during the season. Music is a nice touch. Offer an easy-to-use radio/mp3 system that allows your guests to listen to their favorite sounds.
Offer Transportation
Not everyone has transportation. You might offer to pick up and return your guests to the airport for an additional fee.  You could also offer suggestions for bus routes, taxi numbers, or info on app-based driving services like Uber. You can also offer bicycles to your guests as part of their glamping package.
Provide Top Notch Concierge Service
Offer quality information to your guests. Know the best restaurants, theaters, and art galleries. If there are hiking, biking, or natural trails nearby, offer maps. Get familiar with directions to and from your home. It's important to give clear and concise help whenever possible. It will add to the overall experience.
Things to Think About:
Insurance – Talk to your agent about what additional coverage is required to rent your RV.
Safety – Consider the area around where your rig is parked. Safety is an important concern and you may or may not want children or animals as guests.
Costs – Compare your rates to others in your general area. Be sure to know your expenses before you set a price. Take into consideration the time and energy for set up and clean up.
Zoning – This is a grey area. While few residential areas are "zoned" for short-term rentals, Air BNB is working with cities all over the globe. Do your research and know the rules before you advertise.
Where to List Your Rental
Check out the following sites where you might want to and eventually list your glamping or RV rental. Take time to read the FAQs and join the forums. Most of these companies handle the money so you don't have to!
RVshare
GlampingHub
AirBnB
RVwithME
What about you? Would you turn your unused RV into a glampers paradise? Add your thoughts to the comment box below. Like this idea? Text it, tweet it, like it, and share it with all your social friends! Thanks!