8 Freshwater Fishing Campgrounds You Don't Want to Miss
Travel Inspiration
Last updated on November 24th, 2022. Originally published on May 8th, 2017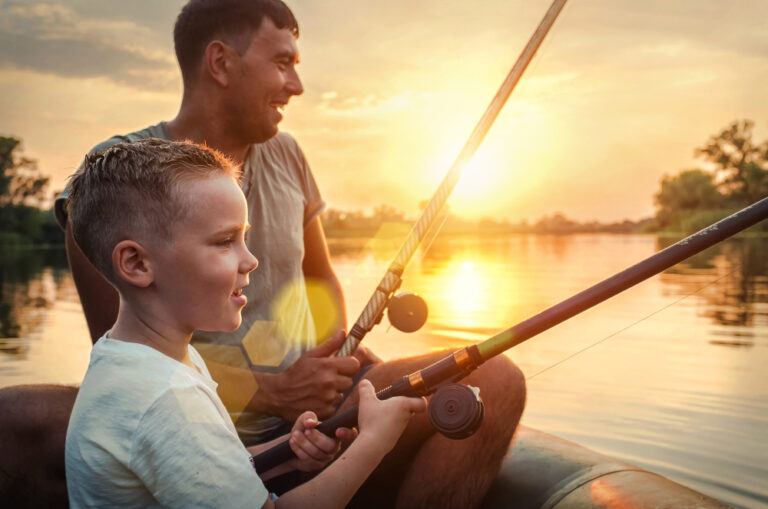 Perhaps the only thing more relaxing than setting up camp and roasting s'mores over a freshly-built fire is grabbing a fishing pole and cracking a beer alongside a beautiful freshwater lake or stream.
Fishing is one of those quintessential camping activities. It's slow-going and easy, promising rewards to those with the patience to simply relax and wait. As a bonus, it also makes a pretty delicious dinner to put on your picnic table back at the rig.
Obviously, saltwater fishing is limited to coastal areas, which may be far away and are almost always expensive. And while fly fishing backpacking trips are exciting, it's nice to have the comforts of home nearby. That's why you got into RV camping in the first place, isn't it?
And if you're wondering, are there any fishing campgrounds near me? Have no fear, because no matter what corner of the country your RVing journey takes you to, it's possible to find quality campsites with fishing nearby.
So if your tastes run toward river trout or freshwater bass (bigmouth or small), you're in luck. Here are a few fishing campgrounds to consider for your next RV trip.
One of the premier sites for smallmouth bass in not just the state of Arizona but the whole nation. Lake Havasu's well-kept park offers convenient and affordably-priced campsites. You might also get lucky enough to catch largemouth or striped bass, as well as catfish and sunfish.
All fishers over 10 years of age will need to possess an Arizona fishing license.
There's way more to Florida fishing than big saltwater game.
Nestled just north of Orlando, the spring-fed Wekiwa River has been a prime spot for fishing since the long-ago days when it was inhabited by the Timucuan tribe of Native Americans. The waters are also pristine enough for swimming, kayaking, and paddling, not to mention the park's miles of gorgeous hiking trails.
And once you're done cooling off in the springs, head out into Florida's heat for a trip to Disney or its famous beaches. This state park is pretty centrally located, so almost any Floridian destination you can imagine is just a day's drive away.
The South Platte River teems with trout of all varieties: rainbow, brown, and cutthroat, to name just a few. The tailwaters along Eleven Mile Canyon are especially generous, and there's ample camping nearby at the Riverside and Spillway campgrounds.
Plus, you're only two miles out of Denver, so it's the perfect stop on the way to or from the iconic Rocky Mountain National Park.
It's basically a law that if you take your RV to Alaska, you absolutely must catch a fish or five.
This campground along the famous Kenai River doesn't have much space, so you'll want to call ahead — but it's Alaska, so you already knew that. Don't worry: It'll be worth your time and energy when you reel up an enormous sockeye or silver salmon, which will taste amazing and fresh simply grilled with olive oil and lightly seasoned.
If you've ever seen "A River Runs Through It," you just may recognize the waters running through this scenic campground — the Gallatin is one of the rivers they used to get those stunning shots.
We trust you'll find it's even better in real life. Possible catches include rainbow, brown, brook and cutthroat trout, as well as whitefish and Arctic grayling. Don't forget to turn your eyes landward, where you might catch sight of bears, moose, mountain goats, and elk.
In the heart of Maine's North Woods, along the west branch of the Penobscot River, you can find this delightful fish camp, which features cabins as well as expert-guided fly fishing clinics. Whether you're a beginning angler or an old-hat expert fisherman, these half- or full-day experiences are sure to sharpen your skills right up.
Although the campground's RV sites don't feature full hookups, they do have a source of potable water so you can fill your holding tank. And while personal generator use is allowed, the campground asks that you work with management to "find an appropriate time."
"The tranquil quality of Big Eddy Campground is something we strive to maintain," the website explains, "and limits to generator usage are designed to maximize the wilderness experience for all of our guests."
Deep in the Chickasaw National Recreation Area, this campground is one of only two in the park that feature electric hookups and water. It's also within a stone's throw of the bass-filled Lake of the Arbuckles, which is also home to perch and crappies.
The "C" Loop section of the campground is open year-round. Once you've reeled up your dinner, you can explore the unique surrounding landscape, which is part forest, part prairie, and all beautiful.
You'll catch brown and rainbow trout aplenty in this lower-Sierra waterway — and the fish aren't small, despite its name. After you've put the poles away, you can take a dip yourself in the granite-carved Slicks and Honeymoon Pools, or hike or bike along the Dinkey Creek trail.
If you need a change of scenery, head up the road to McKinley Grove, which is just six miles away. Filled with stunning giant Redwood trees, it's the perfect spot for a midday picnic break while the fish are napping.
Good luck, RVshare family — and don't forget your tackle box!