How Tos & Tips
Last updated on August 21st, 2023. Originally published on April 29th, 2015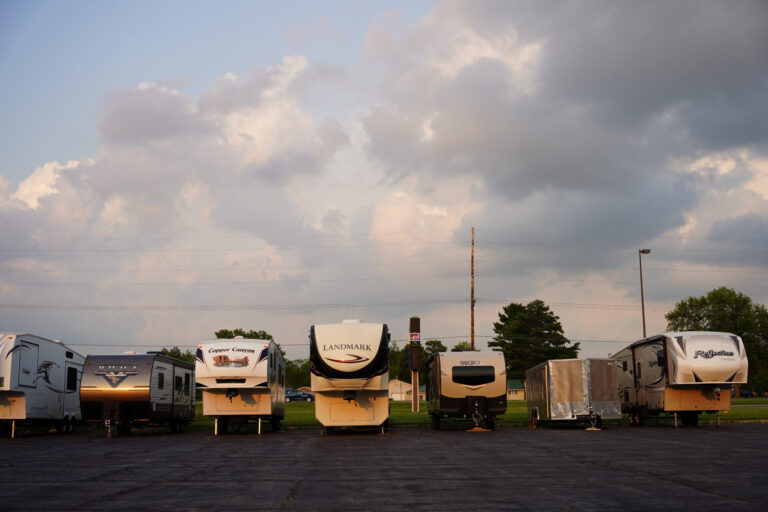 If you're planning to store your RV for winter, there are several things to do ahead of time to make sure it's properly prepared for an extended period of inaction. You'll want to make sure things don't freeze, that you're preventing bugs, that things are sealed and tanks are drained. Preparing your RV for storage happens in two stages – you need to prepare the RV coach for storage, and you need to prep the RV chassis for storage. Here are RV storage tips so you can do each of those things.
Prepping the RV coach for storage
1). Choosing RV storage
The first thing to do is to find the best RV storage for your rig. There are plenty of options, including outdoor RV storage and covered RV storage. If you're using outdoor RV winter storage, be sure to avoid parking under trees or in areas where grass and weeds will grow. However, if you can get covered storage for RV, that is ideal – especially if you live in an area with weather like snow or hail or lots of rain. RV covered storage can protect your rig from a lot of damage from the elements. You can also look into RV self-storage, or even purchase RV storage sheds or shelters if you have space and want to keep your RV nearby. The RV storage solutions are varied, and the best option for you is going to depend on where you live and how often you use your RV.
Inflate your wheels to the manufacturer's recommended maximum cold pressure. If you're not removing the tires for long-term storage, cover them to protect them from the sun. Also, plan to move your vehicle periodically to prevent flat spots from them sitting all winter.
2.) Cleaning and closing up your RV
Make sure all blinds and covers are down to protect your furniture from the sun. They will also act as another rodent barrier. Check for cracks and tears in your window coverings and take this time to get them repaired as well. Then, turn off the main LPG supply valve. Cover any vents that might allow insects into the vehicle. Remove all perishable goods and open all your drawers and cabinets. After you have defrosted and cleaned the fridge, leave an open container of baking soda in it and keep the door open. The baking soda will absorb odors and help keep your refrigerator smelling fresh.
Make sure all awnings are clean and dry before packing them away. Oil your locks and lubricate them with WD-40.
Prepping the RV chassis for storage
3.) Storing your battery
Remove your battery to store separately. Begin by disconnecting the negative terminal first. Clean the batteries with a 50-50 mixture of baking soda and water if they need it, then store them in a cool dry place where they can't freeze. Remember, batteries in storage will lose their charge, so check the charge every month and recharge if they're at or below 80%.
4.) Add fuel stabilizer
Fill your fuel tank before storing your rig and add a fuel stabilizer. Run the engine and generator long enough for the stabilizer to run through the system and follow the manufacturer's instructions. Run your engine and generator for at least two hours every two months.
5.) Change your oil
Change the oil and oil filter on the engine and generator before storing your RV. Used oil sitting in your rig for long periods of time can corrode engine bearings.
6.) Check your antifreeze
Your engine radiator should have the proper concentration of antifreeze. Check your owner's manual to make sure you have the correct type of engine antifreeze. Drain and flush your system every 2-3 years.
7.) Where to find RV storage
While you can store your RV at home, if you're short on space, it may not be the best option for long periods of time. You can also look into affordable RV storage at an RV self-storage facility. There are options for outdoor RV storage, covered RV storage, and indoor RV storage. If you're looking for cheap RV storage, you may opt for outdoor (but make sure you have a good cover to protect your vehicle!), but indoor storage is ultimately going to protect your vehicle the best.
For more on RV storage check out our Different Options for RV Storage blog!
While it's definitely the most fun when you're out on the open road in your RV (or comfortably settled at a beautiful campsite!), taking the time to properly winterize and store your rig will mean that it stays in good shape and ready to for your travels for years to come!
This post contains affiliate links. RVshare may receive compensation if you make a purchase after clicking on a product link.