How Tos & Tips
Last updated on December 7th, 2022. Originally published on February 23rd, 2021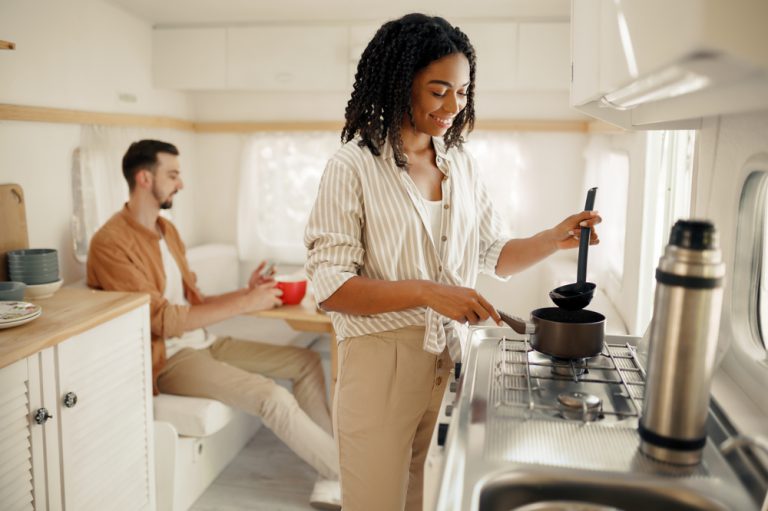 Article written by Brooke Kelley, a freelance writer and business journalist from New York City. When she's not working, you can find her traveling, jamming to music, and hiking with her corgi.
Food is one of the best parts of a road trip, however, depending on your location, it can sometimes be difficult to come by many healthy options. Luckily being in an RV, you have the opportunity to cook healthy meals for yourself while also saving money. Packing your own food may seem like a hassle at first, but once you realize that the positives outweigh the negatives, you'll be cooking on the road during your whole trip.
Not only does eating your own groceries save you money, it also saves you time from not having to make pit stops, uses less waste, and helps you to eat healthier. Here are 6 easy and delicious recipes I enjoyed on the road, and I hope you will too.
Turkey Tacos
Tacos are so easy to make and are great for RV camping. With just a couple of ingredients, these tasty, healthy tacos will fill you up for hours.

Ingredients:
Ground Turkey

Cilantro

Corn Tortillas

2 Diced Tomatoes

Mexican Spice Mix

Lettuce

Optional: Cheese, sour cream
Instructions:
Cook the turkey on medium heat and add in the spice mix. While the turkey is cooking, dice the tomatoes and cilantro. After the turkey is cooked thoroughly, drain the juice and lay the tortillas over the turkey to warm them up. After two minutes, remove the tortillas and place the turkey and the rest of the ingredients on top. Turkey is a very rich source of protein, niacin, vitamin B6 and may support muscle growth, making it a great healthy option. So easy and delicious!
Egg Casserole
A perfect protein-packed breakfast should undoubtedly include eggs! This simple, one-dish egg casserole is great for sharing in the morning and is delicious. Here's how to make it for two:

Ingredients:
4 Eggs

½ diced onion

1 can of chopped potatoes

2 sausage links of your choice

½ diced tomato

Cilantro for garnish

Salt, pepper, paprika & garlic powder

Optional: cheese
Instructions:
In an oven-safe baking dish, add the potatoes and sausage and sprinkle with spices. Bake at 350 degrees until warm. Mix in the eggs, onion, and cheese, add additional spices and bake for an additional 10 minutes (or until your eggs reach the desired consistency). Remove from the oven and garnish with cilantro and tomatoes. Eggs can help the metabolism and liver function and help reduce the chances of developing heart disease. The most important meal of the day can be healthy and delicious on the road!
Baked Salmon & Squash
Salmon is one of my favorite fish because it's so versatile, filling and healthy. This easy recipe just requires an oven for baking the fish & squash and a few simple spices to add some flavor!

Ingredients:
1-3 fillets of salmon salmon

1 squash of your choice (acorn, butternut, zucchini, etc.)

1 tablespoon of olive oil

Salt, pepper, garlic powder, paprika, lemon pepper

Instructions:
Put the salmon in an oven safe cooking dish and coat with olive oil, salt, pepper, paprika and lemon pepper. Then, add the squash and cover with olive oil. Bake at 350 degrees for 20 minutes. Salmon is full of antioxidants and omega-3 fatty acids which has been shown to protect us against many chronic diseases including Alzheimer's disease, asthma, depression, and diabetes.
One-Pot Broccoli & Basil Pasta
What's better than dinner in under 30 minutes? One-pot pasta dishes are so easy to make and require minimal ingredients.
Ingredients:

1 box of pasta

1 head of Broccoli

Basil for garnish

1 can of tomato sauce

Salt, pepper, garlic powder

Parmesan
Instructions:
Boil a pot of water and add in pasta and broccoli. Wait 8-10 minutes, then drain water and add in tomato sauce, salt, pepper, and garlic powder and mix. Top with basil and parmesan to taste!
Turkey Chili
This chili recipe takes 30 minutes to make and can stretch for a few nights in the refrigerator. It cooks in one pot, includes only five ingredients, and is the perfect recipe for leftovers.

Ingredients:
1 pound of ground turkey

1 white onion

2 cans of diced tomatoes

2 tablespoons of chili powder

2 cans of beans (of your choice)
Instructions:
In a large pot, cook the turkey and onions until the meat is thoroughly cooked. Drain the juices from the meat mixture and return it to the pan. Stir in the chili powder and add the beans, tomatoes, and ¼ cup of water. Bring that to a boil and then reduce the temperature to low and simmer for 20 minutes. So easy and nutritious! If you'd like to go the meatless route, you can use tofu here as well to get an extra punch of protein.
Chicken & Veggie Skillet
This one-pan, 5 ingredient chicken and veggie skillet is perfect for the road because it requires minimal prep and cooks in 30 minutes. Not to mention, it's packed with veggies and protein making it a great health option.

Ingredients:
1 pound chicken breast

2 russet potatoes

1 red bell pepper

1 can of banana peppers

½ mozzarella cheese

1 tablespoon olive oil

Salt & pepper to taste
Instructions:
Heat the oil in a pan over medium heat and add potatoes. Cook until golden brown, about 15 minutes. Take the potatoes out of the pan and set aside. In the same pan, heat a little bit of olive oil and saute chicken breast until golden brown. Add in red pepper chunks and cook for 5 minutes. Add in cooked potatoes and mix everything. Add salt and pepper, stir well until combined. Add mozzarella cheese, cover for 2 -3 minutes until melted. Top with banana peppers and you have a delicious, healthy dinner!
For more mealtime inspiration while on the road, check out these posts: