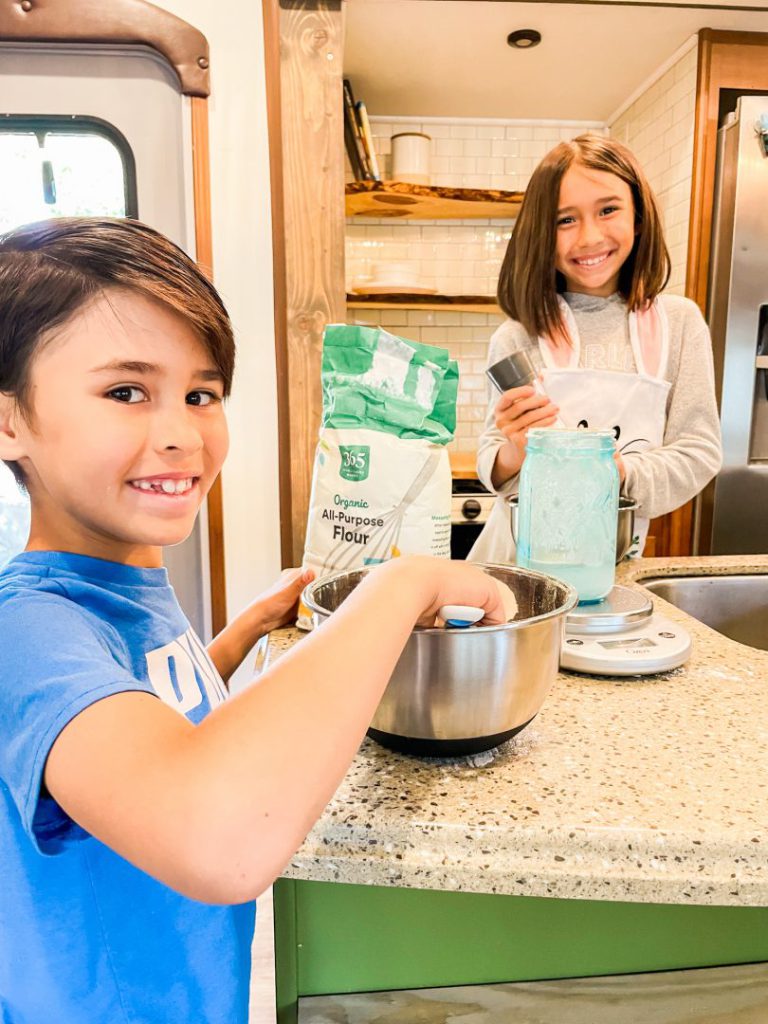 While it's not everyone's idea of a fantastic family adventure, an RV road trip is a slice of Americana that has spanned the ages. The Recreational Vehicle Industry Association (RVIA) officially recognized the 100 year anniversary of the RV back in 2010. While the industry has changed significantly since its inception, the concept has remained the same – explore the country, have fun and build memories doing it, and bring as many creature comforts as you can with you.
Today's RVs range widely from lightweight, soft-sided pop-up trailers to behemoth Class A diesel pushers – folding camp kitchens stocked with gallon jugs of water to granite countertop galleys plumbed with 100 gallon freshwater tanks. Given the comforts that you can take with you on the road, there are few things that can make for a bummer day in an RV, but one of those things is a gloomy, rainy day. As full time RVers we've had our share of those days, so we've compiled a list of 5 things you can do to beat the claustrophobia on crummy weather days.
Play a board game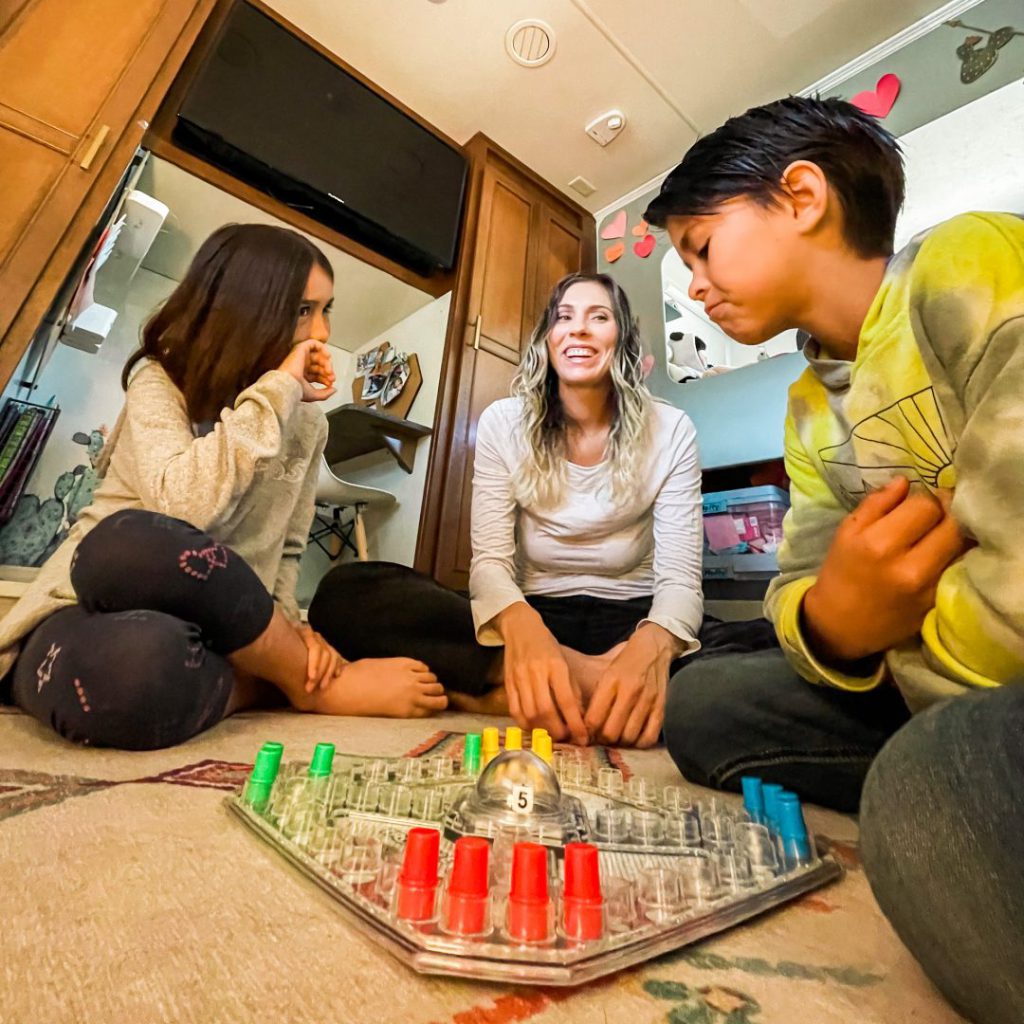 Board games are the perfect rainy day activity for kids and families traveling in an RV on vacation. Not only do they provide a fun and engaging way to pass the time, but they also promote cooperation and family connection. Board games require everyone to work together in order to win, which can help kids to develop important social skills. Additionally, board games provide a great opportunity for families to bond and spend quality time together. So next time it rains on your RV vacation, break out the board games and enjoy some family fun. And, they're a lot of fun! Here are some of our favorite board games to play on rainy days in the RV:
1. Monopoly – This classic game is all about cooperation and strategizing. It's a great way to teach kids about money, while also bonding with them over friendly competition.
2. Scrabble – Another classic game that's perfect for rainy days in the RV. Scrabble is a great way to help kids learn new words, and it's also a lot of fun for adults.
3. Clue – This mystery game is perfect for rainy days in the RV. It's a great way to get the whole family working together to solve a crime. And, it's also a lot of fun!
4. Life – This classic board game is all about making choices and dealing with consequences. It's a great way to teach kids about life, while also bonding with them over friendly competition.
5. Candy Land – This classic game is perfect for younger kids. It's simple, fun, and everyone makes it the end-ha!
Bake a Treat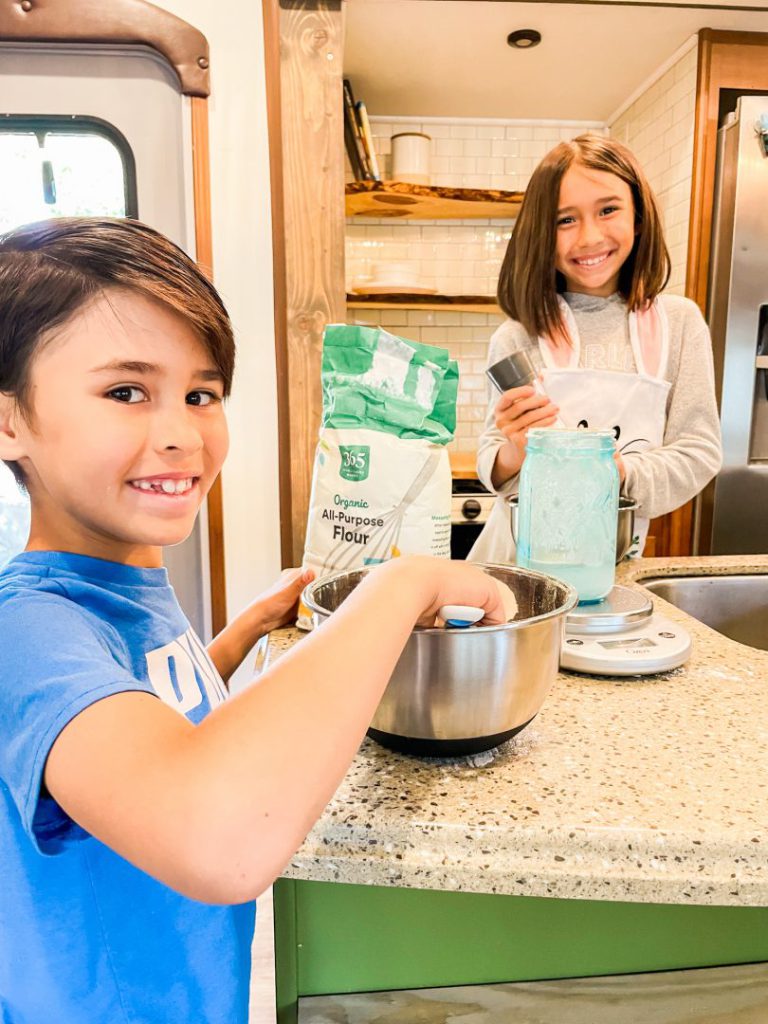 Baking on a rainy day is great for kids and families who are traveling in an RV on vacation. It's a great way to build cooperation, have some family connection, and most importantly, enjoy a delicious treat! Baking also provides opportunities to teach kids about measuring, following directions, and cooperation. And of course, the end result is always worth it!
There's something about baking cookies on a rainy day that just feels cozy and comforting. Maybe it's the warm smell of sugar and spices wafting through the RV, or the sound of raindrops pattering on the roof. Whatever the reason, this simple activity can be a great way to bring families together while on vacation. And since RV kitchens are often small, it can be a great way to bond with your fellow travelers while enjoying some quality time together.
One of the great things about RVing is that you can take your home with you wherever you go. That includes your kitchen, which means you can enjoy all your favorite home-cooked meals on the road. And what could be more comforting than a warm, freshly-baked chocolate chip cookie? Here's a simple recipe that the whole family will love.
Ingredients:
1 cup (2 sticks) unsalted butter, at room temperature
1 cup granulated sugar
2 large eggs
1 teaspoon vanilla extract
2 cups all-purpose flour
1 teaspoon baking powder
1/2 teaspoon baking soda
1/2 teaspoon salt
2 cups semisweet chocolate chips
Directions: Preheat RV oven to 350°F. Line a baking sheet with parchment paper. In a bowl, cream butter and sugar together until light and fluffy. Beat in eggs, one at a time, then stir in vanilla. In another bowl, whisk together flour, baking powder, baking soda, and salt. Gradually add to butter mixture, mixing until just blended. Stir in chocolate chips. Drop dough by rounded tablespoons onto prepared baking sheet. Bake until cookies are golden brown, about 15 minutes. Cool on baking sheet for 5 minutes
*Note: RV ovens are infamous for their uneven heating so be sure to frequently rotate the baking sheet.
Build a Pillow Fort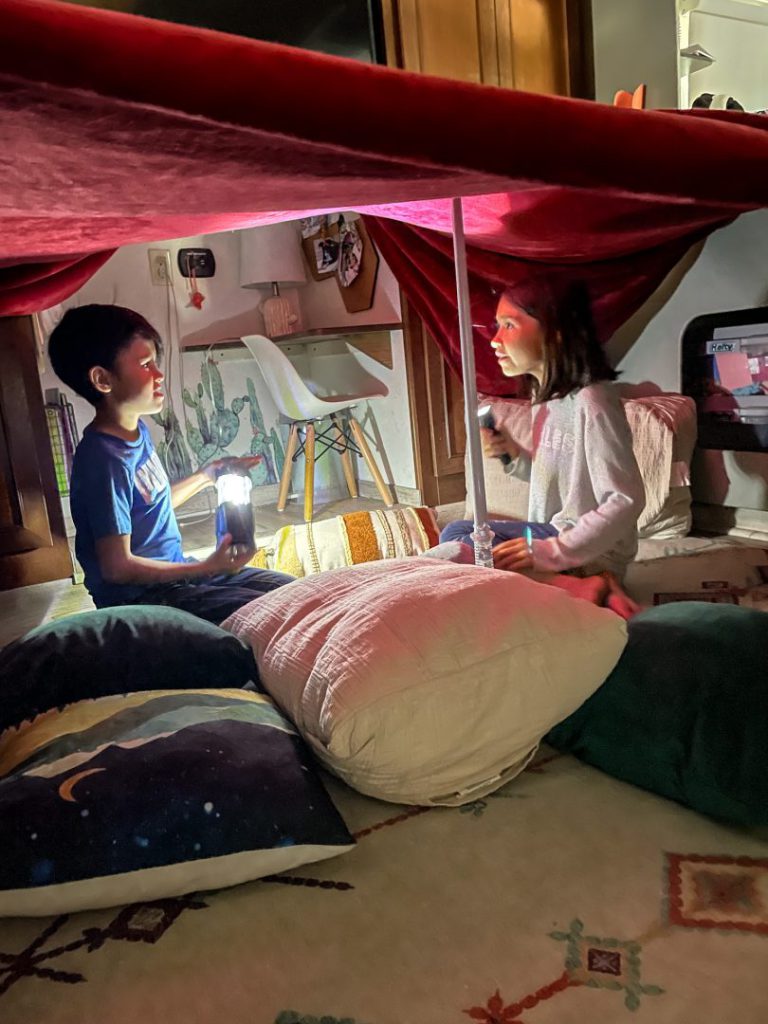 Making a pillow fort in your RV on a rainy day can be a fun way to pass the time and make some great memories. Not only is it fun, but it's also a great way to make some cherished memories. Here's how to do it:
First, gather up all the pillows and blankets you can find. Then, start building your fort by draping the blankets over furniture or countertops. You can get creative with this step – the more imaginative, the better!
Once you've got your fort built, it's time to level up by adding some snacks and drinks. Once your fort is complete, invite your family members inside and enjoy spending some quality time together. Just be sure to take the fort down when you move on to your next destination! Enjoy!
Visit a Local Library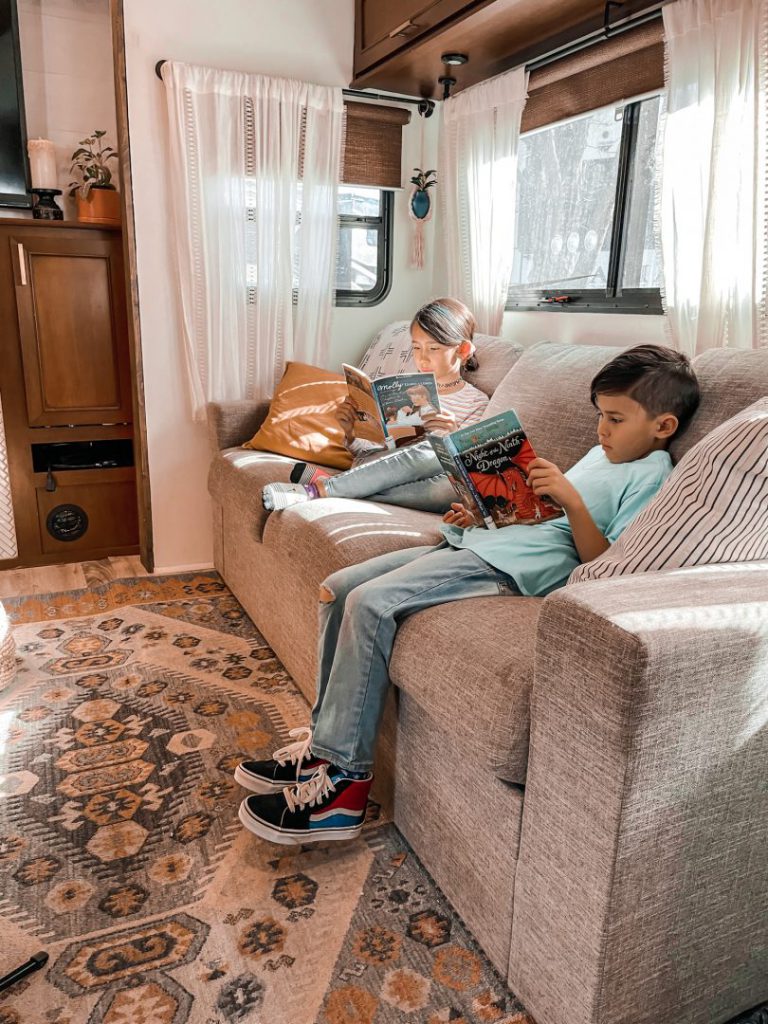 If you're out on an RV vacation and you find yourself stuck indoors on a rainy day, don't worry – there's no need to panic! A visit to the local library is the perfect way to spend your time and to get out of the rain. With plenty of books, magazines, and other resources available, you can easily find something that piques your interest and keeps you entertained for hours. And with free Wi-Fi so you can connect online, you can even get some work done or catch up with friends back home while you're at it. So next time you get rained in during your RV trip, don't waste your time feeling cooped up – stop by the library instead! You'll be glad you did.
Indoor Scavenger Hunt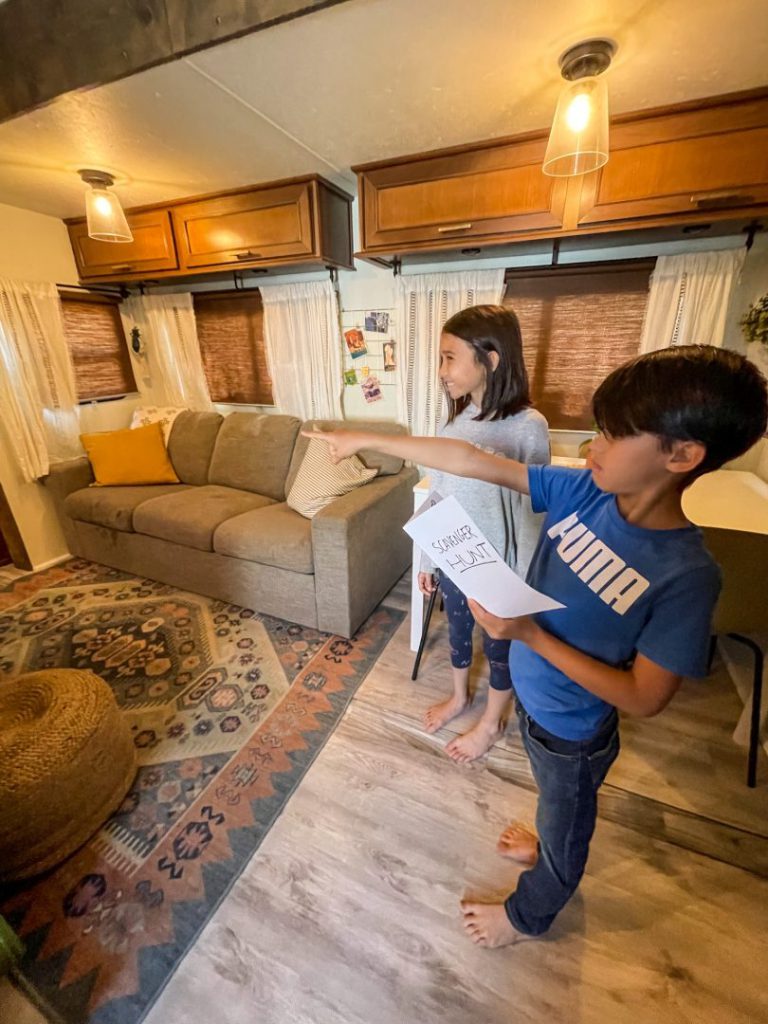 On rainy days, nothing is more fun than an indoor scavenger hunt! This activity is especially great when you're on an RV vacation, because it keeps the whole family entertained without having to leave the comfort of your cozy camper. Whether you're looking for a challenging riddle or a list of amusing items to collect, there are countless ways to make an indoor scavenger hunt fun and engaging. You can even get creative and set up your own personalized scavenger hunt by making up riddles or clues yourself. With just a little bit of imagination, you'll be able to provide your family with hours of entertainment on those dreary days. RVshare has provided this awesome printable scavenger hunt that you can print and use for your next rainy day.
So why wait? Grab some paper and pens and start hunting for fun!
If you're still not sold on the idea of an RV roadtrip, check out RVshare.com for a searchable interface of every imaginable kind of RV that you can rent and give the RV lifestyle a try on for size. While we can't guarantee you a rainy day, we can guarantee you memories that will last a lifetime.
About the Author
We are the Axness family; Nate, Christian, Ella, and Andersen. Five years ago, we sold everything, quit our nine-to-fives, started working for ourselves, and began traveling full-time in our RV. Our goal in sharing our story with you is to encourage you in your pursuit of long-term family travel.
We have been so positively impacted by nomadic life and believe that travel has not only brought us closer together as a family but also made us better citizens in our ever-changing community. We look forward to speaking life into your dreams of travel, helping you navigate the difficulties that travel can inevitably bring, and inspire you to embrace the RV lifestyle. Follow along with our adventures on Instagram @ProjectTrek.