How Tos & Tips
Last updated on May 23rd, 2023. Originally published on May 27th, 2022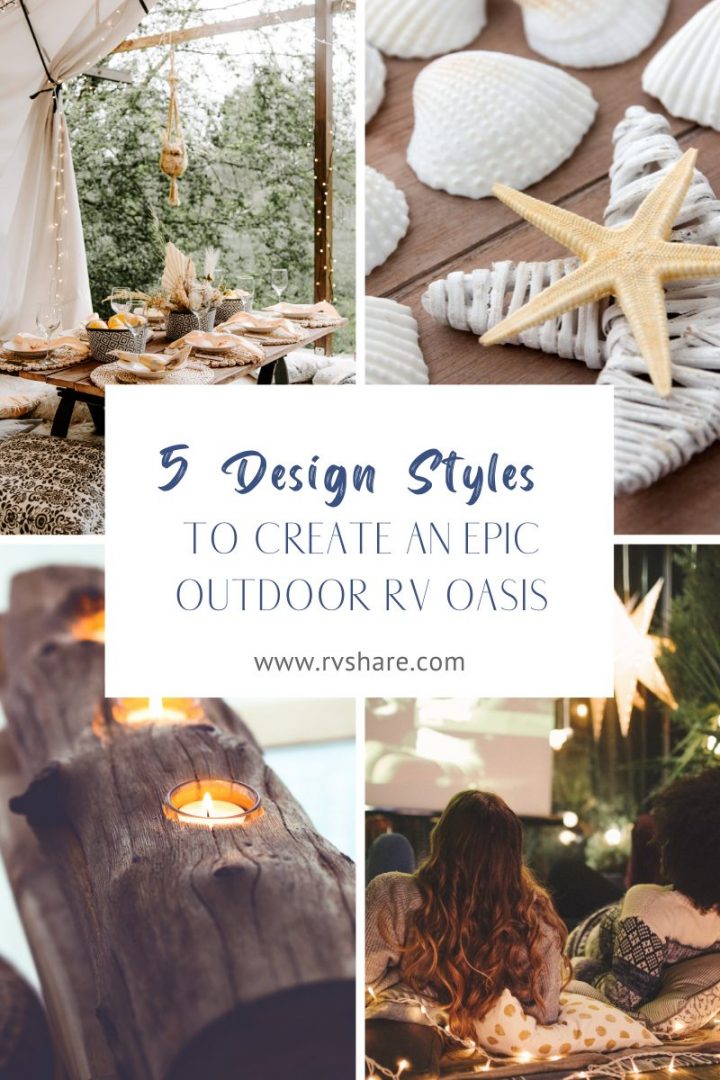 When you think of the word "campsite", I bet your brain automatically pictures your rig parked next to a picnic table accompanied by a fire pit and a couple of camping chairs. Functional? Yes! Exciting? Eh, not really. But with a bit of creativity and a few personal touches, you can transform your campsite into an epic outdoor space in no time! 
We've narrowed down 5 of our favorite design ideas to help you bring your RVs outdoor space to life, and create the perfect "backyard" for you and yours. Whether you're headed to the beach with the fam or gearing up for a big game with friends, these setups will have you wishing you never had to go home!
#1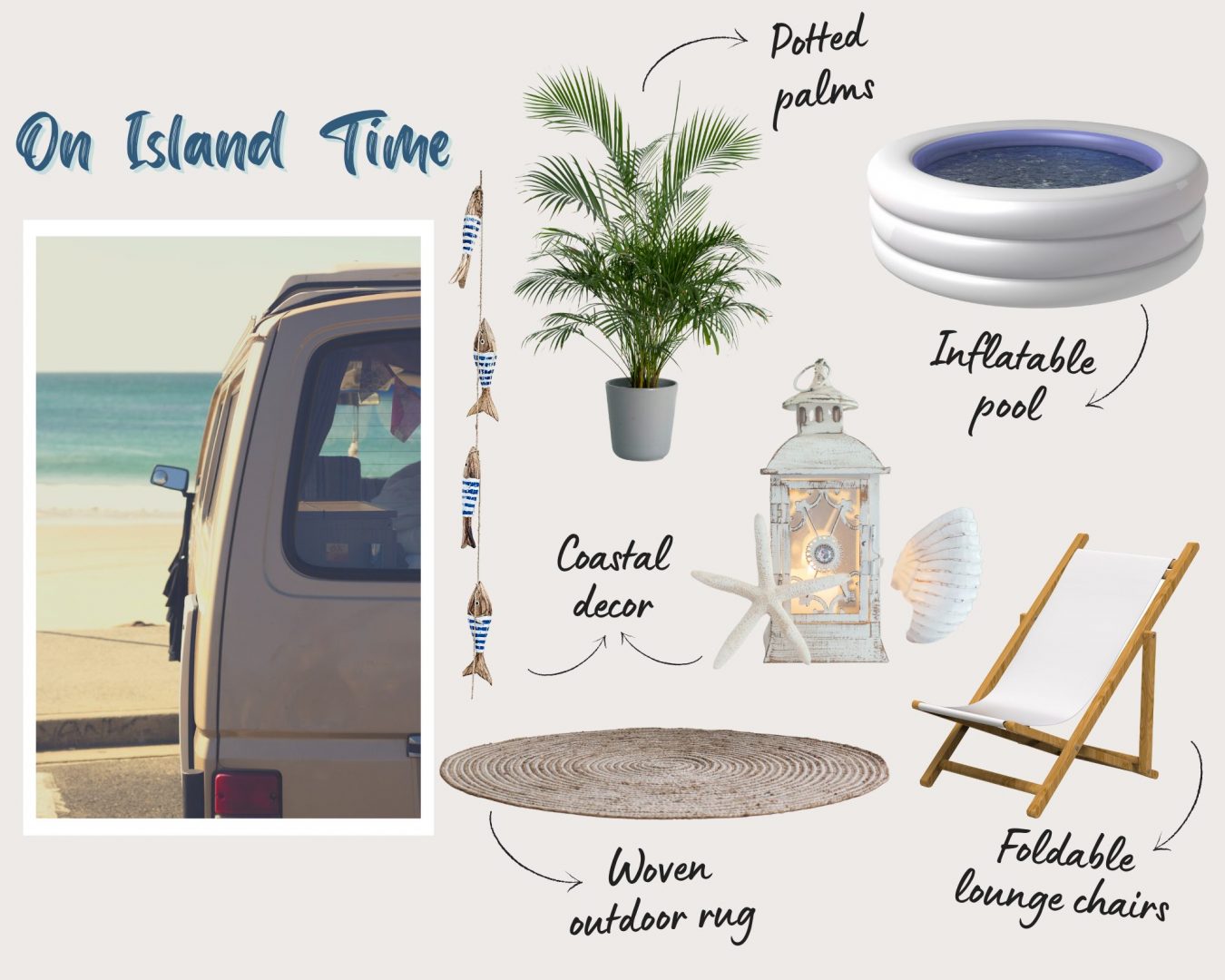 Fun fact: Island time is a real thing – and with this beachy RV set up, you'll definitely feel like you're on your own little island!
We love this style for its simplicity and calming colors, like creamy whites, light beiges, and breezy blues. A simple outdoor rug or mat makes the perfect base that's both functional and stylish. For sandy toes, choose a breathable material to make for easy clean up, like this Sand Mine rug. Foldable loungers are a great alternative to classic camping chairs and provide an oh-so comfortable place to kick your feet up and relax. Add in some small touches like potted palm plants, as well a few decor pieces like a coastal lantern and garland. Complete the setup with an inflatable pool to dip your toes in after a long day of soaking up the sun, or even for breaks in between.
Build this setup:
#2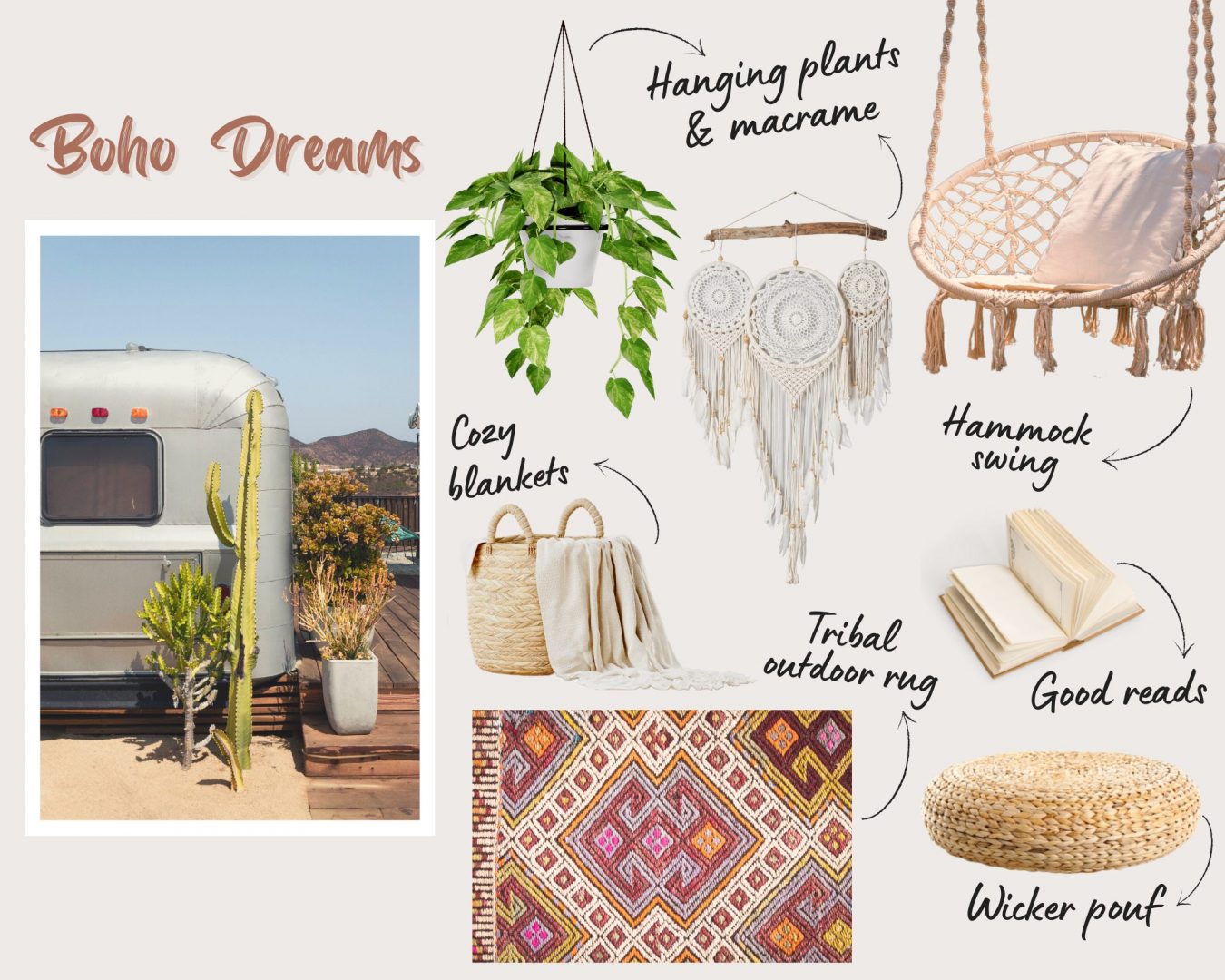 Finding your zen is simple when you're surrounded by an oasis full of tranquil vibes, adorable decor, and of course the great outdoors!
Unleash your free-spirited side with this boho RV setup. Bohemian style combines neutral tones with a few eclectic features like patterns, colors, and textures. It can be as bold or as subtle as you want it, giving you plenty of room to show off your creativity and incorporate some personality into your outdoor RV space. A rug is a great opportunity to pull in some patterns, such as the tribal rug shown above. Add in some texture with wicker poufs and baskets, tasseled blankets, and hanging plants like succulents, ferns, or philodendron. Pair this with some beautiful macrame items like a hanging dream catcher and a hammock swing to unwind in. And no good hammock is complete without a book, so of course you'll need a few good reads! You can also consider hanging some tapestries or using them as ground cover to sit down and relax.
Build this setup:
#3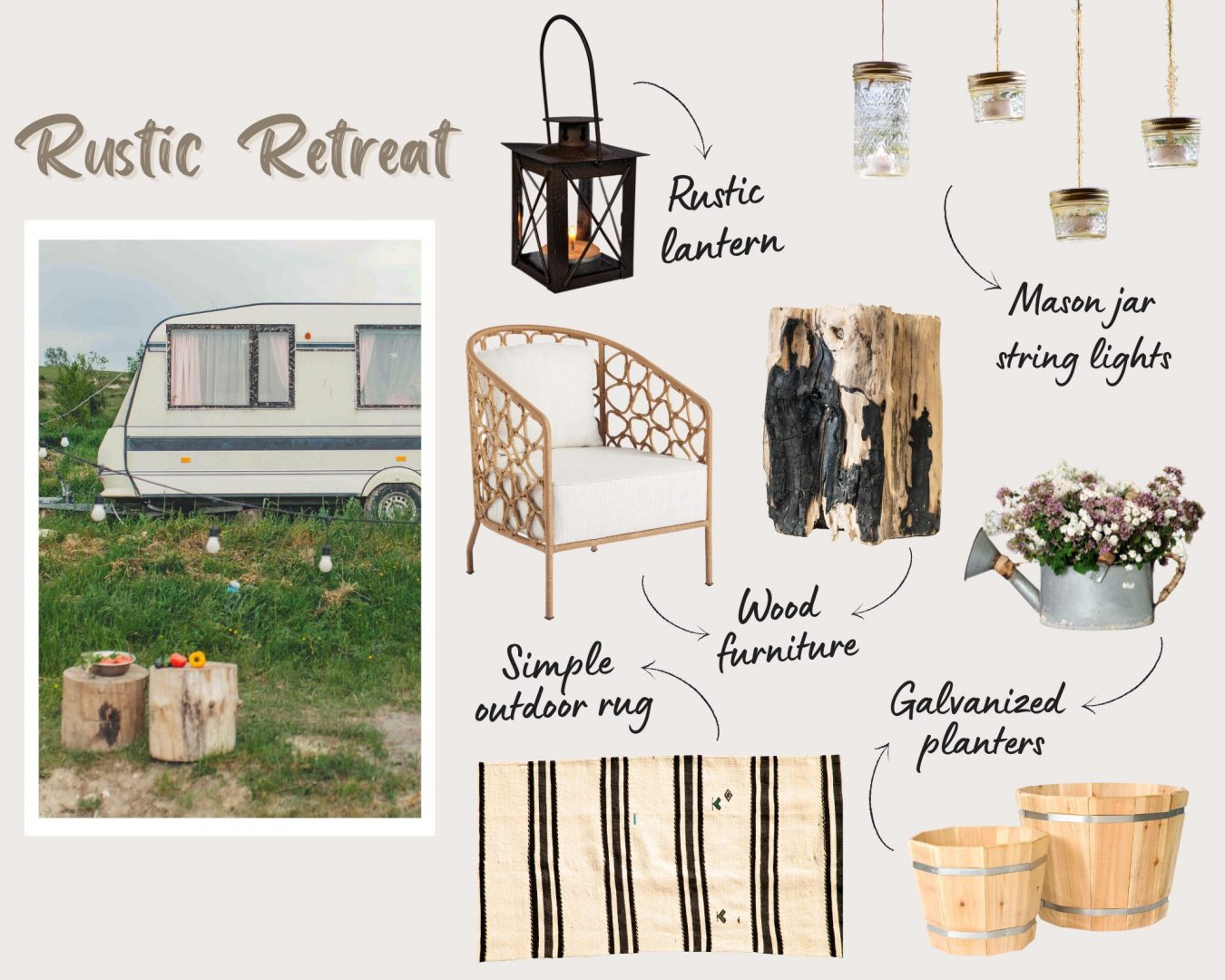 This setup will make your RV feel like it's a quaint little cottage sitting right on the countryside.
Shed some light on the beauty of being one with nature with your own rustic retreat. A simple outdoor rug with a minimal design will suit the space well — after all, nature is the star of the show here! For decor, think natural elements like the wood furniture above. You could purchase a small side table or two, or simply use some tree stumps like shown in the photo! Galvanized metal planters will also give you that farmhouse, cottagey feel. Add some fresh or fake flowers to give your space a nice pop of color. And when the sun goes down, you can illuminate your space with some hanging mason jar lights and a couple of rustic style lanterns. If you're looking to create a rugged, cozy vibe for enjoying your outdoor RV space, consider adding some of these items.
Build this setup:
#4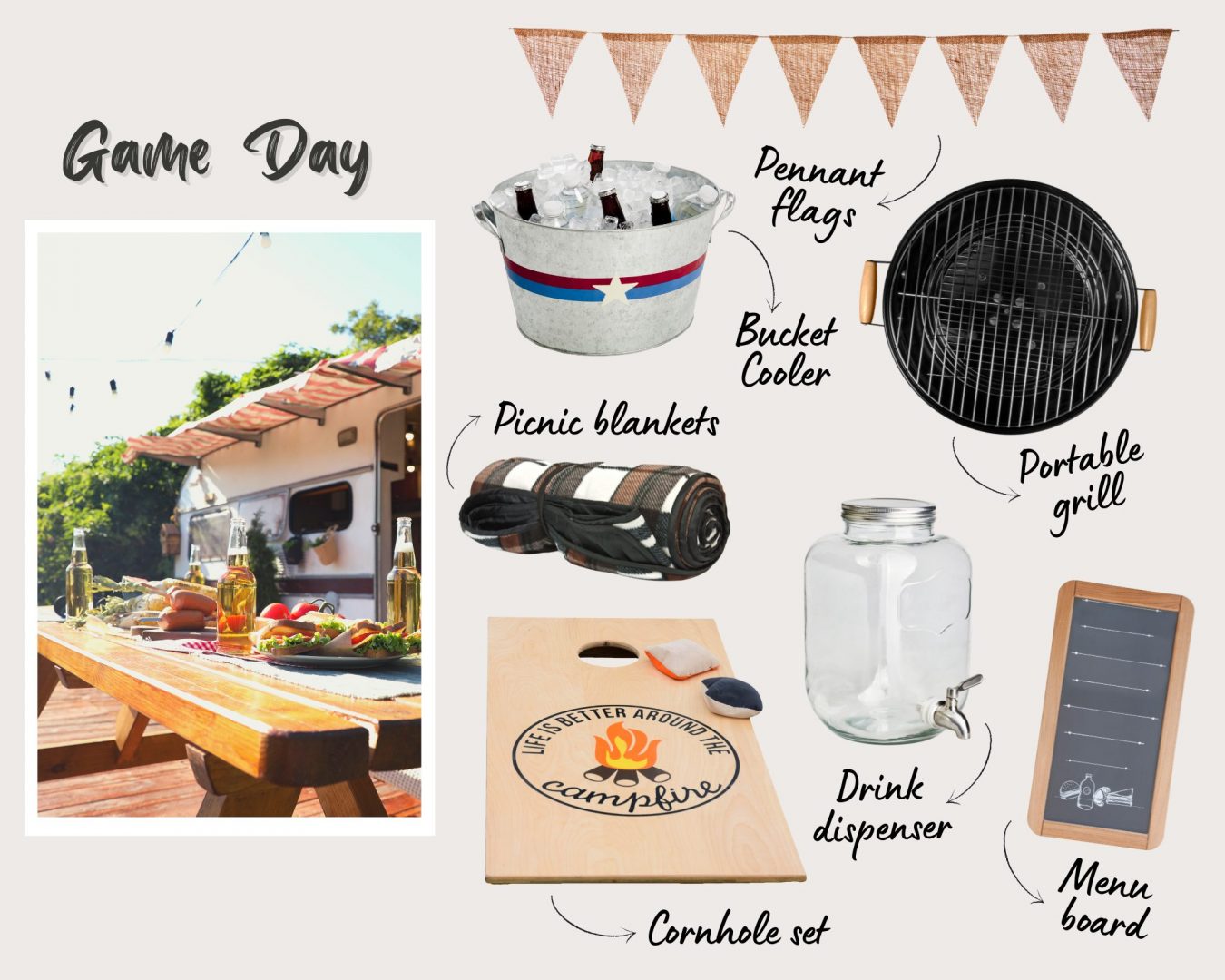 Heading out in your RV for the next big game on your list? Consider this outdoor game day setup!

First, always make sure you're armed with a grill and some good food – these are essential for a successful game day. Keep the menu simple with a spread of finger foods and display what you have on a small menu board. Drink dispensers are super convenient for serving up drinks – plus they will minimize trash. You can fill one with water, another with lemonade or juice, and a third with some kind of cocktail for example. Set out cans or bottles in a large bucket of ice to keep everything chilled. Picnic blankets are also great to have. Use them to bundle up on chilly nights, or lay out to sit on if the weather's nice. And to keep the fun going, put out some games like the camping themed corn hole boards shown above or go with a portable set. If you're headed to a fall football game, you could add some potted mums, and maybe even a cider station for friends. Last, just choose a few decor pieces like a pennant flag or a team colored tablecloth. Set everything up around your RV, and you'll have the perfect space to hang out before the big game!
Build this setup:
#5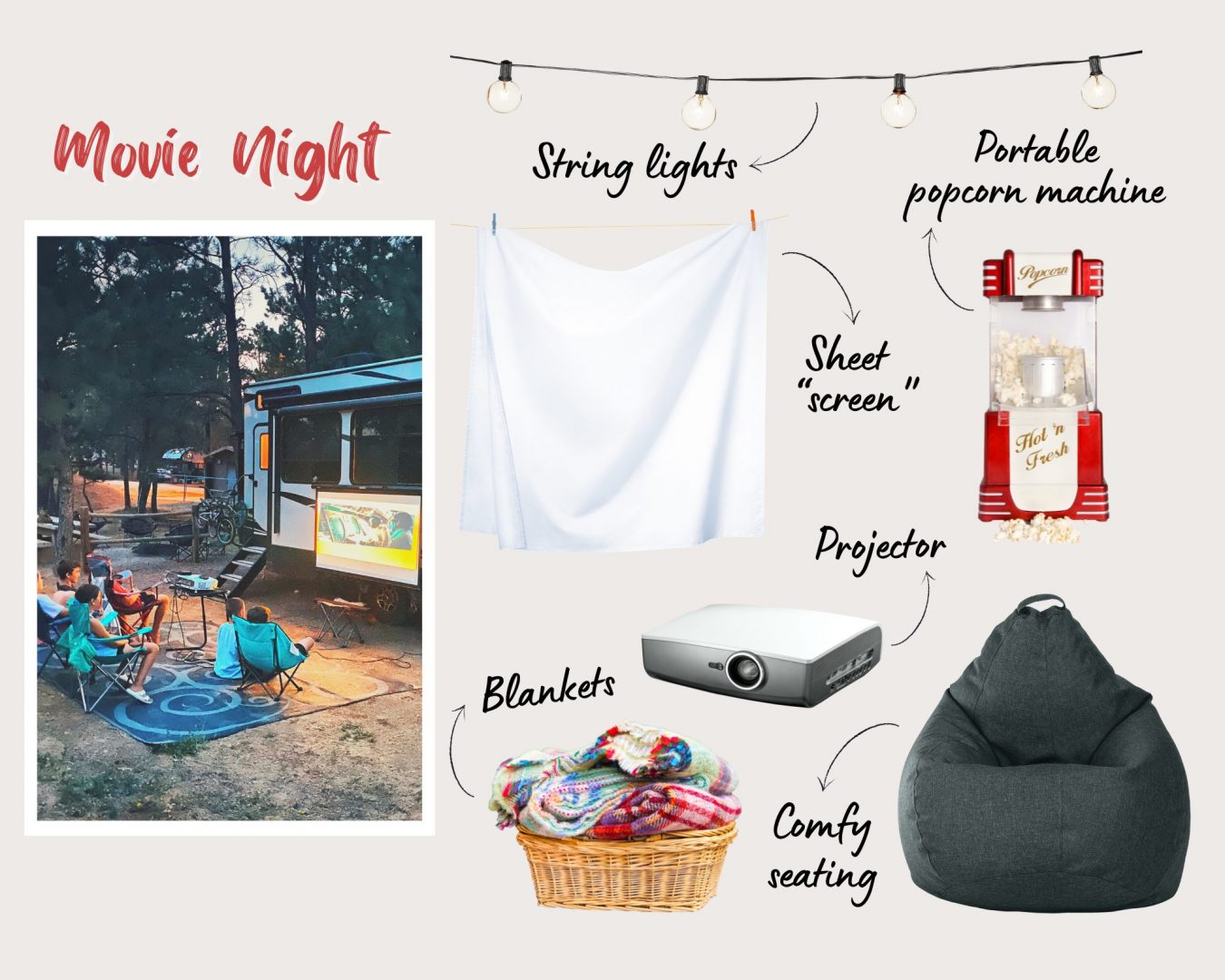 For families and friends alike, this magical movie setup is perfect for warm summer nights under the stars!

A sheet, clothesline, and some clothespins is a cheap and easy way to create a makeshift movie screen. You could also purchase an inflatable screen or one that collapses for easy storage. Put the screen right on the side of your RV like shown above, or hang the sheet "screen" between two trees. A portable projector is a must for outdoor movie nights. Some on Amazon even come with their own projector screen, so you get both as a package deal! If you're feeling crafty, consider trying out this DIY smartphone projector. And of course, you can't have a movie night without the snacks. A portable popcorn machine is great to have, but if you're not feeling all that fancy, some campfire Jiffy Pop will do just fine. Add comfy seating like bean bags, padded chairs or even an inflatable couch, plus lots of cozy blankets. String some lights up for ambiance, throw your PJs on, and get ready for showtime!
Build this setup:
Final Thoughts
A few simple items can really make your outdoor RV space one you want to hang out in – and one that may even make your neighbors a little jealous! We hope these ideas have inspired you to create a campsite that's unique to you. Want to see more design ideas? Let us know in the comments below!
Happy camping!
This post contains affiliate links. RVshare may receive compensation if you make a purchase after clicking on a product link.