RV Parts & Accessories
September 17th, 2015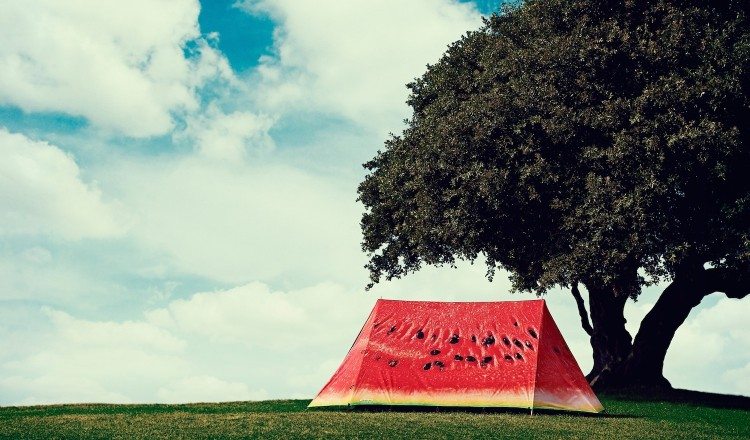 Are you in love with camping? Camping is an excellent way to escape from the daily grind and commune with nature, but it's not for the faint of heart.
Thankfully, there are many available tools that can help make camping easier. The wide variety of innovative and useful camping tools can make it hard to decide what must-have items to add to your camping kit. So, if you're not sure what to pack we're here to help with a list of 20 of the best camping items for your next trip.
1. The Scrubba Wash Pack
The Scrubba wash bag is an innovate invention that will make doing your chores a breeze. Not only is it small enough to fit in your pocket and weighs only 5 ounces, but it can wash an entire day's worth of clothes — and it requires no running water or electricity. Simply add your clothes, a small amount of water and biodegradable soap. Roll and rub the clothes against the internal washboard, rinse and dry. It couldn't be simpler, and you'll never have to wear dirty socks when camping again. $55, thescrubba.com
2. The No Blind Spot Rear View Mirror
This mirrors allows you to expand your driving vision to have a wide 180-degree view of rear traffic. This extra visibility will ensure that you change lanes safely and is perfect for those in large RVs or towing trailers. It fits most rearview mirrors without the need for adhesive or tools. $60, Hammacher.com
3. The Lucie Light Solar Lantern
Having a portable light when you are camping is essential. Having a solar powered lantern that produces up to 12 hours of light and is both shatterproof and waterproof is simply awesome! The versatile Lucie Light can be used in virtually any situation. It even deflates for easy storage. $15, Mpowered.com
4. Field Candy's Personalized Tents
Tired of the same old boring tents? Field Candy is too. To add some fun to the mix of brown and green plain tents, they have created personalized tents that allow their clients to express themselves. Simply choose your base model from their selection of designs, then follow the easy instructions to create a tent that is made just for you. $440, fieldcandy.com
5. Portable Handheld Espresso Maker
Do you love espresso? It can be hard to have this caffeine treat when camping — until now. With some hot water and a little elbow grease the Handspresso Wild Hybrid allows you to make espresso anywhere. It is also durable, easy to use, and works with loose grounds or pre-loaded pods. $130, amazon.com
6. The Inflatable Tent
Inflatable tents are a welcome addition to any camping trip because they are so easy to set up. All you have to do is roll it out and pump it up to create a perfectly pitched tent every time. $430, Heimplanet.com
7. ENO Hammock
If you've ever wanted to share a hammock with your sweetie, then this extra wide double hammock is for you. It can support up to 400 pounds and has enough room for two to fit comfortably. The Eno Hammock even comes with its own stuff sack for easy storage. $85, REI.com
8. The Outdoorsman Wooden Kitchen
The classic look of this outdoor kitchen makes it a crowd pleaser. Plus, it's durable wooden construction ensures that it will last for years to come. Simply pull out the legs, open the box and you have an instant on-the-go kitchen. It even has table space to make cooking and serving easier. $500-$855, mycampkitchen.com
9. Collapsible Kayak
Kayaking is fun, but let's face it, the boat itself is bulky. At Oru Kayak they deal with this issue with a fully collapsible kayak. This model goes from a 32″ long box to a 12′ long boat in just a few minutes. But that's not all — this lightweight, high quality boat is only 35 pounds and can hold up to 300 pounds. See you on the open water! $1,275 orukayak.com
10. Solar Powered Light & Water Bottle
This device does triple duty as a lantern, water bottle and flashlight. It holds up to 20 ounces of fluid, making it excellent for short hikes. Plus, the solar powered light can provide light for up to 4 hours on a full 8 hour charge. It also has three lighting functions and can be used as a flashlight, lantern, or a red flashing signal light for emergencies. $13, amazon.com
11. Fishing Pole Campfire Roaster
Do you like to fish? How about grilling hot dogs over the campfire? Well now you longer have to choose between your favorite activities. This cooking tool looks like a fishing rod but lets you cook marshmallows and hot dogs easily. Also, in keeping with the fishing theme, all you have to do is jiggle the rod to flip the food for even cooking. This cooking rod is a great tool for camping and will definitely be a hit with kids and avid fisherman alike. $24, amazon.com
12. The Ultimate Swiss Army Knife
The SwissChamp XAVT is more like a pocket sized camper's tool kit than a simple knife. It features an altimeter, digital clock, compass, a corkscrew, a can opener, and of course, several blades.  All in all, this utilitarian knife has 80 functions that make camping a breeze — that is if you can fit it in your pocket. $380, amazon.com
13. Glowing LED Tent Pegs
It's not always easy to set up camp, especially when you are late getting to the campsite. But with these LED lighted pegs, this is no longer a problem. They are powered by one AA battery and provide ten hours of light. This means that when you wake up in the middle of the night to use the bathroom you no longer need to worry about stubbing your toe and tripping. That alone is reason enough to add this item to your must-have camping items list. $16.5o, amazon.com
14. Grub Hub Portable Kitchen
Grub Hub, not to be confused with GrubHub (the online food delivery service), is at it again. This time, in an attempt to make camping easier, they've created a suitcase kitchen unit. It weighs about 50 pounds and takes less than three minutes to set up. It also provides 4,500 cubic inches of space so you can pack everything you want on your camping trip. $550, grubhubusa.com
15. The Icy Cooler Portable A/C
We've all seen those homemade air conditioners made from a cooler and a fan. Well, Icy Breeze has created a professional looking version that does double duty. That is, it cools both your food and your RV or tent. It features an integrated battery that is perfect for off-the-grid use. It also has a four foot adjustable air hose that lets you direct the cool air exactly where you want it. $400, amazon.com
16. Cast Iron Waffle Iron
Delicious waffles are just a few minutes away with this cast iron waffle iron. The sturdy construction guarantees that your waffles are cooked evenly. Plus, it's easy to clean and resist warping and chipping. $51, amazon.com
17. Two-Way Radios
When you are camping in places where cell coverage is wonky, you must take a radio with you — it may save your life. There are also models available that give you weather alerts so that you always know what's going on. $52, amazon.com
18. Portable Sink
There's no doubt that camping is fun. But it does come with some challenges — like washing dishes. That problem is solved with this portable sink for quick and easy clean up. Made from durable plastic with interior storage that allows you to store your vanity items easily, this sink is perfect for your next camping trip. As an added bonus, it holds almost 3 gallons of water in its frame and folds closed for easy storage. $32, amazon.com
19. Simple Fire Starter
Making fires not your thing? If so, this Bear Grylls fire starter should be in your camping kit. It is an integrated striker with a ferrocerium rod that is simple to use.  It even has a waterproof compartment that you can use to carry dry tinder. Never leave home without it. $10, amazon.com
20. Biolite Wood Burning CampStove
Tired of lugging that expensive and heavy propane tank around every time you go camping? This small and lightweight Biolite CampStove will keep you warm and cook your food. It will even charge your electronic devices. It works by using natural fuel, like twigs, to create electricity. This two pound stove even has a kick start battery to help you get things going!
What did you think of our list of camping items? Can you think of anything else that should be added to the list? Share your thoughts in the comments below.