How Tos & Tips
September 2nd, 2015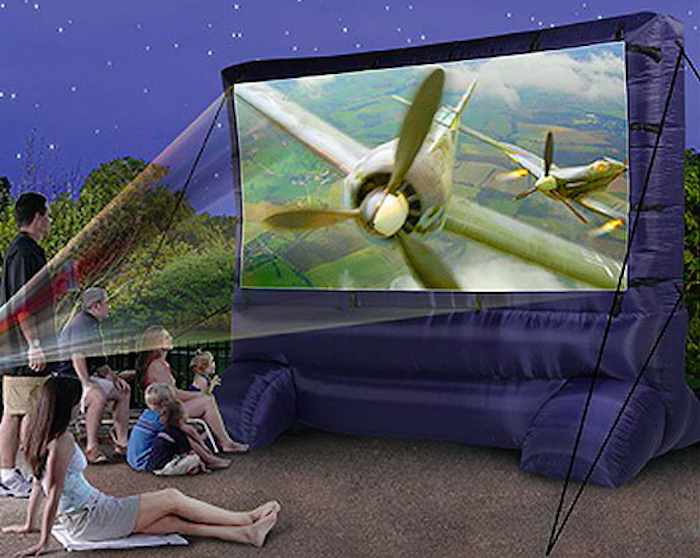 Do you love camping, but find yourself missing some of the comforts of home? Do you want to enjoy the great outdoors, but don't want to leave behind your fancy coffee drinks, big screen TV, or private commode?
If so, these ten gadgets will help turn your next camping trip into a luxurious glamping extravaganza.
1. Portable Fold Up Kitchen
This kitchen comes complete with a sink and a two burner grill. It's the perfect item for those who think that they're "roughing it" if their car doesn't have a DVD player. $85, amazon.com
2. Inflatable Movie Screen
Most campsites offer a ton of activities for visitors to enjoy during the daytime. But what about the night time? What if you don't want to sit around the campfire and tell stories or roast marshmallows? This inflatable movie screen can be the answer to your problem. Simply plug your projector into the portable charging station and enjoy your favorite movie. $209, amazon.com
3. Outdoor Espresso coffee Maker Set
Just because you love the great outdoors doesn't mean you have to sacrifice your morning cup of Joe. This outdoor espresso set will ensure that you start the day off on the right foot. $65, amazon.com
4. Luxurious 1930s Safari Tent
If you're going to go camping, you might as well crush it. With this super fancy, super large, super rugged, and super cool safari tent you will be taking glamping to the extreme. $2,700, canvasandtent.com
5. Self-Turning Marshmallow Stick
Because sometimes even turning this stick can be too much work. These sticks are a must-have item for those who love food roasted over the fire, but don't want to work for it. $25, amazon.com
6. Bubble Tent
If you'd rather put a futuristic spin on your camping trip, you can't go wrong with this bubble tent. Its unique design will ensure that you are protected from the elements, and this see-through dome makes it possible to watch the stars from the comfort of your abode. $1,400, amazon.com
7. Portable Toilet with Privacy Cabana
This item allows you to use the bathroom in privacy, even though you are in the great outdoors. Between this, the inflatable movie screen, and the portable kitchen, you are clearly winning at the art of glamping. $230, campmor.com
8. Camping Blender
This handy little appliance has two uses. The noise it makes will scare away the wildlife, and the mixed drinks will make your trip that much more fun. $95, amazon.com
9. High-Heeled Teva Sandals
These sandals were bring sexiness back to camping. Why sacrifice fashion just because you are in the great outdoors? Never mind that they are "Not recommended for actual hiking, gardening, mountain climbing or Phish concerts." With these high fashion sandals you will be making the ultimate glamping fashion statement. $330, New High Mart
10. Durable Charging Station
If you take a trip to the great outdoors and weren't able to check in on Facebook until it was over, did it really happen? Thanks to this durable charging station, you will no longer have to worry about this riddle. It will keep your cell phone and other devices fully charged. No need to give up the internet just because you left your home for the weekend. $27, coleman.com
What do you think of this selection of glamping items? Are their any products that I didn't mention? Share your thoughts in the comments below.