Top RVs Nearby
The Best RV Trips to Take in the USA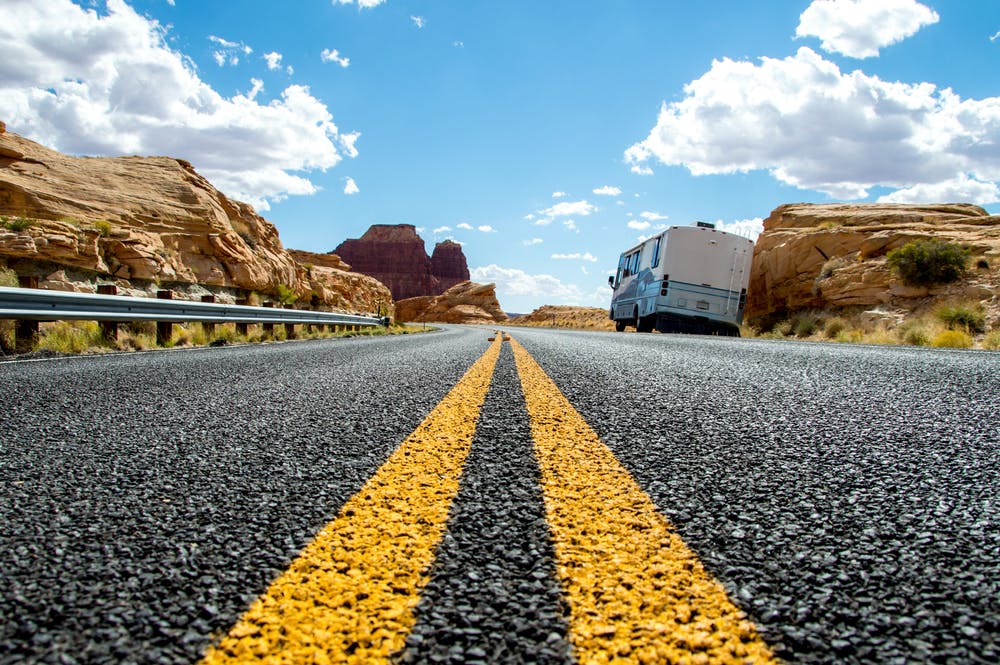 A cross country road trip is the ultimate vacation. You can experience all that the country has to offer while exploring the open road, bonding with family, and still enjoying the comforts of home by traveling in a recreational vehicle.
There are a few things that you need to know in order to plan your family road trip. These include where you want to travel to, what type of RV is best for your trip, and where you can find the best deals on RV rentals.
Planning a cross country trip may seem intimidating if you're not sure where to start. In this article, we'll take a look at some great RV vacation ideas, as well as beginner tips for choosing your RV, finding a rental that meets your needs, and choosing the best RV vacation route.
Best Cross Country RV Trips
The first step when planning your trip is to decide where you want to go. Options are limitless when it comes to the best RV camping trip destinations. You can travel down the east coast via I-95, stopping at attractions all the way from New York to Florida. On the other hand, some of the best RV trips are ones taken out west, such as on the famous Route 66.
No matter which route you decide to take, a surefire way to elevate your vacation from fun to unforgettable is by staying at a national park. You can find the best RV campgrounds at some of the most scenic RV sites at national parks. These beautiful parks will keep you entertained while bringing you closer to nature.
Best Family RV Road Trips
If you're taking a family trip, it's important to keep everyone entertained. You may want to plan your route around a few kid-friendly attractions, such as fun outdoor trails, zoos, and aquariums, or if you're feeling up to it, maybe even a theme park!
Taking the entire family on a cross-country vacation can be quite the expense. That's why you might opt for a cheaper RV rental so that you can save some money for having fun! A travel trailer is a good option for family trips, as their average nightly rate is usually only $50-$125, while still allowing enough room to keep everyone comfortable.
Best Winter RV Trips
The time of year can affect how you plan your trip as well. For example, you may want to travel through the warmer southern states during winter to avoid unsafe driving conditions. What are some of the best spots to go during the colder fall and winter months on RV trips?
Florida is an obvious choice for the best winter RV vacation destinations, as the average low temperature is only 61°F. As a major tourist destination, Florida has everything from theme parks to beaches to museums, so you definitely won't run out of things to do.
Best RV Trips for Seniors
For campers who are 55+, you may be able to get senior discounts at some campsites. It's always a good idea to ask, just in case. After all, saving money is never a bad thing!
If you have any special diets, you may want to rent an RV with a kitchenette, so that you can prepare your own meals on your trip. It's also important to remember to pack any medications you need, as well as a map and emergency phone just in case.
Best RV Trips for Beginners
If you're new to the RV world, you may be feeling a little overwhelmed still. You want to have the best RV camping vacations, but you're not the most experienced road trip planner. There's no need to worry though, you can still plan an amazing vacation by following a few simple tips.
Rent a smaller RV for your first trip. A large motorhome may seem ideal, but they can be intimidating if you're not experienced with driving recreational vehicles.
When planning your budget, it's best to round up. You never know what unexpected expenses could come up, so it's a good idea not to cut your budget too close.
If you're planning on bringing the family pet, make sure that your rental and campsite allow dogs. You can have the best RV trips by bringing Fido along, but if you're traveling with dogs, it requires some extra planning.
Don't overpack! Many people think more is better, but it's best just to bring the essentials.
Where to Find the Best RV to Tour the USA
Once you've planned out your trip, the last thing to do is find your rental. Where is the best place to look? Your local RV dealerships may have rentals available, but brick and mortar places usually don't have a plethora of options, and often have hidden fees and confusing contracts.
Is there a way to avoid these disadvantages? Enter the world of online rentals! RVshare is the world's largest online RV rental marketplace. With thousands of RVs listed, you'll be sure to find the perfect unit for your cross country vacation.
How does it work? Well, you can be ready to hit the road in as little as four easy steps!
Enter the location you want to find a rental
Filter your results by price range, dates, RV class, and more
Browse the options until you find exactly what you're looking for
Send the owner a quick email with a request to book their motorhome
After that, all you have to do is meet with the owner for a quick tutorial, and you'll be ready to start the vacation of your dreams!
The Best RV Camping Trips to Take in the USA Conclusion
A cross-country road trip may seem like a lot of work, but with proper preparation and planning, it can be a breeze! RVshare can help you find the best RV to tour the USA in. Once you've chosen an RV, destination, route, and attractions, you're ready to explore the open road! After your one of a kind vacation, you'll be dying to plan the next one.