Top RVs Nearby
Best Tips for New and Seasoned RVers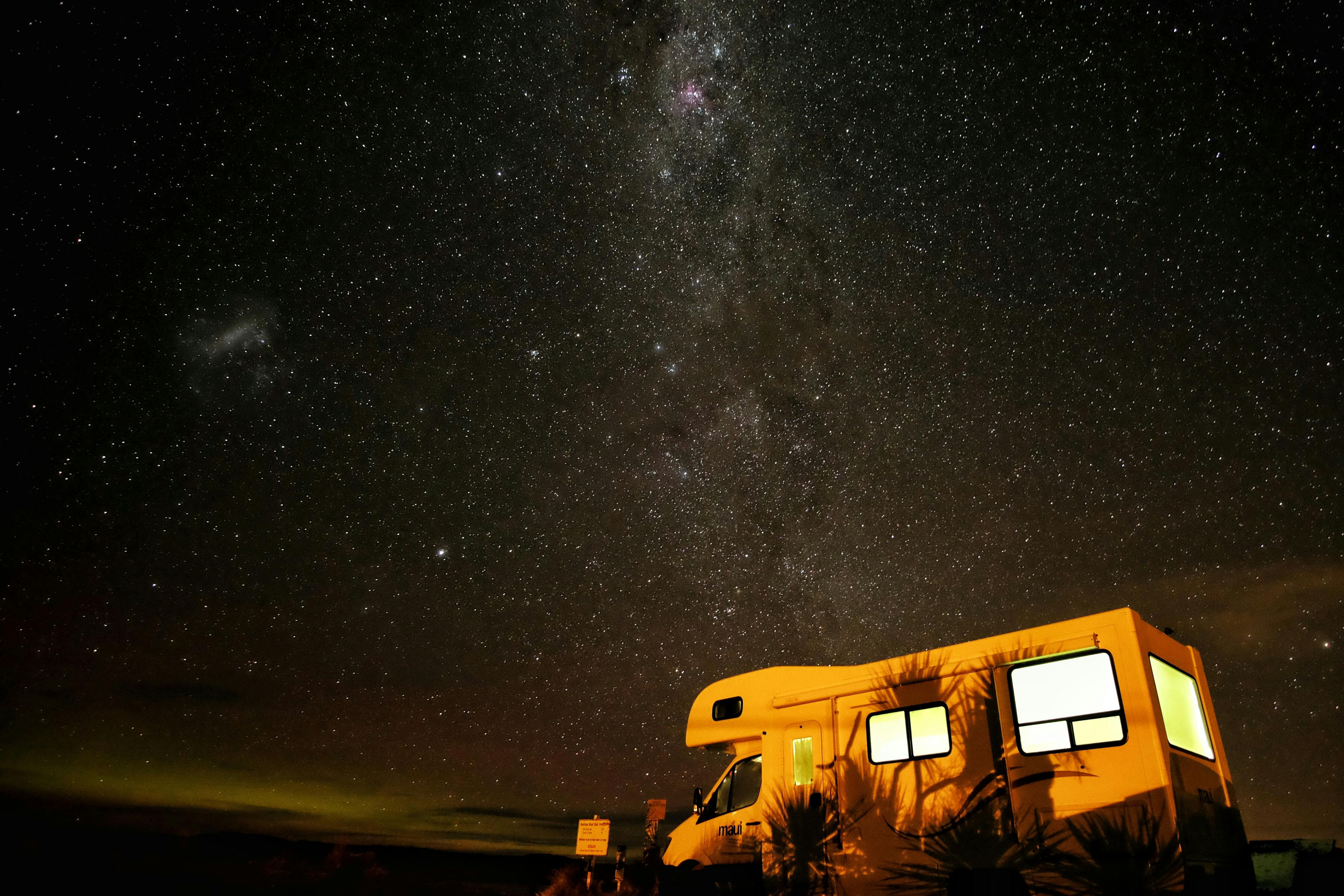 Whether you're planning your first ever RV camping trip and you don't know where to start, or you're an RV veteran who is just looking for some nuggets you weren't aware of, this article is chock full of the best RV camping trip tips, tricks, and hacks, for beginners and experts alike.
Tips for Traveling with Dogs
Let's face it, dogs are called man's best friend for a reason. It's hard to imagine leaving them for even one day, let alone for weeks, or even months at a time while you're on the road. You want to bring them along, but it can be a real challenge. Here are some things you can do to make it easier:
First, make a list of everything your pet will need while you're on the road. That includes bowls, food, a leash, wipes, toys, etc. This will help you to get organized right from the beginning and will save you lot's of stress later when you're in the middle of nowhere.
Get them on food that is easily found everywhere. You tend to magically run out of things while you're on the road and dog food is one of them. Being able to make a pit stop anywhere to pick up food will be a real help.
Make sure it's vaccinated and treated for fleas, ticks, heartworms, etc. Keep their medical information handy in case you need to visit a different vet.
Call any campgrounds you're planning on staying at and make sure pets are allowed and under what kind of condition they are. The last thing you need is to have to change campgrounds last minute.
Make sure to leave plenty of food and water in the RV if you're going to leave your dog in there for a while. Also, read up on the law of whatever state you're in to find out about leaving animals in a vehicle. Rules are usually different for RVs, but it's good to be in the know.
Dogs should always ride in the same vehicle as you. Never in a vehicle, you're pulling. It's best to keep them harnessed to avoid any injuries in the event of an accident.
Tips for Traveling with Kids
When you're on the road, you definitely want to make sure your kids are having fun and making amazing memories, but you also want to make sure they're safe and maybe even learning a thing or two. Here are some tips to help your kids get the most out of the experience:
Make a list of everything you're anticipating they'll need. From multiple changes of clothes for different weather conditions to books and games to keep them entertained.
Keep glow sticks and other glow and the dark items with you. The kids will love them, plus you'll be able to see them from far away.
Bring handy cleaning supplies such as Swiffer wipes, Clorox wipes, etc. Kids can be messy.
Get a mat for the bathroom to avoid getting the floors wet after showers. Do the same thing for the main door to avoid tracking sand and dirt. Kids have a tendency of leaving traces on their feet. Plus, it'll help with the cleaning.
Don't just go to theme parks and beaches. Go to some museums, science centers and other places where kids can have fun and learn at the same time.
Bring educational games along with you like math or alphabet flashcards.
Tips for Traveling with Seniors
Traveling as or with seniors can be challenging because although wise and experienced, it's an age that may require a little more attention. To make sure seniors get the most out of the RV trip, try a few of these tips out:
If you're a senior and are going to be driving, consider the distance. Make sure you get plenty of sleep the night before and don't be afraid to take plenty of rest stops.
Make sure you get the green light from the doctor to go on any camping trip, whether for a few weeks or months.
Is anyone taking any medication? If so, make sure you've got everything you need for the entire trip.
Maybe avoid the most rural areas in case there need to be any emergency stops.
Tips if you're thinking about Dry Camping
Dry camping can a be fun and epic experience, but it can also be a dangerous one. Remember, going dry camping doesn't mean that you need to go unprepared:
First, assess your RV. Know exactly what you're RV is good for and what it's not good for. Can your RV maneuver through certain terrain?It's important to figure all that out before attempting to dry camp.
Bring important essentials, like flashlights, plenty of water, a lighter, cell phone signal booster, maybe even some solar equipment, like a solar stove.
Empty all tanks before you go and fill up on fuel as you won't be able to access any of that.
Tips for Traveling in Cold Weather
RVing in cold weather brings some unique challenges, but with the right preparation, you can survive:
Determine how cold it will be where you're going to make sure your rig is up to par.
Make sure to bring plenty of warm clothes. From jackets and sweaters to pajamas and sock. You're going to need them.
Make sure your rig is properly insulated. Keep heaters inside the RV to keep nice and toasty because sometimes the stock heater isn't enough.
Make sure you're fully aware of how to use all of the heating and cooling functions in your rig.
Tips for Traveling to the Beach
Beach RV trips are one of the most popular to take. Of course, you need a bathing suit, sunscreen, and a beach towel. But is there more to it than that plan a beach trip?
If you're staying ON the beach, make sure it has the amenities you need, such as sewage.
To avoid spending days trying to clean up every sand particle from your rig, set up a little wash station outside for before you get in you can clean off well.
Cover up your upholstery with blankets/towels to avoid getting them wet/dirty unit everyone is clean.
Try to book anything during offseason, to save as much money as possible. In other words, avoiding summer and spring if possible.
Tips for Renting the Best RV for your Trip
The biggest tip we can give you is to make sure you rent the perfect RV for your family. That includes comfort, performance, space, and amenities. Consider using the RVshare platform. We're the world's largest peer-to-peer RV rental marketplace and we've got the best selections for families of all sizes. No matter where you're going or what kind of terrain you'll be trekking, we've got an RV for you at the lowest rates in the industry.