Virgin Islands National Park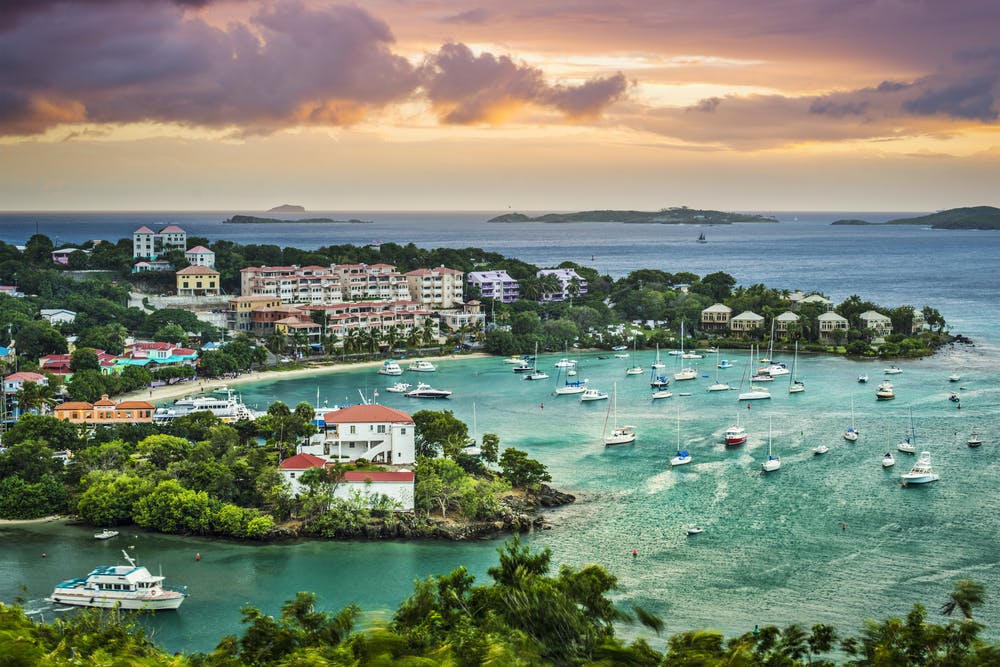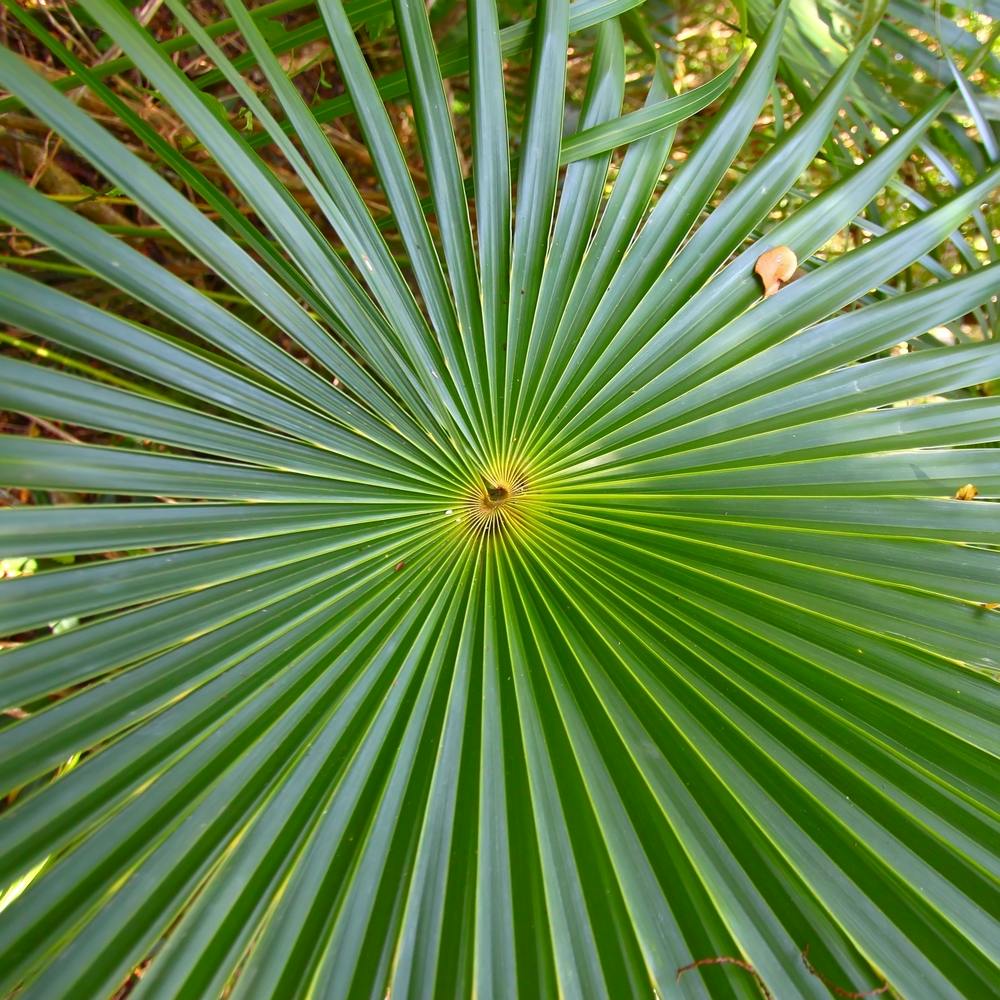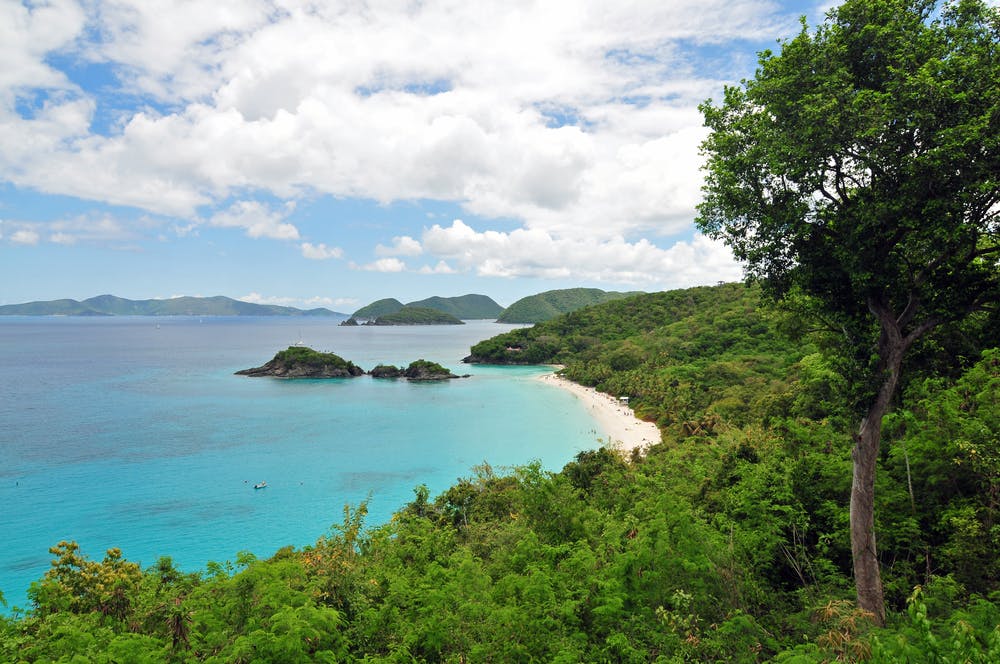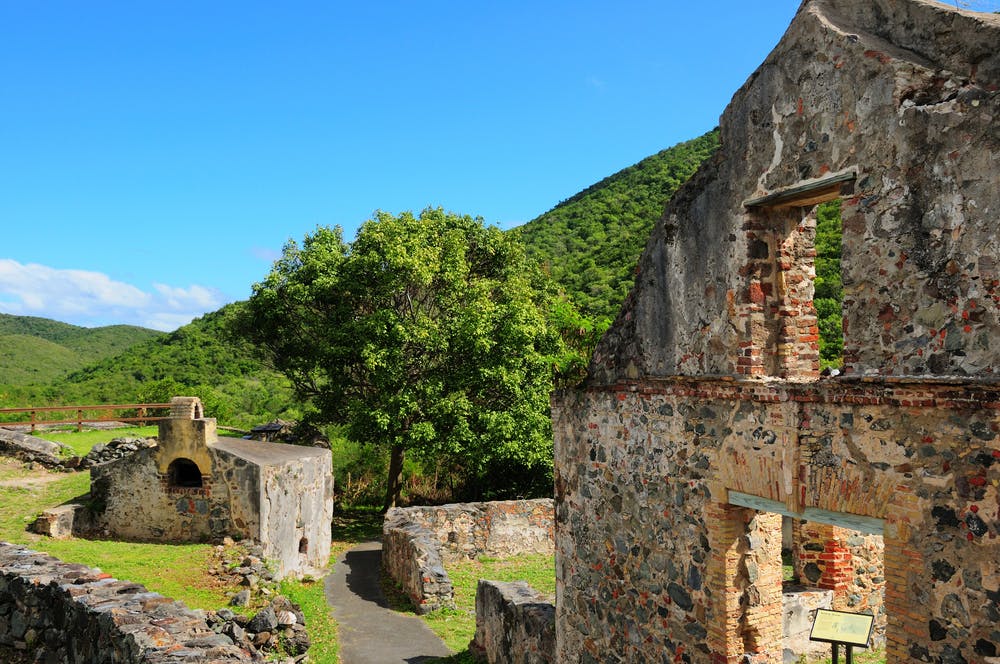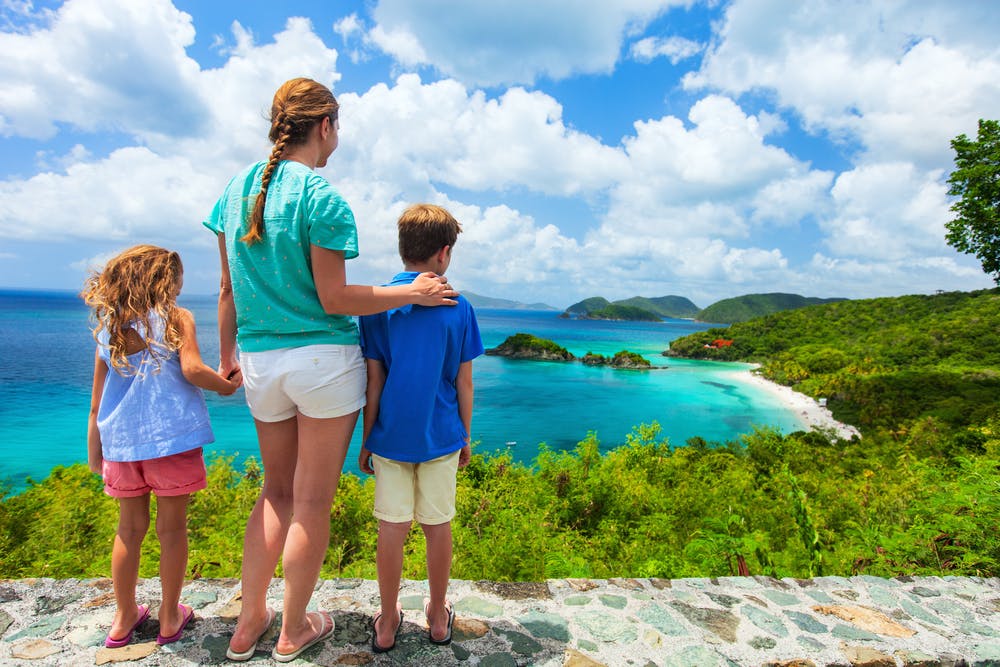 When you're surrounded by the beautiful beaches and bright blue water in the paradise of the US Virgin Islands, what more could you ask for? A pristine national park, of course! The Virgin Islands National Park is two-thirds of the island of St. John, making it a beautiful and unique destination for visitors from around the world. The park itself has 7,259 acres of terrestrial habitat, plus 5,650 acres of adjacent submerged lands. From the ridge tops to the reefs, the Virgin Islands National Park protects birds, fish, coral and other marine life along with over 750 species of plants. It's a true nature lovers paradise!
Temperatures in the Virgin Islands are typically in the 70s and 80s year-round. The Tradewinds do influence the weather in the Virgin Islands, as they blow east to west across the tropical Atlantic. In the wintertime, winds are stronger but there is less rain, and in the summer months there are lighter winds but more rain. In the winter months, cold fronts can sometimes bring Christmas winds, which result in large waves breaking on the north shore beaches. In the summertime, tropical storms or hurricanes do occasionally occur.
The national park covers 60% of the island, but there are plenty of activities and fun both in and outside of the park! If you're looking for events inside the National Park such as bird watching or garden tours, view a full calendar here.
With the National Park being located on both land and sea, there are a wide variety of activities for visitors to enjoy, including swimming, snorkeling and scuba diving, sailing, windsurfing, camping, hiking, bird watching and much more. Day-sail charters, snorkeling tours or island safari tours are also all available and offered by private operators. Plus, the diverse and beautiful beaches are the perfect place to have some sandy fun building sandcastles with your children or to just have a quiet moment of reflection and solitude.
Weather
Spring 70-80 F
Summer 70-80 F
Fall 70-80 F
Winter 70-80 F
Nearby Cities
Charlotte Amalie
Trip Planner
Use our FREE RV trip planner to begin customizing the perfect RV trip.
Continue
RV Resorts & Campsites in Virgin Islands National Park
There are a variety of accommodations available on the island to fit any budget, two of which are located within the park. Because the island is small, camping options are limited and many visitors opt to stay in a villa or hotel. Outside of the park, there are exclusive beach resorts, family-friendly hotels and resorts, bed and breakfasts, guest houses and even vacation villas, all within short distances of the park.
Within the Park
Outside the Park
Hit the Trails
Hiking is one of the most popular activities on the island, and the Virgin Islands National Park offers more than 20 trails, all offering a unique and different experience. From accessible boardwalks for viewing historic ruins to bird watching and salt ponds, you are sure to have a great time hiking within the park.
Pro tip: Look, but don't touch! There are plenty of beautiful plants to view within the national park, but some may cause rashes or itching. Here is a list of plants to avoid while hiking.
Here are some of our favorite trails within the Virgin Islands National Park:
Virgin Islands National Park Trails
Yawzi Point
Distance: 0.3 miles
Terrain: This is a great choice for an easy hike, located between Great Lameshur Bay and Little Lameshur Bay. Small rocky beaches can be accessed by side trails and stone ruins of homes from the Danish colonial period can be found alongside the trail.
Caneel Hill
Distance: 2.4 miles
Terrain: A moderately strenuous trail, it leads to a scenic overlook atop Caneel Hill and then descends through a beautiful forest environment.
Lind Point
Distance: 1 mile
Terrain: This trail ascends to the scenic Lind Point overlook. Additionally, a side trail leads to Salomon Beach, and has an open dry forest environment.
Ram Head
Distance: 0.25 miles
Terrain: This hike has only a slight grade and leads to the Salt Pond Bay. It's the perfect hike for someone looking for a pleasant, not too strenuous stroll to the water.
Reef Bay
Distance: 2.2 miles
Terrain: Trail includes a shady, moist forest and a dry forest, both of which have a wide variety of plant life. Guided hikes of the Reef Bay Trail are also available on a scheduled basis, check with the Park Service Visitor Center in Cruz Bay for more information or to join.
Tektite
Distance: 0.7 miles
Terrain: This moderately strenuous hike brings you through desert-like terrain, but the payoff is scenic views atop the coastal cliffs.
Francis Bay
Distance: 0.5 miles
Terrain: Trail passes through a dry scrub forest and onto the beach. Great trail for bird watching, and a boardwalk provides easy viewing of the pond birdlife.
What to Do at
Virgin Islands National Park
When you're tired from hiking, ready to dry off from kayaking, and have seen all the birds and plants on the island, you're still not out of things to do! Although the Virgin Islands National Park has so much to offer, there are plenty of other things to do with your time on the island, whether it's enjoying a delicious meal, perusing the racks while shopping, or taking in a museum.
Restaurants
Delicious food isn't the only thing on the menu on many Virgin Island restaurants – amazing views are too! Here are some of our favorite restaurants worth checking out during your visit to the national park.
Type: Caribbean
Location: St. John
Type: Farm-to-table, Seafood
Location: St. John
Type: Italian
Location: St. John
Type: Seafood
Location: St. John
Type: Barbeque
Location: St. John
Shopping
Ready to take some time away from the park to peruse the racks for a unique souvenir? The island offers a wide variety of shops with items like locally made jewelry and crafts, paintings and much more. Two main shopping areas on the island can be found in Cruz Bay and Coral Bay. Here are some of our favorites that are worth checking out on your walk through town.
Friends of the Park Store
Support the Virgin Islands National Park while you shop! This store has two locations, at Mongoose Junction in Cruz Bay and in the park visitor's center. You can find locally made products, books and items needed to enjoy the park and the island.
Bajo El Sol
A gallery and event space dedicated to featuring Virgin Island artists. Visit and find creative, handmade products such as jewelry, vintage prints, ceramics, photography and much more. They also have weekly events, including artist talks, film screenings and book readings.
Coconut Trading Company
Find the perfect gifts for your friends and family back home at the Coconut Trading Company, which features a wide variety of island gifts.
Portico
This shop brings everyday island style to everyday life, so the vacation doesn't have to stop when you get home! Shop for décor, glassware, bedding, apparel and much more.
Made in St. John
A truly local business, Made in St. John features unique apparel like t-shirts, hoodies, dresses, onesies and much more, all that are screen-printed right at the store. Fun designs and screen printing with non-toxic, water-based ink makes this shop a must-see.
Museums
Rainy days happen, even in paradise! But luckily, there are indoor activities and cultural learning in the museums. Here are some of the ones we love to visit when we are in town.
The ruins of this 18th century sugar plantation are part of the National Park. Visitors can explore the ruins of the old windmill and factory or watch a cultural demonstration.
This library and museum is located in a restored plantation estate home, and offers the opportunity explore and experience one of the first buildings of its kind on the island. It holds a collection of historic photographs of St. John, rare documents, newspaper clippings, paintings and other artifacts.
Part museum, part working archeology lab, this center was designed for local students to learn and explore their own heritage. It also houses exhibits that showcase the known human occupation of the Virgin Islands, focusing on discoveries made within the Virgin Islands National Park.
Located on St. Thomas Island, a short ferry ride from the National Park, this small museum chronicles the influence of the French in the area. It features collections including old photos, artifacts of old style living from the island, a library of books and much more. Events also occur.
Once a sentry overlooking the harbor, now a national historic landmark. Fort Christian is the oldest building in continuous use on St. Thomas Island and is now a museum.
Peace Hill Ruins
A quick 10-minute hike brings you to old sugar windmill ruins, but most importantly, a breathtaking view over Hawksnest, Dennis Bay. In the distance, you can see Cinnamon, Great Thatch, Tortola and Jost van Dyke.
Reef Bay Trail and Petroglyphs
One of the most popular sightseeing treks within the National Park, this trail takes you along the ancient remains of four sugar estates and petroglyph rock carvings.
Drake's Seat
Featuring a panoramic view of Magens Bay and the Virgin Islands to the east, Drake's Seat is one of the best sights on the island of St. Thomas (a short ferry ride from the national park). It's named after Explorer Sir Francis Drake, who is said to have kept watch on his fleet from this very spot.
99 Steps
Actually 103 steps, these steps are one of the most picturesque sights on the island because of the colorful flowers on either side. The steps were built by the Danes in the mid-1700s.
How to Get to
Virgin Islands National Park
Getting to the Virgin Islands National Park can be slightly difficult, but it's worth the effort to get there! There are no airports on St. John island, so you must fly to St. Thomas Cyril E. King Airport (STT) and travel from there. From St. Thomas, you can take a car barge or a ferry over to the St. John island. But once you arrive on St. John island, the Lind Point Trailhead and Visitor Center at the National Park are both a short walk right from the ferry terminal.
To get around the island, there are only two main roads, Centerline (Route 10) and North Shore (Route 20), that take you throughout the park. Route 20 provides access to most north shore beaches and Route 10 runs through the center of the island and provides access to Salt Pond Bay and Lameshur Bay.
Navigating an RV may be difficult on the island, but the beautiful nature experiences offered in the National Park make it worth the visit, even if you can't rent an RV! Camping is common on the island, and one of the best ways to experience the park.
Entering Virgin Islands National Park
There is no fee to enter the Virgin Islands National Park or the Virgin Islands Coral Reef National Monument, but there is a fee to enter Trunk Bay beach, one of the most popular beaches on St. John.
Trunk Bay Individual Pass : $5
Trunk Bay Individual Annual Pass : $20
Trunk Bay Family Annual Pass : $30
Mooring and Anchoring Fee : $26
Regular overnight
Mooring and Anchoring Fee : $13
Senior/Access
We hope that you now have all the information at your fingertips for a fantastic visit to the Virgin Islands National Park. Soak up all the beauty that nature has to offer, and be sure to let us in on the fun, too! Send us photos at [email protected], tag us on social media, share amazing details, and anything else you want others to know about your experience for a chance to be featured on our blog or social media channels.