Travel Inspiration
September 7th, 2019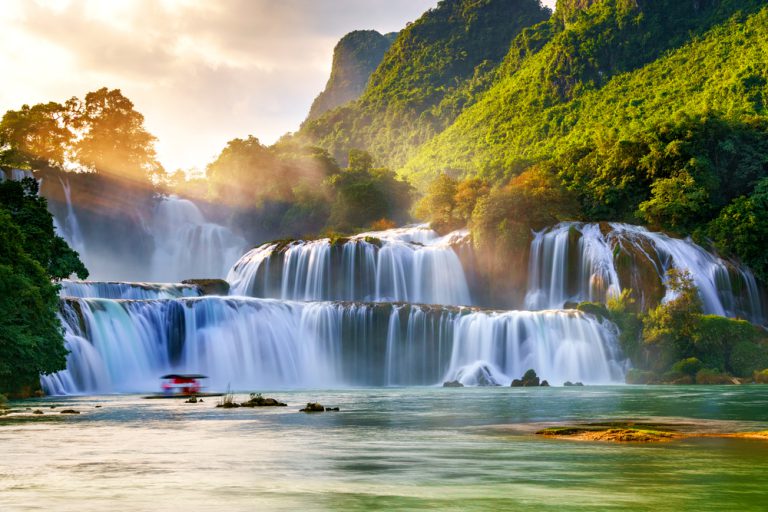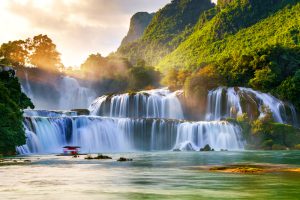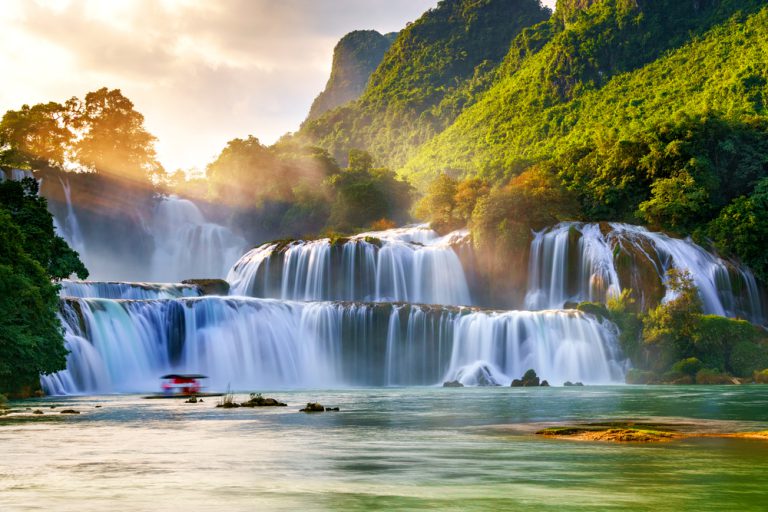 Listen: it's not that we don't think TLC had our best interests in mind when they created their 1995 smash hit. But if you've actually been to a waterfall — or even if you've just seen pictures — you may be willing to throw their advice out the window when it comes to your next camping trip.
Of course, chasing waterfalls involves just that: a chase. Not every part of the states can boast the stunning cascades you'll find in upstate New York or western North Carolina.
But that said, you might be surprised how far and wide you can travel and still find trip-worthy waterfalls in the U.S.A. Whether you're starting from the east or west, north or south, here are some of our number-one waterfall suggestions in these United States of ours.
Which is the Tallest Waterfall in the U.S.?
Want to go straight for the top? If you're of the "go big or go home" mindset, this might just be the waterfall for you.
1. Yosemite Falls, California
Niagara Falls may be the best-known waterfall in the United States — and we'll certainly be coming back to that epic New York expanse in just a minute!
But it's not technically the largest waterfall in the U.S. The fall with that honor lies a little bit further west in east-central California: it's Yosemite Falls, which calls the national park of the same name home.
Yosemite Falls towers a shocking 2,425 feet over the ground below it, and is actually made up of three separate waterfalls: Upper Yosemite Fall (1,430 feet), the middle cascades (675 feet), and Lower Yosemite Fall (320 feet). If you're trying to get a great vantage point, you're in luck; the falls are visible from a wide number of spots in Yosemite Valley, including Yosemite Village and the luxurious Yosemite Valley Lodge. There's also a well-trodden one-mile loop trail leading to the base of the lower falls, as well as a more challenging 7-mile round trip hike that gets you to an epic overview at the top. Either way, you can't go wrong in Yosemite, especially since the park boasts ten campgrounds that can accommodate motorhomes and travel trailers.
Click here to see RVshare rentals near Yosemite National Park in California.
Niagara Falls Map U.S.A.
Of course we had to tackle the most famous waterfall we have! Here's what you need to know if you're headed to Niagara.
2. Niagara Falls, New York
It's no wonder Niagara Falls has a place on many travelers' bucket lists — it's easily one of the most impressive waterfalls not just in our nation,  but the world. Another cascade that's actually made up of three separate falls, the famous Niagara straddles the U.S./Canadian border in between the towns of Niagara Falls, New York and Niagara Falls, Canada, which is in the province of Ontario. The largest and most often-travelled-to of the three falls is called Horseshoe Falls, which is the one you've likely seen in all the pictures.
Here's a crazy fact: during peak tourist hours in the daytime, more than six million cubic feet of water topple over the crest of the falls every single minute. For comparison, the average bathtub holds less than six cubic feet of water… so we're talking about a pretty serious cascade!
Along with the falls themselves, which have spawned a wide range of tourist operations including boat and walking tours, you also have the charming town of Niagara Falls to explore… times two, if you bring your passport!
Click here to see RVshare rentals near Niagara Falls in New York State.
The Best Waterfalls in the U.S.
Niagara might be the most famous, and Yosemite might be the tallest… but that doesn't make them the best waterfalls in America.
Some of the most beautiful waterfalls in the U.S. are in surprising locations. Here are a few to add to your upcoming itinerary.
3. Ruby Falls, Tennessee
Chances are Chattanooga, Tennessee is already on your travel bucket list — and if it isn't, it should be. Not only is it home to a whole lot of history and stunning Tennessee mountain wilderness, but it's also the site of this stunning subterranean waterfall, which is unlike any other in this United States of ours.
The 145-foot height of Ruby Falls is only more impressive given its underground location, and the dramatic lighting set up by the park managers makes for epic Instagram photos. Plus, you can combine your ticket to get a deal when you see nearby Rock City, which is also well worth your travel dollar. (At one part of the park, you can look out over seven states!)
Click here to see RVshare rentals near Ruby Falls in Tennessee.
4. Rainbow Falls, North Carolina
It's a little-known fact that western Carolina is one of the spots in the United States with the most waterfalls per square mile — many of which are within an easy day's drive of Asheville, which is already a worthy destination. With a hip combination of art galleries, breweries, and craft coffee shops, this Carolina mountain town truly knows how to keep it weird. (And, seriously, how many cities are literally on the Blue Ridge Parkway?)
One of the most popular excursions for Asheville locals and tourists alike is Rainbow Falls, which is tucked about an hour outside of town in the Pisgah National Forest. At 150 feet high, these falls are especially spectacular after a heavy rain… which it doesn't take long to come by in North Carolina.
To reach the falls, you'll take a reasonable hike of about 1.5 miles in from Gorges State Park at the Grassy Ridge Parking area. Don't worry, the lot will likely be packed, so it's not likely you'll miss it. That said, we highly recommend arriving early if possible… and if you'd rather have a quieter experience, check out this list of not five or ten but sixty of the best waterfalls in the Asheville area. Like we said, this is a great spot to visit if waterfall-chasing is your angle!
Click here to see RVshare rentals near Rainbow Falls in North Carolina.
5. Bridal Veil Falls, Colorado
Standing at an impressive 365 feet at the end of the box canyon overlooking Telluride, Colorado, Bridal Veil Falls are the highest cascades in the state — not to mention arguably the most stunning. And given its proximity to one of the most sought-after destinations in Colorado, we couldn't resist giving it a place on this list. Although it may be best known for its ski resort, there's plenty to keep you occupied in spring, fall, and summer, and the epic view from the ledge of this cascade is just the beginning.
The trail to visit the falls is a moderate 5-mile round trip, and you'll be treated not only to the view at the top but also the hydroelectric power plant it turns over. Visit in winter to see some brave (or crazy) adventurers attempt to scale the falls while they're frozen. We certainly don't recommend trying it out yourself unless you're a very experienced climber!
Click here to see RVshare rentals near Bridal Veil Falls in Colorado.
Where are the Waterfalls Near Me?
Not planning a trip to any of the locations outlined above? That's okay! Although not every state in America is home to waterfalls, you might be surprised by how many places they live in. For instance, northern New Mexico and Arizona both have a wide range of beautiful waterfalls, as do several states in the southeast, like Arkansas.
No matter where you're headed and whether or not chasing waterfalls is on the docket, an RVshare vehicle is the perfect place to call home base while you get out and go exploring. With our A-rated insurance policies and available 24/7 roadside assistance upgrade, you'll be free from any worries… other than figuring out where you're headed and what you'll do when you get there, of course.
Plus, because they're rented from a network of trusted owners — regular people, just like you and me — RVshare rentals come in every shape, size, and footprint imaginable, and they're usually a heck of a deal when compared to the big box store prices! After all, private owners don't have to worry about footing the expensive overhead price of running a business, which means they can pass on those savings in the form of lower per-night rental prices. (Plus, your money's going right back into the camping community… win-win!)
This post may contain affiliate links.