RV Owners
September 15th, 2015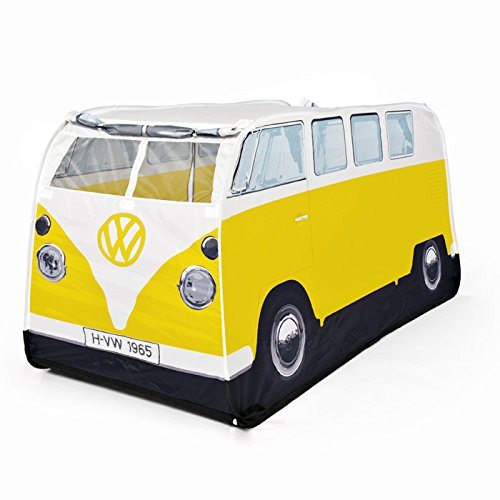 If you're looking for a unique gift for your kids, look no further that this innovative VW camper van pop-up play tent. This tent made by The Monster Factory will spark the imagination of your little ones.
Choose from blue, pink, yellow or red children's size tents. The Monster Factory also makes an adult version of the VW tent which allows parents to sleep in their favorite camper van as well.
The tent is easy to assemble. Simply open it from the bag and insert the support rods. The tent will easily store away when your child is not playing with it.
Kids of any age will enjoy these tents, but the miniature tents work best for kids 8 and under. Kids can sleep in the tent, or just pretend they are camping. It's perfect for inside or outside as long as the weather is good.
These mini VW Camper Van tents sell for $59.95 and are available on Amazon.com. The adult version is also available on Amazon and start at $495.00.
Looking for other VW licensed gifts? The Monster Factory sells a camper van lunch box and desk chair, also available on Amazon.com
What do you think? Are you a VW Camper Van fan? Would your kids play with this type of tent? Add your comments in the box below and share this fun story with your friends! This tent would make a great birthday or Christmas gift.