Vintage Trailer Brings On Midlife Crisis (In a Good Way)
RV Owners
September 14th, 2015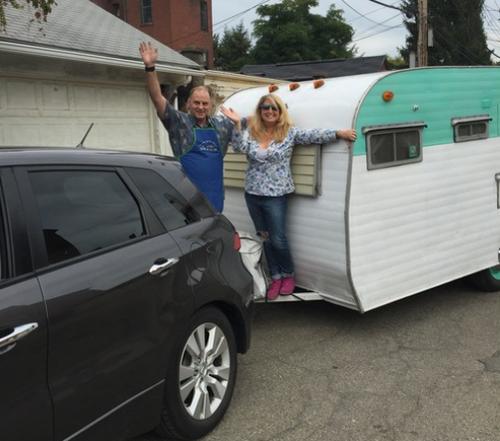 We've all heard the stories about the infamous midlife crisis and the attempt to feel young again. Whether it's a red sports car or a daring feat like climbing a mountain or jumping from a plane, if you're over 40 you have probably felt the temptation to do something radical.
That's exactly what happened to Lisa McElroy. Lisa, a professional travel writer, has always loved adventure so it was no surprise that she fell in love when reading about a 1968 Scotty Camper Trailer. It mattered little that the trailer was located some 300 miles away. She just knew a new adventure was about to come her way.
Of course, there were the naysayers. Friends said the desire for an RV was probably a phase she was going through, or that the Scotty for sale was a scam. They worried that Lisa would be in for a big let down. Fortunately, nothing could have been farther from the truth.
Today, Lisa is enjoying the back roads of America with the vintage trailer of her dreams.
Sure, there would be challenges along the way. Starting with the drive home where she spent six long hours pulling the camper along the turnpike praying to God she didn't have an accident. The next challenge was figuring out how to park it in her driveway. Once it arrived her husband rolled his eyes. Surel, this phase would pass and Lisa would come back to her senses. Well… maybe not.
Today, she is joining the growing number of women all over the U.S. who are glamping their way to a more fulfilling life. These freedom loving women are taking the roads by storm. They fly fish, horseback ride, hike and wear cowboy boots. They also happen to love their trailers and enjoy making them pretty — no men allowed. These gals are self-sufficient and letting the good times roll.
To Lisa, a middle aged soccer mom, she had come home. There was something so freeing about hitching up her own tiny house on wheels and taking herself on an adventure. It was empowering to know you that she always had a place to call her own, even if she did need to park it in her neighbor's yard.
Many women who are interested in joining a group for traveling adventures join Sisters On The Fly, a women's only group committed to adventure on the road. These women love their vintage trailers and inspire others to do the same. The no children, no husbands rule was instituted from the very beginning, and now the group has swelled to over 6,500 members eager to live a self sufficient life — if only for a weekend. Membership is just $60 a year and gives you access to an amazing calendar of events around the country. Meet ups are scheduled on a regular basis to get new people connected with long time members.
Don't have a trailer? No problem. According to the website, you can become a Sister on the Fly member without your own trailer, and you don't need to know how to fish!  Sisters can also choose to earn badges which is a bit like Girl Scouts, but a whole lot more challenging. Set your sights on the Cowgirl Prom, Cigar Affectionate, Big Rig Little Rig or the Hostess with the Mostess Patch!  You can even earn a patch for herding cats. (Sounds like there's a story behind that one!)
Want to learn more about Sisters on the Fly? Visit their website: SistersOnTheFly.com
What do you think? Would you buy a trailer and hit the road? Do you think Lisa is crazy, or are you dying to try it for yourself? Add your comments to the box below. We love to hear your thoughts and suggestions. Tell us your story, then share this article with your friends. Thanks
Source: Yahoo.com