RV Owners
Last updated on June 29th, 2022. Originally published on July 12th, 2020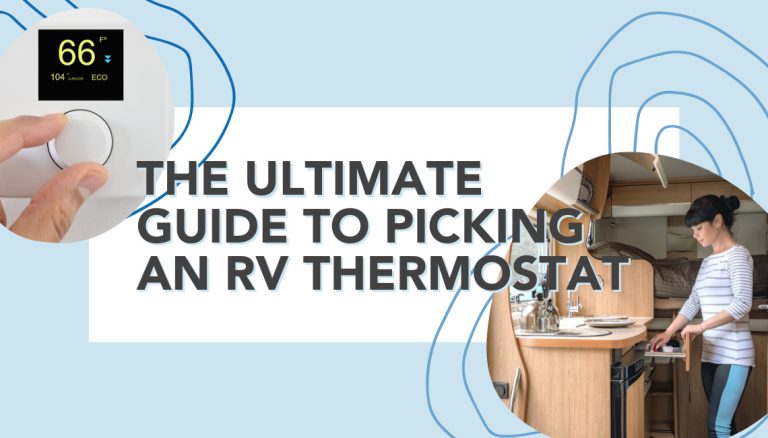 What's one of the biggest benefits of RV camping over tent camping?
Why, climate control, of course. But keeping your rig cool in the summer and warm in the winter isn't a job that's performed by your HVAC system and furnace alone. You need an RV thermostat in order to control the ambient temperature inside your RV — even the very best heating and cooling systems on earth are powerless without a well-working set of controls. A good RV thermostat is a critical piece of equipment for any camper who desires climate control, and if you're driving around in a less-than-new RV, you may find yourself on the market for a replacement.
But these days, it's not as simple as purchasing whatever's available at your local camping store. From digital RV thermostats to smart, wifi-connected RV thermostats, you've got tons of options… which can all be a little overwhelming.
Don't sweat it — literally! In this post, we're going to go over everything you need to know about this small but important piece of equipment. Here's what you need to know about your camper's RV thermostat… though when it comes to convincing your partner or kid not to adjust it, you're on your own. 😉
What is the Best RV thermostat?
Let's dive right into the juicy stuff. Here are some of the best RV thermostats available on the market today.
1. Coleman Mach Manual RV Thermostat
Although some campers do want a digital upgrade, it's not always the case that newer is better! If you're looking for a simple, manual thermostat to replace an old broken one, Coleman's Mach Manual option is simple and affordable. However, you won't be able to pre-program temperatures ahead of time, and since it's analog rather than digital, it may not work on the newest RV HVAC models. (It's also likely to be a little less exact.)
2. Coleman Airxcel 8330-3362 RV Thermostat
If you're still looking for a relatively straightforward RV thermostat install, but want something just a little bit more newfangled than the Mach Manual, upgrade to the Coleman Airxcel 8330-3362. It's still not anything that'll remind you of the Jetsons, but with its precise digital temperature readout, it's at least a little bit more up-to-date. It's also still an affordable price at under $100, and since it's specifically made for RVs, it'll make for a relatively easy install.
3. Dometic Duo Therm Comfort Control 2 RV Thermostat
Now we're cooking with gas! If you're looking for a completely 21st century, programmable, digital RV thermostat that makes it easy to create a comforting environment around the clock, Dometic has you covered. Its Duo Therm Comfort Control line of thermostats come with a variety of easy-to-use features and settings that help you maintain the proper level of heating and cooling, even when you're asleep or out adventuring.
Of course, newer, more technologically advanced products also tend to be more expensive, and the Duo Therm is no exception. Be prepared to spend over $100 for the unit itself, and significantly more if you'd like to hire professional help for installation.
4. Dometic Comfort Control Center RV Thermostat
Perfect for larger RVs, like Class A diesel pushers, which may have two rooftop RV air conditioning units, the Dometic Comfort Control Center has many good RV thermostat reviews on its product page on Amazon. Its "zone" feature allows you to manipulate the temperature in specific areas of your rig, and works not only your ceiling heat strip and cooling system, but your onboard furnace as well. It's available for under $100 on Amazon, and many users said it was a simple plug-and-play replacement process.
5. Radio Thermostat
Imagine an RV thermostat you could control from anywhere, even when you're not at home, all with the help of an internet connection and your smartphone.
It exists: it's the Radio Thermostat, which offers easy, palm-of-your-hand controls for both iOS and Android users.
The thing is, a smart, wifi-enabled thermostat is not a simple replacement in most RV units; it will take a little bit of handiwork and finagling. But if you have a little bit of wiring know-how (or the drive to learn), it's totally possible; check out this tutorial by Adventurous Way.
How do I know if my RV thermostat is bad?
Choosing an RV thermostat to replace yours is just a single drop in the larger bucket of learning about the importance of these items. And one of the most critical questions you may find yourself with is… how do you know if you need to replace your RV thermostat in the first place?
Well, one of the easiest ways to tell your RV thermostat is bad (and one of the most common things that prompts people to seek out a replacement in the first place) is to simply notice that it's not working. However, there are some steps you can take first to ensure the problem isn't originating with the HVAC system or your RV's current electrical power source. You can check the function of a wall-mounted RV thermostat with a volt meter. If the unit will only function when the thermostat wires touch to each other, it's gone bad and needs replacing. You can also check to see if there are any basic repairs with the heater.
How do I reset my RV thermostat?
Sometimes, an RV AC thermostat may be working, but simply need a hard reset. Think of it like rebooting your computer.
The specific instructions for how to reset your RV thermostat will vary depending on the specific make and model of thermostat you're using, so consult your owner's manual for complete details on your specific thermostat. (Psst: threw away the paperwork? No problem; it's very likely you can find instructions for your unit online.)
RV Thermostat Troubleshooting
Troubleshooting your RV thermostat starts with the basics: is it getting any electrical power? If it is, and it's still not working, maybe it's something to do with the HVAC system itself. Here are some troubleshooting steps to consider for your RV HVAC system, as well as a bunch of other basic information.
As mentioned above, a hard reset of your RV thermostat could also be productive; and you can also use a multimeter to ascertain whether or not the thermostat unit is working. As always, your RV thermostat user manual will have the most complete troubleshooting guide for your specific product.
RV Thermostat Installation
Installing an RV thermostat can be as simple as removing and replacing a few screws… or require an entire rewiring project. It all depends on what kind of thermostat your RV currently has and what kind of thermostat you're looking at for a replacement or upgrade — particularly if you're trying to put in a unit that isn't specifically made for RVs.
Just because a thermostat wasn't manufactured with RVers in mind doesn't mean it can't be used in your unit… and yes, you can still do the work yourself! It will take a bit of learning and know-how, however, and your RV's thermostat wiring will vary depending on the make and model of your rig as well as which thermostat you're using. Our best tip: consult YouTube, which is full to the brim with tutorials wherein other clever campers replace their RV thermostats and get into the nitty gritty on RV thermostat wiring. We've included one such tutorial here in this post, above, to get you started!
RV Thermostat FAQs
To finish out this article, let's cover some of your most frequently asked questions about RV thermostats!
What is an RV thermostat?
An RV thermostat is the piece of equipment that allows you to control your RV's heating and cooling systems. It may be analog, digital, pre-programmable or not, and can also help your unit automatically shut off and turn on to maintain appropriate temperatures.
How does an RV thermostat work?
The RV thermostat works as an interface between you and your HVAC system and furnace. It tells those systems when to turn on and off, and in the case of programmable RV thermostats, can even change temperatures per your preset wishes.
Why do I need an RV thermostat?
You need an RV thermostat in order to control your air conditioner and heater. Even with a great unit, you won't be able to use it without a good RV thermostat.
Where do I go to buy an RV thermostat?
RV thermostats are available online from a multitude of retailers, including, of course, Amazon. They can also be found in brick-and-mortar camping stores.
How long do RV thermostats last?
Like any other piece of electronic equipment, there is some variability in how long different makes and models of RV thermostat last. However, it's not unheard of for well-made products to work for 10 years or longer, especially when they're well taken care of!
This post contains affiliate links. RVshare may receive compensation if you make a purchase after clicking on a product link.