Travel Inspiration
Last updated on April 8th, 2023. Originally published on August 15th, 2015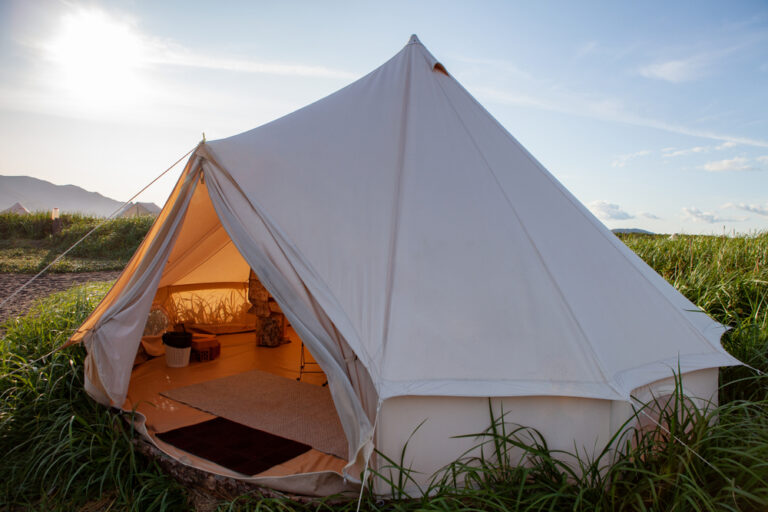 This summer season enjoy living outdoors with all the comforts of home, away from home! Simply put, glamping, also known as glamorous camping, involves traditional camping facilities with all amenities and comforts of a home.
There are countless benefits of glamping and we are here to offer five reasons why this year you should enjoy your summer camping vacation in comfort and style.
1. Beautiful Places
The best part about glamping is that you stay in unusual places like soaring mountains, sublime countryside settings, or serene beaches. In addition to the surrounding landscape, you also get to stay in cozy tents, tipis, yurts, and treehouses with all the comforts of home.
2. The Great Outdoors
The majority of glamping sites are located in the wild areas, along the coast, or in national parks. Here you will find amazing landscapes and plenty of fresh air. Enjoying the sunset while relaxing in your tent with your loved ones is not an everyday experience.
3. It's Clean!
The major benefit of glamping over traditional camping is the lack of dirt and grime. Glamping accommodations are set up for cleanliness with real beds, wooden floors, and running hot water.
4. Save Some Money
When compared to hotels, glamping offers a unique experience with almost one-third of the cost. Do some online research and you might be surprised by the deals and discounts being offered.
5. It's Warm and Spacious
Glamping offers the benefits of luxury tents, caravans, and treehouses that are much more spacious as compared to traditional camping tents. With heaters to keep you warm and fans to keep you cool, you'll be sure to enjoy a comfortable vacation.