Top 4 Double Decker Bus to Motorhome Conversions
RV Decor & Unusual RVs
August 8th, 2015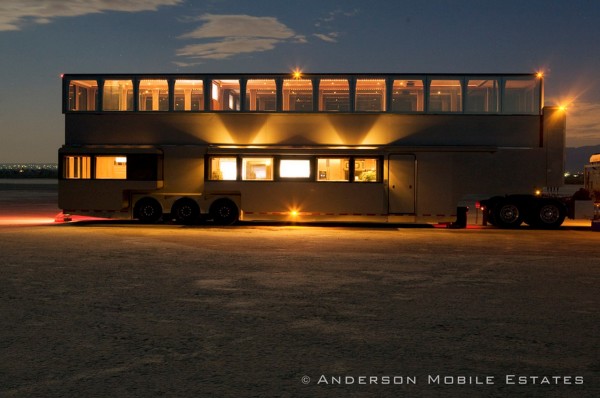 Have you ever seen a double decker motorhome? Does the thought of an RV with two stories fill you with astonishment?
If so, check out the following list of four spectacular DIY double decker buses. Who knows? You may even gain some inspiration that you can use if you ever have the opportunity to buy your own double decker bus.
4. The Bowden's Double Decker Bus Conversion
Marleen Bowden-Schelvis and John Bowden met for the first time while traveling across Europe. When they settled down, they couldn't afford a house so they decided to keep the bus theme going. They spent over a decade and 35,000 pounds stripping down and rebuilding their 1976 bus.
It comes with a bathroom, lounge, kitchen, bedroom, and top-deck sun terrace. The couple, who are sustainable living fans,  also installed wind generators and solar panels. These eco-friendly implements helps meet all their electrical needs.
Learn more of Marleen and John's story on the BBC.com.
3. Double Decker Semi Trailer by Anderson Mobile Estates
I know this one isn't really a bus, but it has two stories, so it counts… sort of. I'm going to sneak it in here because it's level of coolness has got to be seen to be believed.
This former 18-wheeler has been converted into a double-decker RV. It features over 1,000 square feet of living and working areas and are practical for many uses. It comes with a full kitchen, master bedroom, showers, restrooms, and more. The interior is full of luxurious accents like marble, oak wood, and leather finishes. Did I tell you that it's available for rent as well?
2. 3-Bedroom Double Decker Bus Motorhome
This 1972 Leyland double decker motorhome comes with many of the features expected of a regular home. For instance, it has a master bedroom, bathroom, and two more bedrooms — and that is just on the top floor. Downstairs features even more amenities like a full equipped kitchen, a washing machine, sink, and gas water boiler. It also has a living area with satellite TV, a dining space that fits nine people, sofa, and a driver's cab.
1. Double Decker Bus Conversion Come with Enough Space to Park Tiny Car Inside
When you first see the tiny car inside this double decker bus conversion, you will be amazed. It is reminiscent of the finale of the classic The Italian Job movie.
But the owner, Graham Smith, has no intention of dumping his vehicle over the side of a mountain. In fact, this creative engineer has spent over 2 decades of his life toiling away on his masterpiece. Every new addition has helped convert his 1968 Daimler Fleetline into his home away from home.
Learn more about the Double Decker Bus with built in carport in an article published in the Daily Mail.
What do you think? Do you want a double decker bus of your own? Leave your answer in the comments below.
Source: Tiny House Talk