Top 3 Projectors for Your RV
How Tos & Tips
February 9th, 2021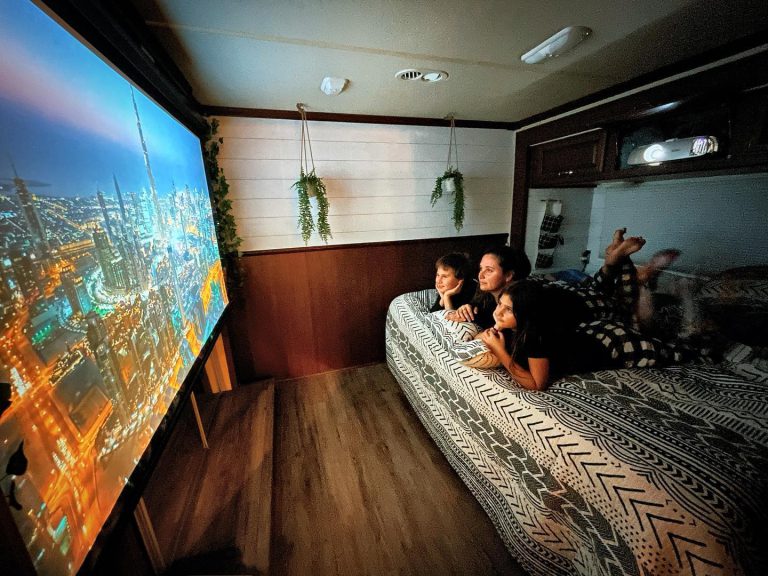 As RVing becomes more and more popular, we are seeing a number of improvements being made by both RV manufacturers and the RVers themselves. One of the most common changes people are making to their own RVs is to pull out the TVs and replace them with projectors.
There are a number of reasons such a change benefits RV users, and after trying it for ourselves, we have to say this is definitely a positive change every RV owner should consider.
Wondering what you might gain from replacing your RV TVs with a projector? Or not sure where to start shopping for a projector in the first place? Below we have outlined everything you need to know before making this change to your trailer or motorhome.
The Benefits of Using a Projector in Your RV
First things first, let's talk about what you might get out of this RV upgrade so you can be sure it's the right choice for you and will be a worthwhile investment. Below we've outlined the top three benefits of using a projector in your RV.
Save Space and Weight
The first and perhaps most important benefit is the fact that a projector is both smaller and lighter than a traditional television. This means more available cargo carrying capacity for those extra items you may want to bring along on camping trips. It also means you have a place to put those things.
Avoid Mindless Television
Nobody goes camping to watch TV. However, the fact of the matter is that often, when the TV goes on, it doesn't necessarily go off as soon as it should. Because projectors are usually used to play movies or TV shows via streaming services, they are more likely to be turned off after a single feature, meaning less mindless television and more family time.
Move Around
Finally, we love that projectors can be moved from one place to another, allowing you to watch movies and TV shows wherever you see fit. Take the projector to the master bedroom to enjoy a movie after the kids are in bed, or move it to the living room to watch as a family. Want to share with friends? You can even take the projector outside and show something on the side of your RV.
Not only does this create more flexibility, it also removes the need to have televisions in multiple places in the RV, further reducing the total weight of your rig.
What to Look For in a Projector
Now that you understand why you might want to use a projector during your RV adventures, the next step is knowing what to look for as you shop for said projector. Watching for the attributes listed below will help ensure you get a good unit that you're sure to be happy with.
Resolution
Obviously, you will want whatever projector you purchase to offer decent resolution. You'll want to watch out for projectors that use a technology known as "downsampling" and look instead for a unit that can produce an HD image.
Throw Distance
In most cases, those looking for an RV projector are going to want a "short throw" unit. This means that the projector is calibrated to display a larger image from a shorter distance, making it ideal for smaller spaces.
Brightness
Light pollution is a big problem when viewing a show or movie using a projector. For this reason, a brighter projector that can overcome light pollution is the best option. This is especially true if you plan to use the projector during the daytime as you might a TV.
Weight
As we mentioned above, one major reason to switch to an RV projector is to save weight. It's a good idea to shop for a smaller, lightweight unit in order to take full advantage of this benefit.
Ports
While a smaller and lighter projector is usually the better option for RVers, it is important to note that many of these particular units do not have space for ports that would allow you to connect phones, game consoles, or other electronics. Keep this in mind as you shop.
Speakers
Obviously, you will need some way to hear what you're watching. While it is totally possible to play sound on a pair of separate speakers, it's much easier to purchase a projector with built-in speakers for both portability and space-saving reasons.
Battery Life
Most portable projectors are battery operated. Therefore, those who choose one of these smaller units will need to keep battery life in mind. In general, you should expect to get at least a movie or two out of a full charge.
The Best Projectors for RVers
Don't want to sift through the dozens of projectors on the market? We don't blame you. Lucky for you, we've done a lot of the legwork for you and narrowed the options to our top 3 favorite projectors for RVers.
These include the following.
With features such as a 480p image and built-in speakers that offer surprisingly good sound quality, this awesome little projector is absolutely perfect for RV life. We also love the auto-focus and keystone distortion tools, along with its relatively long lasting battery. Unfortunately, this one doesn't get as bright as we'd like, but it does fine in a dimly lit or dark space.
We actually loved a few of the Anker projectors, and would honestly buy almost any of them to replace an RV TV.
Other favorite Anker projector options include:
Thanks to an incredible 3,400 mAh battery, this little projector can last for a full 120 minutes. It also displays a picture up to 100 inches wide and includes very nice dual 1-watt speakers, making it ideal for larger groups. This projector does not have Bluetooth or wireless capabilities, but that is the only major drawback we've found.
Using DLP technology, this projector provides the viewer with smooth video playback and amazing contrast. Additionally, this unit offers an incredible 150 minutes of playback time, meaning you might just be able to squeeze in a couple of movies before needing to recharge. Built-in speakers and a USB port round out this great unit, and while the resolution and brightness offered by this projector do leave something to be desired, we'd say this is a pretty solid product.
As you can see, trading your RV TV for a projector might just be the best decision you make in terms of RV upgrades. Now that you know what you're looking for, why not start shopping now so you can have awesome entertainment options next time you hit the road?
May contain affiliate links.