Travel Inspiration
February 10th, 2021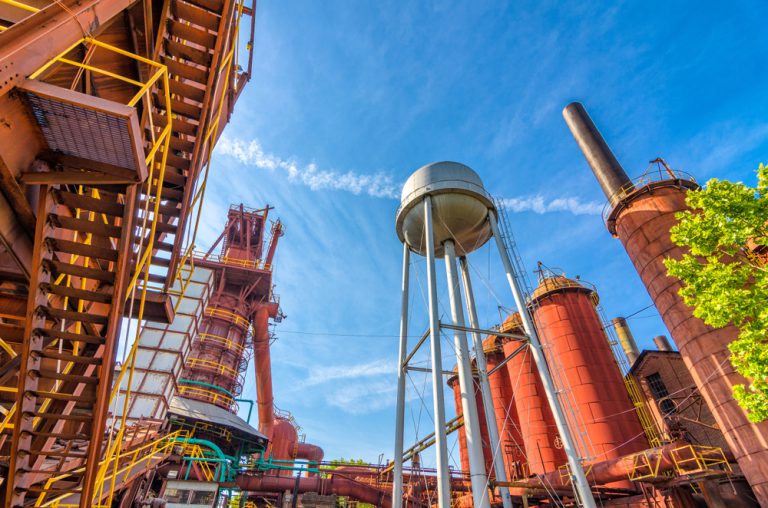 What is a Landmark?
They don't call it "sweet home, Alabama" for nothing — and indeed, the Heart of Dixie is chock-full of incredible sights to see and things to do. No matter which corner of the state you live in or are traveling to, there are landmarks and special destinations well worth putting on your itinerary, including both natural land formations and human-crafted, historical landmarks that contain years' worth of stories.
What Are Some Famous Landmarks in Alabama?
1. Gulf Shores Public Beach
2. U.S. Rocket and Space Center
3. Oak Mountain State Park
4. Alabama Gulf Coast Zoo
5. U.S.S. Alabama (Battleship Memorial Park)
6. Noccalula Falls
7. DeSoto Caverns
8. Talladega Superspeedway
9. Sloss Furnaces National Historic Landmark
10. Dismals Canyon
Alabama Landmarks
From Birmingham to Mobile and everywhere in between, here are the top 10 must-see landmarks for those adventuring in Alabama.
1. Gulf Shores Public Beach
There are few places that can boast a combination of deep south hospitality and shimmering shoreline, complete with beautiful blue oceans and endless white sand beaches. But at Gulf Shores Public Beach (and the many other beaches and preserves that dot Alabama's Gulf shoreline), visitors get just that: the best of both kinds of southern worlds. Plus, it's free — aside from a seasonal parking fee. Sit back, relax, and lose yourself in the rhythmic crashing of the waves… all while getting a killer sun tan.
Things to do near Gulf Shores Public Beach: In close proximity to Mobile and Pensacola, Gulf Shores is full of wonderful campgrounds to choose from, and you'll also want to check out Gulf State Park. Plus, check out RVshare rentals nearby!
2. U.S. Rocket and Space Center
Huntsville, Alabama might not be where the U.S. space program launches or coordinates its missions, but it is home to the U.S. Rocket and Space Center, a unique museum-cum-immersive experience where visitors can learn about the series of incredible innovations that have made America a leader in human space travel. Along with traditional explanatory exhibits, this organization also offers flight simulations, shuttle experiences, and even the opportunity to take part in multi-axis training, which emulates the intense G-forces astronauts experience when a spacecraft or aircraft tumbles.
Things to do near U.S. Rocket and Space Center: Be sure to check out the Huntsville Botanical Garden or take a day trip to Chattanooga, Tennessee. Here are RVshare rentals near Huntsville, Alabama.
3. Oak Mountain State Park
The largest of Alabama's state parks at just under 10,000 acres, Oak Mountain State Park stands apart from the others for its incredible beauty, vastness, and also ease of access. Located only 20 or so miles south of Birmingham, this state park features a stunning waterfall, pristine lakefront, forest-covered hiking trails and more outdoor recreation opportunities, as well as developed amenities including a Wildlife Center, BMX Track, Interpretive Center, golf course and more. In short, no matter what kind of adventure you're after, you can probably do it at Oak Mountain State Park.
Things to do near Oak Mountain State Park: Just a few miles outside of Birmingham, there are an incredible number of things to do in the area, including the Birmingham Civil Rights Institute and the Birmingham Zoo. Here are the top 10 campgrounds in Birmingham and RVshare rentals available nearby.
4. Alabama Gulf Coast Zoo
While Alabama is home to a number of zoos — the largest of which being in Birmingham — the Alabama Gulf Coast Zoo is truly special. A nonprofit that relies on visitor admission fees and donations to keep itself operating, this sanctuary is home to over 115 species, many of which are vulnerable, endangered, or critically endangered. Along with offering the public the opportunity to get up close and personal with some wild new friends, this zoo is also committed to educational and conservational efforts. Plus, it's close to the beach! Can't go wrong with that!
Things to do near Alabama Gulf Coast Zoo: Along with Gulf State Park, visitors to Gulf Coast should also put the Orange Beach Indian & Sea Museum on their to-do list, and if you're in town at the right time, check out the Gulf Shores Shrimp Fest! Here are some nearby RVshare rentals and campgrounds.
5. U.S.S. Alabama (Battleship Memorial Park)
A Mobile must-see, the U.S.S. Alabama, an authentic, historical battleship that was first put into service all the way back in 1940, has reached its final resting place at Battleship Memorial Park, which offers visitors not only the opportunity to board the ship itself but also to explore an adjacent aircraft pavilion, park memorials and more, giving you a sound picture of both what life was like aboard the Mighty A and the historical twists and turns that put it into operation in the first place. Special programs make it possible to stay overnight onboard the battleship or host a birthday or private party. Either way, you and your whole family will benefit from the combination of education and entertainment that's made possible by experiencing an authentic piece of history with your own eyes, hands, and imagination.
Things to do near Battleship Memorial Park: The bayside town of Mobile has so much to offer. Check out the Mobile Carnival Museum to learn more about its vibrant Mardi Gras history and grab a hike inside Meaher State Park. Here are some campgrounds and RVshare rentals in the area to choose from.
6. Noccalula Falls
Tucked away in the small town of Gadsden, just about an hour northeast of Birmingham, Noccalula Falls offers an incredible outdoor experience that'll make you feel like you've travelled far further. A 90-foot waterfall rushing at incredible speeds into the Black Creek below it, these falls are preserved and exhibited by a 250-acre public park that also offers a campground, playground, petting zoo, souvenir shop, and more. Turn it into a full-on weekend getaway or just stop by to watch the falls, but either way, don't miss it.
Things to do near Noccalula Falls: The nearby Gadsden Museum of Art is a total hidden cultural gem, and Cheaha State Park is just a short drive south from the falls. Here are nearby RVshare rentals to browse.
7. DeSoto Caverns
Another incredible Alabama natural landmark, DeSoto Caverns is an underground mansion — a series of caves whose main room is more than ten stories high and larger than a football field. An important part of history throughout the ages, and used by Native Americans centuries before Europeans ever discovered it, DeSoto Caverns is today a park open to public visitors, though it is privately owned and admissions are ticketed. Along with the caverns themselves, the park also offers other attractions such as magic acts, forge demonstrations, fire juggling and more.
Things to do near DeSoto Caverns: If you're looking for even more beautiful outdoorsy goodness, head northeast a bit and check out Cheaha State Park. Childersburg, were the caverns are located, is also closeby to Oak Mountain State Park and the city of Birmingham. Here are the best campgrounds and RV rentals in the area.
8. Talladega Superspeedway
For NASCAR fans, Alabama is nearly synonymous with Talladega — and they're not (just) talking about the forest. The Talladega Superspeedway, sometimes simply known as "Dega," is NASCAR's biggest racetrack and the host of some of the most intense and incredible car races in the world. Fun fact: this famous landmark was actually constructed on the remains of what was once the Anniston Air Force Base!
Even if you can't make it at the right time to watch a race in person, the Speedway is open year-round for tours. You'll likely also want to check out the International Motorsports Hall of Fame and Museum. That said, of course, the very best way to experience Dega is by watching a race there — or even camping out for a whole race weekend to participate in the festival atmosphere that accompanies these incredible events.
Things to do near Talladega Superspeedway: Less than an hour east of Birmingham, the Talladega Superspeedway is also close to Cheaha State Park as well as a variety of area waterfalls. Local outfitters will even help you enjoy the outdoors with seasonal tubing tours. Here are some great nearby RVshare rentals.
9. Sloss Furnaces National Historic Landmark
A unique site rising into the skyline of Birmingham, the Sloss Furnaces National Historical Landmark truly is a sight to behold — and a fascinating piece of history to participate in as well. Originally put into operation in 1882, these furnaces were used to produce pig iron until 1971, at which point it was preserved and restored for the public. (It is the only such furnace in the U.S. to have this honor.) By 1981, the U.S. Department of the Interior had designated these furnaces a National Historic Landmark, and today it serves both as a kind of living museum and an events space. Along with learning more about the history of the metal industry in America, visitors can also participate in hands-on metal crafting classes, educational programs, and even food festivals and fun runs.
Things to do near Sloss Furnaces National Historic Landmark: Yet another Birmingham destination, Sloss Furnaces National Historic Landmark is within an easy driving distance of must-see attractions like the Alabama Jazz Hall of Fame and the Heaviest Corner on Earth. Here are nearby campgrounds and RVshare rentals to check out.
10. Dismals Canyon
Yet another often-overlooked Alabama treasure, Dismals Canyon is nestled into the northwest section of the state in Franklin County outside of the small town of Hackleburg. A beautiful sandstone gorge, the canyon would be worth visiting just for the views… but there's an additional draw. This site is one of the few on earth where a certain type of bioluminescent insect lives. (Case in point, these insects are known as Dismalites.) Emitting their otherworldly blue-green light to find both food and mates, these Dismalites are visible on night tours available to visitors. The park also offers comfortable cabin accommodations, primitive campsites, and more!
Things to do near Dismals Canyon: Tucked away into the rural northwestern part of the state, Dismals Canyon is close to other outdoorsy must-sees like Bankhead National Forest and Natural Bridge Park. Here are some of the best RVshare rentals to choose from in the area.
Planning an RV Trip to Alabama
An RV trip is the perfect way to enjoy all the landmarks and other exciting attractions Alabama has to offer — and we've got all the resources to help you hit the road with ease.
Check out the best campgrounds in Alabama, as well as our comprehensive guides to the most popular Alabama state parks.
And, of course, don't forget that we're available to help you find your perfect RV rental!
We hope this list has helped bring some diversity and excitement to your Alabama travels. Enjoy the journey!