Travel Inspiration
Last updated on March 7th, 2023. Originally published on June 9th, 2016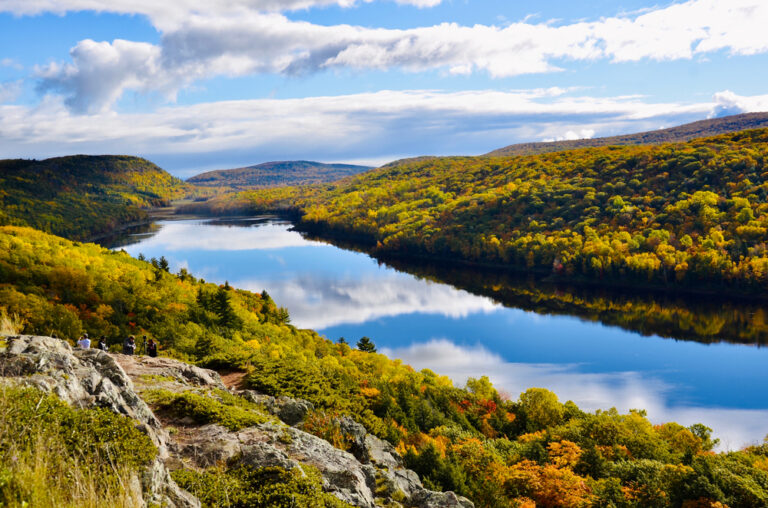 Recreational vehicles: there's truly no better way to see this great country than roaming from coast-to-coast in your beloved RV. But once you get to your chosen destination, how can you further maximize the number of sights and activities you can see and do?
On a bicycle, that's how! That's why many RVers know that there's no greater pairing than a bike and an RV. And for those that truly love the combination, finding an RV park or campground that truly maximizes their cycling options provides a joy like no other. So, let's take a look at some of the best sites across the country for RVers with bicycles.
Northwest – L.L. Stub Stewart State Park
Let's start in the Northwest with a site that really embodies the spirit of the region – L.L. Stub Stewart State Park. Covered in rolling green hills and verdant forests, and located only an hour from Portland, this park truly has it all.
Opened in 2007, as the state's first new park in over 35 years, you're guaranteed top-notch amenities. For your RV, that means plenty of space, with 14 campsites ready for a single RV, and two ready-to-berth doubles, for those roaming the roads with an extended crew.
This was also the first park in Oregon to open trails only to mountain bikers, meaning cycling enthusiasts can really push themselves to the limit, without worrying about hikers. With thousands of acres and dozens of trails, you're sure to have a blast here.
Southwest – Desert Trails RV Park
For those looking for a little less green and a lot more cacti, Desert Trails RV Park should be the perfect spot for you. This RV park, located near Tucson, Arizona, is absolutely loaded with features. With over 200 hookups and amenities like a library, pool hall, tv lounge, heated pool, and just about anything else you can imagine, you know you're never going to have a dull moment.
When it comes to biking, Desert Trails has you covered too. Pick up a free trail map at the office, choose one of the dozens of trails that radiate from the site, and then have yourself an amazing day. As their website proclaims, this is "mountain bikers' paradise!"
Midwest – Wilderness State Park
Working our way to the middle of the country, we've got an amazing park in the wolverine state that's bound to make even the most jaded of coast dwellers jealous. Michigan's Wilderness State Park is just that: wild.
Comprised of over 10,000 acres, there are literally hundreds of hookup sites, for campers up to 50 feet long. And covering all that terrain is 26 miles of beautiful biking trails, along both Lake Michigan's shoreline, and the more rugged inland terrain. But whatever course you pick, make sure to be back by the water in time to catch a beautiful sunset.
South – Palmetto State Park
They say everything's bigger in Texas, and this beautiful state park just might prove them right. Palmetto State Park, located near historic Gonzales, Texas, truly has something for everyone. Whether you're here for the beautiful palms, acres of lush terrain, hundreds of bird varieties, or great water options, there's so much to see and do. But for bike lovers, the best option may be the Great Texas Wildlife Trail, which promises more than 240 bird species across its long and scenic route.
There's plenty of space for your RV as well. With 18 fully loaded hookups and group sites that can host a whopping 99 people, you can bring the entire entourage and all their bicycles – electric or otherwise – and have space to spare.
Northeast – Lake George
Located in New York's Adirondack mountains, Lake George is known as the "queen of the American lakes." Spend just one night at Lake George RV Park, and you'll know this is no exaggeration! The friendly staff not only makes sure you and your RV are comfortable, but goes above and beyond to help out cyclists with free air pumps, covered bike bridges, and more.
Lake George is no little puddle, it's a whopping 32.2 miles wide. That means even the most adventurous of cyclists won't run out of great trails to cover, vistas to view, or docks to jump into the crystal clear water from. Given that the lake is fed by dozens of streams and natural springs, it really does provide a perfect opportunity to jump in and cool off after your long day of riding.
So, with all these great options for bicycle-loving RV enthusiasts, there's only one question left. Where are you going to go first?
Brought to you by EVELO Electric Bicycles, the maker of amazing bikes for people of all ages and abilities.