Travel Inspiration
March 9th, 2021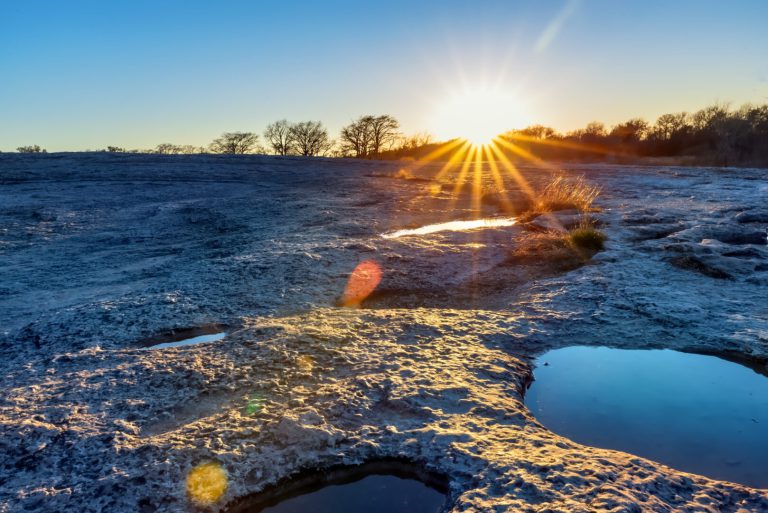 Austin, TX is one of the most popular destinations in the Lone Star State. This is completely understandable. The city has some seriously amazing food (be sure to try some barbecue!), and the art and music scenes here are among the best in the country. Besides, who wouldn't want to check out a city that has a bridge that houses hundreds—sometimes thousands—of bats?
All that said, what many people don't realize is that Austin is also a great place to visit for a hiking trip. That's right, if you leave the hustle and bustle of this colorful and eclectic city, you can find some seriously amazing hiking trails in Austin that will make any nature-lover smile. 
If you're heading to Austin soon, we highly recommend adding one or two trails to your trip itinerary. Not sure where to go hiking in Austin? Below we've listed nine of the best hiking trails in Austin to get you started. 
Riverplace Nature Trail
Nature Preserve at River Place
Easily one of the best hiking trails in Austin, Riverplace Nature Trail is a gorgeous taste of nature. It's a 5.5-mile trail, meaning you'll have plenty of path to stretch your legs, and because it's a moderately difficult trail, you won't be bored as you work your way through this lovely green space.
The trail features some stairs, some great lookout points, and plenty of trees for shade. It's great for people of all ages, and dogs are allowed as long as they are leashed.
There is a $10-per-day fee for hikers. That said, children 12 and under are admitted free, so this is still an affordable activity for families.
Barton Creek Greenbelt Trail
Barton Creek Greenbelt
More great Austin hiking can be found in the beautiful Barton Creek Greenbelt park. The main trail in this park is the nearly 14-mile Barton Creek Greenbelt Trail.
Most people who visit this park hike some part of the Barton Creek Greenbelt Trail. That said, very few people hike the entire thing, as it is quite long. Portions of this path are very easy and perfect for families, others are a bit more challenging, but nothing is so hard we would recommend beginners avoid the trail.
The wildflowers along this trail during the spring and early summer are lovely to look at. We love the large rocks, plentiful trees, and bodies of water along the way, and find that this is an excellent hike no matter the season.
It should be noted that Barton Creek Greenbelt is requiring that visitors make reservations ahead of their visit.
Three Falls Hike
Barton Creek Greenbelt
Also located in Barton Creek Greenbelt, Three Falls Hike is an awesome option for the slightly more advanced hiker. This trail is 7.3 miles long and features a river, waterfalls, forested areas, and plenty of gorgeous views. There are some rocky areas and plenty of forks and mini-trails for those who like to explore a little.
We recommend using a map to follow this trail. It's also worth mentioning again that this park is requiring visitors to make reservations before they arrive.
Turkey Creek Trail
Emma Long Metropolitan Park
Those looking for something a bit more challenging might like Turkey Creek Trail. This is a moderately difficult almost-3-mile trail with a few challenges along the way. It is well marked and no map is needed to navigate it.
The trail features a little creek that does fill up during certain parts of the year and is great for wading. It also has a couple of short but challenging climbs that we quite enjoy. We like the bumpy terrain that adds a level of challenge as well.
St. Edwards Green and Red Loop
St. Edwards Park
An easy yet fun and interesting loop trail, St. Edwards Green and Red Loop is about 1.5 miles long and features a river, a waterfall, and more. People love the birdwatching offering along the way, and the views are quite lovely.
This is a relatively popular trail, but it rarely gets crowded enough to become unenjoyable. Dogs are welcome as long as they are leashed, and kids can easily do this hike. That said, you will want to pack waterproof shoes, as your feet may get wet along the way.
Walnut Creek Trail
Walnut Creek Metropolitan Park
Another easy loop trail that is great for families with kids, Walnut Creek Trail is the perfect summertime hike. Most of the path is shaded well by trees, and Walnut Creek is the perfect place for wading and splashing.
You should know going in that the trail can become quite muddy after a heavy rain, and hiking in these conditions is not recommended as it tends to damage the trail. Additionally, many people enjoy biking this trail, so you will want to be aware of your surroundings and share the space. 
Homestead Loop Trail
McKinney Falls State Park
McKinney Falls State Park is a fantastic park that everyone should visit while in Austin. One of our favorite hikes in this park is along the Homestead Loop Trail.
This trail involves a waterfall, a river, some historic landmarks, and plenty of local wildlife. You will need to cross the back of the lower falls in order to reach the trailhead, so bring waterproof shoes and be prepared to hop from rock to rock. This can be a bit slippery, but is a fun experience and a great way to start and end your hike.
McKinney Falls State Park does charge an entry fee of $6 per person. That said, if you visit Texas State Parks often, it's worth investing in an annual pass, which allows you to enter any state park in Texas free of charge.
Great Hills Park Trail
The Quarries Park
A fun, laid-back day hike option, Great Hills Park Trail is a nice little escape into the woods. The trail features a creek, and hikers often find themselves walking through the water, so waterproof shoes are recommended. The woodsy area that the trail winds through is shady, making it a relatively comfortable hike (even in the Texas summer heat), and we love the magical feel of the place.
Canyon Creek Nature Trail
Trailhead Park
Another trail that deserves a place on our list of great Austin hiking spots is Canyon Creek Nature Trail. This is a 5-mile loop that is rated as moderately difficult, making it a great choice for someone looking for a bit of a challenge.
The trail takes hikers through a beautiful forested area, and the occasional stretch of rocky terrain adds to the natural beauty of the place. Be sure to head off on side trails when you see them, as there are some hidden gems (including a little waterfall).
Because the trail isn't very well marked, it is easy to lose your way. We recommend taking a map just in case. One can be found here.
These are just some of the wonderful Austin hiking trails. Ready to check out these trails and more? Find an RV that suits your needs and get ready for an awesome Austin adventure!