Travel Inspiration
November 13th, 2020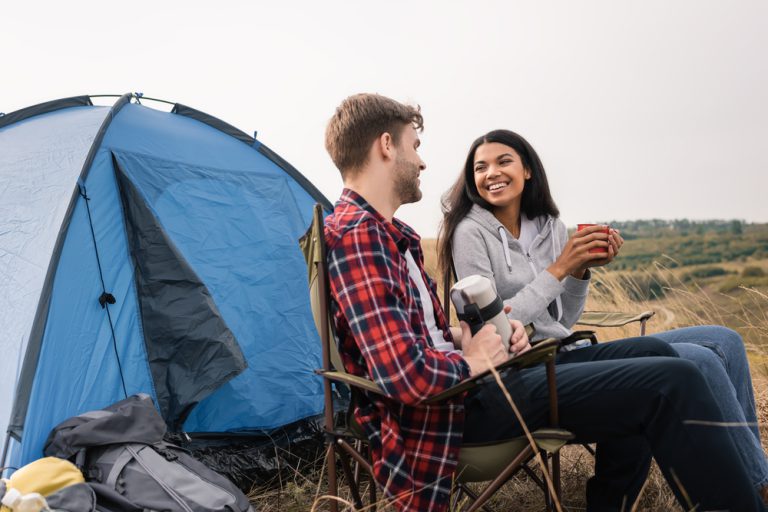 November 13 is World Kindness Day! It's a great day to intentionally do something kind for a loved one, a stranger, or even yourself. It can be gestures big and small! Buy a cup of coffee for the person behind you in the drive-thru, share a compliment that you might otherwise keep to yourself, call a friend to let them know you're thinking about them. You never know how far a little bit of kindness can go in someone's day!
Kindness travels fast. One good deed can lead to another and another. So let's practice more of it, today and every day! Here are some ways you can share some kindness on the road.
Be Mindful of Other Drivers
When driving an RV, it's important to be mindful of taking it slower. Don't let other drivers on the road rush you! Keep your distance and let people out with a friendly wave. (And if you're a reader who doesn't drive an RV – be sure give them room the next time you're on the road!)
Leave No Trace
Let's make sure we're being kind to the planet, too! When on a hiking trail or at your campsite, be sure to pick up anything you brought with you. That includes trash, food, and waste of any kind. Leaving nature as you found it ensures that the animals and ecosystems aren't disturbed and also allows the next campers to enjoy a fresh slate. And if you can, please also pick up items that others may have left behind, too! (Just be sure to thoroughly wash your hands afterwards.)
Be Aware of Quiet Hours
Most campgrounds have quiet hours to be courteous of a range of sleep schedules. You don't know if the family three sites down has little ones who are light sleepers or if the couple across the way needs to get up early in the morning. Be kind to your neighbors by respecting the quiet hours and check out more campground etiquette tips.
Don't Be Afraid to Be Neighborly!
In the world of coronavirus, keeping your distance is not only respectful, it's necessary. That doesn't mean you can't be friendly to your neighbors! You can still introduce yourself and get to know the people around your campsite by keeping your distance.
Be a Welcoming RV Owner
If you rent your RV on RVshare, you get the special opportunity to make your renter feel welcome. In fact, you might be someone's first experience with the RVing world entirely! Being patient and kind to your renters will make them feel more at ease. Consider leaving a snack or goodie basket for your renters to make them feel extra comfortable.
Be a Courteous Renter
Renters, you have some ways to be kind to RV owners, too! RV owners take a lot of pride in their rig, and they are excited to share it with you – be sure to pay attention when doing the walk-thru and treat their property with care. At the end of your trip, tidy up the RV before returning and always remember to leave a review for the owner and RVshare!
Check-In With Loved Ones
Many people feel disconnected during this unprecedented time, so reach out to family and friends back home to see how they're doing. It can be a short text or an impromptu FaceTime call. Not only will it mean a lot to them, but it will boost your mood, too! 
Go on a Nature Walk as a Family
Even though we see our housemates daily, it's so easy to let quality time slip away, especially when a lot of days look the same. Set up some time to really connect with your crew by taking a stroll around the park or neighborhood. Regardless if you're on an RV adventure or spending more time at home, getting outside will help reduce your stress and is a nice way to bond as a family. You can use the time to chat about everyone's day and even share the acts of kindness you've given or received!
Focus on Self-Kindness
Breaking free from the spiral of negative self-talk by being kind to ourselves is so important. Consider taking a break from the screens – make yourself a cup of tea or pick up a book. Having some quiet time to focus on ourselves can make a big difference in our moods. If you're finding it hard to be kind to yourself, picking one of the activities off this list may help make you feel better – when we share kindness with others, you get to benefit from the feel-goods, too.
Happy World Kindness Day! 🙂 It can't be said enough how a little kindness can go a long way. You could be the difference maker in someone's day!