RV Owners
Last updated on July 11th, 2023. Originally published on November 6th, 2017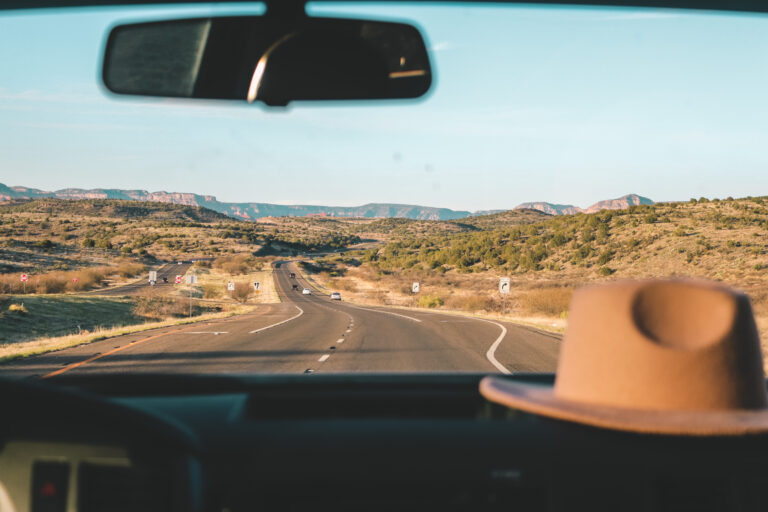 The spontaneity and perpetual adventure of not having firm roots is a huge part of what draws many full-timers to the lifestyle in the first place. Rather than settling down in a geographically-based community, campers form their ties on the fly. They create a worldwide network of adventurers linked by discussion forums, online communities, and camping clubs.
When you live in your rig full time, "home" is… well, wherever you park it. Right? Well, as it turns out, our country's system isn't exactly set up for us intrepid wanderers. And although it's easy to say, "Who needs the system?" — if you want to vote in the next election, register your vehicle, or get health care… you do.
Many of these logistical, paperwork-intensive issues are dependent on your state of domicile. Where you live determines your voting registration, requirements for taxes, and much more.
But don't worry: lots of other people are full-time RVing, and they've been doing it for years. If you don't own a home, establishing a domicile for these required tasks is totally possible. Here's what you need to know.
How to Establish a Domicile
Establishing a domicile holds significant importance for full-time RVers as it serves as their legal home when they lack a fixed property. It's a requirement imposed by the government for all U.S. citizens, regardless of their lifestyle. Your domicile is your legal address that will be used for important matters such as voting, vehicle registration, receiving mail, and tax filing. It establishes you as a legal resident of a specific state. Even if you don't plan to spend much time in that particular state, full-time RV residents still need to establish a domicile.
Although the laws vary significantly by state, most of them have a clause about living within the state for a given amount of time before you can apply for state residency, generally a year. Obviously, that won't work in the case of a full-timer. Not staying anywhere that long is the whole point!
But there are still ways of fulfilling state residency requirements for taxes, mail, and other purposes, even while you're on the road.
Ask a Friend or Family Member
The first option for most RVers and full-time nomads is to see if there's a friend or relative whose home address you can use as your own for the purposes of your driver's license, mailing address, vehicle, and voter's registration. That way, you officially have an "address" in the state no matter where you actually may be physically (even better if it's your home state).
However, this can be an imposition on your friend or family member. They will have to deal with all your junk mail and either send it your way when you request it or find somewhere to store it until you visit again. They could also possibly end up being involved if for any reason your residency is ever legally questioned.
You might be thinking, "How about a P.O. box?"
Good question, but unfortunately, a post office box can't be used as an official residence location. You need a real street address to do the job.
So how do so many full-timers get around this issue?
Sign up For a Mail Forwarding Service
Since we're not the first people to want to take on full-time travel, it turns out there are lots of mail forwarding services that will set you up with the street address you need to officially establish residency. That means you can travel but still have an official stable address.
How Does a Mail Forwarding Service Work?
A mail forwarding service provides you with a physical address where all your mail will be sent while you are on the road (if you're not relying on a friend or family member's address). The service holds your mail for you and then sends it at your convenience to the address of your choice. Different services offer a variety of mail forwarding options. Some have online viewer functionality which gives you the ability to view the sources of incoming mail online and decide which, if any, you want to have sent to you as a hard copy.
Some services also allow you to view copies of the actual pieces of mail, which are kept in a virtual storehouse of your incoming letters for future reference. They may also throw out junk mail for you and allow you to view your letters online.
The physical address you are given can also be used for registering your vehicle, voting, and everything else you need to establish your residency. Services such as Escapees will actually help you acquire a physical address to connect you with a particular state in conjunction with their mail-forwarding service.
Popular Mail Forwarding Services
Although there are many reputable choices, the following are a few of the most popular due to their convenience and added services.
Many other options, although more restrictive, may be exactly what you need. That's why it's a good idea to do some research and weigh your options. For example, USA2Me only services Texas, while America's Mailbox and My Dakota Address only handle South Dakota.
Whether they are membership exclusive or have online viewing options are also factors to consider. Plus, of course, there are individual set-up fees and typical rates.
How to Officially Establish Residency
Keep in mind that you will need to spend at least a little bit of time in the state in order to take care of legal documents and paperwork associated with establishing residency. Once you decide on the state you want to establish residency in and obtain your physical address, there are several steps you need to take. For instance:
You need a driver's license from that state, which must be done in person and may require taking the driver's test again
You must register and insure your vehicle in that state, which can sometimes be done by mail and over the phone but may also require a trip to the DMV.
You must register to vote in that state, which will sometimes be done at the DMV. Once you're registered, you can vote in national elections from afar with an absentee ballot, but laws regarding local elections vary.
You should acquire your health insurance through that state unless you're already covered in some other fashion.
You will need to establish professional and social connections in that state such as doctors, dentists, and insurance agents.
You might consider hiring an attorney to oversee your case and guide you through the process since domicile is determined by intent and regulations can change.
In some states, you will need to file an Affidavit of Domicile with the court to share your intent. Again, services like Escapees or an attorney can help you with this.
Note, you will also be responsible for paying income taxes depending on the state. But this is where things get interesting. As you probably know, not every state actually assesses income tax, and vehicle registration fees vary, too. This means you could potentially save thousands of dollars just by choosing the right place to have your license printed.
Best States to Establish State Residency
There are three states that are very popular amongst full-time RVers because they offer substantial savings when you choose to establish your residency within them. Those states are Florida, Texas, and South Dakota.
All three of these states share the benefit of not having a state income tax. Which obviously means you'll save a bunch of money right from the get-go. They also have flexible homeschooling laws and low rates on vehicle registration and insurance (although again, the exact fees will vary). 
There are other benefits to becoming a resident in each of these states — for example, Florida residents get great discounts at Florida State Parks, which are a great place to ride out winters in your RV. South Dakota is one of the easiest states to establish residency in, as you only need to prove you stayed in the state for one night!
Of course, if you feel strongly attached to your own state or don't want to have to deal with doing any in-person dealings in one of these places, you can establish residency anywhere else. The other states that don't have an income tax, however, are Alaska, Washington, Nevada, and Wyoming.
How to Get Mail on the Road
Signing up for a mail service is wildly convenient, but it still requires you to have your mail sent to wherever you're camping.
Get Your Mail at an RV Park
Fortunately, many RV parks are happy to accept packages for guests, meaning you can receive the items collected by your friends or mail service, as well as packages from Amazon and other online retailers.
All that said, it is always a good idea to call ahead and check before having anything sent to a campground or RV park. When you call, ask if the park is willing to receive your package, what address you should use, how long they are willing to hold packages, and if they charge a fee for having mail sent to their office.
If you choose to have mail sent to an RV park, be sure to pick it up promptly and thank the staff for handling your mail. After all, this is a perk we long-term travelers would like to hold onto.
Use General Delivery
The final option comes into play if you happen to be boondocking or staying at a park that doesn't receive packages. General Delivery allows you to have items delivered to a nearby post office where you can pick it up yourself. This is a good option for packages of regular mail sent by a friend or mail forwarding service, but can also be used when ordering items online.
Mail sent this way is usually held for 10 days, and those picking up packages sent via General Delivery will need an ID to do so. It's also important to note that some cities have multiple post offices, meaning you will want to confirm which post office your package is going to before leaving to pick it up.
To have General Delivery mail sent, address it as follows:
Name
General Delivery
[Optional: POST OFFICE STREET ADDRESS]
City, State, Zip Code
Use Amazon Lockers
If it's an Amazon package you're looking to receive, you could always try an Amazon Locker. These lockers are scattered all over the country, making it easy to find a convenient pick-up location. Packages from Amazon are left in your assigned locker and you are given three days to pick them up. Can't make it in those three days? The packages are automatically returned for a full refund.
This is an awesome way for RVers to receive online orders, as 1) it's free, 2) there's no standing in line at the post office, 3) the pickup hour window is typically longer, and 4) you can avoid the hassle of searching for an RV park that will allow you to receive packages. 
4 Packages and Memberships that are Perfect for Full-Time Travelers
Budgeting is top of mind for just about every full-time RVer. So let's talk about how to make that part just a little bit easier, shall we?
The idea that the RV life is automatically an affordable one is a little bit of an urban legend. With the cost of fuel, campsite accommodations, obtaining residency, and financing the vehicle itself, you can quickly rack up a tab that'll rival your mortgage.
Fortunately, there are certain travel packages and discount memberships that can save you a significant chunk of change when you use them consistently.
If you're looking to make life on the road a little bit easier and save some dough while you're at it, check out the following amazing deals for travelers.
1. Anytime Fitness
Staying fit on the road can be a challenge, but it's not impossible. And although you don't need gym access to achieve that goal, it certainly can be helpful. (Heck, gym memberships can also just make for convenient places to shower if you're traveling in a small travel trailer or sleeper van.)
Although a number of gyms offer reciprocal access with their memberships, we've found Anytime Fitness to be the most lenient — you get full, unlimited access to every Anytime location thirty days after opening your home gym membership. And seriously, Anytimes are everywhere — from Driggs, Idaho to Barcelona. And they're also, as their name implies, universally open 24/7.
2. The National Parks "America the Beautiful" Pass
If you're all about discovering our country's most untamed landscapes — and filling every last page of your National Parks Passport with stamps and cancellations — you definitely need to invest in an "America the Beautiful" pass from the National Park Service. For just $80, you up to three other adults — and your vehicle — will get into each and every one of the national parks for free for a full year. And considering that entry to the National Parks can cost upwards of $35 per car for one day, it's easy to see how quickly the pass pays for itself for the dedicated park hopper.
Keep in mind, however, that your pass doesn't cover entry to state and privately owned parks, or any additional fees at NPS properties like tours or, importantly, camping. To read the full FAQ and get more details, click here.
3. Passport America
If you're an avid reader of the RVshare blog, you've doubtless heard us tout the virtues of Passport America before. We even have a whole post detailing why you should pick up a membership.
But seriously, if you're full timing, that advice goes double for you — or maybe even triple. There are tons of camping discount clubs out there, but Passport America is the only one that gets you a full 50% off your campsite accommodation fees at almost 1900 campgrounds across the country. (Yes, 1900 — that's not a typo. And it also includes locations in Canada and Mexico!)
The participating campgrounds are high-quality, resort-style campgrounds offering full hookups and luxury amenities like pools, game rooms, and more. How much does a full year's worth of Passport America awesomeness cost, you wonder? A mere $50 — less than what you'd pay for one night in those campgrounds in many cases.
Click here to learn more about Passport America and purchase your own membership today.
4. North American Reciprocal Museum Association Membership (NARM)
If finding the best of arts and cultures is top of your list no matter where you travel, you can quickly rack up a decidedly uncouth total on museum entry.
And when you're not in one place for more than a month or two at most, shelling out for year-long museum memberships doesn't make any sense.
Enter NARM, the only museum membership that gets you access to 985 arts, cultural, and historical institutions across five countries. You'll also get a gift shop discount and exclusive low prices on concerts and lectures. Click here to learn more!
Final Thoughts
Establishing residency, finding ways to receive your mail, and learning tips and tricks to save money on the road are just a few parts of the huge (but fulfilling!) project of becoming a full-time nomad. For more information, keep your eyes here on RVshare, where we write about ways to make your mobile life easier every day.
You can also check out any of the following books, written by successful full-time nomads:
Want to learn more about full-timing and how to make it cost effective? Check out the following blog posts right here at RVshare:
Enjoy making your RV home sweet home — wherever the road may take you!
This post contains affiliate links. RVshare may receive compensation if you make a purchase after clicking on a product link.