How Tos & Tips
March 8th, 2018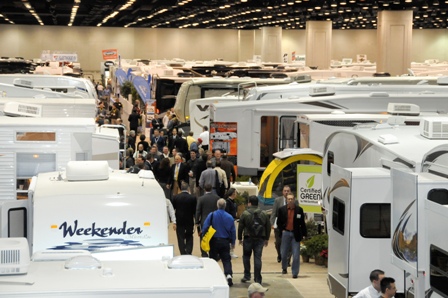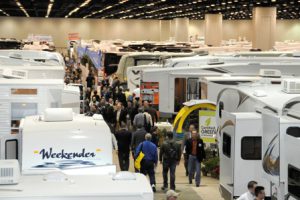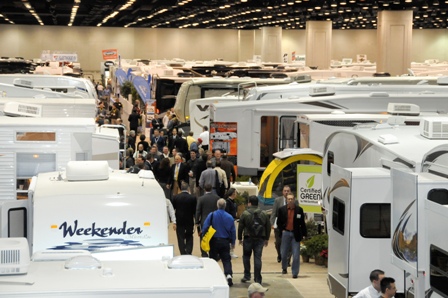 Saw an advertisement for an RV and camper show in your neighborhood? Been eyeing our archive of RV shows by state?
Whether you're a casual camper or even a committed RVer who isn't quite ready to put down the cash on a vehicle of your own just yet, you might think you have no reason to attend a motorhome show if you're not looking to buy.
But we're here to tell you nothing could be further from the truth! RV shows are a fantastic way to learn more about this unique style of travel, as well as to network with and make connections to manufacturer representatives, campground ambassadors and even members of discount camping clubs like Passport America. And even if you're not in the market to buy a whole rig, you can find vendors hawking all kinds of goodies from portable grills to cozy outdoor camping furniture.
Still not convinced? Well, by the end of this post, you will be. Here are five reasons you should totally attend the next RV show in your area, even if you're not looking to buy a travel trailer or motorhome.
RV and Camper Show
Even if you're planning to travel by rental RV only, RV shows can be a great opportunity to learn — and they might even help you save money in the long run. Here's how.
1. You'll learn more about the best kind of camper for you.
Whether you're planning on purchasing a rig further down the line or even if you're just getting ready for a weekend getaway in an RVshare rental, it's helpful to know as much as possible about the type of vehicle you're getting before you spend your money. At an RV show, you'll get a first-hand look at tons of different makes, models, and styles of motorhomes and travel trailers.
As you'll quickly see, taking a trip in a pop-up trailer is a whole lot different than cruising down the road in a 45-foot Class A diesel pusher. By attending an RV show, you'll get to walk through luxury RVs for sale as well as smaller, more modest models so you'll have a better sense of what kind rig is best for you and your family.
2. You'll find lots of cool camping gear and gadgets.
Click around any RV show website, and you'll notice it's not just RV dealers who are in attendance. Dozens of different vendors and exhibitors come to camping shows to help get the word out about their goods, services, and products.
And that means that even if you're not an RV owner yet (and not quite ready to become one), you might just find a deal on something that will make your next vacation better than the one before. For instance, maybe you'll find the perfect portable hammock to sling at your next boondocking site, or sign up for a Passport America membership after chatting with the friendly folks manning their booth's table. There are usually also campground representatives around to help you make the most important decision of your upcoming trip: where to?
Local RVs for Sale
If you're planning on purchasing an RV of your own at some point down the line, attending as many RV shows as possible is a solid strategy. Here's why.
3. You can start building relationships with local dealers.
If you're looking to learn as much as possible about what's available in your area in a short time, RV shows simply can't be beat. Where else will you find every local RV dealer for miles around all gathered in the same building?
By attending RV shows, you'll have the chance to cross-reference dealerships' pricing and stock, but also to meet sales and customer service reps face to face to get a better sense of who you might be buying from. Finding a trustworthy vendor is just as important as finding the perfect rig, so take advantage of the opportunity!
4. You might just find your next outdoorsy hobby.
At many RV and outdoor adventure shows, expert hunters, campers, and fisherfolk put on informative and helpful seminars and presentations — which are included with your price of entry! If you've been wanting to pick up fly fishing or learn how to track whitetail deer, this might just be the perfect chance.
Plus, some camping shows include other types of vehicles, like ATVs and different types of boat. Who knows what might strike your fancy or become your next favorite pastime? You never know until you try!
RV Show USA
Still not convinced? There's one more important reason an RV show is a great way to spend a weekend.
5. It's just plain fun!
Even if you're not on the market, it's undeniably fun to walk through different types and styles of RV and see exactly how incredible and advanced some of the technology is. Many shows also put on events and activities for the whole family, from clowns and characters to on-site fishing ponds and shooting ranges to the seminars and presentations we discussed above.
Plus, RV show tickets are usually pretty darn affordable, less than $10 for adults and even cheaper for kids. Some are even free! So really… why not attend one?
Affordable RVs for Sale
When you know you want to buy an RV, it can be difficult to stay patient and make sure you find the best type of vehicle at the best price. But doing your research and avoiding making a rushed decision is imperative if you don't want to regret your purchase. After all, RVs are expensive!
So take the opportunity to attend as many RV-related events as possible, and don't be afraid to visit dealers just to take a look around. Along with keeping an eye on our RV show archive, you can also search for "RV shows near me" to learn more about opportunities in your area.
Good luck on your hunt. Trust us, it'll be worth it!
This post may contain affiliate links.