Travel Inspiration
Last updated on November 8th, 2022. Originally published on September 21st, 2015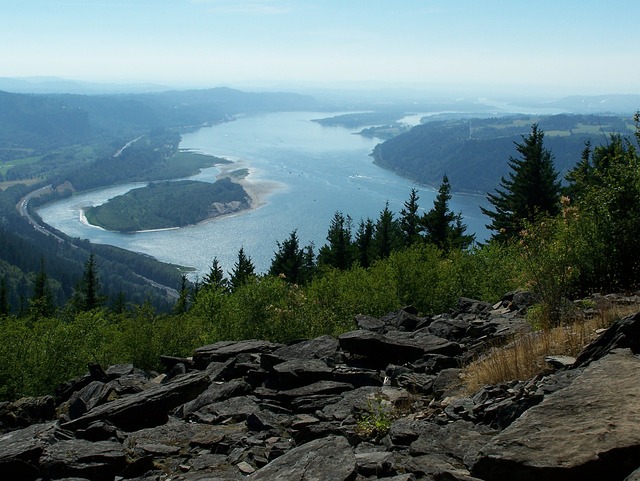 As a native Oregonian from Oregon City, I feel qualified to share the best ways to explore this amazing state. Ask almost anyone and they will tell you that Oregon offers some of the most diverse beauty in the United States. Growing up there I rarely realized all that I had at my fingertips. This regional guide will help you explore Oregon while visiting some of its most interesting sites.
NOTE:  Always make advance RV camping reservations. Oregon is a popular tourist area and the locals like to CAMP. Don't wait till the last minute or might be disappointed.
Oregon is divided into nine distinct regions:
1. The Northern Coast
Oregon's northern coast is the most popular of all its tourism areas. People flock to see the beautiful beaches even when it's cold outside. There are numerous campgrounds, along with great small towns to explore. If you like history, you will love the Lewis and Clark exhibit in Astoria at the very top of the state.
Best Towns To Visit In This Region And Why:
Astoria: Victorian houses, Lewis and Clark, The location of The Goonies Movie.
Cannon Beach: Nine miles of wide beach, Shopping and galleries, Haystack Rock.
Seaside: Ocean boardwalk, Kite flying, National landmark
Tillamook: Famous cheese factory tours, WWII Blimp Hanger turned Air Museum, Dairy cows galore
2. Central Coast
This region of Oregon has become an action lover's paradise, with dunes, sand buggies, sand boarding, surfing, and lakes. Fishing is popular if you like world-class steelhead or Salmon.
Best Towns To Visit In This Region And Why:
Florence: 500-foot tall sand dunes, jet boat trips, dune buggies
Lincoln City: Seven miles of beautiful beach, the world's shortest river (D River), kite capital of the world.
Newport: World-famous oysters, Oregon Coast Aquarium,  Tourist fun.
Yachats: Tiny Cape Town, Clam digging, Peaceful beaches
3. Southern Coast
The sands turn dark on the southern coast of Oregon. Whale watchers come from all over the world to see the annual migration, hike the trails, and enjoy the tiny towns.
Best Towns To Visit In This Region And Why:
Bandon: Charming town filled with art, Breathtaking ocean views, Golf with a view of the sea.
Coos Bay: Myrtle wood factory, cliffside trails along the ocean, largest natural harbors between Seattle and San Francisco.
Gold Beach: Legendary Rogue River meets the Pacific Ocean, Jet boats, Eagles, osprey, and deer.
Port Orford: Battle Rock, Steelhead and salmon fishing, windsurfing.
4.  Portland Metro Area
Oregon's largest metropolitan area has so much to offer. It's been called the City of Roses, Stumptown, Bridge City, and the Munich on the Willamette. Come and see why. If you are looking for a lush, green city, this is it!
Best Towns To Visit In This Region And Why:
Portland: Amazing walks all over the city, art, architecture, Oregon Zoo, microbreweries, Pittock Mansion, Rose Garden, the award-winning transit system.
Oregon City: Awesome End of The Oregon Trail Museum, Ermatinger House Tea and Textile Museum, Living history events.
Lake Oswego: Downtown, Art galore, Shopping, and beauty!
Gresham: Gateway to Mt. Hood, Columbia River, and Hood River orchards.
5. Willamette Valley
Lush green forests, fertile soil, and lots of rain make up the Willamette Valley where a variety of crops, including Oregon's famous landscape plants and Christmas trees abound. You will also find wineries around every corner, and quite often the tastings are free! The farmers' markets are bursting with fresh produce just waiting for you to take home.
Best Towns To Visit In This Region And Why:
Salem: Oregon Capital Building, Bush House Museum 1878, The Oregon Garden.
Mt. Angel: World-renowned Oktoberfest (in September each year), Mt Angel Abbey built in 1883, Bike trails.
McKenzie River Valley: Fly fishing, National Scenic Byway, Orchards & nuts.
Carlton: A tiny town surrounded by wineries, chocolate makers, close to the McMinnville Evergreen Aviation and Space Museum.
Eugene: Best city for biking, whitewater rafting, cultural events, wineries, University of Oregon.
6. Southern Oregon
Southern Oregon is the home of the Oregon Shakespearean Festival, the Britt Festival, and a variety of cultural activities. Outdoor recreation is everywhere and includes skiing, snowshoeing, rafting, and fishing.
Best Towns To Visit In This Region And Why:
Ashland: Shakespeare Festival, tons of B&Bs, Science Works Hands-On Museum.
Jacksonville: Historic Gold Rush Town with an old west theme, Britt Music Festival, Beekman House 1876 with live reenactments.
Klamath County: Crater Lake National Park, Klamath Basin (largest lake in Oregon), Best birdwatching in state, 21 lava caves to explore!
Sutherlin: Hunting galore, lush green landscape, Diamond Lake, world-famous fishing.
7. Columbia River Gorge
The Columbia River is world famous for its astounding beauty, diverse botanical flora, and epic windsurfing. Along this route, you will find Multnomah Falls and the Fruit Loop Orchard tours. The Columbia River Highway is a day trip dream. Take the time to wander up to Crown Point Vista and see this amazing region.
Best Towns To Visit In This Region And Why:
Hood River: Windsurfing, kitesurfing, stunning views, Mt. Hood Scenic Railroad fruit tour, vineyards, orchards, liqueurs.
8. Central Oregon
The recreation capital of Oregon, this region offers world-class skiing, rock climbing, rafting, golfing, fly fishing, and more. The rugged high desert landscape is surrounded by 10 snowcapped mountains with access to volcanic canyons and caves.
Best Towns To Visit In This Region And Why:
Bend: Mt Bachelor, Old Mill District, Cascade Lakes, spelunking, Mirror Pond, surrounded by 2.5 million acres of national forest.
Sisters: Quilt Festival, Old West-themed tourist town, Llamas, Sister's Rodeo, fly fishing on the Metolius River.
Sunriver: 30 miles of paved bike trails, fishing, rafting, horseback riding, camping, lakes, and lots of shopping.
Prineville: Crooked River Railroad Dinner Train, Prineville Reservoir State Park (fishing!), Ochoco National Forest.
9. Eastern Oregon
Dry desert land on wide expanses makes this side of Oregon the complete opposite of the Valley. Small cattle towns, the Blue Mountains, and the life of a cowboy are what make Eastern Oregon worth visiting.
Best Towns To Visit In This Region And Why:
Baker City: campgrounds, national forests, 1800's downtown, hunting and fishing galore!
Joseph: Home of a tiny art community famous for its bronze casts, fishing, hunting, and dude ranches.
Pendelton: Pendleton Roundup, Pendleton Woolen Mills, Chinese underground tunnels beneath the historic district.
Wherever you decide to roam, be sure to plan ahead if you are traveling by RV. The Oregon Coast has plenty of great spots for smaller campers, but if you are driving a big rig be sure to do your research in advance for an appropriate park. Oregon is a tourist state so reservations are recommended in the summer.  f you are traveling to the winter playgrounds like Bend or Mt. Hood, be sure to reserve your RV spot before you go.
Well, what did I miss? What is your favorite place to visit in Oregon? Add your thoughts to the comment box below. Like these suggestions? Please share them with all your social media friends. Thanks!