Travel Inspiration
Last updated on April 5th, 2023. Originally published on August 21st, 2015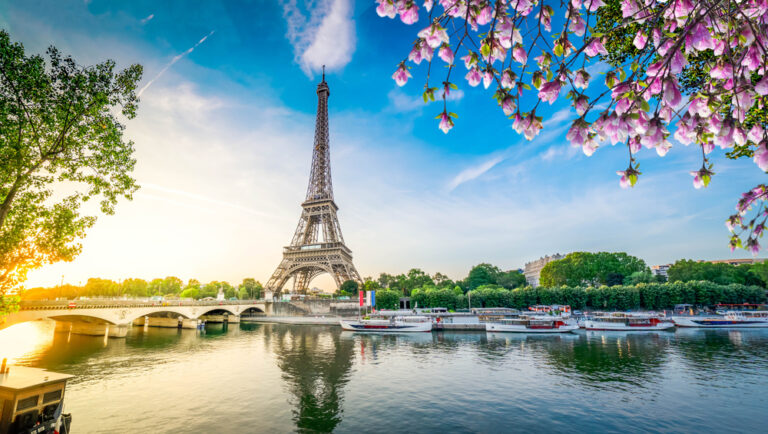 Have you ever been to France? This beautiful European country has been a popular holiday destination for a long time. It's the perfect place for couple looking for a little romance, or families looking for a new adventure.
Visitors love learning about the French culture and trying France's world famous cuisine. This country is also home to some of the most prestigious museums and art galleries on the planet. When you add uncrowded roads to the list, it's easy to see why France is the perfect RV vacation destination.
Are you ready to RV around France? Here are six must see destinations for your next French RV adventure!
1. Paris
Paris is without a doubt the most popular locale in France. You can see world famous artwork at the Louvre, visit the Eiffel Tower, feast on world class cuisine, and so much more.  You may think that its popularity makes Paris a bad destination for your RV holiday but, you would be wrong. In fact, Paris offers a large amount of campsites situated on the outskirts of the city. In other words, it is possible for you to set up camp and visit the city at your leisure.
2. Normandy
If you are a history buff, your trip to France wouldn't be complete without stopping in Normandy. Located in northwestern France, this beautiful city was the site of an infamous World War II Invasion in 1944. Because of this unfortunate event, it has many interesting World War II historic artifacts and sites that you can visit while on historic tours. But that's not all, Normandy also offers beautiful beaches, as well as a large selection of cathedrals and museums.
3. Bordeaux
The city of Bordeaux is located in the south and is the world's largest urban World Heritage site. It gained this distinction because of its many cultural wonders; especially those revolving around the finer things of life. For instance, Bordeaux has some of the most famous vineyards in the world and is the perfect place for wine lovers to spend warm summer evenings.
4. Marseille
Marseille is another must-see for those who have a love affair with history. This vibrant and beautiful city was founded by Greek mariners as a trading post circa 600 BC. Since then, it has grown into France's second-largest city and it's easy to see why. For instance, Vieux Port is famous for its delicious and extremely fresh seafood. You can also take a bike ride along the city's scenic coastal roads or soak up the sun at one of its beautiful beaches.
5. Strasbourg
Strasbourg lies between Germany and France and has plenty to offer holiday vacationers such as the famous Notre Dame cathedral and its unique gargoyles. Once you've gotten your fill of Gothic architecture, there's plenty more to see. A visit to Strasbourg isn't complete without a stroll around town. The quaint homes that line the streets of this beautiful city are an attraction on their own.
6. Nice
This beautiful and culturally rich city is located on the southeastern coast of France. It offers visitor exquisite views (especially during sunset) and sun-filled days all year round. These benefits make it an excellent vacation spot for those who love the beach. Nice also has some of the best cuisine in France and the local nightlife is nothing to shake a stick at either.
As you can see, France is the perfect place to visit in an RV. Are there any places that I missed and should be on the list as well? Leave your thoughts in the comments below. Happy Traveling!