Travel Inspiration
Last updated on December 6th, 2022. Originally published on October 30th, 2017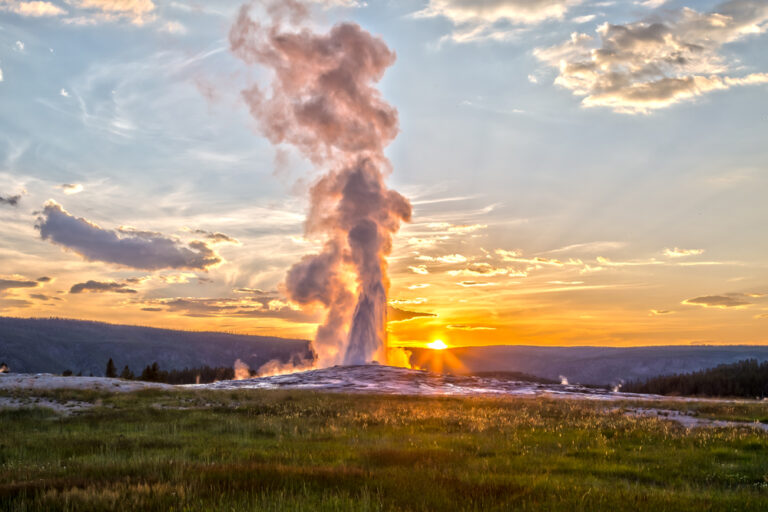 Travel and photography go together like peanut butter and jelly. You're exploring new destinations and seeing grand new sites, so it makes sense that you want to record it to remember later.
And if you're looking to take some killer travel photos, you're in luck. RVing is the perfect way to do so.
First of all, a road trip anywhere in the USA is sure to bring you by some incredibly beautiful spots. Well-trusted maps and travel guides, like the Rand McNally Road Atlas, show just how much stunning scenery there is to see in America.
And when you're traveling by RV, you'll be in total control of your timetable… not to mention your costs. RVing can be a whole lot cheaper than traveling by air and staying in hotels, especially if you take advantage of discount camping clubs like Passport America. (With your membership, you'll save 50% on your campsite fees at almost 1900 campgrounds across the nation — that's a lot of photos!)
You'll be able to drive to all your can't-miss photo ops at your own pace, unfettered by third party travel itineraries or delays. And you get to have your privacy.
RV Travel Photography
Even though there's beauty everywhere you turn in America, some places just have that extra special something that translates so perfectly to film.
So if you want travel images and pictures possible, you might plan your RV trip around these particular destinations. By taking trips specifically for the purpose of photography (and taking your time when you get there), you'll certainly wind up with some photos that'll make everyone think you're a trained professional!
But where are these extra-special, camera-ready locations?
Here are seven of the most beautiful sites in America for RV photographers.
Beautiful Landscapes
So, ready to take your RV photography skills to the next level? You can't go wrong with the following jaw-dropping destinations.
1. Yellowstone National Park, Wyoming
It's the oldest National Park in the country, and once you visit for yourself, you'll see why folks back in the day were moved enough to create the system to protect it. From the famed gushing geyser Old Faithful to rushing waterfalls to steep mountain passes studded with wildlife like foxes, wolves, and even moose and black bears, there's almost too much to take in within these incredible 3,500 square miles — even for the most patient photographer.
2. The Central California Coastline
Several years ago, I got the opportunity to drive all the way up the Pacific Coast Highway, starting in San Diego and ending up in Eureka.
The beaches in the south were lovely, of course, as were the northern redwoods — but in the central part of the state, from San Luis Obispo to Monterey, I found myself stopping every five minutes, taking photos at each viewpoint and each time thinking: this is the most beautiful place I've ever been… only to recalculate my decision at the next stop.
There's a reason people have written books and songs about poems about Big Sur. Go there. You won't be disappointed.
3. Antelope Canyon, Arizona
It might not have quite the reputation of its Grand cousin, but hiking into Antelope Canyon, situated on Navajo land just east of Page, Arizona, is sure to produce some stellar photos. I mean, just look at it.
4. Watkins Glen State Park, New York
A journey to New York's Finger Lakes region always brings fantastic photography opportunities… but be sure not to miss this narrow gorge, which features three ever-so-photo-ready trails past bridges and waterfalls.
5. Glacier National Park, Montana
Odds are you've had at least one desktop background in your lifetime that started as some photographer's snap of this Montana landscape.
Make the journey to northern Montana yourself to get your very own images… and to simply bask in the wonder of actually being there.
6. Lake Tahoe, California and Nevada
A perfect place to take a dip in the summer months and a ski bunny's paradise come winter, Lake Tahoe's also got a lot to offer any photographer, no matter which side you find yourself on. Its pristine blue waters and the mountains around its rim create incredible contrast, adding to your photo's composition.
7. Arlington, Vermont
Wondering what there could possibly be to photograph in this tiny northeastern town?
Sure, its New England houses are charming — and it's got tons of unique shops and restaurants to wander through, too. But it's all about the Arlington Green Covered Bridge, which deserves a place on any photographer's must-do checklist. It's one of the oldest and best-kept examples of its style, and situated on a background of rolling hills perfect no matter what season you get there.
Travel Photography Tips
If you really want to get serious about capturing your camping trips, the best way to do so is to upgrade from that cell phone camera — as incredibly powerful as it might be. (Many smartphones, such as the Samsung Galaxy S8, boast cameras in the literal dozens of megapixels. Remember when having a camera in your cell phone at all was a novelty?)
Although they aren't cheap, many entry-level DSLRs, or digital single-lens reflex, cameras are affordable, especially if you're serious about the hobby. For instance, Nikon's 16-megapixel D5100 model comes in at less than $300 including a18-55mm VR lens, and the 18-megapixel Canon EOS Rebel T6, which comes complete with built-in WiFi, is only a little bit more refurbished.
But even if you're staying in the realm of iPhone photography, there are ways to make your images turn out better. For example, this two-in-one clip on cell phone camera lens kit by AMIR makes every quick cell snap look like it was done professionally. And you'd be surprised how much a simple tripod will improve your photos, whether it's built for your traditional camera or your cell phone.
RV Photography Ideas
We hope this post has given you some great ideas for photographable destinations, no matter where in the country you call home.
But don't forget — there really is beauty everywhere. So even if none of these work for your wallet or schedule, don't be afraid to get outside and start snapping… even if only in your own backyard!
This post may contain affiliate links.