Travel Inspiration
Last updated on January 5th, 2023. Originally published on April 9th, 2018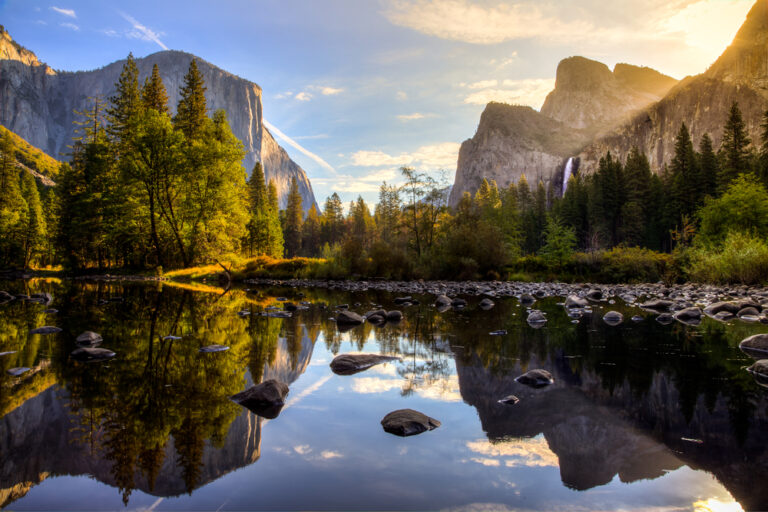 You may think that once you've secured your RV camper rental, you're ready to hit the road. After all, you've got your trusty road atlas or RV GPS, a cooler (or refrigerator) full of snacks, and a smile on your face. What more could you need?
Well, you do have to figure out which campground you're camping in. And as it turns out, not all RV parks are created equally. There are many different kinds of campgrounds out there, each with its own unique drawbacks and benefits.
In this post, we'll walk you through the difference between public and private RV parks, as well as a few of the most common types of public camping properties and what to expect when you get there. So hang on to those maps for just a second; you've got to know where you're going before you decide how to get there!
Private RV Parks
When you think of resort-style camping with a bunch of fancy amenities, like swimming pools, game rooms, and ice cream socials, you're thinking of private RV parks — for-profit campgrounds owned and operated by people whose goal is to make money. Along with all those fun extras, private parks also usually offer full camping hookups, which means you'll be connected to water, electricity, and possibly sewer, cable, and WiFi for the duration of your stay. These types of developed parks are available all over the country, so if you want to camp in one, you can simply Google "private RV parks near me."
There's absolutely nothing wrong with camping in private parks, but all that convenience comes at a cost. Private RV parks can be quite a bit more expensive than their public counterparts, but there is one way to lower the price substantially at a huge range of locations.
A Passport America membership gets you 50% off your campsite accommodation fees at almost 1900 participating campgrounds across the country, all for the honestly insane price of just $50 per year. Considering that premium sites with hookups can frequently run $75 per night or more, the membership easily pays for itself in a single camping trip! Click here to sign up today.
Private parks are also the best solution for full-timers looking for long-term parking, such as a full month or more. Most public campgrounds have restrictions on how long you can stay in one spot (generally two weeks or so), and besides, if you don't have hookups, you'll have to move to dump and refill your holding tanks eventually. More on that in a sec!
Public RV Parks
If you're looking for cheap campgrounds that put you right in the heart of nature, public RV parks are where it's at.
Public parks are often free or charge only a nominal parking fee, but in exchange, you may have to forego the convenience of hookups, operating instead off your RV's holding tanks and generator or solar power. This is also known as "dry camping," "dispersed camping," or "boondocking."
Although it's not as luxurious as camping with hookups, boondocking is an amazing way to disconnect with "reality" (i.e., the internet) and reconnect with nature. And so long as you're careful to conserve your water, you can stay off the grid for quite a long time. Besides, many public parks actually do have at least partial hookups available, so you might not even have to worry about it in the first place!
Let's talk about some of the different kinds of unique public RV parks you might encounter.
County and State RV Parks
The county and state parks you love to explore with your family often feature overnight camping spots for both tent- and RV-dwellers. Depending on the park, you may have access to limited or full hookups, and you could be charged as much a $20 per night. (Still beats the heck out of $75 or more, though!)
One of the coolest things about camping in a state or county park is that there's likely one right around the corner from you, no matter what part of the country you call home. That means it's easy to take a quick weekend getaway with very little planning — just be sure to grab a few comfy folding camp chairs and a ground-covering mat so you can enjoy a nice seat around the fire!
National RV Parks
If you're planning a trip to the national parks, you'll be happy to know that in many cases, you can camp right inside the park itself — which means you won't have to commute to the lake, mountains, or canyon that brought you there in the first place. Plus, National Park campgrounds are often very affordable, especially given their prime location.
However, there is one downside: EVERYBODY wants to camp there! That means you'll probably need to have your National Park campsites booked and reserved months, or possibly even a whole year, in advance. No last-minute getaways here!
If you're planning an epic National Parks trek, be sure to invest in an America the Beautiful pass, which will get you access to all the parks for a whole year for only $80. It doesn't cover any camping fees you might incur, but considering it costs $30 just to get into Yellowstone, it's a great deal.
You may also want to grab a National Parks Passport, which is a fun way to track how many of our parks you and your family have been to. This is a great way to get the kids more involved and interested in your exploration of the great outdoors. You may also want to check out some of the many guide books to help you make the most of your National Parks journey. Here are a couple to choose from:
From private campgrounds with every amenity imaginable to boondocking out on an empty stretch of BLM land with no one around for miles, there's a campground out there for every type of traveler.
So what are you waiting for? Time to get out there and find your perfect spot!
This post may contain affiliate links.