RV Owners
Last updated on November 8th, 2023. Originally published on July 17th, 2017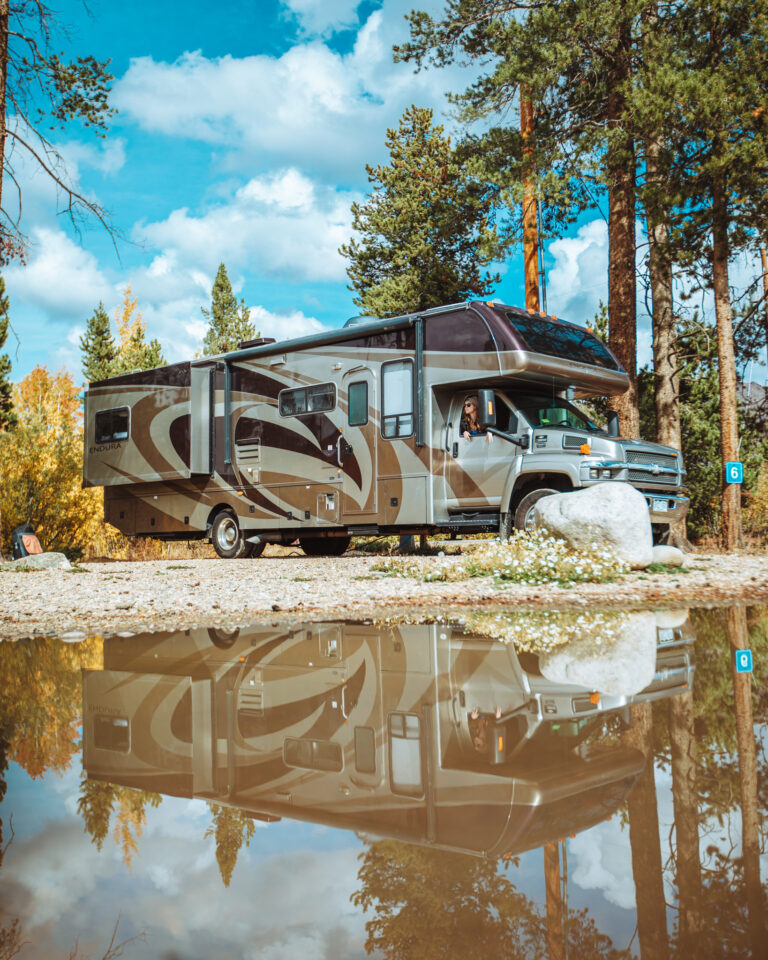 Heading out on an RV road trip?
It's an exciting time, that's for sure. You're about to take on the road in a brand new way and have an epic adventure!
RVing is a unique way to travel because you get to take your trip at your own pace, customizing your itinerary and even changing it on a dime. That's what draws so many travelers to this unique way to see the country in the first place: It really is all up to you!
But if you've never gone on an RV trip before, you could be scratching your head about what RV essentials you need to bring along. After all, it's not as simple as packing a suitcase full of clothes and hopping on an airplane. You're basically driving a house on wheels, which means your list of travel accessories is much different!
What you pack in your camper will ultimately depend on your personal situation and camping goals. For instance, your RV essentials list might include things like toys for your kids, or outdoor adventure gear.
In this guide, we'll give you some great ideas to prepare you for your RV adventure. Whether you're wondering what RV essentials you need, how to pack your belongings, or what food you should bring, you'll find it here!
RV Essentials
If you purchased your RV, you may have received a courtesy starter kit. These kits often include items like a potable water hose, a water pressure regulator, and a roll of RV toilet paper. If you're lucky, you might have scored a sample pack of odor control for your black tank. If you didn't get a kit, don't feel left out because aside from these items, you're gonna need a lot more!
Sure, you need clothing, shoes, and toiletries… but you also need specific RV toilet paper, not to mention towels, cups, dishes, silverware, sheets, pillows, and more. Fortunately, many rental RVs come equipped with all of these amenities, which is huge convenience — even one you might consider paying extra for. Just imagine having to drag all of those everyday items into your rig from home before your trip. Not the most relaxing start to a vacation!
RVs also have some mechanical equipment onboard, since they are such large, complex vehicles. For instance, your RV's wastewater holding tanks mean you'll need sewer hoses and connections. You'll also need the equipment to connect to your electrical and cable hookups. When connecting to a city water source, always make sure you use a certified potable water hose to avoid imparting any funky odors or flavors to your drinking water — they're easy to spot because they're bright white!
Now that you're thinking more broadly about how much stuff goes into a well-prepared RV trip, let's get into the nitty-gritty. Here are the RV essentials you need on board before you set out:
General RV Essentials
Important documents: have your license and registration, insurance info, and other important travel papers on board and readily available. Keep these in a waterproof pouch or a ziplock bag and put them in a safe but accessible space.
Electrical hookup cords
Sewer hose
Fresh Water/ Drinking Water Hose
Auxiliary cable for TV connection
Mobile hotspot for reliable WiFi or other signal boost equipment
Emergency kit: This might include simple tools to fix a flat tire, road flares, warning triangles, and first aid supplies like bandaids and alcohol wipes.
Fire Extinguisher
Tool Kit — Even if you don't consider yourself especially handy, having a few basic tools can help you fix small things in a pinch. A pocket knife, hammer, wrench, and pair of screwdrivers are a good starting point. Duct tape and WD-40 may are handy as well.
Wheel Chocks
Leveling Blocks
Tire Pressure Gauge — Use this digital tire gauge to check your pressure. It's a small price to pay for peace of mind and safety.
Duct Tape and Electrical Tape — You'd be surprised to know how often some simple tape can come in handy!
Jumper Cables
Shovel
Extra Transmission Fluid/ Motor Oil
Extra Batteries — For flashlights, the TV remote, the fan, and other items.
RV Living Essentials
Clothing for every weather condition and for outings: Like bathing suits, t-shirts/tanks, shorts, sweatshirts, leggings, underwear and socks, a hat, a rain jacket, and a nice outfit. What you pack will depend on the season, conditions, and activities you have planned. A capsule wardrobe can be beneficial for RVing, as you can create multiple outfits out of just a few basic pieces.
Clothes hangers
Shoes: Sneakers, hiking boots, sandals, and a pair of flip-flops for camp showers. Snow boots if you're headed out for a winter adventure!
Bedding including sheets, covers, pillows, and blankets. Sleeping bags can also be helpful.
Window coverings, ideally light-blocking curtains, if your rig doesn't come with them
Books, cards/board games, a travel journal, a guitar, a frisbee — whatever keeps you and your family entertained!
Personal electronics like your laptop and cellphone, a camera, a waterproof speaker, and chargers. If you're working from your RV, you may also want mailing supplies, a mini paper shredder, or other office supplies.
Cleaning supplies including sponges, trash bags, hand vacuum, wet mop, etc
A space heater or portable fan
Kitchen RV Essentials
Dishes
Cups
Silverware
Knives (a magnetic knife holder is good for saving space and keeping knives secure)
Bottle opener/ Corkscrew
Can opener
Cooking utensils and vessels — large spoons, pots, roasting pans, cookie sheets, metal skewers for the campfire (this will depend on what you're planning to prepare; here are some easy RV-friendly recipes)
Cutting board
Dish towels
Paper towels and napkins
Coffee mugs and coffee
Reusable water bottles
S'mores sticks: These stainless steel barbecue skewers with wood handles by HAKSEN will never burn, and they're inexpensive!
Extra drinking water — even if you're going to be camping in a site with full hookups, it's never a bad idea to have extra potable water on board
Other food items, although you may want to wait until you get to your destination to go shopping. We recommend bringing some non-perishables such as cereal, canned goods, breakfast bars, beef jerky, nuts, and instant-cook foods (mashed potatoes, oatmeal, etc)
Bathroom RV Essentials
Toiletries — (Hairbrush/ ties, toothpaste/ toothbrush, shampoo/ conditioner, body wash, lotion, razor, floss, etc.)
Prescription and preventative medications
Facial tissues
Bath and hand towels/washcloths
RV-friendly toilet paper — Regular toilet paper can easily gum up your RV's delicate sewer system, resulting in a mess you don't want to have to clean up! Be sure to purchase rapidly-dissolving toilet paper specifically formulated for RVs and boats, which won't clog your RV's sensitive plumbing system.
RV toilet chemicals
Camping/ Outdoor RV Essentials
Large outdoor tarp
Flashlights and headlamps
Extra LED lights
Citronella candles and bug spray
Umbrella
Portable hammock
Binoculars
Beach towels
Hydration backpack for hiking and other outdoor activities
Essentials backpack — for travel days, I like to use a regular backpack to store things like my phone, laptop, tablet, chargers, water bottle, and a notebook/pen to keep everything organized and easily accessible.
Rope
Fishing gear
Compass and maps
Sunscreen
Collapsible Solar-Powered LED Lantern — This solar-charged LED lantern is waterproof and collapsible, so you can inflate it up into a stand-alone lamp or keep it deflated and clip it to a backpack. It has 5 brightness settings, holds 50 hours of light at full charge, and also acts as a phone/tablet charger. The bright LED light makes it a good have for emergency situations.
Camp chairs — When the weather is nice, you'll want to spend time outside where you can meet people or just enjoy the beauty surrounding you! Relax at your campground in a comfy camp chair with a cupholder and lower back support. Here are a few of our favorite chairs for camping trips:
Chairs for the Campfire
You'll want some camping folding chairs for sitting around the campfire at night, grilling s'mores, and talking, of course! In fact, the best camping chairs can be used for several activities and will get plenty of use around camp. Let's take a look at some of the best camping chairs out there.
This chair gets great reviews – no wonder, because it's very roomy! It also has a cup holder and armrest, plus a side pocket so you don't need to worry about losing your phone.
This chair is more streamlined and has fewer frills than the ALPHA CAMP. However, it does have a 4-can cooler, so you can supply drinks around the fire. It also has a side pocket and comes in several colors so you could get different colors for each family member.
This mesh chair is great for warm evenings by the fire since it lets air circulate so you won't overheat. The legs are sturdy steel, and the chair folds into a backpack so you can carry it around easily.
This is a hefty chair so you probably don't want to carry it while backpacking. However, you can easily retrieve it from your RV and sit comfortably fireside at night. The director's chair has a durable steel frame and a breathable mesh seat. The armrests are padded and sturdy. It includes a built-in cup holder and a folding side table that's useful for holding s'mores supplies.
Chairs for Reading
Of course, you can use your campfire chair for a variety of other activities like reading or eating, but these reading chairs are a little comfier. You don't necessarily want to recline around a campfire but when you're reading or chilling out, you definitely may.
This chair reclines so you can put your feet up while you read or nap. It's lightweight and easily portable. It also has a detachable footrest. The chair is made of durable steel and can hold up to 200 lbs. It comes with a cup holder, a headrest, and a pocket for things like a wallet, phone, or a good book.
Zero gravity chairs are a whole lot of fun to sit in, and they're comfy, too! They feature padded seats suspended by bungee cords which make them extra comfortable and durable. They also have a cup holder and tray to conveniently hold drinks and snacks (or your book). The chairs can support up to 400 lbs and they're extra long to accommodate those over 6 feet tall.
Chairs for Backpacking
If you're looking for backpacking chairs, you're probably going for as much comfort as you can get with the least amount of space and weight. Backpacking chairs are going to be much more streamlined and small. They won't offer as much relaxation as a reclining reading chair, but they're better than sitting on the ground!
This little camp chair folds down to the size of a bottle but can be set up in five seconds. It's tip-proof, so even though it looks small you won't topple over. It can support up to 300 lbs.
This is a lightweight chair with mesh panels so it stays cool in hot weather. It features lower back support – great after a day of carrying all your stuff! The chair weighs only 2 lbs so it won't overload your pack on the trail. This set comes with two chairs.
Beach Chairs
If you're camping at the beach, you may want some beach chairs for lounging while gazing at the waves. Here are a few great options.
These wide, low beach chairs have a mesh back so they don't get soaked when someone sits in them after a swim. They have a cup holder, so you can recline with a favorite drink. They're also lightweight and come with a carrying bag so they're easy to transport from a car to the shore.
This beach chair has five seating positions, including one that is totally flat for laying down. There's a towel bar on the back and a cup holder for your drink. A mesh pocket makes a good spot for your cell phone, keys, and other small items. The chair folds down and can be carried like a backpack.
This handy chair comes with its own umbrella! It also has padded armrests for comfort, plus a cupholder. It folds up easily and comes with a drawstring bag so it's easy to carry to and from the beach.
Chairs for Kids
Kids will want their own camp chairs, too! In fact, getting kids their own camping chairs helps you out as well because it keeps them from stealing yours. Here are a few great kids' camping chairs.
This fun, flowery chair is great for kids from two to six years old! It's durable, so it will stand up to the wear and tear of kids, and it comes with a matching carrying case with a handle. It's also easy to clean, which is important when you mix kids and camping! The chair includes a cup holder so sippy cups won't get knocked over on the ground.
The Coleman kids' chair features a fun pattern with a glow-in-the-dark design. There's a mesh cup holder for drinks and the steel frame locks into place, making the chair safer to sit in. It supports up to 160 lbs and has a roomy seat and height so it will grow with kids.
This folding camp chair includes an umbrella to protect kids' delicate skin from the sun. It's recommended for kids from 2-5 years old, and has a matching drawstring bag with a shoulder strap for carrying the chair. The chair also locks in place to keep it from closing accidentally. It also has a cup holder.
Pet RV Essentials
Pet ramp — for easy entrance & exit. If you can't imagine traveling without your furry friends, this accessory could make their life (and yours) a lot easier! Save your back from having to lift your pet into and out of your RV with a non-slip dog ramp he can walk up and down instead.
Pet food
Doorway screen: This doorway screen will keep bugs out while letting your pup come and go as she pleases!
Portable pet bed/ cot
Collapsible food & water bowls
Portable fence or tie-out with stake
If you're renting an RV, some of these items on this list won't apply since most RVshare rentals are already packed with general essentials like cooking supplies, linens, and basic maintenance items. However, always double-check the listing before you pack. You may want to run down this list with the RV owner as well to make sure you have essential items on board to maintain the RV correctly while using it (like RV toilet paper, wheel chocks, water hoses, etc).
Emergency/ Safety Gear Every RVer Should Have On-Hand
The first thing most people want to do after purchasing an RV is hit the road and find an awesome place to camp. Unfortunately, there are some steps you need to take before doing so. For instance, you absolutely must stock your RV with the basic essentials, including emergency gear.
Obviously, nobody enjoys having to think about these things. After all, you purchase an RV with the intention of having a good time, right? The reality is, accidents can happen, and it's always better to be safe than sorry.
Here are the RV essential items needed to enjoy your trip, avoid incidents whenever possible, and prepare for worst-case scenarios:
First Aid Kit — This is especially important if you'll be camping in a remote area. Whether you build your own kit or purchase a pre-made one, this is something you'll want for your first trip.
Ice Scraper — You'll be glad you have this if you ever find yourself camping in ice or snow.
Pocket Knife — A good pocket knife is something every camper should have on hand. It's useful in everyday life as well as in emergency situations.
GPS Satellite Tracker — If you do a lot of boondocking, a GPS tracker will help keep you on the right path.
Generator — You never know when you might need to recharge your RV batteries. A generator makes it possible to do this anytime, any place.
Water Purification Tablets — In case you run out of potable water, water purification tablets can help make any water safe to drink.
Backups of Medications — If you take medications or need other medical supplies, it's always a good idea to keep backups on hand.
Warning Triangles — If you have to stop on the side of the road, warning triangles will help other drivers see you, both in the daytime and nighttime.
High Visibility Vest — A bright vest will also make you more visible if you're stopped on the side of the road repairing your RV or tow vehicle.
Tire Chains — Tire chains are important if you're driving your rig through the snow.
Tow Strap — If you do need a tow to a shop or if you get stuck, you'll want to have a tow strap on hand.
Spare Tire — Always, always carry a spare tire. A blowout is a simple enough fix with a spare, but can become a real emergency otherwise.
Jack — Make sure you have the right kind of jack for your trailer or motorhome, as a regular car jack won't work.
Seatbelt Cutter and Window Breaker — Very few situations that call for these items. However, if you do need them, you'll be happy you have them close at hand.
Analog Compass — Digital compasses and GPS systems are great as long as they're working, but a good old-fashioned analog compass is ideal when you can't charge a device.
Jumper Cables — Like changing a tire, getting a jump is another super easy fix. However, you can't jump a vehicle without the proper cables, so make sure you have some.
RV Emergency Roadside Assistance — Signing up for a good RV roadside assistance service is something every RVer should do. There are a few good options out there, and some campers even choose to sign up for a couple. Luckily if you're renting through RVshare, every rental comes with our 24/7 roadside assistance program that operates 7 days a week.
Corner Guards — If your rig has a slide-out you know how easy it is to bang your head. Those corners can really hurt! Corner guards add a softer edge and prevent cutting your head or arms.
Carbon Monoxide Alarm/ Fire Alarm — If your rig didn't come with fire and carbon monoxide alarms, get them. These alarms detect gas leaks and smoke that humans can't always smell, especially if you're sleeping or away from your rig. This is especially important if you own a diesel pusher and your bed is in the back next to the engine. Consider a smart fire/ Carbon Monoxide alarm that allows you to receive alerts on your phone if something happens while you're gone.
A good flashlight — You never know when your RV battery might die, leaving you with no light to work with. Late-night walks to the bathroom also require a decent outdoor flashlight. Here are some things to consider to help you purchase the best flashlight:
Top 4 Best Camping Flashlights
Below are our top 4 camping flashlight picks for 2023:
21. A good lantern – sometimes, a lantern is much more convenient than a flashlight! You can set a lantern down and it provides more light, which is important in an unlit bathroom at night! If you do choose an electric lantern, you should know that there are two types of batteries: disposable and rechargeable. We highly recommend the rechargeable type, which might be charged via a USB cable (that can be plugged into a wall outlet or a car), a hand crank, a solar panel, or any combination of these things.
Here are some tips on how to choose a good lantern:
Usage – First, you will want to ask yourself what you will be using this lantern for. If you'll only be doing RV camping and using the lantern to light the table while you play cards, something less bright and durable might be just fine. Meanwhile, those who plan to take their camping lanterns on backpacking trips may want to be a bit more picky about what they choose.
Power Source – Lanterns for camping come in two main types: gas and electricity. Both have their pros and cons, but we feel electric lanterns tend to be the best option in most cases. This is because electric lanterns are quiet and exhaust-free, safe around kids, and can handle rugged use. Meanwhile, the biggest advantage of gas camping lanterns is the brightness of the light they produce.
Brightness – The brightness of a lantern is measured in lumens, and a lantern's lumen output should always be listed on its packaging. The higher the lumen output, the brighter your lantern will be. That said, it is important to keep in mind that a super bright lantern will likely burn through batteries or fuel pretty quickly.
Light Duration – Light duration refers to the amount of time you can expect the lantern to last on one fuel tank or set of batteries while turned on. This information should be available on the lantern packaging, making it easy to compare models.
Features – Lastly, you will want to look at the features each contender has to offer. If you want to use your lantern on long backpacking trips, you'll want a solar or hand-crank recharge option. Other great features include the ability to dim the light, attachments for hanging the lantern, color-changing options, and Bluetooth connection to your phone.
Good camping lanterns:
Streamlight the Siege Lantern
Streamlight the Siege Lantern is a bit bulky, weighing in at right around 2 pounds. That said, it is nice enough that we forgive its weight. This lamp runs on disposable batteries and offers three main light settings. It also has a night vision option (which is a red LED) as well as a flashing SOS option.
Black Diamond Apollo Lantern
The super cool looking Black Diamond Apollo LED Lantern is easily one of the best backpacking lantern options out there. It's small—weighing a mere 0.75 lbs—but offers a good amount of light considering its size.
The lantern features a rechargeable internal battery as well as a disposable battery option. Between the two, one can get a full 24 hours of light.
Black Diamond Moji
Another small, lightweight option is the teeny tiny Black Diamond Moji. This little lantern offers a 100-lumen LED light bulb which gives off a soft and wide light under the frosted plastic rounded cover. Best of all, this lantern is quite affordable, meaning you can invest in a couple of them in case of an emergency.
Camping Lantern FAQ
Have questions about your lantern? Below are some of the most frequently asked questions, as well as our answers to each one.
How do I maintain my camping lantern?
Electric lantern maintenance is incredibly easy. If you use your lantern at least once a week, all you'll need to do is ensure it stays charged and wipe it down once in a while. If you will be storing your lantern for long periods, you will want to make sure you remove disposable batteries and charge rechargeable batteries every few months.
Gas lanterns require a bit more maintenance. You will want to clean your lantern with warm water at the end of each camping season and store it in a sealed bag. You'll also want to remove as much fuel as possible from the tank before storing.
When the next camping season rolls around, be sure to clean the lantern again and oil the pump cup on the tank's pump plunger twice a year.
How often should I clean my lantern?
Lanterns should be cleaned at least twice a year or whenever they develop a build-up or become dirty.
Are camping lanterns safe?
Electric lanterns are very safe to use. This is especially true of LED lanterns, as the bulbs do not become hot no matter how long the light is run. That said, when used properly, gas lanterns can also be perfectly safe. Just be sure gas lanterns are only used outdoors, by adults, and in well-ventilated areas.
How do I light a lantern for camping?
Obviously, turning on an electric lantern is as easy as pushing a button. That said, those who wish to use a gas lantern may wonder how to go about lighting one. This article has excellent instructions on how to do so safely.
Essentials for RV Owners
1. Waste Water Management
Most RVs come with a complimentary sewer hose. Nice right? However, it's often way too short. In fact, it's usually so short that you have to be a superhero to maneuver your rig that close to the dump site. The first thing you are going to need is a proper-length sewer hose. Choose one that has high ratings, a quality feel, and will last for years to come.
You will also need a sewer donut. This rubber seal connects your sewer hose and the dump outlet so that the odor is kept contained. If you don't fancy a sewer donut, you can also choose an elbow adapter with multiple seal options. Be aware that some campgrounds require your hose to be kept off the ground by a sewer hose support (also called a slunky!). This caterpillar-type unit lifts your hose a few inches off the ground and folds up easily when not in use.
Disposable gloves and an extra garden hose are also a good idea. Your white hose is your drinking water hose. Be sure to keep the hoses in separate areas so things stay sanitary. Your extra hose will be used for the occasional flushing out of your black tank.
If you're planning on boondocking, or want to fill your freshwater holding tank to supply your sink faucets and shower, you'll quickly understand how frustrating the experience can be without a water tank filler valve.
Thanks to the physics of normal filling, trapped air can slow down the process considerably. This valve allows you to fill your water tank in a fraction of the time, which is especially helpful for boondockers who usually fill their tanks right before arriving at their destinations. An absolute must for a clean, comfortable, and properly running RV bathroom: holding tank treatment. These special chemicals help break down waste and toilet paper to keep your plumbing in good shape, and they also help eliminate odors (which can be a big problem in such a small space!). Make sure you've got plenty and that you use it every single time you dump your tanks!
2. Entertainment Accessories
Depending on how you plan to access TV, you will need a variety of items. If you want to take advantage of free cable in RV parks where they offer it, you will need a long coaxial cable. This will allow you to connect to the outside cable box at the campground (usually located in or near the electric box.).
If you want to use a traditional RV antenna, make sure your RV has a new HD digital antenna.
Plan on watching movies or binge-watching your favorite TV shows? Consider downloading them to your phone, laptop, or tablet before you leave. You can also stream Netflix, Hulu, or Prime from personal electronics (as long as you have a cellphone signal or WiFi) or stream directly from your TV with a streaming device like an Amazon Firestick, Roku, or Apple TV.
Satellite TV is a great option for those who love certain channels and is the most reliable way to watch cable TV, although you will have to pay a subscription fee. Dish offers a Pay-as-You-Go service which allows you to pay monthly and turn it off or on as you please, a nice option for seasonal travelers. The Tailgator Satellite Antenna is a popular setup because it can be moved around the outside of your RV and pointed at the nearest connection. Satellite receivers on the roof can often be blocked by trees. If you plan to stay in an RV park and you have a dish on your roof, be sure to let them know before they assign you a site.
A portable radio is another way for campers to entertain themselves. A NOAA weather radio will give you emergency alerts as well as play music in the background. Satellite radio is also an excellent option, and you may want an indoor and outdoor receiver.
Want to listen to music outside? Consider a portable Bluetooth speaker that will wirelessly connect to your music source for hours of relaxing or upbeat tunes. USB wall chargers are also handy to have in your RV. These wall plates are easy to install and can charge up to four devices at once.
3. Cleaning Supplies
Space in an RV is tight, so keeping things clean is important. Keep a carry-all of cleaning supplies so they're available at all times. Here are a few items to include in your cleaning arsenal:
Anti-bacterial wipes, all-purpose wipes, & auto cleaning wipes
All-purpose spray & glass cleaner
Paper towels and a duster
Cleaning clothes (old T-shirts work well too!)
Mothballs, cedar, or cotton balls dipped in peppermint oil for keeping bugs out of your RV. Place them in the closet and in jars under the RV.
Garbage bags of various kinds. For trash, consider placing some of these slim trash cans around your RV and a cabinet-mounted or sliding trash can under the kitchen sink.
A folding plastic stool to help you clean in high places (or reach items you can't get to). This folding step stool collapses down to nearly nothing and will set you back less than $20.
A broom, dustpan, and vacuum cleaner – our top pick is the Orfeld Cordless Vacuum. It picks up everything and comes with a detachable hand vac for quick clean-ups and hard-to-reach places. If you're limited on space in your RV, a multi-functional hand vacuum will serve you well. It can take care of all those little oops! moments in a flash, so you can get back to enjoying your vacation. There are tons of models on the market, but we recommend this Handheld Vacuum.
Ladders are also important. Sometimes, you need to get up high to clear the roof of debris or check the roof vents. You can hook a ladder on the back of your RV, or use a collapsable ladder which takes up very little of your rig's precious storage space.
4. Storage Solutions
Huggable hangers are a useful item for closets. These hangers are covered in felt and keep clothes from sliding off while you are driving. Ziplock bags, storage bins, and storage drawers can work wonders in your closet and drawers. Plastic shoe holders are useful for a variety of things, including a shower caddy or storage for outdoor cooking supplies.
A quick and easy way to increase closet space and make sure everyone has a separate nook for their favorite clothing items is to purchase hanging closet organizers. You may have to fold a few items you'd normally hang, but these organizers are worth it to increase your storage space.
Remember, you will need far fewer clothes in an RV than in a stick-and-bricks home. Plan to roll your clothes and place them standing up in your drawers. This gives you the ability to see the clothes without them taking up a ton of space. Personally, I like to separate items with Ziplock bags. That way if I need socks, I grab my sock bag. You can also pre-pack outfits in Ziplock bags. It's quick and efficient!
5. Decor
There are two items that every RV owner must have if they plan to customize their rig. The first are Command Strips. These babies come in every shape and size. You can use them to mount hooks for keys, picture frames, curtains, or pieces of art. They are removable and won't damage your walls.
Curtains add texture and dimension to an interior. They also block heat and offer insulation in your RV. Light-blocking curtains available at Walmart, Target, and Amazon are a great RV addition. Not only will they customize and soften your RV, but they will also save you money.
The second item is Quake Hold. This silly putty-like substance is used in museums and homes in earthquake-prone areas. Take a small bit of the putty and place it under decorative items. Now your items will stay in place while you drive. Quake Hold was designed to hold artifacts still during an earthquake, and since an RV basically has an earthquake every time it drives down the road, this is a must-have product!
In addition, you can hang some solar string lights on your awning to light up your outdoor space at night.
6. Leveling Blocks
You will need some leveling blocks even if your RV has a built-in system. It's always best to have something to secure your space just in case!
7. A level
Simple? You bet. Cheap? Hard to find cheaper. And when it comes to travel trailer accessories, it's an absolute must! After all, living in a slanted RV is no fun — not to mention the fact that it can have an effect on your refrigerator and other appliances. Grab this level for less than $5 to make sure you're actually on the straight and narrow!
8. Sealant
Eventually, there will be leaks. They're inevitable. Keeping Dicor, or whatever sealant works with your RV's roof material, on hand can mean the difference between a miserable, expensive delay and a salvageable weekend. You can quickly patch up whatever's dripping, finish off your vacation, and get it fully repaired after you get home.
9. Backup camera and monitor kit
If you're driving a big rig that didn't come with a backup camera included — which is especially likely with converted vintage buses or fifth-wheel trailers — installing an aftermarket backup camera and monitor kit can totally change your camping game. Just imagine how much easier maneuvering will be when you can actually see where you're going!
10. Home security camera setup
Camped in a less-than-populated area? Worried about losing your generator or other valuables while you're away? If you've got a smartphone, you've already got the makings of a great security system with the Blink home security camera setup, which you can mount and move with ease to adjust to whatever you're most concerned about in a given campsite. Every time it detects motion, the camera will send a short video clip to your phone, so you can rest assured that all your stuff stays safe while you're out exploring!
11. Memory foam mattress topper (or a new mattress)
RVs are many things, but they're not (usually) known for their comfortable sleeping quarters.
If you have a mid-range or lower-end RV or travel trailer, it's likely the mattress that comes with your RV won't be the most comfortable. If sleeping well is important to you, it's worth the investment to at least get a foam mattress topper… or possibly replace the mattress altogether.
Although you're obviously not looking at your phone while you're driving, it's nice to have it nearby for navigational purposes. You may also want to keep sunglasses, spare change from tollbooths, or other miscellaneous items close.
But as you may have noticed, dashboards aren't exactly built to keep stuff there while you're underway. That's why these anti-slip dash pads are a great buy. They keep all your goodies where you put them without any harsh adhesives or glues — and they're inexpensive, too!
Whether you boondock every chance you get or have an emergency that leaves you without power for a while, it's always safer to have an alternative way to charge your phone. This solar-powered cell phone charge bank is waterproof and made of eco-friendly silicone rubber, so it won't shatter if you drop it. And as long as the sun comes up, you'll always have a way to keep in touch — all for under $20.
Anyone who's ever driven away from camp with their external stairs extended will understand the genius behind this simple, inexpensive invention.
And if you ever had one of those slap bracelets popular in the '90s, you already know how these work. Smack 'em onto your steering wheel when you set up camp so you'll see them when you're ready to leave. You'll never forget to check those stairs (or the antenna, or your cabinet locks, or level blocks, or sewer hose) again!
Is there any RVing problem more classic than a lack of ample storage space?
No matter how careful we are with our packing list, stuff creeps up, and soon you find you have more things than places for them. Consider a few adhesive storage drawers, which transform your dinette table or another surface into a new home for all those extra gizmos. And for less than $20, it's a whole lot more affordable than retrofitting a new cabinet for your rig!
16. The Folding Cupboard
Storing food in an organized way while on a camping trip is a necessity. This Camp Cupboard is sure to come in handy. It keeps the food up and off the ground and allows you to find all of your spices and necessary ingredients to cook a tasty meal.
17. RV-sized drawer dividers
As far as can't-live-without kitchen accessories are concerned, drawer dividers are up there.
But if you try to get your RV's storage organizers at your local home goods store, you may end up disappointed when you get home and find the dividers you just purchased won't fit. Luckily, Camco makes kitchen drawer dividers specifically sized for an RV's smaller spaces. In fact, they even make an adjustable version, so you know for sure it'll fit no matter how teeny-tiny your drawers are — and it's less than $15!
18. Non-skid liner
If you've spent more than a split second in an RV, you likely already know the incredible power of this essential RV supply, which will help keep your dishes, glasses, and everything else from slip-sliding away. It might not be the most exciting thing on the list, but at under $5 for a 12-foot roll, it's definitely a worthy investment!
19. RV GPS
Your favorite map junkie might say this gadget isn't essential… but don't listen. With built-in software specifically designed with an RV's unique considerations in mind, the right RV GPS is far superior to even the most diligent human navigator. (Sorry, Dad.)
There are all sorts of RV GPS systems on the market, each with a variety of different inclusions and features. Garmin's products tend to rank pretty highly. Of course, there are also RV-friendly GPS apps like RV Trip Wizard or CoPilot RV. If you don't want to pay for an RV GPS or app, you can always use Google Maps, although this is not a reliable choice for big rigs.
Protect your awning from damage and prevent annoying flapping in the wind with these nifty devices that clip to your awning! The soft grippers protect awning fabric and keep it from flapping and rustling in the wind.
If you live in your rig year-round, a dehumidifier is essential. Moisture is an RV's enemy and you would be amazed by just how much moisture your rig can hold. I use a portable dehumidifier to keep the air dry and to avoid dripping skylights. Seavon makes a compact version rated to dehumidify up to 170 square feet, which is perfect for all but the largest travel trailers and motorhomes. My best tip? Spend the money now so you don't spend it later on repairs!
You are out in the middle of nowhere camping when your phone rings. Unfortunately, you don't have enough bars to take the call. You dash left and right trying to find a signal to no avail. What should you do? Easy! A cell booster will increase the range of your phone, especially inside your RV. There are a variety of units available so be sure to read reviews to locate the right one for your unit.
Yup. They make these, and some RVers don't want to live without them. Electric fly swatters or bug fryers are a great way to keep your RV free of pests!
24. Spray Lubricant
If you want to keep things running smoothly, a quality, RV-friendly spray lubricant is an absolute must. From un-sticking your slide out to taking the squeak out of the front door, you'll find all sorts of applications for this handy can.
25. Power
There are several important power supply items you need for your RV. First and foremost is an extension cord. Make sure you purchase one that matches the correct amperage of your RV (30 or 50 amps).
If your RV is 50 amps, you will need a way to reduce the power to 30 or even 15 amps in a pinch. This item is called a dogbone adapter and it's important! Don't leave home without one!
If you plan to RV off-grid, you may want to invest in a portable solar kit that would allow you to generate your own electricity for your basic needs.
An RV surge protector mediates the electrical current coming out of the outlet — in this case, the shore power hookup at your favorite campground. A surge protector acts as a buffer between your outlet and your RV. This helps ensure you don't suffer any damages to either your RV's wiring system or the objects you have plugged into it as a result of a power surge, lightning storm, or even faulty wiring in the shore power connection.
RV surge protectors come in both 30 amp and 50 amp varieties, to match your RV's power levels. They are available both as portable and hardwired units
Best RV Surge Protectors:
Camco: One of the best-known names in camping for a reason, Camco offers its own line of RV surge protectors. They're the portable variety, and available in both 30-amp and 50-amp varieties. The protectors include diagnostic LEDs to provide an indication of faults when you connect your electrical cord to the power pedestal. Furthermore, Camco's line of surge protectors is on the less expensive end of the spectrum
Progressive Industries: Progressive Industries primarily produces RV surge protectors, so they have a wide range of high-quality products suited to all camper needs. They offer portable RV surge protectors in both 30-amp and 50-amp varieties, as well as a line of hardwired units to help keep your RV safe and secure without risk of theft. Although their hardware is a little bit more expensive than the competition's, you can rely on their commitment to ensuring your RV's electrical system stays safe and secure.
26. Swamp Cooler
Also known as an evaporative cooler, a swamp cooler uses the evaporation of water to cool the air. It does this by using a fan to blow air through a wet pad, creating a lovely cooling effect.
Because water absorbs a decent amount of heat in order to evaporate, the evaporation process actually does a pretty good job of cooling a space, especially in dry hot places such as the southwest.
That said, RV swamp coolers are not as effective as air conditioners when it comes to cooling extremely hot or humid spaces. You might want this appliance in addition to a traditional A/C unit. This is good for RVers for two reasons:
Your electric bill is significantly lower with a swamp cooler.
Those who prefer dry camping can run an RV evaporative cooler using a generator or solar power.
The Best RV Swamp Coolers:
Kitchen Essentials for RV Owners
The kitchen is the heart of any home, and an RV is no exception. These kitchen supplies and accessories will make every mealtime a special treat… even before the delicious results are on the table! (These are also great items to keep on board for renters)
1. Cooking Appliances
The best items for an RV are always multi-task appliances. A crock pot is good, but a crockpot/rice cooker/pressure cooker (Instant Pot!) is even better. With one pot, you can saute, stew, roast, bake, make perfectly fluffy rice, and even ferment your own yogurt. If you're using the slow cook function, add a slow cooker liner to your pot and then fill it with food. Once you have finished your meal simply toss the liner and your pot is clean!
We're so stoked about this one-of-a-kind pressure cooker that we wrote an entire post filled with all the details you need to get the most out of your investment, including lots of yummy-looking recipes.
A small air fryer is not a bad idea either for whipping up quick meals (especially reheating leftovers!) — if you have the space of course. Foil packets are a camper's best friend. It's perfect for making pillow-style food packets that cook over a fire or grill. (No cleanup and easy portions. What's not to love?) A toaster oven makes it possible to create a whole lot of your favorite baked and toasted goodies right on your countertop — not to mention easy and convenient snacks like quesadillas, English muffin pizzas, and more!
And why heat up your kitchen when you don't have to? Use the sun to cook your food. The GoSun portable cooker is an easy-to-use, cylinder-style oven. It folds down for easy storage. The HotLogic Mini Personal Portable Oven oven is another affordable option that is similar.
2. Stackable pot and pan set
Even the most spacious, luxurious Class-A diesel pusher on the market doesn't have as much kitchen storage as a standard-sized American home. Along with cooking gear, you also have to find a way to fit all your dry foodstuffs in the same cabinets — it can be a bit of a puzzle!
For other cookware, choose items that will work inside and outside, but are small and easy to store. Investing in a set of nesting cookware can kill two birds with one stone. You'll acquire all the kitchen accessories you need in one fell swoop, and they won't take up more than a single pan's footprint of your precious cabinet space. This 10-piece set is non-stick and durable, with removable handles for optimal storage. At about $60 it's certainly worth the investment!
3. Compact ovenware set
If you're lucky enough to have an RV with an oven aboard, chances are it's not quite as spacious as the one you're used to using at home. You're going to need a set of ovenware that actually fits your sized-down oven.
Nordic Ware makes a variety of sets of compact ovenware, all of which are appropriately sized for smaller appliances and super affordable, too. You can choose which pieces you want based on your cooking habits.
4. Spice holder
Don't give up on your gourmet habits just because you're on the road! It may seem impossible to store all the herbs and spices you need to craft your favorite meals in your RV's cabinets, but there are ways around that problem. Wanna enjoy making your favorite meals on the road, but don't wanna deal with spices rolling around your rig? This simple, cabinet-door spice holder is perfect for RVers. We also love these adorable magnetic spice jars that can be easily attached to your fridge, wall, or backsplash, keeping spices close at hand yet out of the way.
5. Collapsible dishware
Looking for more space-saving hacks when it comes to those teeny-tiny cabinets? How about dishware that all but disappears when you're done with it? It's no magic trick: it's specially-made collapsible cookery, like these storage bowls or this colander. They're made of food-grade silicone, which is both bendable (and therefore collapsible) and super easy to clean — perfect for camping!
6. Food storage containers
Yes, it is possible to store a week's worth of fresh, healthy food in an RV. Heck, if you're good at Tetris, you might even be able to store two!
We wrote a guide on how to cram as much fresh, delicious goodness into your limited kitchen space as possible — but we'll give you a spoiler in this post: it's all about geometry. And one of the best ways to maximize the square footage in your cabinets is to pack your food into airtight, rectangular containers, which are much better than irregular shapes or circles at ensuring you're using every last inch of available space.
These simple storage additions can go a long way toward making your healthy meal planning more possible, and keeping everything in your fridge fresh, accessible, and ready to be turned into an unforgettable meal. These organizer bins come in a set of ten for less than $30, and they're safe for the freezer as well as the fridge. When your trip's over, you can even pop them in the dishwasher for quick cleanup!
Regular storage containers are great, but storage containers that collapse down to half the size are even better.
Ziplock bags and food savers are excellent ways to pack your frozen food. Lay the food flat and freeze it. You can stack your items easily on top of each other, but don't pack your items too tightly. Keep your heavy items towards the bottom and light items on top.
In order to keep your food fresh, you need to make sure there is air flowing throughout the fridge. That means making sure there is space between the cooling fans and other items in the rig.
7. Fridge and freezer temperature gauges and fridge levels
If your fridge isn't level, it won't work! A temperature gauge is good to have as well to ensure your fridge and freezer are working properly and to know when they have achieved the correct temperature. Another important item in your fridge and freezer are refrigerator bars, which keep your food from shifting off the shelves while you drive.
8. Coffee maker/ electric kettle
And who can live without coffee, even on vacation? (or tea if that's what you fancy!) — Make sure you stock your rig with your favorite brewing method, whether it's a small drip machine or an electric hot kettle and a pour-over station. We like this coffee maker for its single-serve feature, along with the reusable filter and this electric kettle with a tea infuser for a quick cup.
9. The Hand-Crank Blender
We all know camping can be stressful. (Okay, not really.) Why not relax with a fresh margarita made in your hand-crank blender? No need for power — just a few cranks of the handle crushes the ice and mixes your drink to perfection.
10. RV stove cover
An RV stove cover can instantly change the game, adding leagues of extra counter space for you to chop, season, and prepare your food. While many RVs these days come with them built in, if not, you can find them available affordably: check out this universal wooden version for under $60 or this foldable, metal one for under $80. (Both are by Camco.)
11. Portable grill
Yes, most developed campgrounds have grills available at their campsites, or at a community gathering space. But what about those nights you spend boondocking in your favorite remote camping spot?
Portable grills are affordable and convenient, folding down to a size that's storable in most campers' basement storage compartments. You can choose between versions that run on propane or charcoal, depending on which suits you better. Step up your grill game with a pizza oven, flavorful spices, or a cast-iron skillet. If you're really into cooking, a Blackstone grill/griddle combo is one of the best camp cooking accessories you can invest in!
While not entirely essential, having an immersion blender is a great multi-use appliance to have in your RV. This baby can chop, blend, stir and whip, plus it's incredibly compact so it won't take up much room.
Collapsible tubs work great for dishes or general cleaning. Pop it up when you are using it. Pop it down for storage. It's as easy as that!
Fill a spray bottle with water and a tiny bit of dishwashing soap. Spray your dishes before you put them in the sink or tub. This simple step will act as a pre-soak and help you use less water come washing time. AMAZING.
14. The Bio Light Stove/Charger
The Bio Light Stove uses wood to create a smokeless fire to warm meals or boil water. In addition, it can power up your phone or other electronic devices while you're cooking. All it requires are a handful of branches.
15. Reynolds Wrap
Foil packets are a camper's best friend. Commercial-grade Reynolds Wrap is perfect for making pillow-style food packets that cook over a fire or grill. No cleanup and easy portions. What's not to love?
Laundry RV Essentials
Even when you're on vacation, laundry never ends! That said, it doesn't have to be a total pain to keep your clothing clean. These gadgets help make it easy!
If you frequent the laundromat — like so many campers do — you will love this gadget. Shout Color Catchers will help you save money. Choose an oversized washer and forget about sorting. Toss all your fabrics together and add a color catcher. If any of the dye tries to escape, the color catcher grabs it and keeps it from your other clothes. You save a bundle by washing and drying everything together.
I saw this idea on a YouTube video and have been using it ever since. Traveling with no time to wash socks and undies? No problem. Fill a plastic bin with cold water, your laundry, and a dash of soap. Click the lid on for a tight fit. Place the bin in your shower and head out on the road. At the end of the day, the movement of your rig will agitate the clothes. Just rinse and hang. The perfect emergency washer!
If you have a washer and dryer in your RV, keeping laundry and supplies organized while not eating up too much space can be tough. This over-the-door laundry basket is made of mesh to keep odors at bay and has space to hold dirty laundry, as well as several compartments for things like fabric softener and detergent. If you'll be relying on the laundromat, a few designated dirty/clean laundry bags can be helpful when it comes time to wash everything.
4. Scrubba Portable Washing Machine
Who wants to go to the laundromat, when you could simply bring along your own portable washer? This expandable bag contains hundreds of tiny "scrubba" nodules that will clean your clothes in minutes!
Bathroom Accessories That Will Make Your Life Easier
When it comes to your RV bathroom, the correct accessories can do a lot more than create a comforting environment. They can transform your camper shower from bleak to delightful, or make a relaxing spa out of your cramped RV shower/toilet combo.
Below are some of the best RV bathroom accessories to have in your RV:
1. A dedicated set of towels
We already mentioned above that towels are essential items to bring, but if you own your RV, consider buying a dedicated set of RV bath towels, kitchen towels, beach towels, hand towels, and washcloths instead of bringing these from home. You'll thank yourself when you don't have to worry about raiding your home cabinets every time you're getting ready for an RV trip.
2. Wall-mounted toothbrush holders
You want your toothbrush to be nice and clean for obvious reasons, but in an RV's cramped — er, cozy — environment, it can be difficult to find a safe place to put it. You might not have the counter space for a toothbrush stand, and no one wants to deal with taking a cap on and off every time you want to use a toothbrush.
Enter this wall-mounted toothbrush holder, which solves all the problems without adding a single square inch of footprint space to your already-crowded bathroom counter. Win, win!
3. A self-care kit (for everyone in the family)
What's worse than showing up at your destination only to realize that you've got to get right back in the car and head to the store because you've forgotten your toothbrush? (Or razor? Or tampons? Yikes!) Not a fun or ideal scenario! Why not avoid it by making sure you've got everybody well-stocked ahead of time?
Before you even think about heading out on your next camping trip, create a self-care kit for you and everyone in the family, and leave it in your RV. That way, you won't have to worry about keeping certain toiletries on your must-pack list; they'll already be in the RV! If you're renting an RV, you could instead create self-care kits in handy, go-ready tote bags. Get a travel-ready toiletry bag and head to Target to grab your essentials or purchase one of these convenience kits that has everything you need ready to go. You'll never have to face that frustrating "ugh, I forgot" scenario ever again!
4. An RV-friendly shower caddy
Between shampoo, conditioner, face wash, body wash, razors, and more, you can end up with some pretty crowded shower shelves. And that kind of lackadaisical storage situation just isn't going to fly in the limited space of an RV bathroom. Plus, even if you only have a few toiletry items, they're liable to fall over in a traditional shower caddy, potentially creating a mess to clean up as soon as you're parked for the day. Avoid all that hassle and increase your shower storage tenfold with a mesh shower caddy like this one or suction cup shower baskets, which will keep all of your items held nice and tight for the duration of your camping trip — while still keeping them easily accessible!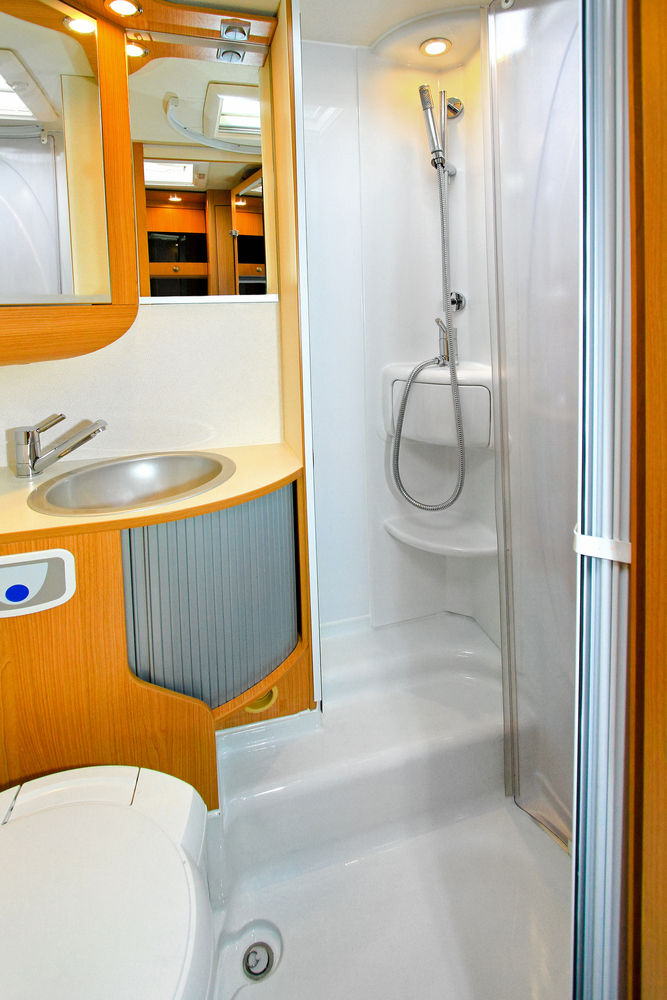 If your RV bathtub or shower doesn't have a solid door, you'll have to use a curtain. Normal shower curtain rods are not exactly designed for serious movin' and groovin'. So unless you want your shower curtain falling down all the time, you'll need to invest in a sturdy shower curtain rod. That way, you won't have to worry about re-curtaining your shower as part of your camp set-up ritual.
6. Improved water flow shower head
Whether you're in a modest travel trailer or a fancy Class A motorhome, chances are your RV shower could use a little bit of extra oomph. And fortunately, this is one of the easiest common RV problems to rectify. You can get an improved RV showerhead like this one for under $40, or this Oxygenics showerhead for under $50. Either way, it'll help you out in two very important ways: by increasing your water pressure and simultaneously reducing your total water usage by implementing being more efficient.
They also have on/off valves allowing you to turn the water off in between washes without it getting cold. That's a definite win-win, especially if you're boondocking, when saving water is of tantamount importance. (Although, we'll be frank… most boondockers we know eschew the shower altogether. In which case… body wipes!)
7. Shower Squeegee/ RainX
Moisture is an RV's enemy. A simple shower squeegee will keep your shower free from excess moisture. It will also help your shower stay clean longer. If you have glass shower doors, it's also a good idea to squeegee them after each shower to avoid soap scum buildup (less cleaning for you later on!).
Think RainX is just for windshields? Think again. RainX works great on glass shower doors. The shower water will bead and roll right off the glass. No stains. No mildew!
8. Sea to Summit Pocket Shower
Of course, if you don't have a shower in your RV, you may need to bring one along! A pocket shower is easy to use and can be packed away in even the smallest space.
Towing Accessories
Driving a travel trailer?
There are certain special accessories for tow-behind rigs that motorcoaches don't have to worry about. (But don't worry — the extra expense is off-set by trailers being generally much cheaper!)
Here are a few accessories specifically for travel trailers and towables.
1. X-Chock Wheel Stabilizers
Even once you apply your standard leveling blocks, trailers can be just a little bit more wobbly than their motorcoach counterparts — which is why a set of good wheel chocks should be on your essentials list.
X-Chocks are some of the best-known and most reliable chocks on the market, specially designed to work with your tires' natural motion rather than against them. They're simple to use, too, which is probably why they have such stellar reviews on Amazon.
2. Electronic brake controls
Stopping is always a little bit more challenging when you've got the hefty weight of a trailer behind you. Electronic brake controllers help you keep… well, control of the situation. And depending on the size of your rig and the state you're driving it in, they're likely a legal requirement.
Winterization RV Essentials
1. RV Antifreeze
Just like at home, cold temperatures will freeze and expand water in your RV's plumbing system — and just like at home, frozen pipes can lead to serious damage. Fortunately, avoiding a hard freeze is simple! All you have to do is make sure you run RV antifreeze through your water system.
There are lots of different RV antifreeze options out there, and it's really personal preference as to which brand is the best — though it's helpful to avoid formulas that contain ethanol. But just remember that no matter which one you choose, if it's RV antifreeze, it'll be pink in color.
Now, it's not quite as easy as dumping the antifreeze into your kitchen sink and calling it a day. Depending on your rig's specific setup, you may need a bypass kit or a blow-out plug to ensure the antifreeze doesn't end up in your hot water tank or drinking water. (We wrote a lot more about the specifics on how to use RV antifreeze in this post on winterizing your RV, so check it out for even more details!)
2. Heated RV Water Hose
Another common winter camping problem: a frozen drinking water hose!
If you're going to be hooked up to the water system while you camp it might be worthwhile to invest in a heated RV water hose. It's best to get a hose made specifically for this purpose, rather than some sort of add-on or extension. Drinking water hoses don't impart any strange flavors or odors to your water supply, and they're built strong enough to avoid leaks even with constant use.
Other campers simply fill up their freshwater tank and then disconnect the hose to avoid this problem, which is also an option. However, you run the risk of having to go outside in the freezing cold for a fill-up at an inconvenient time!
3. RV Skirt for Insulation
Even the thickest-skinned person can't stand up to truly frigid winter temperatures in an RV without proper insulation. A lack of insulation could make your RV too cold to live in and is a surefire way to kill the festive mood. Insulating your RV's walls or replacing the existing RV insulation is a big, expensive project, but fortunately, there are a few inexpensive ways to improve your RV's insulation.
One is to purchase insulated skirting. An RV skirt is a vinyl material that attaches to the bottom of the RV to create a barrier between the underside of the vehicle and the ground. It helps keep the interior of the RV warm and protected from the winter elements. Airskirts that inflate are also a good option, although they take up a lot of storage space.
If you're really thrifty, you can skirt your RV in a natural way: with snow! (Just be sure to always avoid exhaust vents — otherwise, you risk deadly carbon monoxide poisoning.)
4. RV storage cover
Although we all wish we could be on the road year-round, relatively few of us actually get the opportunity — although that number is growing every day!
When your RV is off the road for winter (or whenever it's off the road for long periods of time), it's critical that you keep it covered to avoid potential damage from wind, rain, snow, bird droppings, dirt, and debris. The best option, of course, is to keep your RV safe and sound in a covered storage facility. But for many campers, that's simply not an option… in which case, it's time to invest in an RV storage cover.
While that may not sound like a huge deal, keeping your RV covered can go a long way toward extending the life of your investment. After all, the thing that usually ends an RV's career is water damage, and leaving your rig out in the elements for long periods of time makes you more likely to sustain some!
When shopping for a cover, make sure you find one that's properly formulated for your RV's size to ensure a proper fit. A cover that's too big won't offer the same kind of protection as one that fits just right. You'll also want to ensure that the cover is waterproof and UV-resistant for the best coverage. Lesser covers may be cheaper, but they won't actually keep your RV safe… which is the whole point, of course. No matter how cheap an accessory is, it's a waste of money if it doesn't perform its function!
5. Battery Trickle Charger
A battery trickle charger is a great item to use when storing your RV. If you don't keep those batteries charged you may have trouble come summer.
Travel Trailer and Motorhome Must Haves
Although it may seem extensive, this list just scratches the surface of all the things you may think of to bring on your next RV camping trip. Aside from the essentials, there are also lots of "must-have" accessories that can make your vacation a little bit more fun, unique, or convenient— most of which are RV-themed, making cute additions to your interior.
Here are a few of our favorite RV camper interior accessories, which can make every camping trip just a little bit more memorable.
1. RV-Themed Dinnerware
If you own an RV, you already know you need to invest in a set of RV-specific dishware. Nobody wants to have to clean out their kitchen cabinets every time they're getting ready to take a vacation.
And since motion is the name of the game when it comes to RV camping, you ideally want a set unbreakable — and dishwasher safe, to boot. BPA-free melamine is an inexpensive option. You can get a whole 12-piece set for less than $50, and that includes dinner plates, salad plates, and bowls for four people. We especially love this camping-themed version, with images of RVs, maps, and wildernesses adorning each dish. After all, what else are mealtimes but fueling sessions for more exploration?
2. Coasters
You paid good money for your rig (or your rental), and you want to keep those finished surfaces shiny and glass-ring-free. We love this set of four RV-themed coasters, each featuring an inspirational saying with a little adventure scene.
3. RV-Themed Doormat
You know how it is: when you're traveling with a group (especially with kids), you're gonna have some dirt or sand tracked into the RV eventually.
Prevent this with an indoor/outdoor doormat. It's practical, but it also gives you the opportunity to add some character to your RV!
4. Shatterproof Wine Glasses
Hey, we all need a tipple now and then. Why not have your wine in a glass that matches the mood? These RV-themed stemless glasses are fun (and sturdy!) or check out these shatter-proof wine glasses. They don't compromise elegance for convenience, and they make your RV safer for everybody. Plus, both are dishwasher safe, because nothing ruins a vacation faster than having to polish wine glasses.
5. RV-Themed Dish Towels
While actually doing those dishes probably isn't at the top of anyone's fun vacation activities list, having the right towels on hand can make drying 'em a breeze. Check out these adorable chambrays with a rustic-chic burlap finish. They're 100% cotton, so they're perfect for all your kitchen needs, and we couldn't agree more strongly with their statements: We're always down for an adventure, and we certainly are happy campers! If burlap isn't your style, there are still plenty of other RV-appropriate towels to choose from. We also adore this simple white set of three, which are also made entirely of high-quality cotton and are machine washable.
6. RV Throw Pillows
Throw pillows can transform even a drab living room into a cozy-looking nook, promising abundant, plush softness.
You can find throw pillows for around $10 a piece at Walmart, no problem. But without spending a whole lot more, you can upgrade to a more themed set. For instance, here's one of our favorite decorative RV pillows on the market: a simple burlap design that sums up the RV lifestyle pretty darn well, we think! If you've already got the pillows themselves, you can also invest in cool new covers, an easy, affordable way to take humdrum bedding and make it pop. Check out these throw pillowcases, which feature adorable camping sayings.
7. RV Sticker Travel Map
If there's one thing every single RV needs, it's a travel map. Just like a ship's log or a road trip diary, a travel map is a great way to keep track of the adventures you've already had — after all, half the point of this is building those amazing memories. There are many different types of travel maps to choose from, like pinboard-style frames and kitchen magnets. But for RVers, we highly recommend this sticker map set, which is affordable, easy to use, and simple to install anywhere on your RV – inside or out. (And since there are no sharp pins involved, the kids can help fill it in… which they absolutely love doing!)
8. RV Throw Blankets
A throw blanket can turn any couch or bed from a simple piece of furniture to a cozy nook to curl up on and get lost. Some of the softest, coziest blankets on the market are available surprisingly cheaply! Take, for instance, this cozy sherpa throw from Amazon, made entirely of easy-to-clean polyester and soft as can be. It comes in nine different colors and is available in standard bed sizes from full to king, as well as a convenient "throw" size. Whether you just drape it over the couch or add it on top of your quilt for cold winter nights, it's sure to turn the "cozy" dial in your rig up to 11!
9. RV Sheets
Psst: did you know that the "queen"-sized bed in your RV might not be the same as the queen-sized bed you're used to at home? Thanks to their smaller footprints RV manufacturers often have to downgrade mattress sizes to a shorter version, which means the sheets you use at home probably won't fit right.
That's why we recommend all RVers invest in a set of sheets specifically for their rig. That way, you'll ensure a nice, tight fit (with none of those annoying midnight pull-aways). You also won't have to worry about stripping the bed at home and schlepping a set of sheets on board every time you're ready to take a trip. Trust us, it doesn't seem like a big deal, but it gets old.
This set of short queen sheets is made out of luxurious Egyptian cotton and has a 400 thread count, making them supple and soft enough for even the pickiest sleepers. They come in dozens of colors, from demure neutrals to wild animal prints, so you're sure to find one that fits your personal style!
10. Bed suspenders
If you've ever cursed as your fitted sheet popped off again in the middle of the night while RV camping, here's the solution! Somebody came up with bedsheet suspenders, and I seriously can't think of a single better idea I've come across any time in recent memory.
11. Colorful RV Mats
If you've been setting up your camp chairs on a drab brown tarp, consider upgrading to one of these fun, colorful versions. A pop of brightness can make a sunny day feel even more joyful.
Command Strips are an RVer's best friend. Whether you want to hang photos, art, or a mirror, Command Strips will secure your item to the RV wall without any damage. Need to move something? No problem. Simply pull the tab and the strip will release from the wall.
The Command brand also makes hooks. These hooks come in all different shapes and sizes. Use them to hang your purse, your coat, or your keys. You can even find waterproof hooks for the shower. Love it!
Fun Things to Bring Along in a Motorhome or Trailer
Fire Crystals
Imagine sitting near a campfire telling stories with your friends. You decided to add some drama to the story by throwing one of these crystals in the fire. Poof! The flames magically change color. Sounds amazing, right?
The Net Cocoon Hammock
A comfy hammock with a built in mosquito net – I want one! This looks awesome! I want to sleep all day in this. And since it's mosquito proof, using it during the night sounds good as well.
A Cool Solar Fire Starter
This amazing fire starter uses only the power of the sun for fuel. No need to re-fuel or maintain. Portable and lightweight, this product is perfect for backpacking and hiking. It's so easy to use, you could almost even say it's magical.
SwissChamp Swiss Army Knife
Wow, now this SwissChamp knife is a hardcore gadget! It has 31 essential functions. Use it for sharpening a marshmallow stick or opening a cold beer bottle.
A Pop-Up Bed Tent
This pop-up tent bed gives you a nice place to relax during the day, and a comfortable tent to sleep in during the night. Super simple to set up and take down, this bed tent folds into a compact size and fits into its very own carrying case.
A Huge Camping Chair
A camping chair fit for a king…or queen. With this giant folding camp chair, you can call yourself the king of the forest and demand your rightful cold beer while enjoying your reign.
Glow In The Dark Tape
There are hundreds, or maybe even thousands, of uses for this super strong glow-in-the-dark tape. Use it to light up your RV's steps, make a pathway to your tent, repair your flip-flops, make homemade glow sticks, and so much more.
A Solar Lamp
Leave this great lamp out in the sun during the day to fully charge, and at night you will have more than 8 hours of reading light. Also, it's water resistant so you don't need to worry about protecting it during a sudden storm.
Lighted Bocce Ball Set
The only thing more fun while camping than a game of bocce ball is a game of bocce ball in the dark! These light-up bocce balls are a blast for all ages.
Dry Bag
Next time you're headed to the shore, don't live in constant fear of getting your towel — or, heaven forbid, your cell phone — wet. Just grab this premium waterproof dry bag to transform your wet and wild adventures from slightly stressful to plain old fun. (It even floats!)
Lighted Tent Pegs
If you've got the kids set up in a tent to save room in the rig, the right tent camping accessories are crucial. Make setup easier (and nighttime bathroom trips less hazardous) with these lighted tent pegs.
Inflatable Air Sofa
Folding camp chairs are one thing, but this inflatable air sofa will have you kicking your feet up absolutely anywhere you can imagine. It doesn't even require a bunch of huffing and puffing to blow up — just whisk it through the air to inflate.
Flickin' Chicken Lawn Darts
Remember when Angry Birds was a thing? Well, bring that same spirit outside with this wacky game of chicken-themed lawn darts — which is sure to be silly, sunny fun for the whole family.
Gofindit Outdoor Scavenger Hunt Game
We love the idea of this scavenger hunt game, which encourages campers of all ages to get familiar with — and interested in — their natural surroundings. Send your kids out into the world to find something furry, round, huge, rough, red… or that simply makes them say, "Wow!"
Looking for personalized RV accessories that double as DIY projects? Travel-tracking maps might be right up your alley.
Whether they're magnetic or filled with stickers, and whether they track states or national parks, travel-tracking maps are the perfect way to look back on where you've been in your RV… and where you're excited to go next!
If your RV park has solid WiFi, a Roku will allow you to stream hundreds of on-demand TV channels (many of which are free!) You can also connect with Netflix, Hulu, Crackle, and a variety of other channel options. Who needs satellite when you have a Roku?
RV Mirrors – How to Find The Cheapest Replacements
RV mirrors are essential to get you safely to your destination! You'll want mirrors that are sized correctly for your vehicle and are in good working order.
First, before you even begin to look for replacements, you need to know what to look for. Here's what you need to know before choosing a replacement RV mirror.
What is the make, model and year of your motorhome? You should have received this information when you purchased your RV. If not, it is usually printed somewhere on the RV, maybe in a closet. Also, for some Class C's, you will need to know what chassis it is built on: for example, Ford, GMC, Chevrolet, etc.
What is the length of the mirror arm? If your mirrors do not have an arm (meaning the base and arm appear to be one piece), you will not need this measurement. If not, you'll need to know the length.
What is the color of your mirror? Most RV mirrors for motorhomes come in black, white, or chrome. If they are any other color, you may have to go to your manufacturer because they may be custom-painted mirrors.
What options do you have on your mirrors? Mirrors come with several different options. With manual adjustments, you will need to adjust the mirror outside the RV, with your hand. Remote adjustments are done with a switch, inside your RV cab. Another option is heated mirrors, which are helpful in cold weather. Some mirrors have turn-signal lights , and there are some mirrors that will close or fold inwards, while others are stationary.
Now, let's take a look at a few places to find RV motorhome mirrors.
Many RV replacement parts companies have mirrors. TruckChamp.com is one that, along with eBay and Amazon, often carries several models of RV replacement mirrors. Velvac is another and is a leader in the manufacturing of mirrors, for both Class A and Class C motorhomes. Their website offers a great selection, and you can search by make, model, and year, or through their photo gallery. They have friendly and knowledgeable staff, who can help with ordering and answering any questions.
Where can you find the cheapest replacement mirrors for your Class A or Class C motorhome?
If you have taken any time to look for RV replacement mirrors, you know they can be a costly part to replace. By taking the time to search, you can save some money, rather than paying retail.
You may want to consider buying used parts, and one place to look for those is eBay. It has a vast selection of all types, shapes, and sizes of RV mirrors. There are many places that sell parts from used RVs, and you could find a great deal on just what you're looking for. Off-brands, if you can find them, will normally be priced less than major brands, and in most cases, will be comparable to their name-brand cousins.
You can choose mirrors with fewer options in order to save money as well. For example, look for manual adjustment, instead of remote adjustment, or go without lighted (or heated) mirrors. Protecting your mirrors with mirror covers is a good way to save money in the future since these covers will protect them from dirt, grime, and harmful sun rays.
The following tips will help you use your mirrors. Practice safe driving in your RV, and protect your investment from avoidable accidents!
Use those mirrors
Not only are the side mirrors necessary, but having a rear-view mirror is helpful as well. You may only be able to see inside, to the back of your RV, but when you turn a curve and something falls out and crashes to the floor, a quick glance up into your mirror is far better than turning around in your seat.
Fold them in
If you have mirrors that fold inward, you will want to fold them in while not in use to protect them from getting caught on things.
Take a minute
If it becomes apparent that you don't have a clear view of your surroundings while trying to back into tight quarters, just stop and evaluate the situation. If you do not take an extra minute to determine the best way to maneuver, it can result in a careless mistake – and potentially a costly one!
Don't count on your backup cameras
Most of them are pointed down and don't give you a broad enough picture of exactly what is behind you. Don't get me wrong, they can be useful but do not rely solely on them. Be aware of objects on the ground, branches from low-hanging trees, overhangs on buildings, or possibly low-hung power lines. All of these are things that your RV could snag.
Practice makes perfect
If you are not used to driving a motorhome, it's a good idea to go to a parking lot to practice. Bring some cones, or even empty milk jugs, to set out. Practice using your mirrors to back between the cones, as if it were an RV pad, at a campground. Practice until you're comfortable and are able to do it without hitting any cones.
WiFi: What You Need to Know
In today's world, you really can't get by without an internet connection for very long! You use it for everything from staying in touch with friends to everyday chores like mobile banking. Heck, you may even be lucky enough to make your living remotely, which means you depend on the 'net to get to work!
Staying online while on the road has been a notoriously tricky problem for decades. But fortunately, as demand has increased, so have the options for getting online and staying there reliably.
Lots of developed campgrounds offer high-speed WiFi as part of their standard accommodations, rolling it into the advertised nightly fee. However, the number of campers trying to access the web at any given time can take a toll on the bandwidth, resulting in slow network speeds.
Some motorhome owners dodge this problem by installing WiFi extenders or repeaters, which can help strengthen a shaky signal. But hotspots can be a more reliable option, especially if you plan on doing any off-grid camping, or boondocking, where there won't be any WiFi connection at all.
A WiFi hotspot is a small device that broadcasts an internet signal through cellular data, which you can then connect to on your desktop computer or mobile device. However, along with the cost of the hotspot itself, you'll also need to purchase a data plan, just like you do with your smartphone, which will be priced according to how much data you use in a given time period.
Which WiFi hotspot will be best for you will depend on a variety of factors, such as where you're primarily doing most of your camping. Different carriers have different coverage. Furthermore, if you already have cell service through a given carrier, it may make more sense to add a hotspot to your existing plan than to purchase an entirely new data plan from a different carrier just for the purpose of the hotspot.
To learn even more about staying connected on the road, check out our post about the best ways to stay online anywhere here. We've also written about ways to make money online, which can free you up to travel year-round!
Free WiFi is only a good deal if it works! Increase your chances with a WiFi booster placed on the top of your rig. The WiFi Ranger with a signal booster is a must-have for serious internet users. Sure, it won't change bad connections, but it will increase your ability to use good ones.
How to Safely Pack an RV for Travel
It's important to note that besides packing all the right items for your trip, you also need to pack the unit safely. Because of the awesome homelike features RVs are equipped with, it's easy to forget that an RV is just a vehicle.
Make sure you don't pack your rig lopsided, as that could make it easier to flip, and makes. itmore dangerous on the road. You want to keep your rig bottom-heavy (just like the fridge) and distribute your items evenly throughout. Of course, everything should be in a place that makes sense.
You can check your manual to determine exactly how much weight each axle can carry. Keeping your rig organized is very important. An RV that has random items all over the place is not only annoying when you need to find something, but dangerous. And while you want to pack everything you need for any emergency, you also don't want it to be too full. Try to find the perfect balance between being well-packed and minimalist.
How to Find the Best RV Accessories
Although RV superstores are great resources, you don't have to go to a brick-and-mortar store to find top-of-the-line accessories for your RV. Reliable, affordable parts can be shipped directly to your door from websites like Amazon, or Walmart! Better yet, these sites give you the added advantage of being able to see user reviews before you purchase them. This can give you a sense of how well they work and whether they stand the test of time.
Thanks to growing demand in the RV industry, the accessories we've listed here are more readily and cheaply available than ever. That means it's totally within your reach to enjoy a worry-free camping trip with all the gadgets and gear you need.
Maintenance and Repair RV Parts
As important as investing in the right RV essentials is, it's equally important to take care of your existing RV components. That way, you can ensure they'll last as long as possible, which will help you save money and avoid headaches.
Fortunately, we've written a whole lot about proper maintenance for a wide variety of RV gear and parts. (And even more fortunately, most of these maintenance tips are so easy that anyone can do them!) Here are a few RVshare articles that'll help you keep your rig in ship shape for years to come.
Final Thoughts
No matter what you're planning to bring, beware of overpacking! RVs are limited in living space, and bringing too much stuff along for the ride can quickly transform your home away from home into a claustrophobic mess.
When it comes down to it, the only person who really knows everything you need to bring along for the best possible vacation is you — but hopefully, this list will help you avoid forgetting something essential!
Just as important as packing all of the essentials for your travels, is finding the right RV for your family. RVshare is the world's largest peer-to-peer RV rental marketplace and we've got thousands of options for some of the most unique and high-quality rigs on the market.
Explore our site and find a comfortable rig with plenty of storage space for everything you need to have an amazing trip.
And make sure to also check out our complete RV Preparation Checklist before you hit the road this season! For more creative storage solutions, check out this article.
This post contains affiliate links. RVshare may receive compensation if you make a purchase after clicking on a product link.