Travel Inspiration
Last updated on April 18th, 2023. Originally published on August 12th, 2015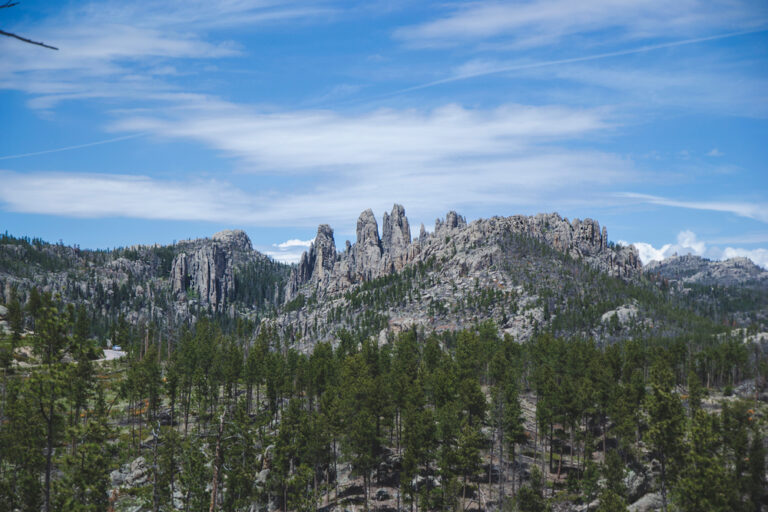 The call of the open road—as fuel prices drop, more people feel the urge to experience that quintessential summer pleasure—the road trip.
Whether it is with a destination in mind, or merely for the ride itself, road trips provide an opportunity to go to new places and enjoy diverse scenery.
Some people take friends or their family on these drives for fun and companionship. Others go solo and use the time to reflect and center themselves while observing the aesthetics of their surroundings.
Either way, these 13 locations provide more than typical amounts of beauty and inspiration for you to choose from. Visit them all and share with your friends and other like-minded people.
1. The Black Hills in South Dakota and Wyoming
With an incredible diversity of terrain, vegetation, and wildlife, the Black Hills provides a feast for the eyes. Featuring the Black Hills National Forest, the Devil's Tower, and the majestic Badlands, this location has something for everyone.
Indigenous animals including bison, cougars, prairie dogs, and burro roam this land. It is also the home of Mount Rushmore, Crazy Horse — the largest sculpture in the world, and the Sturgis annual motorcycle rally. Whether you stay for a while or just plan to drive through, there is plenty to see and do.
The terrain in this park includes prairie, tundra, mountains, and forested areas like the Lewis and Clark national forest. It also features hundreds of lakes of varying sizes and over 200 waterfalls.
Wildlife includes grizzly bears, moose, mountain goats, and wolverines, to name a few. As the glaciers continue to retreat, it may be advisable to visit this one as soon as possible to get the full effect.
3. Santa Fe to Taos, New Mexico
Following the Rio Grande, the "Low Road" offers plenty of attractive desert scenery and rapids. Stop by Espanola and view the historic Puye Cliff Dwellings.
Taos and Santa Fe are well known for their vibrant art communities and feature many local galleries and museums. For variety, complete the loop by traveling the "High Road" and enjoy the dramatic vistas, pueblos, and popular sights like the Nuestra Señora de San Juan church in Talpa, and the San Francisco de Asissi Mission church in Taos.
4. The Grand Circle in Utah
One of the most spectacular drives you will ever take — the Grand Circle includes popular parks such as Zion and Bryce Canyon National Parks, Arches and Canyonlands National Parks, Grand Canyon National Park, and Capitol Reef National Park. With a variety of scenic reliefs, there is a breathtaking view around every corner.
Zion features the Emerald Pools. Bryce Canyon is known for its colorful formations. Arches, as its name implies, is host to multiple naturally occurring rock arches. Canyonlands has spires and buttes, as well as the expected canyons. The Grand Canyon is one of the most recognized natural geographic reliefs in the world. Lastly, Capitol Reef National Park is known for its 100-mile fold in the crust of the Earth. In one road trip, you see it all.
5. The Big MO River Ride Loop in Missouri
Following the vast Missouri River, the Big MO River Ride Loop traces the trail forged by Lewis and Clark during their historical expedition. Starting in St. Louis, it passes through Kansas City before heading back.
Along with the thriving wine country, both cities are famous for their art, their jazz, and their barbecue. They both feature many historical museums, primarily the Pony Express and the Union Pacific on the west end, and St. Louis Arch and Gateway to the West museum on the east side. Additionally, you will pass miles of serene farmland in between.
6. Highway 49 in California
Named for California's 1849 gold rush, this highway travels through many old mines and historic villages. Check out the Moaning Caverns and the town of Calaveras — made famous in Mark Twain's tale "The Celebrated Jumping Frog of Calaveras County"—where the jumping frog contest is still an annual event.
Along with the many mining towns, the trip passes hundreds of family-owned vineyards and wineries. The lush vegetation is also dotted with wildflowers throughout the warmer months, making this a lovely route.
Primarily located in Wyoming, the park has sections in Montana and Idaho, as well. It is a richly forested area with many geothermal features, lakes, and waterfalls. Probably its most recognizable feature is the Old Faithful Geyser, which erupts approximately every 90 minutes. This isn't the largest geyser at the park, or the most "faithful."
Wildlife includes grizzly bears, black bears, wolves, moose, elk, and bison, among others. The drive is scenic and there is plenty to do if you want to stay, such as camping and hiking.
8. Big Bend Scenic Loop, Texas
Considered a great way to leisurely enjoy the Big Bend National Park, this road trip takes about a day. It provides you with all of the scenery of the larger-than-life southern Texas park from the comfort of your vehicle. Mules Ears Peak and Mariscal Mine are two favorite spots.
Indigenous animals include bison, antelope, prairie dogs, bats, coyotes, cougars, ocelots, and roadrunners to name a few. With an abundance of native vegetation and wildflowers, this route is a delight.
9. San Juan and Million-Dollar Skyway in Colorado
An All-American Road, this route passes from Durango, Colorado, and into San Juan National Forest. It passes impressive Lizard Head Peak, Mount Sneffels, follows the Dallas Divide, and crosses Bear Creek Falls. Some of the other majestic features include the colorful Red Mountain Pass and Alpine Loop National Back Country Byway.
Originally consisting of a series of mining communities, this route offers abandoned mines and ghost towns galore. There is also a monument honoring those who lost their lives in the many avalanches in the area.
10. New England, Massachusetts to Connecticut
Traveling from Massachusetts, through Rhode Island to Connecticut, the New England road trip is perhaps, best planned for the autumn months. Begin with Massachusetts's Mohawk Trail, which is known as the first "scenic highway." Then take a turn on the Appalachian Trail.
This route passes museums, Revolutionary War homes, centuries-old covered bridges, and the oldest working carousel. If you make this journey in the fall, you will be met with thousands of other "leaf peepers" who trek there annually to view the majestic autumn vistas.
11. Michigan's Gold Coast in Michigan
Three hundred beaches line the coast of Lake Michigan. Enjoy the scenery or go swimming, paddle boating, skim boarding, dune climbing, or beach combing. It is one of the best-kept secrets among beach-goers.
With reduced rental spaces for artists and writers, Grand Rapids, Michigan also has one of the largest "up-and-coming" art communities. Contemporary artists are encouraged to display their work throughout the city to participate in a huge competition with equally huge prizes. Also, the beautiful 118-acre Frederik Meijer Gardens features sculptures from some of the most recognizable masters like Rodin and Lautrec. This area offers something for everyone.
12. North Shore Scenic Drive in Minnesota
Known as the "Land of 10,000 Lakes," it isn't surprising that Minnesota has some lovely terrain in which to pass your time. Although the Twin Cities or Minneapolis and St Paul offer plenty of art, sports, and eateries, the northern areas are some of the prettiest around.
This journey takes you through the wilderness next to the shores of Lake Superior past beaches, cliffs, waterfalls, and lighthouses. There are multiple trails for hiking, but Minnesotans know the real purpose for them is for snowmobile riding. Minnesotans love their winter sports. Wildlife includes black bears, moose, and elk.
Designated one of 32 All-American Roads, this loop follows a series of lakes and rivers surrounding the Selkirk Mountains in the Northern Rockies. Native Americans, gold prospectors, and early settlers originally used this historic trail. It offers crystal clear waters and mountain trails with snow-capped peaks.
This route features abundant wildlife. Some of the specimens include bald eagles, black bears, brown bears, bison, caribou, and big horn sheep. This is a classic wilderness.
In Conclusion
Taking to the open road with friends, family, or even on your own is a great way to spend time. Whether you are looking for a vacation or just a day trip, these locations can provide inspiration and plenty of beauty to help you lose yourself in the terrain. Please share with others you know who enjoy a nice drive and some inspiring scenery. Then hit the road.