RV Decor & Unusual RVs
September 17th, 2015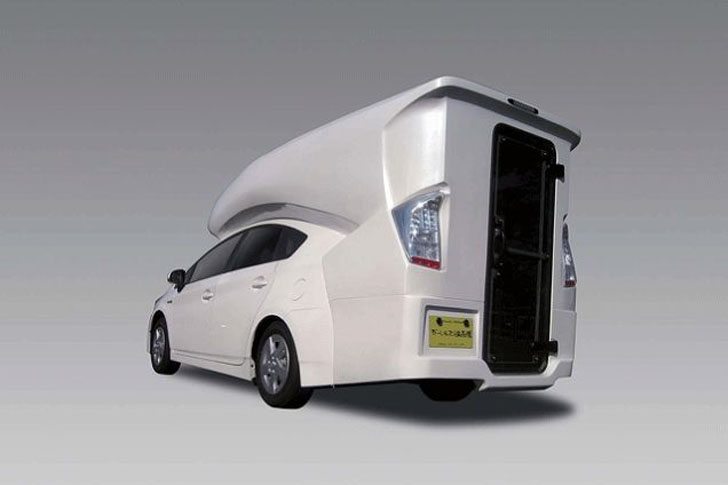 When you think of a Toyota Prius, what is the first thing that comes to mind? I can almost guarantee that a camper wasn't anywhere on the list.
Well, get ready because Japanese conversion maker, Camp Inn is changing this perception. They've created a modern and chic RV out of the Prius vehicle that can sleep up to 4 people.
The final product won't win any beauty contests, but looks don't matter, right? This Prius is an excellent example of an RV conversion for the modern camper.
The lower cabin of the Prius is roomy enough to hold a double bed. Simply fold the back seats of Prius down, and voila! It also has a compartment above the driver's head that provides an extra sleeping area.
Behind this upper berth is a skylight and two large windows that bring light and fresh air into the space. This creates a sense of openness that makes the interior of the cabin seem bigger than it actually is.
The designers added an extra 20 inches to the original length of the Prius for more interior space. They also lifted its roof to provide an inside height that surpasses 7 feet. Even tall people are able to fit comfortably in this compact camper.
The cabin has curved lines that create an ergonomic vibe. This does wonders for the interior and makes the space seem cozy and warm. It's a drastic change from the feel of a normal, angular motorhome.
The Prius camper comes with a scaled down dinette and kitchenette. Plus, the back seats can be folded into a sofa to make room for a small dinette table. There are also optional add-ons, like a sink, that are perfect for long term campers.
Believe it or not, the Prius camper has enough space for both a microwave and small fridge. Both devices are run off of the Prius' rechargeable battery pack. The 100 volt battery is also great for supplying power and recharging electronic gadgets. Simply plug these devices in one of the standard outlets and you are good to go.
If you are interested in one of these babies, you can expect to pay about $36,000 for a base model. If you already own a Prius, it will cost you about $20,000 to convert it into a motorhome.
What do you think of the Prius camper? Would you like one of your own? Share your thoughts in the comments below.
Source: Jalopnik