Travel Inspiration
Last updated on January 17th, 2023. Originally published on April 17th, 2019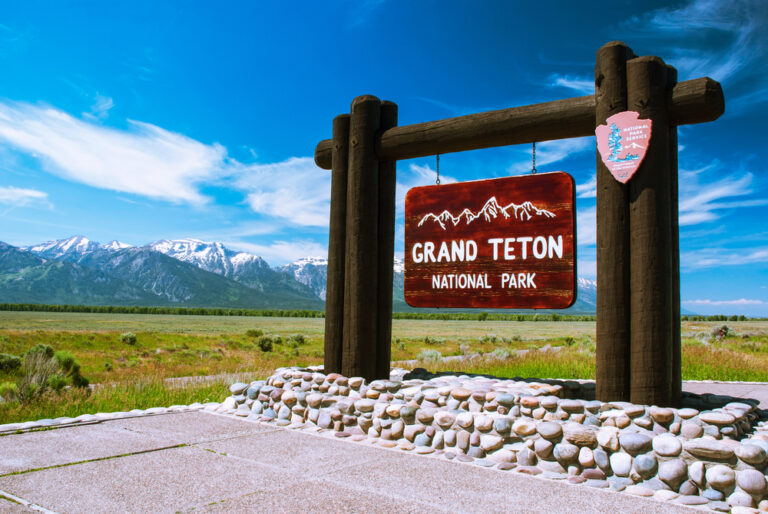 National parks are some of the very best RV destinations. These parks are home to some of the most beautiful sights our country has to offer, they hold endless opportunities for outdoor recreation, and many even include RV camping options within their gates.
Clearly, national parks are an outdoorsy person's paradise, and we're pretty convinced every RVer should make a point of checking out every park they can. That said, there is always the budget to consider, and since many national parks charge entry fees, travelers on a tight budget might be looking for ways to skip those fees. Fortunately, this is totally possible, and it doesn't have to mean skipping the parks.
In this article, we will discuss national park fees and ways to cut down on costs when visiting the parks so you can continue your RV adventures without breaking the bank.
National Park Fees
There are some NPS sites that don't charge any fees at all. That said, most of the biggest and most popular parks do charge some sort of entry fee. These range from very minimal amounts all the way up to $35 or so.
In many cases, the amount you pay at the gate of a national park is based upon the type of vehicle you bring in, and often the fee is per vehicle rather than per person. Depending on the park, your entry fee might allow you access to the park for a single day or for up to a week.
It's important to note that entry fees may not cover additional activities. For instance, things like cave tours, bike rentals, and camping will cost more.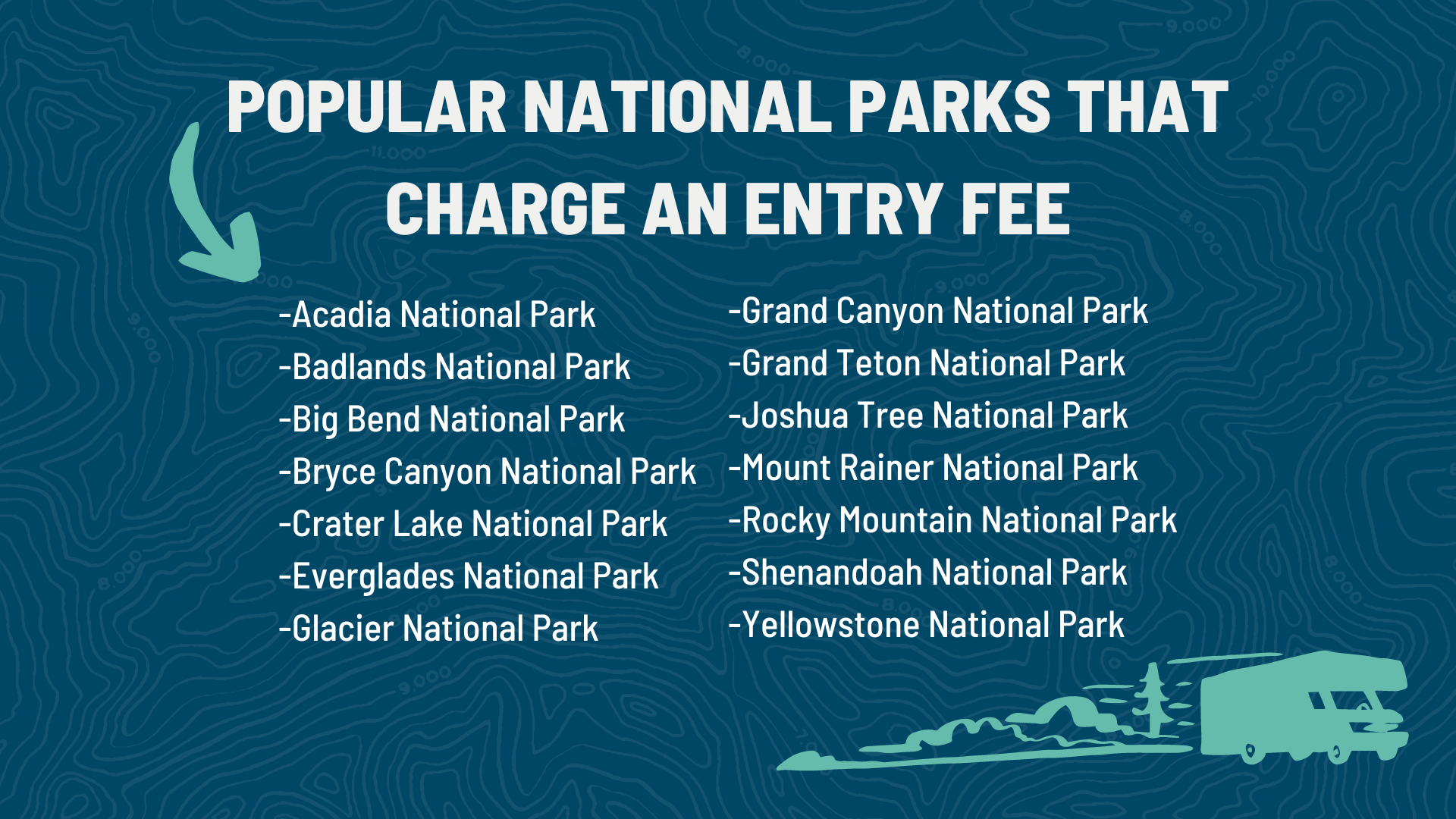 How to Get Free Entry to the National Parks
Let's say you want to visit a national park but just can't pay a fee. This is where the national parks' fee-free days come into play. There are five of these days in 2023, and all entry fees are waived on these dates. Fee-free days are the perfect time to check out the big parks with high entry fees without spending a single dime.
2023 national parks fee-free days include:
Jan 16th

: Birthday of Martin Luther King, Jr.

Apr 22th:

First day of National Park Week

Aug 4th:

One year anniversary of the Great American Outdoors Act

Sep 23th:

National Public Lands Day

Nov 11th:

Veterans Day
While visiting on these days will allow you to enter the park free of charge, you will still be charged for any extra experiences you opt for, so be sure to budget accordingly.
National Park Annual Pass
Can't visit on any of the fee-free days in 2023? That's okay! Choosing a free day isn't the only way to save on national parks entrance fees.
Another great option? A national parks annual pass!
The first annual pass option is the "America the Beautiful" pass. This membership gives you free admission to more than 2,000 federal recreation sites all across the USA, including every single national park. There is an $80 fee for the pass, and it is good for 12 months. It covers the driver and all passengers within a single vehicle, or up to four adults at sites that charge per person (people ages 15 and under are admitted free at these locations). If you are planning to visit more than 3 National Parks in 12 months then this pass would save you money in the long run!
While the pass above is the option available to everyone, there are a few other passes available to select groups:
Because visiting the national parks is

such a great learning opportunity

, the folks at NPS wanted to make sure all kids get a chance to visit. Enter the 4th-grade

pass. 4th-grade students can get a standard annual pass free of charge! This pass is available beginning in whichever August the student starts 4th grade, and it's good for a full year.
Those with permanent disabilities and active duty military members can get a national parks annual pass for free. This version of the pass is extra helpful, as it includes discounts on camping and other additional amenities.
Seniors ages 62 and older can get a lifelong annual pass for $80. Alternatively, seniors can choose to pay $20 a year. Either way, seniors also receive extra discounts.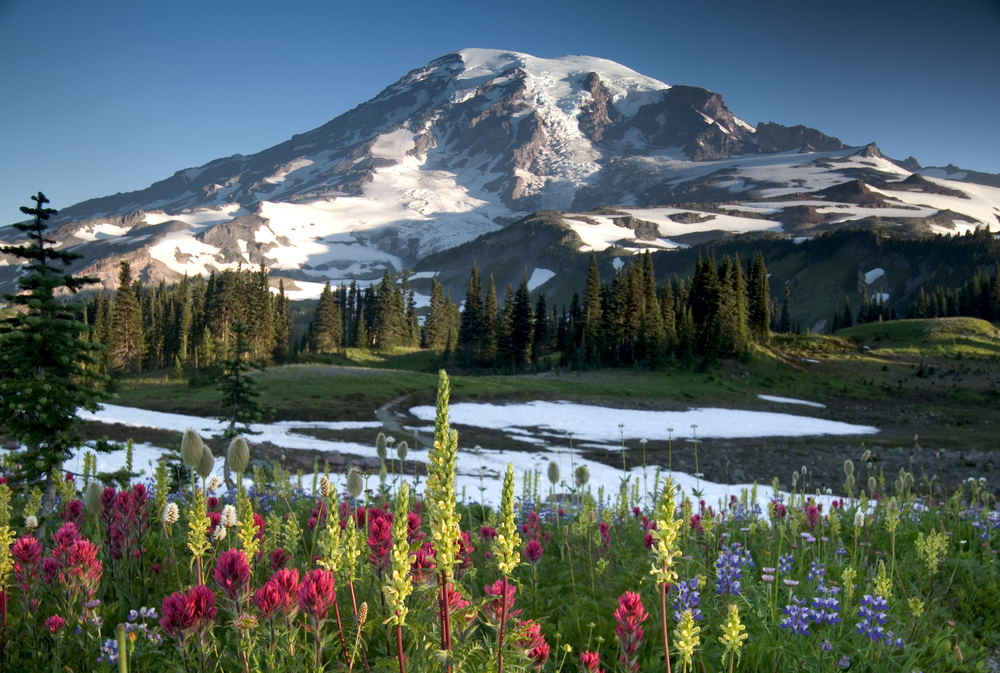 National Park Camping
While it is totally possible to park your RV outside of a national park and drive in for the day, camping inside a national park is an amazing experience. That said, there are some things you'll want to know before planning your national parks RV camping trip.
As mentioned before, camping is not included in the national park entrance fee paid at the gate. Instead, you will need to pay for a campsite in addition to the entry fee. Usually, this fee is somewhere between $5 and $25 and rarely do the campsites within NPS parks include hookups of any kind. 
It's also important to know that not all national park campgrounds can accommodate RVs, so you will want to be sure to check on this before going in. Additionally, not all NPS campgrounds take reservations, but those that do can often be booked up months in advance, so know that going in.
National Parks Near Me
Now that you know what to expect in terms of national park fees—and how to save money on those fees—the next step is finding a park to explore. While the west side of the US is where many of the most famous parks are found, there are actually NPS sites hidden around every corner in our amazing country. Therefore, it should be pretty easy to find a place to do some national park adventuring. 
One of the easiest ways to go about this is to search Google for "national parks near me". Of course, if you're headed out on a road trip, you'll want to search beyond your own backyard. In this case, head to the NPS website for information on parks in any given area.
No matter how far you travel or which parks you choose to visit, be sure to book your ideal rental RV on RVshare in order to fully immerse yourself in the magic of the national parks of the United States.