Take Your Job On The Road: The Motorhome Revolution Is Here!
RV Owners
August 3rd, 2015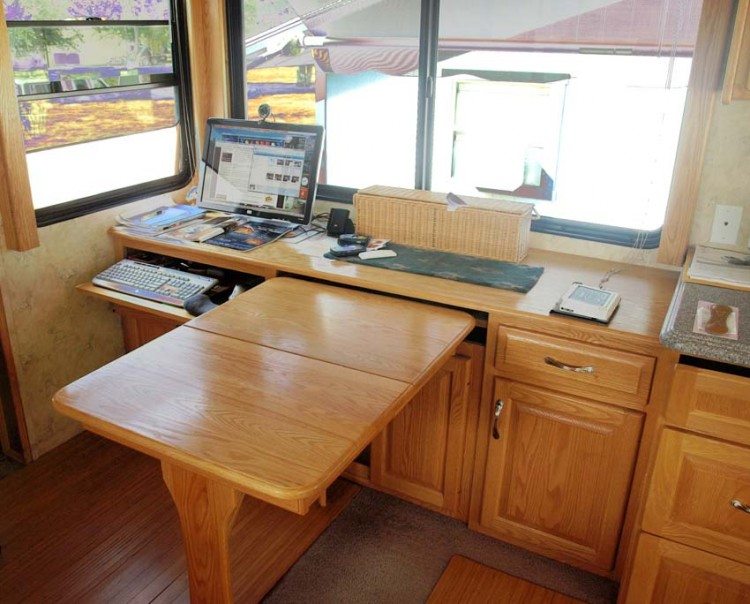 The mobile revolution has changed the way we work. No longer chained to the desk, workers are cutting ties and hitting the road to embrace freedom.
That's what Chris Dunphy of the website Technomadia did nine years ago. He left his Silicon Valley life, bought a teardrop trailer and hit the road. Goodbye work commute, hello adventure. To his amazement, he met a kindred spirit in Cheri Ve Ard, a software developer with a wandering spirit. Together they formed Technomadia and currently live and work in a vintage bus conversion.
Technomadia helps other RVers navigate the mobile tech lifestyle through their free webinars as well as a paid membership site. The couple wrote the Mobile Internet Handbook, a how to  guide designed to help the internet worker on the go, and run a companion website that they update with relevant mobile tech information.
This tech savvy couple is not alone in their desire to live on the road before reaching retirement age. There are many from the non-retirement crowd who are taking their lives and jobs out on the open road. Even families with kids are getting in on the act with road schooling. Motorhomes sales are on the rebound, and this time its more than the retired who are driving the sales craze.
The recession had a big impact on the way consumers feel about life. Once eager for bigger and better, many now long to simplify life and enjoy the experience. Less things and more experiences is a common theme among the new mobile generation.
RV manufacturers are taking note of the new trend. Sales of Airstream trailers are going through the roof and the company is expanding its production by 70 percent in order to keep up with growing demand. They are currently creating a concept model that offers a home office in the rear of the trailer for the new working age RVer.
The trend is moving toward lighter, smaller motorhomes that are easy to maneuver and travel trailers that are lighter and can be pulled with a variety of SUVs or non-truck options.
As electronics have become more affordable, many RVs offer flat screen TVs and updated sound systems. They also include options such as outdoor kitchens, sidewall grills, solar pre-wire, and outdoor televisions.
Gone are the days of RV travel being for just the retired. Young professionals are choosing to experience life and spend money on gas and camping fees instead of a traditional mortgage.
With the small-home movement gaining traction across the country, this might seem like the next logical extension, as many RVs have comparable square footage. A nicely appointed RV is usually much cheaper than a vacation cottage, or even most homes, which is another reason young professionals are increasingly choosing to spend money on gas instead of a traditional mortgage.
So what type of jobs can you do while traveling? Really just about anything. Here are just a few of the careers you may see on the road.
Software developer
App developer
Web designer
Graphic designer
Writer
Professional Organizer
RV repair
Contract work: Electric, Nursing, Railroad, Natural Gas Detection
Life Coach
Investors
Bookkeepers
Amazon FBA
Hearing Aid Testers
Nascar Support Teams
Many non-retired RVers also choose to work camp their way across America. Work campers help to run campgrounds all around the country. Daily jobs are available on a variety of sites such as workamper.com and workersonwheels.com. Pay is low, but you get the benefit of a place to stay along with full hookups. Combine that with an online freelance position and this may be an option.
For more mobile opportunities, check out the website Real Ways To Earn Money Online. This site shares listings from a variety of work at home opportunities. It also reviews dozens of potential jobs so you know exactly what to expect after applying. Positions range from phone support to virtual assistants with many companies hiring  seasonal. One of the best things about online jobs is some can be done around your own schedule making them perfect for travel.
Have you ever thought of taking your life on the road? What's stopping you? What type of RV would you like as a tiny home? Add your comments in the box below. We love to hear your thoughts.
Like this article? Share it with your friends!
Source: Outside Magazine