Renting an RV
Last updated on July 21st, 2022. Originally published on March 2nd, 2021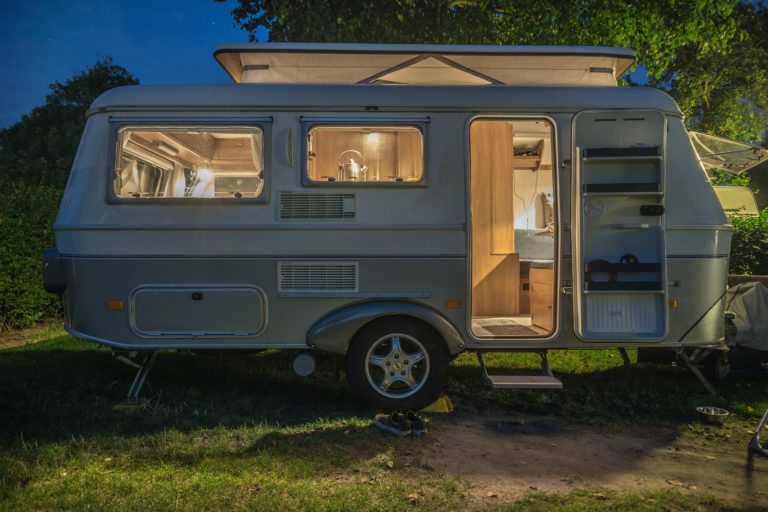 In this article we will discuss the top 10 mistakes people make when renting an RV, so you can be sure to avoid making the same mistakes and ensure you have a fabulous time on your RV adventure.
1. Not Going Through a Reputable Company
The first and one of the most important mistakes to avoid is renting from the wrong source.
If you usually stick to hotel stays, renting an RV for your vacation can be a bit nerve-wracking. Fortunately, as long as you know the mistakes to avoid, there really isn't anything to worry about. But what are those mistakes, and how can you make sure you avoid them?
There are many ways to rent an RV. Some people choose to rent directly from individuals, but this is risky, as there is nobody to help sort things out should something go wrong. Therefore, we recommend renting through a reputable company such as RVshare, which allows you to rent from an individual while still maintaining a good amount of protection.
2. Location Misunderstandings
Location is key when choosing lodging for a vacation. It's important that you stay somewhere close to the attractions you want to see. Because RVs have wheels, it is possible to rent a rig a good distance away from where you'll actually park, but it's still a good idea to double check the location of your rentals so you know what to expect in terms of travel time.
3. Judging an RV Only by Photos
A picture may say a thousand words, but they don't always tell the whole story. Therefore, while we definitely do recommend checking out the photos in the listing you're considering, we also recommend actually reading the description so you have a good understanding of exactly what you're getting.
Surprisingly, skipping over the description is one of the most common mistakes to avoid.
4. Not Double Checking Amenities
This mistake goes hand-in-hand with the one mentioned above. Many people make the mistake of assuming an RV will have certain amenities based on similar listings, photos, or the price of the rental. If you're hoping for specific amenities to be available, make sure you look at the listed amenities to ensure the RV includes everything you need to be comfortable.
5. Skipping Over Reviews
Another thing you should definitely read before renting an RV? The reviews, of course. Reviews give you a little peek into the experiences of other renters, so you have an idea of what to expect and can feel reasonably confident the rental is decent and that the owners are responsive and helpful. 
6. Setting Expectations Too High
When renting an RV, it's important to realize you won't be staying at the Ritz. While it is perfectly reasonable to expect a clean RV with functioning appliances, you certainly won't have turn-down service or a housekeeper knocking on your door each morning. Set your expectations where they ought to be, and you might just avoid a good amount of disappointment.
7. Lack of Renter-Host Communication
The thing about renting from an individual is that you are actually building a relationship. You have to trust the person you're renting from with your vacation, and they have to trust you with their trailer or motorhome. Developing this trust and building your relationship requires good communication from both parties. Make sure you respond to questions promptly both before and during the rental, and communicate any concerns or issues that may arise while using the RV.
8. Not Following Rules and Guidelines
When an RV owner lists their trailer or motorhome for rent, they tend to put a set of rules into place in order to protect their rig, themselves, and their renters. These rules are generally very reasonable and easy to follow.
Failure to follow the rules an owner puts in place could result in damage to the RV, meaning loss of your deposit and dealing with insurance companies. Worse yet, breaking the rules could even mean you get injured on your trip, potentially landing you in the hospital and ruining your trip.
9. Skimming Over Cancellation Policies
Another thing owners must carefully consider when offering their RV for rent is their cancellation policy. Unfortunately, many renters don't take the time to read these policies and they regret it later.
If you rent through a reputable peer-to-peer RV rental company, this policy should be pretty easy to find on each and every listing. Find it, read it, and keep it in mind when booking, knowing that if your plans change, you will need to abide by whatever cancellation rules the owner has put in place.
10. Forgetting to Follow Check-Out Procedures
When renting an RV, there are often a few things renters are asked to do before returning the rig. These might include stripping the beds, washing dishes, and dumping the tanks—all tasks that help the owner prepare the RV for the next renter.
That said, there are many renters who opt to skip these tasks at the end of their trip. It's important that you understand that there are some owners who will charge uncooperative renters an extra cleaning fee or dump fee if they don't follow check-out procedures. For this reason, we highly recommend doing these simple tasks before dropping the trailer or motorhome off in order to ensure you end your trip on a good note.
Knowing these mistakes to avoid will definitely help make your trip go as smoothly as possible. Not only that, but making a point of skipping the usual mistakes will make you a standout renter, meaning the owner you work with will be more likely to rent to you again in the future.
Helpful Hacks for RV Newbies
Now that you know what mistakes can be made and what to avoid, let's take a look at some helpful RVing hacks.
1. Make a budget.
Whether you're going to be a full-time RVer or just adopting it as your new favorite way to take a weekend vacation, know this: no, it's not necessarily a cheap way to travel.
Many people mistakenly assume that RV camping is a dirt cheap way to see the country, or a great alternative to shelling out a monthly rent or mortgage payment. And it certainly can be a relatively affordable way to live… if you make it one.
But there are expenses that come along with RVing, many of which are unavoidable. For example, you'll need to pay registration and insurance on your vehicle, not to mention any monthly payment you might owe if you took out a loan to buy it. Then there's fuel to think about, and RVs aren't exactly known for being lean, green monsters when it comes to gas efficiency. You may also need to keep your propane tank filled, not to mention the food you need to fuel yourself and your family.
Furthermore, many newbie RVers are surprised to learn that campgrounds are almost never free, even if you're out in the wilderness. You can find free boondocking spots, sure, but you'll be subject to certain restrictions, and you won't have any hookups for water or electricity. You'll still need to pay to dump and fill your tanks when you get back to town.
In short, you should know what you're getting into financially before you set out on your grand adventure. Making a budget ahead of time will save you some teeth-gritting down the line. Oh, and don't forget to include a nice, cushy emergency fund, because something will break down while you're on the road. It's nigh guaranteed.
2. It's alright to be slow.
We mean this two ways.
First of all, literally, physically, while you're driving down the road, you're probably going to want to take it a little easy. Your RV most likely weighs way more than anything else you've ever driven, and it's big, which means it has a tendency to be blown around by ambient wind or large trucks driving by. Braking takes longer, and curves and grades offer a whole new level of white-knuckle nervousness. So go ahead and slow down — just stay in the right lane so those eager folks in their sedans and compact SUVs can zip by you!
The second way we mean this is on the larger scale: the familiar RV newbie trap of trying to see too much at once. We know that incredible feeling of liberation all too well; it's so tempting to try and hit as many destinations as possible as soon as you can. But if you try to do too much, you'll do nothing but wear yourself out… and the whole point is to enjoy your travels, right?
3. Plan ahead — but not too far ahead.
Take your trip as slowly as if you had all the time in the world. You'll more thoroughly enjoy the destinations you do manage to hit — and you can always take a dedicated trip to those other places later.
This goes along a little bit with what we were saying in the second bullet point.
Basically, you want to have some idea of where you're headed when you start driving in the morning. Otherwise, you'll barely know which way to go! Plus, if it's a popular travel season, like summer, you may find yourself without a nice place to camp once your eyes start feeling heavy.
But if you schedule out your whole vacation ahead of time, you don't give yourself any opportunity for those spontaneous decisions that make road tripping so unique and so much fun. So even if you're the kind of Type A personality who's tempted to have every day booked from dawn until dusk, be sure to give yourself a little room for flexibility. You'll be glad you did when life's beautiful little surprises inevitably find you on the road.
4. When you set up and break down camp, do a walkaround and keep a checklist.
It might seem like no big deal to set up camp — just put down the leveling jacks, plug into the electricity, and hook up the water, right?
Well, maybe not. Do yourself a favor and create a camping set-up and break-down checklist, and perform a thorough walkaround any time you're getting ready to drive your rig.
Trust us — you *will* forget about your antenna or stairs at least once otherwise. You may even end up dragging your sewer cable down the street. 🙂
5. Don't take off without a decent set of tools.
We mentioned it briefly above, and you're more than likely about to find out for yourself: when it comes to RV camping, things will break. It's just the nature of the beast.
Your RV is subject to constant temperature fluctuations, movement and vibrations. It simply makes sense that things will occasionally fall apart.
Don't sweat it — expect it. And bring tools.
And don't worry: if you're not "handy" yet, you will be soon.
6. Learn to conserve water, even when you don't necessarily have to.
Even when you're hooked up to city water and sewer, it's a good exercise to get used to conserving water as much as possible so you won't have to pull up camp prematurely when you finally do set out boondocking. Take your rig on a practice run while you're still in range of a dump and fill station, relying on the tanks to get a feel for just how much potable and wastewater your RV really holds. Figure out how to shower quickly and efficiently, turning off the tap while you soap up. Rely on low-cleanup meals to avoid excessive dirty dishes.
One good tip for extending the length of your water tank capacity: consider reusing your greywater, the relatively-clean wastewater that's drained from your sinks and shower, for flushing the toilet later on. And carry extra potable water so you don't only have your clean water tank to rely on!
7. Don't panic!
At the end of the day, RVing is all about adventure. And like we said, things will go wrong.
The most important thing to remember is that this is why you chose this crazy lifestyle in the first place: To see the world, to be challenged, and to experience life head on. Plus, you know know what mistakes to avoid and some helpful hacks. You can do it, and we're all standing by to help you along the way.
Ready to try your hand at renting? Check out the thousands of RV rentals available right here on RVshare and book your favorite today!