Travel Inspiration
Last updated on November 7th, 2022. Originally published on August 25th, 2015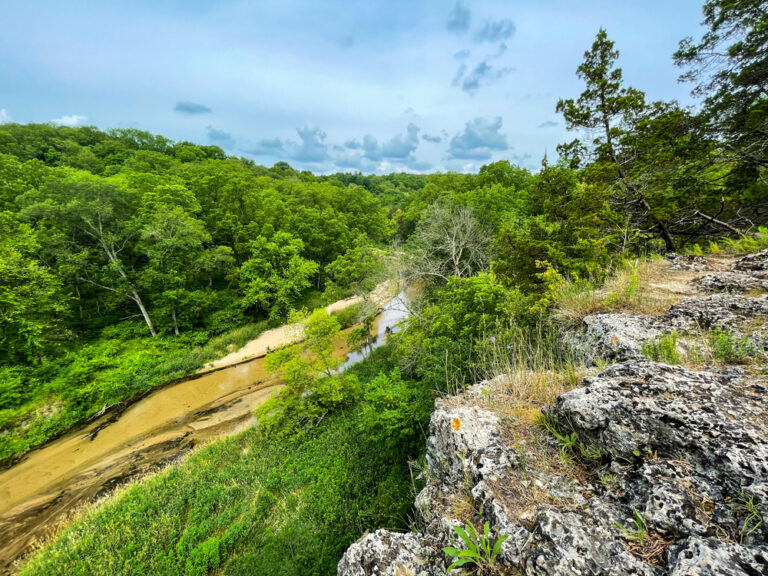 What would summer be without camping at one of the best camping spots in Iowa? There is nothing like sitting around a campfire, laughing, singing, roasting marshmallows, and telling stories at night.
Make memories this summer at a great campground in the beautiful state or Iowa. Here are the top 10 Iowa camping spots that are sure to inspire.  
This is an incredible park for families and pets, providing you with plenty of family friendly and pet amenities, such as the pool, playground, and pet area. In addition, it features walking trails, electric or non-electric sites, shower buildings and an RV dump station. What's more, if you don't want to bring your tent or RV you can stay in one of the park's contemporary one and two bedroom cabins, equipped with air conditioning and heating.
Ledges State Park features 95 drive up campsites (some with electric hook-ups) and 12 hike-in campsites. The rest rooms are modern and equipped with showers to provide you with maximum comfort. The park offers numerous hiking trails and plenty of river activities such as fishing and boating.
Saylorville Lake is a beautiful camping spot located near Des Moines. You can choose from four Army Corps of Engineer campgrounds — Prairie Flower, Cherry Glen, Bob Shelter Campground, or Acorn Valley. Both Chery Glen and Prairie Flower offer electric hook-ups, while the other two are dry camping only. The area offers plenty of recreational activities like fishing, hiking, horseback riding, picnicking, hunting, and walking or jogging.
Lake Red Rock Recreational Area offers many campsites to suit your needs and preferences. Whether you want to pitch your tent or stay in your luxurious camper, the area has it all to make your camping trip memorable. This large lake provides many activities such as fishing, picnicking, or visiting the beach. All you have to do is to simply relax after a fun-filled day in your tent or camper at one of the many area campgrounds to make it into a perfect getaway.
Located on a lake in northwestern Iowa, Mill Creek Park is a beautiful camping spot offering 48 campsites along with plenty of things to do. The amenities include playgrounds, a dump station, flush restrooms, a swim beach, and natural trails.  You can swim, fish, boat, and camp at sites with WiFi, electricity, water, and cable.
A perfect park for outdoor enthusiasts, Lake Macbride State Park offers many outdoor activities to keep you busy throughout the day, and two convenient campgrounds for relaxing at night. One campground features cable, electricity, well-equipped bathrooms, and a dump station, while the other offers dry camping only.
This picturesque park is one of the most photographed places in all Iowa. In addition to a beautiful setting, Pikes Peak State Park offers 77 campsites with and without electric hook-ups. In addition to campsites amid beautiful surroundings, it also offers activities such as hiking, biking, and sightseeing. For kids, the park features a stone shelter and playground.
Take a break from your busy life and visit Coralville Lake for a weekend surrounded by amazing scenery and plenty of recreational activities. The lake offers three campgrounds —  the Dam Complex, Sugar Bottom Recreational Area, and the Corps Lake Gateway Campgrounds for a total of over 500 campsites.
Enjoy camping with caves and matured pine trees at Maquoketa Caves State Park. It offers 29 campsites, some with electric hook-ups. This is one of the best places to see limestone formations, caves, and rugged bluffs.
Stone State Park in Sioux City features 30 campsites, including 10 sites with electric hookups. For larger groups, it has a large group site. You can even camp in their camping cabins, which come equipped with air conditioning and heating. The park is well known for its trails, forests, and wildlife.
Want to escape into nature? Check out the best boondocking in Iowa!