RV Owners
June 18th, 2020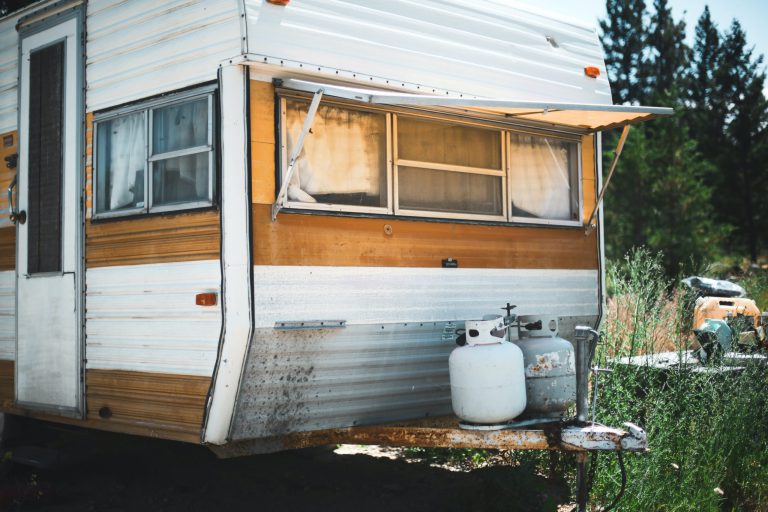 There's a very good chance your RV has some motorhome propane tanks that either came with your rig, or that have been added afterward for cooking, or to run your water heater or absorption fridge. To make sure those propane tanks are safe, they need to be certified. If your own concern for your safety isn't enough, it's also the law that these tanks be certified…or, if they're older, be recertified.
How to recertify a propane tank
If you have a 20 lb tank, you can keep swapping it out – simply bring the empty tank to a retailer and they will give you a full tank (for a fee, of course!) that is already certified. However, propane tanks require recertification after 12 years. If your tank is old, or if it's a larger tank that you haven't been swapping, you'll need to do a motorhome propane tank recertification.
Tips on motorhome propane tank recertification
Recertifying your propane tank isn't hard, or even that expensive, but it's one of those maintenance issues you should stay on top of.
How often do you have to recertify propane tanks?
New propane tanks should be good for 12 years before needing to be recertified, and they need to be recertified every five years after that. As of 2017, certain propane tanks need to be recertified ten years after their purchase. There are also some tanks that are classified as one-time use propane tanks which are dangerous to refill and which come with serious legal penalties if you try.
Propane Tank Certification Locations Near Me
The best way to find out where to get propane tank recertified is to google "where to get propane tanks recertified near me." AmeriGas is one propane retailer that has propane tank recertification locations nationwide, and there are likely other local places near you.
Where can I get my propane tank recertified?
If possible, also check reviews or get recommendations for a propane retailer, especially if you're in an unfamiliar area. You may want to call ahead to find out the best time to bring your tank, especially if you're using a smaller dealer. As far as how to get a propane tank recertified, simply call up the retailer you've selected and make an appointment or find out when you can bring your tanks in. The certified technician performing the job will use special tools to check for leaks and will do a pressure test of the main valve.
Recertify Propane Tank FAQ's
How do I know if my propane tank has expired?
Near the primary valve, on the collar of your tank, you should see the manufacturer date stamped onto the tank. It's possible, if you're swapping out tanks, that they have been repainted to make them look good. Check carefully for the stamp near the top to see if you can see the date. You may also want to check the date if you're swapping your tanks out at a dealer you're unfamiliar with, to be sure they're not giving you old tanks that could expire soon.
After tanks have been recertified, they should get a propane tank recertification stamp or sticker so you know when they need to be checked again.
How long does my propane tank recertification last?
When you get your propane tank recertified after the initial 12 years, you have five more years before it needs to be checked again.
Is there a penalty for not getting my tank recertified?
Generally speaking, there isn't a fine or penalty for using a tank that hasn't been recertified. However, propane retailers are required by law to check the certification stamp, and if yours is past the limit they will most likely not refill it.
How much does it cost to have a propane tank recertified?
The cost to recertify a propane tank should be between $35-60, depending on who's doing it and where you are. You may want to call around for quotes if you're in an area where you aren't familiar with the local propane retailers. If you're looking at recertifying a smaller tank, it may actually be cheaper to simply buy a new one rather than pay to have it inspected.
If my tank fails recertification, how to I dispose of it?
It's likely the place where you have your tank tested will offer to dispose of a bad one for you. Be sure to ask beforehand if this is an extra fee. You can also find a hazardous waste facility and see if it costs to bring your tank to them, or schedule a pickup. Some trash collection agencies will pick up almost anything on your curb for trash day, and some cities also have special disposal days where they will haul away just about anything including these tanks.
Can I test my own propane tank?
According to the law, only certified professionals can test or alter a propane tank. While there are no penalties for using a tank past its date, there definitely ARE penalties for modifying or altering your propane tank in any way if you are not certified. Also, it's extremely dangerous!

Checking that your propane tank is safe and in good working order is one of those pesky maintenance issues that come with owning an RV, but doing the work to make sure you're all certified can keep you safe and prevent a headache when you're on the road.

[similar_ai_related]