RV Owners
August 6th, 2019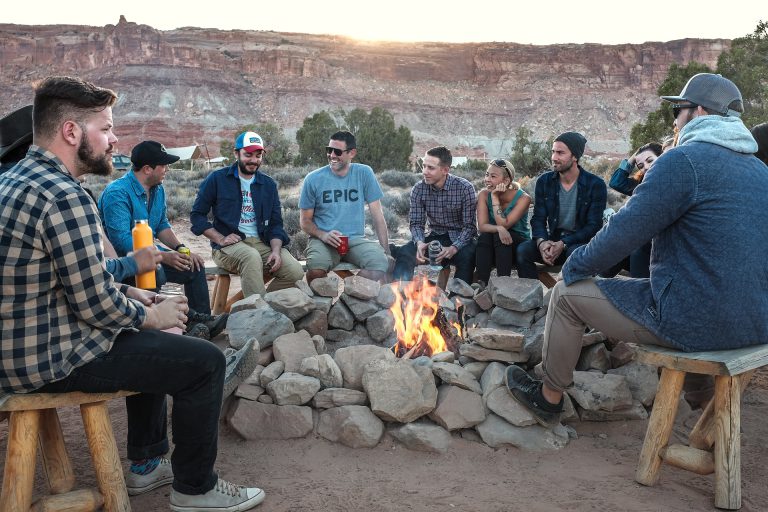 One of the number one concerns people have when considering traveling in an RV full-time is how they will socialize. This is a legitimate concern. After all, if you're lucky enough to have a good community where you are, the thought of losing it is not a nice one.
Heck, even if you don't have a great community already, you may be hesitant to hit the road and lower your chances of finding "your people".
Fortunately, there really isn't anything to be worried about. In fact, many full-time RVers find that they have an even bigger circle of friends once they get out on the road and start making a point of meeting new people.
You see, traveling opens up a whole new world of potential relationships. All you have to do is know where to look, and then make a point of seeking them out.
Quick Ways to Make New Friends in a Campground
The first and sometimes easiest way to dip your toe into the world of making friends while traveling is by introducing yourself to the people in the campgrounds you visit. Both full-timers and weekend campers tend to be pretty friendly, and finding someone to chat with should be no problem at all.
If it seems very few people are out, consider heading to the pool or rec hall, where folks tend to congregate. Go to events hosted by the campground and make a point of striking up conversation. You could even knock on your neighbor's door and invite them over for a campfire.
Sure, you may feel uncomfortable at first, but as soon as you start meeting new friends, you'll be glad you overcame this uncomfortable feeling.
RVing Organizations to Meet New People
Just can't get comfortable approaching strangers? An RV organization made specifically to help RVers find like-minded friends might be a good option instead. Escapees (and their Xcapers branch for working full timers), Fulltime Families, and other such clubs will give you an opportunity to meet friends at rallies and other events. Sometimes these organizations even host caravans!
After meeting someone you enjoy spending time with, make a point of meeting up with that person again down the road. Caravan together or meet up here and there for a week or two at a time. By doing this, you can create a strong bond that will last for years to come.
Continue gathering friends in this manner and your circle will grow, your relationships will blossom, and you'll have an incredible community that travels right along with you.
Where to Find Friends Online
Finally, there is the option of making friends online. The organizations mentioned above give members an opportunity to do this, to some extent. However, there are other ways to go about this as well.
We highly recommend joining Facebook groups that revolve around full-time RVing. Some groups are even more niche, catering to a specific demographic and/or RVers with very specific interests. Find a few that seem like they might suit you and hop right into the conversation. If you find a person or two that seem like they may belong to "your tribe", plan to meet up in person to further grow your relationship.
Another option for meeting friends online is to go to forums and sites such as IRV2, RVillage, and RV.net. These forums work a bit differently than Facebook groups, but offer the same opportunity to connect with those who think like you and make connections that can travel with you wherever you go.
Some of these forums even have their own smartphone apps, making it even easier to make friends and stay connected.
Keeping in Touch with Your Travel Buddies
Obviously, you can't stay with your traveling friends all the time. Still, it is totally possible to stay in touch throughout your adventures. One of the best tools for doing so is social media, and if you don't have social media accounts, we 100% recommend setting up a couple.
As mentioned before, you will also want to make plans to meet up with your friends whenever possible. This might mean attending the same rallies or other get-togethers, or it could just mean planning to be in the same place at the same time.
In many cases, it's possible to gather more than one friend at a time, making for some pretty fun socialization opportunities. Some groups of friends even plan caravaning adventures, which can be a ton of fun.
As you can see, making friends on the road is really not an issue. RVers are some of the friendliest people around, and as long as you're a welcoming person, there will almost always be someone to share your campfire with.