How Tos & Tips
March 13th, 2019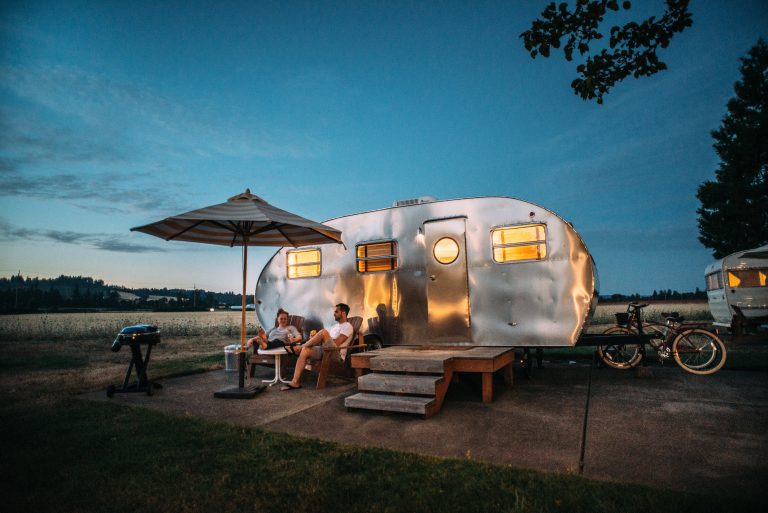 When it comes to stocking your RV with camping supplies, it can be hard to know which are the best RV accessories. However, because of weight limits, you really only want to carry around the must-have RV accessories. Therefore, determining what is an RV must-have—and what is less than necessary—is an important step you must take before shopping for RV camping supplies.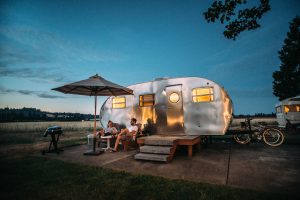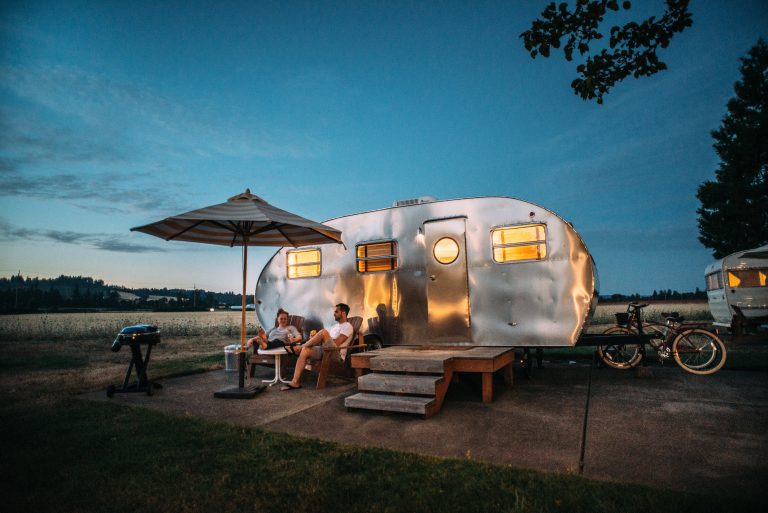 RV Must Haves
Lucky for you, we have plenty of camping experience, and we know exactly what you'll want to have on hand while out in your RV. Gather the RV needs on this list, and you'll be all set for the adventure of a lifetime with the very best RV supplies on the market.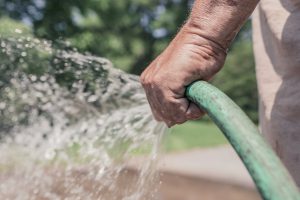 Outdoor Camping Supplies and RV Parts
Drinking Water Hose
In order to get water into your RV's water system, you will need a water hose. Only a white drinking water hose should be used for this purpose, and this hose should never be used for anything else. We particularly like the Camco Premium Drinking Water Hose.
Sewer Hose
A sewer hose is one of those RV accessories you'll need to buy before heading out on your first adventure. A sturdy hose is a must-have in order to avoid nasty problems down the line. We really like the RhinoFLEX Sewer Hose for a durable option on a budget.
Garden Hose
You'll probably find you need a water hose for other jobs around your campsite as well. Since you don't want to use your fresh water hose, we recommend keeping a garden hose on hand. This expandable hose is a great space-saving option.
Leveling Blocks
Keeping things level is always a good idea. Unfortunately, not all sites are level. That's where the Tri-Lynx Leveling Blocks step in. They make keeping your RV level as easy as 1-2-3.
Water Pressure Regulator
One of the RV parts many people don't even realize they need is a water pressure regulator. Too much water pressure can cause your RV's water lines to burst. A regulator such as this one by Renator is a nice bit of insurance for sure.
Jack Pads
Keep your RV jacks out of the mud—and protect concrete surfaces from damage caused by jacks—with some simple jack pads. We've had good luck with Camco's jack pads, but any brand will do.
Wheel Chocks
Of course, you don't want your RV rolling away without your permission. Luckily, wheel chocks will keep this from happening. We recommend these YM Wheel Chocks. Add some X-Chocks into the mix for extra stability.
Water Filter
As far as camping accessories go, we'd say a water filter is pretty important. After all, campground water isn't always the best quality, and who wants to drink dirty water? This Camco TastePURE RV Water Filter is a great way to clean up that water before it even comes into your rig.
Surge Protector
A power surge can completely destroy the electrical system in your tiny home-on-wheels. Prevent this from happening with a surge protector. Progressive Industries' surge protectors are great options that come in both 30-amp and 50-amp models.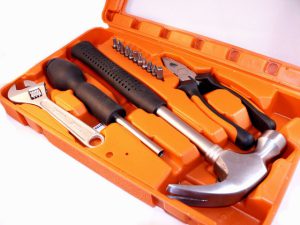 Indoor RV Accessories
Tool Kit
A basic tool kit is always good to have on hand. This Stanley DIY Homeowners Tool Kit is great to keep tucked away in your home away from home.
RV Sheets
Nobody wants to sleep on a bed with no sheets, and the strange shapes and sizes of RV mattresses can make it hard to find sheets that fit right. Besides, making an RV bed can feel nearly impossible. For this reason, we love QuickZip sheets, which can be zipped on and off and are available in unusual sizes.
Kitchen Essentials Kit
If you plan on cooking in your RV, you will want to stock the kitchen before you leave. Luckily, you can order this kitchen essentials kit and rest easy knowing you'll have everything you need.
First Aid Kit
Accidents happen. For this reason, keeping a first aid kit on hand is definitely a must. This Lifeline First Aid Kit comes with everything you should ever need to take care of a minor emergency.
Weather Radio
You never know when bad weather may strike. A weather radio can help protect you and your family during weather emergencies. We particularly like this radio which can be hand cranked or solar charged and comes with device charging, a flashlight, a compass, a whistle, and more.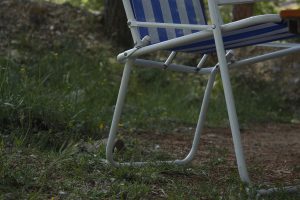 Campsite Comforts
Tank Chemical
Ever wonder how people keep their RV tanks from stinking? Well, obviously they rinse them regularly. However, between rinsings they are more than likely using a simple tank chemical. This Camco tank treatment liquid works wonders.
Outdoor Mat
One of the simplest yet most useful motorhome and travel trailer accessories out there is the outdoor mat. A large rug set outside of your RV steps will help keep dirt out of your traveling home. This outdoor mat is a nice size at a nice price.
Camping Chairs
Finally, you won't want to forget your camping chairs. After all, camping is all about spending time outside, and it's all the more fun when you're comfortable while doing so. This Coleman Quad Chair is a great option if you're unsure which chairs to buy.
With these RV parts and accessories tucked away in your rig, you'll be ready to hit the road in search of some awesome adventures.
At this point you're probably wondering, "Where can I find RV accessories near me?" Camping World is one great option, but Amazon is also an excellent starting place for all things camping.
This post may contain affiliate links.