How Tos & Tips
January 8th, 2020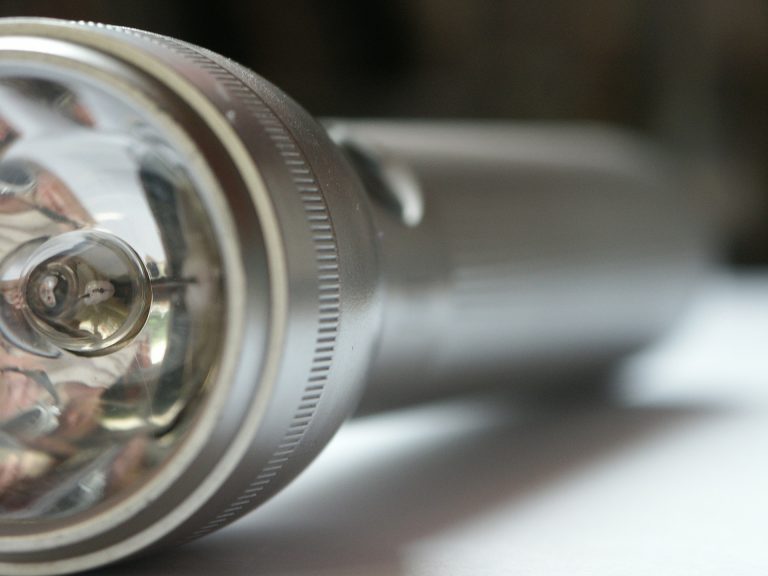 One item every camper should have close at hand at all times is a good flashlight. You never know when your RV battery might die, leaving you with no light to work with. Of course, late-night walks to the bathhouse also require a decent outdoor flashlight.
Most people are well aware of this need, and have a camping flashlight in their RV cabinet already. To be honest though, that flashlight may not be the best camping flashlight option. You might just want to reevaluate your own flashlight choice to ensure you're covered when other light sources are unavailable.
Here's everything you need to know about shopping for the best flashlight for camping.
How Many Lumens Do You Need for Camping?
Let's begin by discussing lumens. Lumens are how we measure light output, which is one of the most important things to take into consideration when shopping for a flashlight. You can find out how many lumens a flashlight will produce by looking at the packaging or online listing.
Generally speaking, a flashlight should give off at least 100 lumens. That said, the best outdoor flashlights for camping should produce between 160 and 200 lumens. This will give you plenty of light for navigating pitch-dark wilderness, as well as bright enough light to scare off intruders, both human and animal.
How to Choose the Best Flashlight for Camping?
Wondering what else you should be looking for when shopping for the best outdoor camping flashlight? There are actually a few different things you'll want to consider in order to ensure you get the best outdoor flashlight for your needs.
Brightness (Lumens)
As mentioned before, the amount of light a flashlight puts off is a very important thing to consider. This will determine how much you can see on nighttime walks or during repair jobs, and may even mean the difference between a safe walk or repair job and a dangerous one.
Durability
Obviously, you want your flashlight to last. Therefore, it's important that you choose a sturdy model that won't break when it is dropped. Fortunately, there are plenty of durable options out there, so finding this shouldn't be an issue.
Battery Life
Battery life is another thing to consider. After all, you certainly don't want your flashlight to die in the middle of something important. Therefore, the more life you can get out of your flashlight battery, the better.
Battery Type
When it comes to flashlight batteries, battery life is not the only thing you'll want to look at. You'll probably also want a flashlight with a rechargeable battery.
If the flashlight you choose doesn't come with a rechargeable battery, consider purchasing third-party rechargeable batteries to use in your light. This will save you money and is better for the earth besides.
The best rechargeable camping flashlight is one that is easy to plug in, has the option of being charged in the car, and can be charged up again and again without issue.
Size
Size is another important attribute to keep in mind. You don't want to be stuck carrying a big bulky thing during a hike, nor do you want to have to store an enormous flashlight. Fortunately, there are plenty of smaller flashlights on the market.
The best small camping flashlight is one that gives off plenty of light while still remaining lightweight and portable.
Price
Finally, you will of course want to take price into account. There's no reason to spend a small fortune on any one item if you don't need to, and when it comes to flashlights, there are plenty of great, inexpensive options.
If you're searching for the best cheap camping flashlight, find something that offers all of the things discussed above for the lowest price possible.
So What's the Best Flashlight for Camping?
Knowing the things discussed above will help you seek out a great flashlight, sure, but what if you don't want to search? You may be wondering if we can just tell you the best flashlight of 2019 and be done with it. The answer? No, we can't.
You see, choosing a single best flashlight for every person out there is pretty impossible. Some people may have more to spend than others. Meanwhile, another person might be focused mostly on size or more on durability.
Therefore, instead of picking one flashlight and claiming it's the best of the best, we've compiled a list of awesome options for you to choose from.
Top 4 Best Camping Flashlights
Below are our top 4 camping flashlight picks. These are all great options and are likely to be some of the "top best flashlight of 2020" picks as well.
This is an amazing little flashlight, and probably the best flashlight for the money. The LED camping flashlight offers users 5 different settings: low, medium, high, SOS, and strobe. Additionally, users can "zoom" the beam in and out, making it wider or narrower depending on their needs.
The battery in this light is rechargeable and lasts up to 6 hours on a single charge.
This lightweight flashlight is sleek, pocket sized, and ready to be taken anywhere it's needed. Its size and design make it one of the most portable options out there. Don't let its size fool you though; this thing is made of aircraft-grade aluminum and it is thought.
The LED bulb is incredibly long lasting, with a lifespan of around 50,000 hours. That said, it is incredibly bright, and some may find that it gives off too much light. If this is the case for you, you can change out the batteries for a slightly dimmer glow.
Another super bright option, this flashlight offers 800 lumens of light. It can light up the dark scary woods without an issue and will definitely scare away that ornery raccoon who keeps digging through your trash.
This light is durable, lightweight, and rechargeable. The LED bulb—like the bulb mentioned above—will last a full 50,000 hours, meaning you won't have to worry about it burning out anytime soon.
The only big issue with this particular light is the price tag, which is much larger than the other lights found on this list.
Easily the best budget camping flashlight, this little light is inexpensive but incredibly useful. While it only offers 300 lumens, most people find that it's plenty bright enough for their needs.
We love that the beam can be adjusted to be wide or narrow. It also has high, low, and strobe settings.
The pocket clip is quite handy on this flashlight. Additionally, its size is just perfect for the palm of your hand, but the light is still quite durable.
Unfortunately, this is not a rechargeable light, but a rechargeable battery could be used instead of a disposable one.
Camping Flashlight FAQ's
Still have questions about camping flashlights? Below we've answered a few of the more common questions.
Do I Need a Flashlight or Headlamp?
Many people wonder whether they should invest in a flashlight or headlamp. While headlamps are useful in some situations, unless you're going to be climbing through caves or working with both hands in a dark place, a flashlight is generally the better option. Flashlights are easier to aim and tend to provide better lighting.
How Many Flashlights Do I Need?
If you usually camp with friends or family, you will want more than just one flashlight on hand. We recommend keeping one flashlight for every member of your camping group, plus one or two extra just in case.
Where Should I Store My Flashlight/s?
Not sure where to keep your lights? You will want to store them someplace that is easily reachable even in the dark. A basket or box in a cabinet in the RV kitchen tends to be a good bet. Make sure you recharge your flashlights before each camping trip so they'll always be ready to go should you need them.
By keeping these things in mind, you're sure to find a flashlight that suits your needs just perfectly. Once you've found the ideal light, be sure to add these RV accessories to your shopping list, so you can ensure your rig is well stocked.