Travel Inspiration
Last updated on December 4th, 2022. Originally published on September 27th, 2017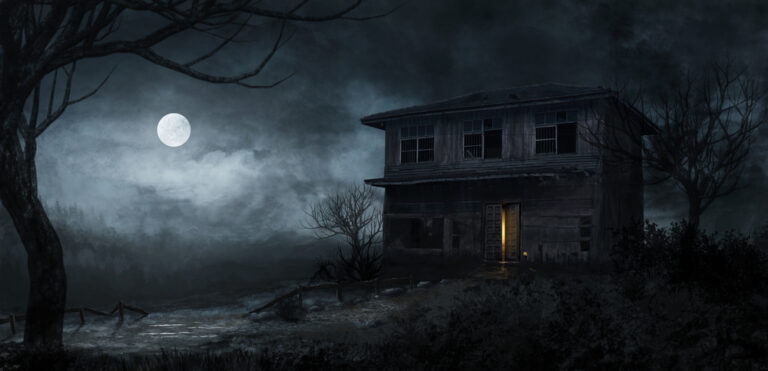 We can't believe it, either, but summer's already long gone and Halloween is fast approaching. And while carving Jack-o'-Lanterns and snacking on candy at home is always a treat, here's a fun trick: If you're feeling brave, why not take a road trip to some creepy, haunted places this All Hallow's Eve?
Best Haunted Places
Whether you're a total skeptic or a true believer, it's undeniable that this country of ours has some pretty amazing stories… and some of them are, well, downright macabre.
But it's not as if the Rand McNally Road Atlas is going to inform you which spots are crawlingly creepy. You've gotta get the insider scoop here!
So if you're ready to take a fall trip with a bit of a twist, here are a few of our favorite haunted places to put on your list of potential Halloween destinations.
Haunted Places and Their Stories
Ready to get spooky this Halloween season? Here are a few spots on the map you don't want to miss.
1. Philadelphia, Pennsylvania
It's no surprise that our nation's first capital has a lot of history… and therefore a whole lot of ghost stories, too. That's especially true in the creepy, formidable Eastern State Penitentiary, one of the most infamous and feared prisons of the nineteenth century.
This jail "took solitary confinement to new levels," according to Conde Nast Traveler. "Prisoners lived alone, exercised alone, and ate alone; when an inmate left his cell, a guard would cover his head with a hood so he couldn't see or be seen."
Although the prison was closed in 1970, some say its lonely inhabitants never quite found their freedom, and still lurk those somber halls today. Why not find out for yourself? Once you're done with your penitentiary visit, there are plenty of other haunted houses and ghost tours to keep you creeped out.
2. Salem, Massachusetts
You've doubtless heard of this haunted destination, home of the 1692 witch trials. It's no surprise that each year, the town throws an unsurpassed Halloween bash, offering far too many ghost and history tours to count. They even have not-quite-so-creepy events and activities that are fit for the whole family — even young campers who might be prone to nightmares.
3. Weston, West Virginia
You may not have heard of this one-horse West Virginia town, but its creepy claim to fame is sure to get you shivering. It's home to the Trans-Allegheny Lunatic Asylum, which frequently shows up on lists of extremely haunted places in the US.
Unfortunately, the inmates at this asylum were mistreated, packed in so closely and in such poor conditions that they soon became violent. Guards were attacked and fires were started, and although the asylum closed its doors in 1994, many think these tortured souls continue to wander its labyrinthine halls.
America's Most Haunted Places
Here are some more real, must-see haunted places for you to choose from… if you're brave enough, that is.
4. Charleston, South Carolina
One of the oldest U.S. colonies and a key player in the Civil War, Charleston hosts a bevy of ghosts in a wide array of haunted places.
There's the Dock Street Theatre, Charleston's first, said to be haunted by the spirit of the flamboyant prostitute Nettie Dickerson, who was unlucky enough to be struck by lightning. Or the Old Charleston Jail, which housed a variety of bloodthirsty criminals, including the country's first female serial killer.
In short, it's harder to find a spot that isn't haunted in this charming southern city. And after you're done having the wits scared out of you, well, there's nothing like comfort food to soothe the soul!
5. Tampa, Florida
Bet you didn't realize that this beachy southern destination is actually one of the most haunted towns in America!
In the party-friendly Ybor City, you'll find the Cuban Club, an opulent building that was a popular hangout for Cuban immigrants in 1917. That waft of cigar smoke you smell despite the present-day non-smoking policy? Well, let's just say the party never ends for some.
Or maybe you'd rather check out the famous Tampa Theater. Not only is it a beautiful place to catch a show — it's also haunted by the ghost of former employee Foster 'Fink' Finley – a projectionist who worked in the theater during the 1940s.
Either way, don't neglect to have a fine cigar of your own, not to mention a Cuban sandwich. There's nothing quite like it in the world, no matter what time of year you visit.
6. Estes Park, Colorado
Stephen King fans, listen up: You need to make the pilgrimage to Estes Park. It's home to The Staney Hotel, the setting for the movie version of his ever-unnerving "The Shining."
If you're really brave, you might even leave the RV for just a night to sleep — or attempt to — in one of the hotel's rooms. If I were you, I'd ask for any door but number 237.
Haunted Places Road Trip
As you can see, there are plenty of haunted and abandoned places to visit and explore across the country, so you're sure to find some exciting haunts nearby no matter what area you call home.
But if none of the ones we've listed here will work with your agenda, don't worry. You can easily find some seriously spooky spots close enough to home for a journey.
If you're wondering, "So where are the haunted places near me?" Try running a search for haunted places you can tour near your hometown — from the colonial northeast to the wild wild west, almost every single state has some serious ghost stories.
And don't forget: if a spooky trip isn't in the cards this year, you can create a fun, just-scary-enough Halloween right at home. Just gather around the campfire, smoke up some s'mores and settle in for some old-fashioned ghost stories. If you're really bold, you could even get out the ol' Ouija Board.
After all, anywhere people live, they die — and anywhere people die, there could be ghosts. And that includes right in your very own backyard.
Happy Halloween, campers… and it's OK if you decide to leave the lights on this evening.
This post may contain affiliate links.