Travel Inspiration
Last updated on December 5th, 2022. Originally published on September 21st, 2017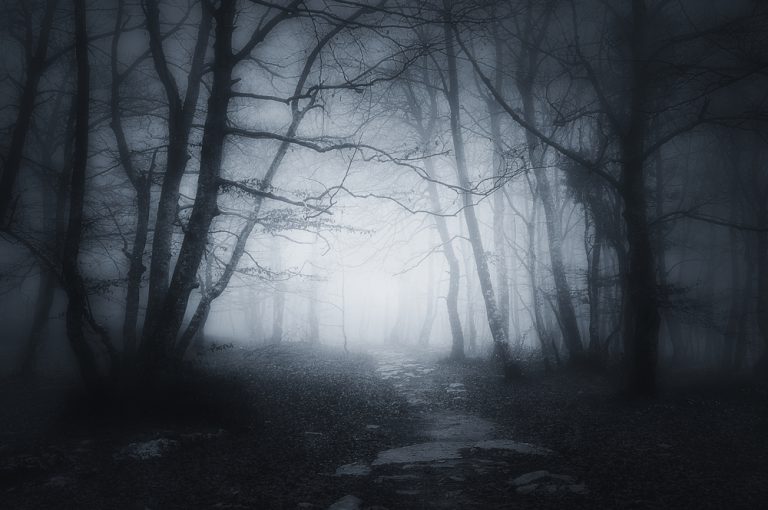 We don't know about you, but around here, we're pretty into Halloween. Carving Jack-o'-lanterns, eating yummy pumpkin-flavored goodies, cuddling up in front of a scary movie with your sweetie… and really, who doesn't love an excuse to play dress-up, no matter how old you may be?
Plus, of course, it's a perfect time to take an RV trip. The weather's cooling off, the parks are a little less crowded — and goodness knows there are plenty of perfectly creepy places to set off to across this country of ours. America's got a lot of history, which means a whole lot of ghost stories. So whether you're a believer or a skeptic, will you try your courage with some haunted camping this Halloween?
Haunted Camping Experience
Maybe you're feeling brave this year, or maybe you're just looking for a sign. But either way, there are tons of real haunted campgrounds and cities to bring your rig to for All Hallow's Eve. From Salem, Massachusetts to St. Augustine, Florida, the question isn't whether or not the spirits are there… it's whether or not you'll survive the night camping in their territory!
Here are a few of our favorite haunted destinations, including camping grounds, camping sites, and cities, across the USA.
Haunted Overnight Camping
Looking for real haunted places? Here are a few of America's most historied — and haunted — towns.
1. St. Augustine, Florida
It's the oldest continually-run settlement in the country… which means it's had the longest time to accumulate lots of spirits, both friendly and otherwise! Don't miss a trip to the Old Jail, which is said to be the most haunted building in town. You've got quite a few campground options to choose from, including a KOA and the beautiful Anastasia State Park.
2. Holy Ghost Campground, Santa Fe National Forest, New Mexico
Not only is this northern New Mexico campground beautiful… it's also superbly spooky. Legend has it that the spirit of the priest who killed the Pueblo people native to this area still haunts these grounds, unable to rest since his death in the late 17th century.
This is one of the few such storied spots within the National Forest system, so if you're looking for haunted forest camping — and a lovely location in general — look no further!
3. New Orleans, Louisiana
A town as well-known for its spirits as its… well, spirits, New Orleans is the perfect place for an adult-oriented Halloween getaway. Party on Bourbon Street before retiring back to your camper in time to escape from the wandering spirits, both corporeal and otherwise. And don't forget a visit to one of the town's famous cemeteries!
The Big Easy boasts several campground options, including resorts right in downtown or public campgrounds a little ways out on Lake Pontchartrain.
4. Athens, Ohio
It might seem like an unassuming college town… but this southeastern Ohio city is actually one of the most haunted spots in America.
Just a few miles out of the city itself lie the remains of the Athens Lunatic Asylum, now known as The Ridges. If you're feeling really brave, camp out in the nearby Hocking Hills and head out into the numerous hiking trails around the old asylum compound. Legend has it that many of the inmates never quite made it to freedom and are still hanging around today.
Haunted Camping Event
Looking for some organized, family-friendly fun? Try out these just-spooky-enough adventures.
6. Disney's Wilderness Campground and Mickey's Not-So-Scary Halloween Party
Need an excuse to head to Disney World? Well, come October, Florida's not quite so swampy as it is mid-summer — and the theme park also hosts an annual Halloween event that's fun but not scary enough to give the kids nightmares.
See the famous Headless Horseman parade down Main Street USA and then return to your cozy camper set up in the on-site Wilderness Campground. The sites themselves are large and luxurious, supporting 50-amp hookups and including cable and WiFi, and the campground has multiple restaurants, stores, and activities for the whole family!
7. Halloween Weekends at Jellystone Parks Across the Country
Can't make it to central Florida this Halloween? No worries. Jellystone Parks are one of the largest group of family-friendly campgrounds, and many of them host fun Halloween-themed events suitable for campers of all ages.
To find a Jellystone near you — or near your intended Halloween destination — check out the company's website here.
Haunted Camping Trip
If you're thinking, "Rats! None of these haunted campgrounds are near me," not to worry. There are plenty of other spooky spots and abandoned places to explore, no matter where in the country you hail from. Chances are you've heard of a spooky site in your area and haven't quite been brave enough to check it out yet. Why not pack up the camper and take the plunge this year?
You could also look into attending a Halloween event in your area, such as Halloween Horror Nights at Universal Studios in Orlando, Florida or Ultimate Terror Scream Park in Sacramento, California. All across the country, parks put on these fun events, which often include haunted houses — either staged, with actors, or genuine historical tours.
No matter what campground you head to, you can always make it into a perfectly skin-prickly, horror-filled camping experience by stocking up on spooky ghost stories for telling around the campfire while you're camping. Here's a stockpile of haunted camping stories that are sure to get your teeth chattering. Just make sure you don't tell them too late at night… otherwise you might not get any sleep at all!
Whether you head to a real haunted location or an organized "haunted" event, and whether you go all-out dressing up for the night or just throw on a pair of cat ears, Happy Halloween, RVshare readers! we hope yours is just spooky enough to be memorable, fun, and exciting.