RV Owners
October 10th, 2017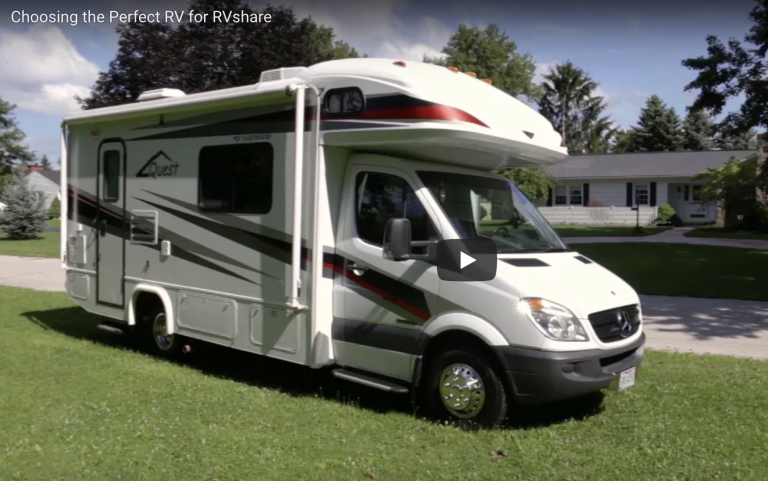 Last week, we learned about the family of Michael and Sarah Grant and how they turned owning an RV into a successful and growing business. Today, we will dive deeper into how they selected the RV that they would use not only for their business, but for their own personal travel as well. Read on to find out what factors went into the RV they chose in the end, and how they discovered the platform that would allow them to launch their business – RVshare.
You went into RV ownership with the idea that you were going to rent it out as an opportunity for more income. How did that factor into the RV you ultimately purchased?
Michael: We went to several dealerships to look for an RV to own to rent out. One thing we wanted to do was just go see a lot of RVs to determine how it would fit us and the clients we are looking to rent it to. We basically looked at the layout of the vehicle and what amenities it came with. Is there a table that turns into a bed? A couch that turns into a bed? Are there two couches? Is there a table already set up? Is there a bed in the back? Is there a restroom? How's the kitchen laid out? How easy is it to clean on the inside? Another thing we kept in mind is how easily does it break, because people get in and bump things and the vehicle shakes while it's moving, and kids are always running, jumping — so we thought about the layout and the platform it came on.
As soon as we made our mind up on what we wanted, we went to a loan officer and they cleared us to purchase the vehicle. So we purchased the vehicle, and then we went online and looked for RVshare to start our business. From there, it's worked out great.
Sarah: When we found this particular RV, The Quest, one thing we really liked about it is it has the Mercedes sprinter engine, which how many times have you ever seen a FedEx truck [with the same engine] broken down on the side of the road? They do not stop. They can have mechanical failure and still keep going. So we wanted to have something super reliable.
What else were you looking for in your RV purchase?
Sarah: We also wanted something small enough that there would be no limit where we could drive it. We wanted to be able to take it to New York City if we wanted to. We wanted to be able to see national parks. We wanted to make sure the height would fit under most bridges or tunnels and underpasses. And we wanted it to be something people would be comfortable driving. And this is amazing. This is still a big cumbersome vehicle, but it drives like you forget that you're driving a motorhome. It actually handles like a smaller SUV or truck. And most of our renters are first-time RVers, and being first-time RVers ourselves, we wanted something completely basic. A lot of people might walk in and say, "Ugh." It's doesn't have a lot of gadgets. It's pretty no-frills as far as RVs go. But I don't think your first-time RVer is going to want to be inundated with this big monstrosity that's too complex to operate. So I think that's another thing, being novices really helped us find the right RV to suit other novice RVers.
How did you learn of RVshare?
Michael: We were on the internet looking for clients to rent it out to. We went to different platforms, rental places to shop for renting our vehicle out, and we ran across RVshare and it was right for us. In the platform they offered who we were trying to reach.
Sarah: I came to find RVshare by Googling "where can I rent an RV," and all I was coming up with — and this probably predates RVshare — was dealerships that were very seasonal and not very easy to work with either. They'd say, "Our rental season starts April 1 and goes through October 1." And I think it was November, and we wanted to go somewhere warm. We were coming up empty-handed. Another thing, the communication with the dealerships is poor, because you're limited to Monday through Friday hours, 8-5. If the RV person isn't there, you have to leave a message.
So when we found RVshare, I realized we were dealing with personal owners that have a personal interest in the RV. And what better resource than the actual owner of the RV? [RVshare] is just so much better and so much more personal than just dealing with ABC RV Rental.