Travel Inspiration
August 15th, 2019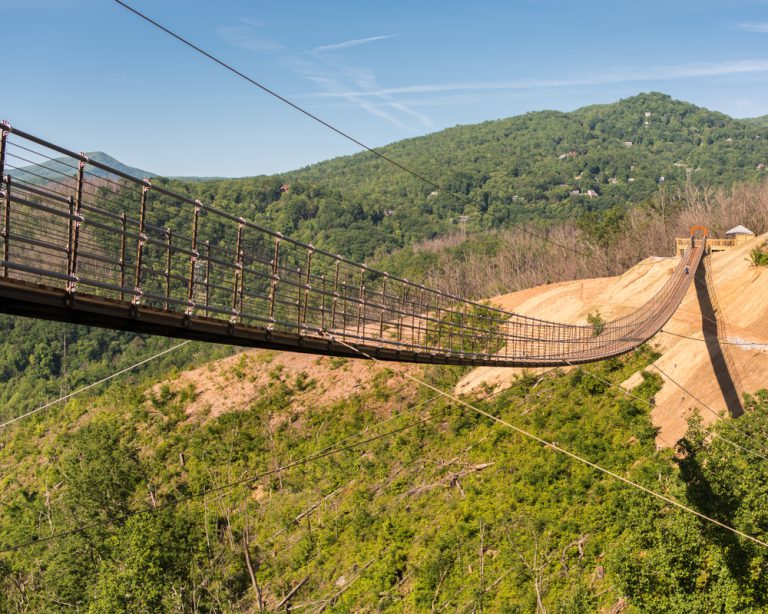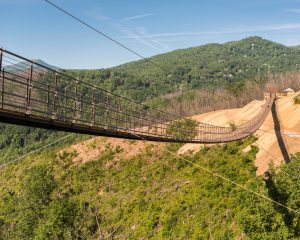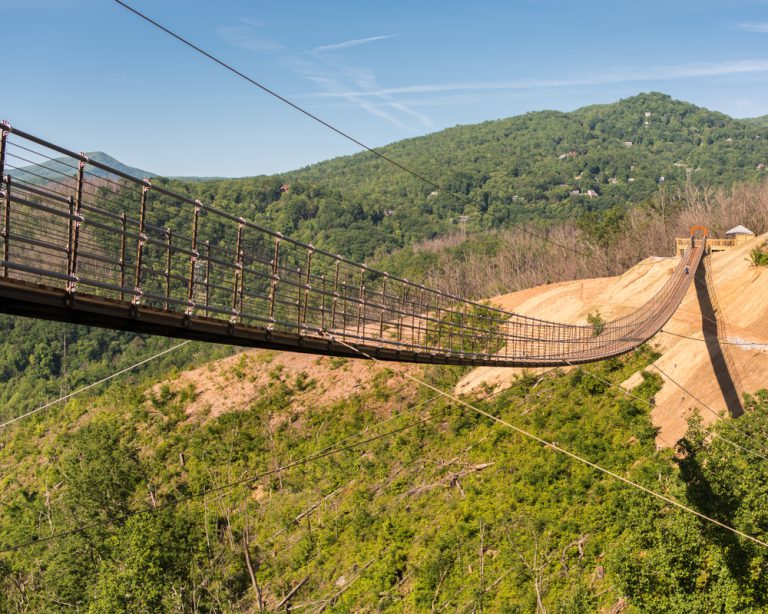 No matter where in the U.S. you live, if you're a camping fanatic, chances are, Gatlinburg is on your list. It's the gateway city for Great Smoky Mountains National Park, which is the most-visited national park in the country — and it's also home to a whole array of other urban fun, as well. From moonshine tastings to live entertainment and more, there's plenty to keep you occupied even if you're way too sore to take on even one more hike.
One of the other major draws to this beautiful Tennessee mountain town? The Gatlinburg SkyBridge — a 1,800-foot overlook which offers stunning, sweeping views of the Smokies and requires one slightly harrowing chairlift ride to the top. (We'd say don't look down, but… hey, that's kind of the point, right?)
If you can gather your courage and forego the evolutionary imperatives that keep you petrified of falling from high up, you'll be rewarded with an unforgettable vista… not to mention the epic Instagram photos that'll have all your friends drooling.
But even if the Skybridge in Gatlinburg, TN isn't on your itinerary, there are plenty of amazing high-rise and suspension bridges to explore as a pedestrian. Read on to learn everything you need to know about the SkyBridge in Gatlinburg, and other adventures available beyond!
What's so Special About This Suspension Bridge?
So, what makes Gatlinburg's SkyBridge such a special destination?
Well, for one thing, it's the longest pedestrian suspension bridge in North America. Measuring 680 feet in length and towering 140 feet above the ground at its midpoint, the Gatlinburg SkyBridge offers panoramic views of the surrounding mountains that you just can't get in any other capacity. (By the way, it's glass-bottomed at its highest point. Don't say we didn't warn you.)
The bridge experience is accompanied by a ride on the Gatlinburg SkyLift, which starts right in downtown Gatlinburg to sweep you 500 feet up to your adrenaline-inducing destination. Although it was originally opened all the way back in 1954, don't worry: the modern SkyLift is a smooth, comfortable, three-seater affair which was constructed in 2017.
Finally, don't forget to swing by the park's newest addition: the SkyDeck, which was just constructed in 2019. From a stunning perch at the top of Crockett Mountain, you can enjoy a snack and a drink in comfortable outdoor seating accommodations, and get some more leisurely photos — you won't be elbowing to the front of the suspension bridge queue to get the best view, and you'll have something relatively solid under your feet!
SkyLift Park is open year-round, though the specific hours changed based on the season — and they do observe Christmas Day by closing down entirely. You can visit this page for the most up-to-date information about dates and hours of operation, as well as information on when the ticket windows close for the day.
If you want to save money and time (and you're committed to this high-flying adventure), tickets can be purchased ahead of time online! Prices start at $17.95 for "junior" visitors aged 4-11, and the full adult price is $23.95. Senior discounts are available, as are special rates for groups with 20 or more people in their party.
Click here to see RVshare rentals near Gatlinburg, Tennessee
What's the Longest Suspension Bridge on Earth?
So, Gatlinburg SkyBridge may be the longest suspension bridge in North America. But which is the longest suspension bridge in the world?
Well, if you're specifically talking about pedestrian bridges, the answer is going to take you well off of American soil. It's the Charles Kuonen Suspension Bridge, which spans a stunning 1621 feet across an alpine valley in Switzerland.  The bridge offers hikers views of the Weisshorn, the Matterhorn, and the Bernese Alps.
So, who's Charles Kuonen, you wonder? He's the biggest sponsor behind the construction of the bridge, which replaced an earlier iteration that was damaged by falling rocks. You may think he's a career mountaineer, given his interest in the project — but he's actually a psychologist and the co-owner of a Swiss winery.
Along with its impressive span, the bridge also looms up to 279 feet over the valley floor, making it a decidedly stomach-dropping experience. But if you can manage it, it's a worthy shortcut: the equivalent hike below would take as many as four or five hours, whereas a walk across the bridge takes about ten minutes.
Now, what if we factor bridges designed for motor vehicles into the question?
In that case, the longest suspension bridge in the world is Japan's Akashi-Kaikyo Bridge, which spans the Akashi Strait to connect the city of Kobe to Awaji Island. Its six lanes have a combined length of more than 6530 feet, and its two towers reach almost 1,000 feet above sea level. An estimated 23,000 vehicles cross this monster bridge each day, and if you're brave, you could join their numbers! In fact, thanks to the pedestrian walkway underneath the main traffic route, you can even walk across it on foot if you dare… or even venture up to the top of one of its supportive towers.
More Famous Suspension Bridges to Check Out
Not quite ready to book a flight overseas and looking for some more pedestrian suspension bridges to check out stateside?
Fortunately, we have quite a few — and they all offer a great view, if you've got the guts. Here are some favorites!
Royal Gorge Bridge – Cañon City, Colorado
If southern Colorado isn't already on your to-visit list, it should be; along with once-in-a-lifetime destinations like Great Sand Dunes and Mesa Verde, it's also home to the Royal Gorge Bridge and Park, whose suspension bridge may not be the longest, but is the highest, in America, towering more than 950 feet over the flowing Arkansas below. If crossing the bridge on foot is no big deal, then test your mettle with a ride on the Gondola… or even zip-line across the gorge, if you dare!
Click here to see RVshare rentals near Cañon City, Colorado.
Golden Gate Bridge – San Francisco, California
You've doubtless heard of this one… but what can we say? It's iconic for a reason. With a length nearing 9,000 feet and a height of almost 750 feet over the strait of the same name below, the Golden Gate Bridge is certainly a sight to see… and an amazing walk to take, if you have the chance! It's a total of about 1.5 miles across, so a round trip makes for a nice day hike. Plus, there are some amazing RV parks right in the heart of San Francisco. For instance, check out Candlestick RV Park, a privately-owned spot with full hookups starting at just $105 per night. If you're tent camping, you could even stay right underneath the bridge at the Presidio!
Click here to see RVshare rentals near San Francisco, California.
Mackinac Bridge – Mackinaw City, Michigan
Measuring a stunning 26,372 feet long, the Mackinac Bridge is the longest suspension bridge between two anchorages in the entire Western Hemisphere… and yes, you can walk across it. In fact, a brave group of individuals does just that every year as a Labor Day tradition, taking place in the Mackinac Bridge Walk which will, in 2019, be in its 62nd year running. Although the walk can be completed in about an hour, the typical walk all the way across, or to the half way point and back, will take about 90 minutes to 2 hours. No running or jogging is permitted. And be sure you take advantage of the bank of port-a-potties on either side… there are no bathroom breaks on the bridge itself once you get started!
Click here to see RVshare rentals near Mackinaw City, Michigan.
No matter which of these high-flying bridges catches your eye, or if you decide all of them are beyond the pale for you, an RVshare rental is the perfect home base from which to enjoy your next destination. After a heart-pounding trip high above Earth's surface, you'll be glad to have your own four wheels to call home, not to mention your cozy bed and convenient, private kitchen and bathroom amenities.
RVshare rentals are offered by a trusted network of local owners and adventurers just like you, and the rigs come in every shape, size, and footprint imaginable — so no matter what kind of #RVlife experience you're after, you'll find what you're looking for. And since RVshare owners don't have to foot the expensive overhead costs of running a business, they can pass those savings on to you in the form of much lower per-night rental prices. Win, win!
Happy camping… and just remember: when in doubt, don't look down!
This post may contain affiliate links.