Travel Inspiration
August 7th, 2015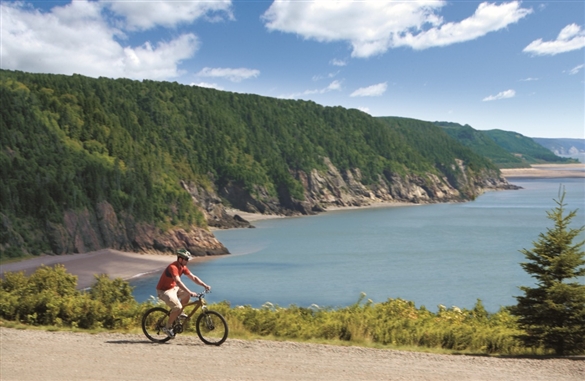 Are you on the lookout for a new place to visit with your RV? Have you every heard about the Bay of Fundy in New Brunswick? This amazing place offers a memorable experience that you won't find anywhere else.
One of the most incredible things about the 170 mile ocean bay that stretches between New Brunswick and Nova Scotia are the HUGE tides. Here you can witness the highest tides in the world. A popular viewing spot is Hopewell Rocks, where it's possible to see tides that are over 45 feet!
Aside from watching the tide phenomenon, there are several colorful things to see in the area, but perhaps one of the best is the Fundy Trail Parkway. This 10 mile road hugs the cliffs and offers breathtaking views of the bay below.
To get to the Bay of Fundy, you have go through a little fishing village called St. Martins. Here you will see your fill of grounded fishing boats; a common sight in the Bay of Fundy when the tide is out. The town also has a lighthouse, sea caves, and a covered bridge. Be sure to stop at one of the many local restaurants for some truly excellent seafood chowder.
Up the coast from St. Martins, you will find the entrance to the Fundy Trail Parkway. The entire trail is 10 miles long and has an entrance fee of $3.50 for kids, $4.50 for seniors, and $5.50 for adults. If you are on vacation with the family, get the family pass for just $20.
There is a detailed map at the entrance showing all 23 scenic lookouts along the road. Some of these lookouts offer glimpses of beautiful waterfalls. In addition to the road itself, there are six miles of hiking and biking trails.
For history buffs, the Salmon River has an excellent visitors center. It features several exhibits on the shipbuilding, fishing, and logging history of the area. If you would like even more information, a four hour guided hike is available. You can also spend a night at the Hearst Lodge, a fishing lodge built by J. Randolph Hearst. It is an interesting change from sleeping in the RV and a great experience.
There are numerous other reasons to visit the Fundy Trail Parkway including:
Learn about the birthplace of the Atlantic Ocean
Explore four secluded beaches
Bring along your furry friends – this are is pet friendly
Experience one of the last remaining coastal wilderness areas between Labrador and Florida
Marvel at the best places in the world to view marine animals and other wildlife
Witness this amazing breeding habitat for Right Whales
Swim in the pristine beaches
Get out for some hiking, birdwatching, and photography
This area is truly spectacular. You can easily pack in a week's worth of adventure here. It is without a doubt one of the most interesting places to visit along the Bay of Fundy. Happy Exploring!